Rebuilding my devastated homeland
Last season was really difficult for me. Results were not great and a lot of people were saying that my Rio gold medal was just a fluke.
Sometimes I'd look back and wonder, 'Did that moment curse me?'
Then, after Hurricane Maria devastated my homeland of Puerto Rico in September, I decided to look at it differently: that maybe Olympic success and the bigger profile gave me the opportunity to be a voice for Puerto Rico.
After Rio, obviously, I became more recognised because it was Puerto Rico's first-ever Olympic gold medal. So when the hurricane disaster came about I was overwhelmed with support. People were listening to what I had to say and backing my fund-raising efforts.
In the grand scheme of things, I found that I had a purpose.
I started writing Puerto Rico on the back of my tennis shoes from Tokyo onwards, after Hurricane Irma, and I'll continue to do that, so that I can keep Puerto Rico close to me in every tournament and every match. Puerto Rico will always be in my heart and it will always be with me on the court wherever I go.
Everybody tells me that when I play for Puerto Rico, I play some inspired tennis.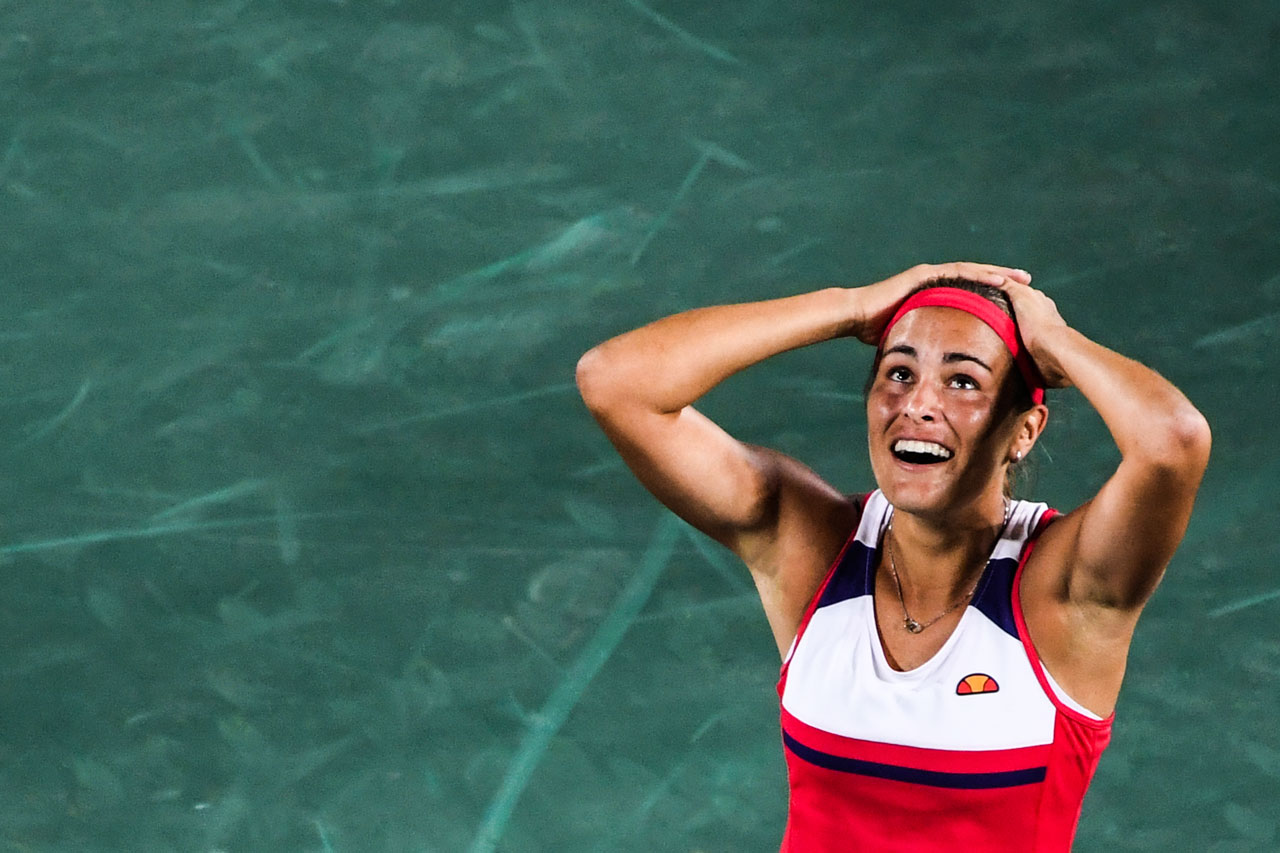 RETURN TO THE GOLDEN DAYS
The Rio Olympics changed my life in a huge way. There was more media attention, more things to do, lots of different sponsors coming my way. It was mind-blowing.
The gold medal match against Angie Kerber was honestly one of the greatest moments of my life, it will probably always be, because it was my biggest dream coming true. It was everything and more.
Honestly, to this day, I cannot remember a thing from that night. Some people say some of the great days of your life pass by so quickly that you don't even have time to enjoy them, and I felt like it was one of those.
But at the end of the day, I didn't know how to manage it all because it really came out of nowhere. I was unseeded, ranked No.34 in the world, had won just one WTA-level singles title in my career, and I went into Rio just trying to enjoy the experience. Well, I can say that I really did!
I remember walking into the Olympic stadium and saying, 'It's amazing how a lot of these athletes here tonight are going to walk away with medals, and I hope that I can do that one day.' Little did I know that one day would be just a week later.
Honestly, to this day, I cannot remember a thing from that night. Some people say some of the great days of your life pass by so quickly that you don't even have time to enjoy them, and I felt like it was one of those.
So, really, I had no preparation whatsoever for what was about to occur and what was going to happen afterwards, and I got kind of caught up in the moment, started expecting too much and putting myself under too much pressure.
Somewhere in there I lost myself and I couldn't regain a grasp of what got me to that moment. But sometimes you have to make those mistakes and understand what happened to be able to learn from them in the future.
It was very painful, of course, people saying I was just lucky, because I take all these things to heart, and I probably shouldn't. I'm now learning how to not pay too much attention to what other people think and, rather, listen to my close circle of people who are encouraging and advising me.
I also had to realise that it wasn't luck. I knew it was in me all along; it just came out at the right moment, and it's up to me now to find that form again and to be a little bit more consistent with it.
That whole Olympic week, I played some amazing tennis and I didn't play it in just one match.
That's what I'm trying to do this season: to enjoy the competition, be as consistent as possible in every tournament and give it my all.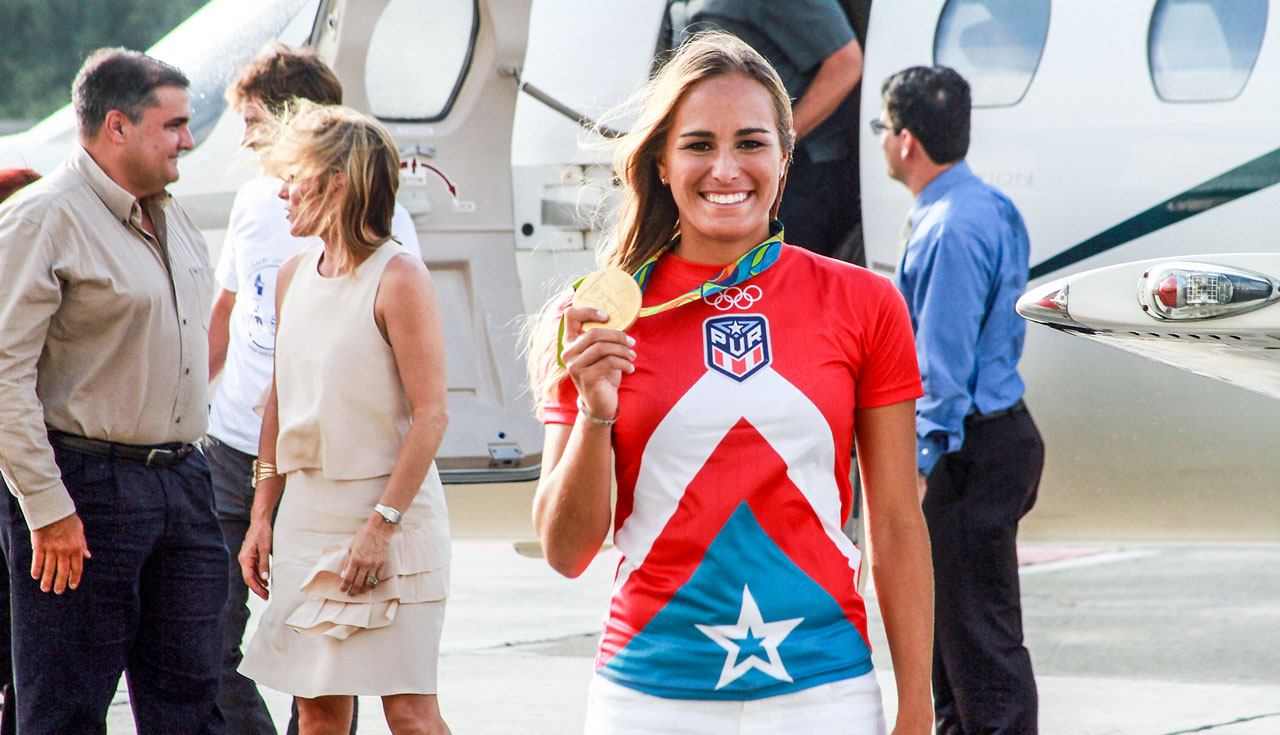 HURRICANE MARIA & THE AFTERMATH
We moved to Miami when I was one year old, but I always went back to Puerto Rico to spend every summer with my grandparents. Spanish is my first language, and I will always feel 100 per cent Puerto Rican, because the connection that I have to that island is like no other. 
I was in China less than a week after Hurricane Irma ended up passing 50-60 miles north of the island when I heard that a new hurricane, Hurricane Maria, was coming straight for Puerto Rico. It was a very nerve-wracking time. My initial feelings were of fear and concern, especially for my family, because a good majority on my mother's side still lives there.
The storm left a lot of people without power and running water and I decided, 'Puerto Rico has given me so much in the past; it's time for me to give back, and it's time for me to give them a voice right now because they don't have one.'
That's when I started coming up with a plan with my team and we started the fundraising efforts. We were able to look at the first demands and needs of the people and figure out the best strategy to help. We had passed US$50,000 in donations in the first two days, so the goal just kept on going up and up and up. I think we're close to US$200,000 now. 
In the initial stages, we used a lot of the money to buy insulin, which was in big demand by the hospitals. We ended up buying portable stoves and gasoline to power them so that people could cook hot food, because for a Puerto Rican there's nothing better than having our hot meal of rice and beans at the end of the day. We also bought solar-powered lanterns that had a USB capability so that people could charge their phones as well as have some light.
But I feel like the news of the hurricane has kind of fizzled out now. People have gone on to other issues, which is normal, it happens, but the devastation in Puerto Rico is far from over. There's still many people without water and electricity. It's been more than 100 days since the hurricane and people are getting very desperate.
'Puerto Rico has given me so much in the past; it's time for me to give back, and it's time for me to give them a voice right now because they don't have one.'
The number of people leaving the island has grown, too, which is very sad to see, because the Puerto Rico that I know and cherish and love is in danger. When I went to assist in the relief efforts, I saw many abandoned homes, people leaving behind their cars and all their possessions, and just moving on to find a better life elsewhere.
My family rode out the hurricane and then, as soon as things were operating on a somewhat normal level, we were able to fly them over to Miami. My grandparents are staying in my house, which is very nice for me because I don't get to see them very often. I'm just so glad and grateful they are safe.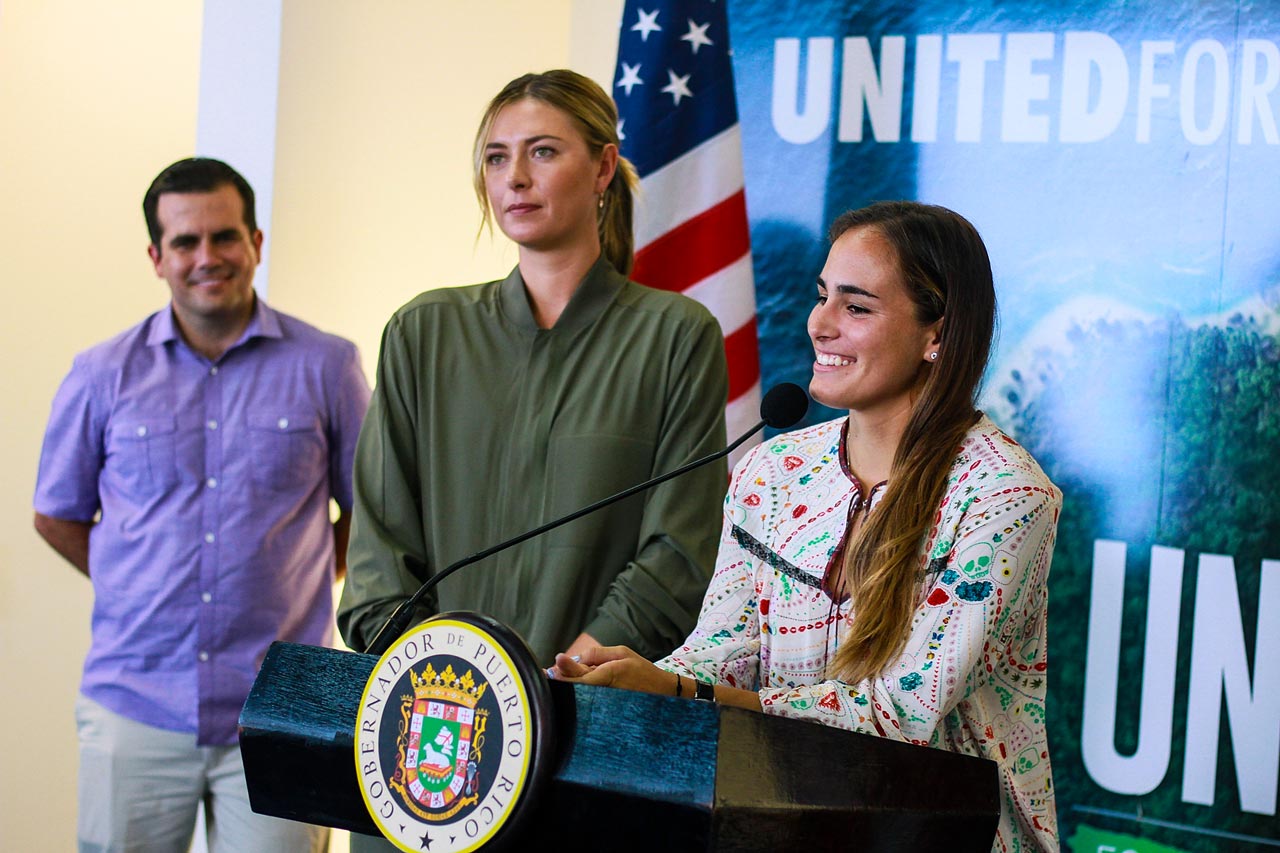 'LIKE A WARZONE'
I was really humbled by all the outreach of the tennis community, by all the people who were retweeting my posts and wanting to help and by how many people were donating – Casey Dellacqua was one of the first, which I got very emotional about.
It made me realise that the tennis community is like a big family and, when somebody is in need, we're all gonna step it up to help one another.
In tennis, it's just you out there competing against somebody else and you always want to be better and be the best, but you can also lose sight of the human aspect of things and that people have feelings and that you need to be there for other people when they need you the most.
Sometimes the sport can get very lonely and you need that uplift from somebody other than your family at times in hard moments like these.
I played an exhibition with Maria Sharapova in Puerto Rico in 2016. Until then, I'd seen her around but I'd never had the opportunity to actually have a one-on-one conversation with her. She's such a sweet, down-to-earth, funny person, even though she's so feisty and competitive on the court, so I was kind of a little bit starstruck.
Our agents are friends and really close colleagues so, when the hurricane hit, Maria reached out via her agent and said she wanted to come with me if I was going to Puerto Rico any time soon. She was one of the first people to offer her help.
The day we spent there together handing out emergency supplies was incredible. Seeing her around the kids, around all the people in need, there was not a time during the day when she wasn't smiling or trying to be supportive.
I could not be more grateful to Maria for everything she has done for me and for Puerto Rico. She really is a class act.
I always cry when I fly into Puerto Rico because it's my homecoming, but this time they weren't tears of joy. I felt such sadness, because it was not the same. You saw blue tarps all over houses, you saw the rainforest and the vegetation and all the greenery that used to be so abundant, it was just destroyed.
And the people …. it was the first time I've seen desperation like this. It made me realise that there are bigger things in life than my career, or the things we complain about from day to day – like when we say we're hungry and we just ate two hours ago.
These are people who are genuinely hungry because they cannot find food or water. It was one of those moments that was really eye-opening and I get goosebumps just talking about it. You wouldn't expect something like this. Puerto Rico looked like a war zone.
The last time I was there was just before the start of my pre-season. Some restaurants and schools were open again, but there was still so much more work to be done. Hopefully in the coming months thing will start to get better.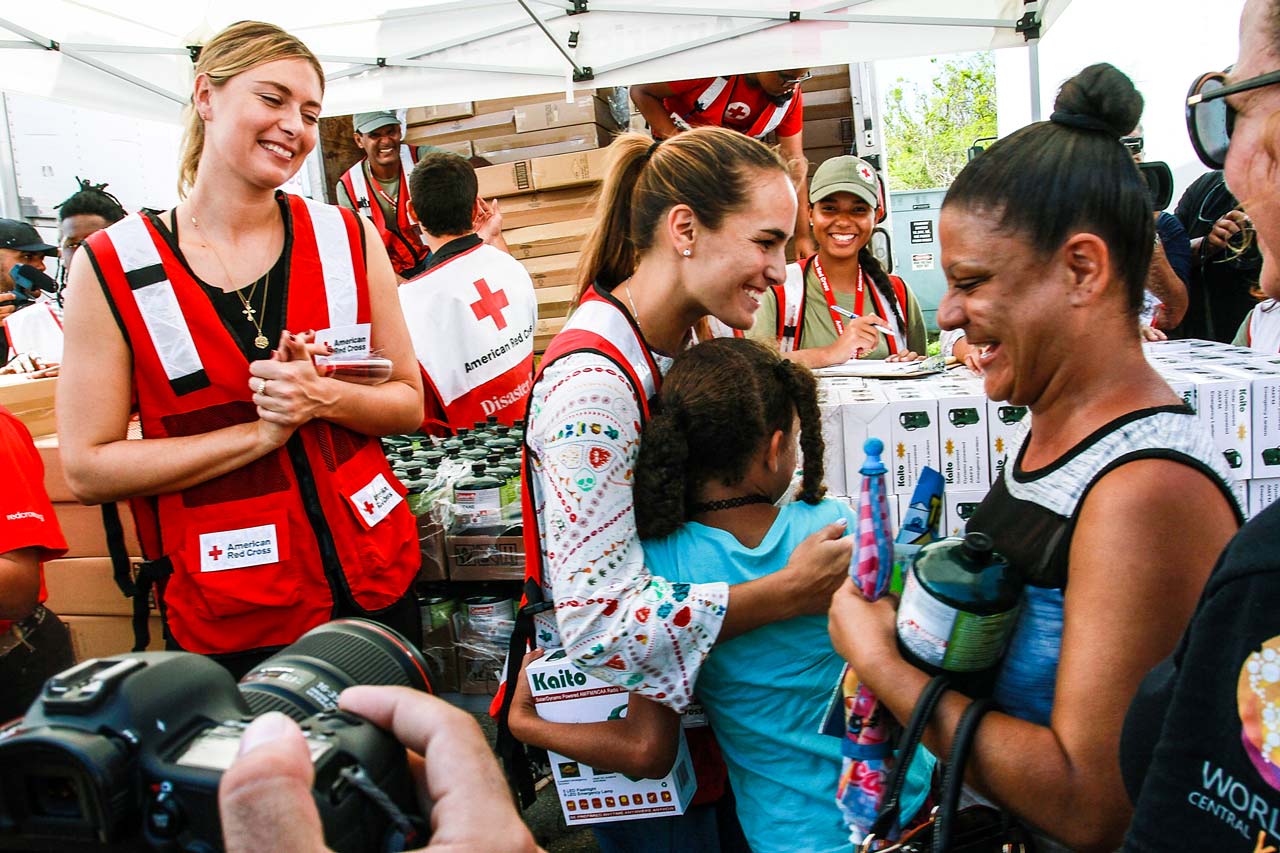 TAKING THE MESSAGE TO MELBOURNE
It was exhausting trying to organise all of this when I was still playing in Asia and Luxembourg at the end of the year, but it was also then that I started to come into my own again and to feel comfortable in my own skin.
Every time I went on the practice court I was having fun out there. I was enjoying the matches, enjoying the fight, the thrill of competition. It all started coming back to me.
This pre-season was also great. I had seven weeks of intense training and of course there were some ups and downs, but every day felt like a blessing.
I'm a much happier person than I've ever been. Even my family has noticed. At 24, I'm starting to discover new things about myself, I'm starting to really know myself, and be happy with the person that I've become and the person that I am, and that is really huge for me.
When I was little I always wanted to come to Australia because I was fascinated by the kangaroos. They were my favourite thing. I really love being here. The crowds are great, the atmosphere is incredible, I love the blue courts.
Melbourne was where I made my first grand slam final as a junior, Sydney was where I reached my first WTA final, and I'm really excited to be here starting off this new season.
Will the Australian people see me as the player who won the singles gold medal in Rio, or the player who's trying to help Puerto Rico? Maybe both.
But they'll see someone who has her heart on her sleeve every single time she steps out on the court, and my heart will always belong to Puerto Rico.
Monica Puig and AthletesVoice will contribute to the Help Rebuild Puerto Rico fund.