A knee that shouldn't be working
The specialists don't reckon they've seen anything quite like it.
I ruptured my ACL against the Sharks at Kings Park in Durban a couple of weeks ago. It happened two minutes into my Waratahs debut. I came off the bench with about 15 minutes to go, made a run off a line-out, tried to step off my left foot and I think that's where it went.
There was no distinct 'pop', but when I stood up my leg was numb. I felt like it switched off.
I was standing there for about 30 seconds in a break of play hoping the feeling would come back. It did and I played out the rest of the game.
The medical staff looked at it in Durban but it wasn't until we flew to Argentina and had it scanned that they realised it was no good. I was facing four-to-eight weeks on the sideline – and nine months if a reconstruction was required. My head was a bit all over the shop. It was quite a lot to take in straight after the high of your home-state Super Rugby debut.
But a funny thing happened over the next ten days. I didn't lose mobility or strength in the knee. The specialists had another look at it back in Sydney. They realised that the ACL was indeed ruptured but the meniscus and everything around it hadn't blown out. They tell me it's very rare.
I'm one of three halfbacks at the Waratahs along with Nick Phipps and Jake Gordon. I'm on a short-term contract at the moment and that runs out in a couple of weeks. Nick and Jake have had a few injuries this season – thus the opportunities I've had off the bench – and it looked like they might both be pushing it to be fit ahead of the Rebels game.
I was on the rehab list and hadn't been training.
By mid-week, it looked like Jake was in a fair bit of doubt to play so the coaching staff asked me whether I was confident enough in the knee to test it out at training. At first, I thought it was a discussion about playing off the bench but it quickly turned into a talk about starting. That's been the dream for a long, long time.
I gave it a shot. I ran twice during the week. I could sprint, stop and change direction. That was enough for me. There's always the risk of doing more damage, but I was confident I wouldn't let the team down against the Rebels. I told the Waratahs I was available.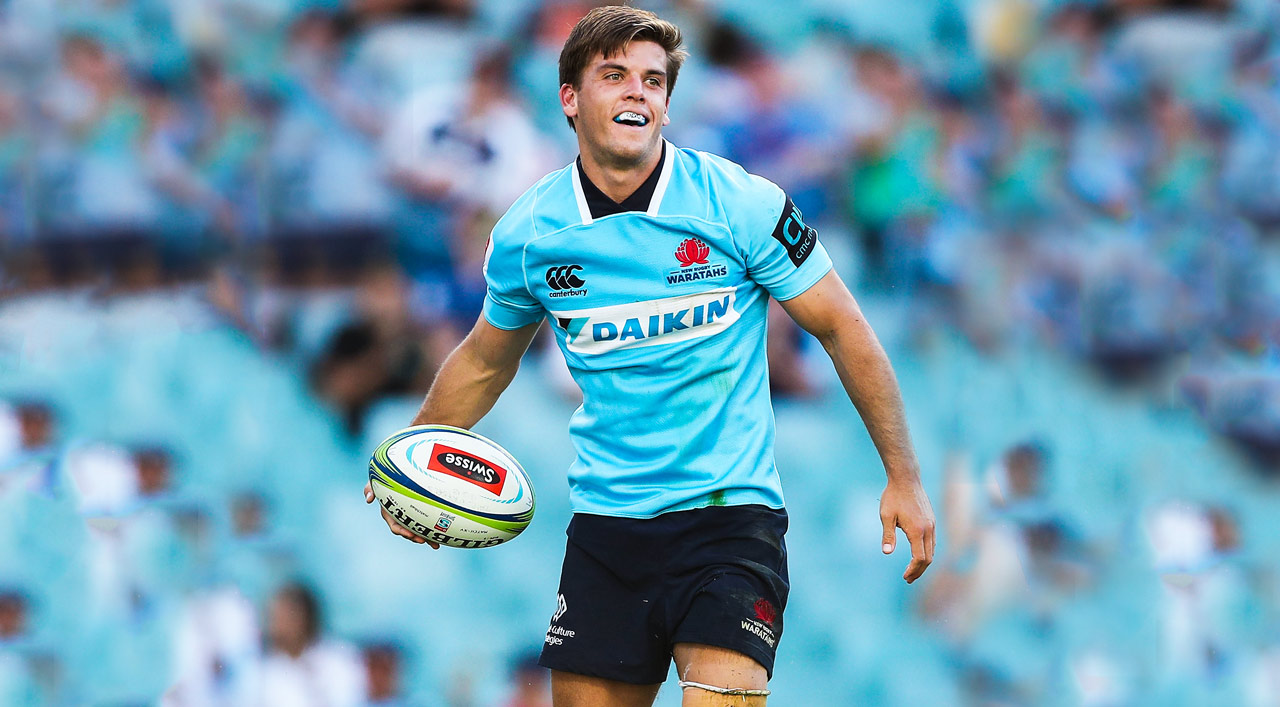 There was a mix of excitement about making my run-on debut for my home state, but also some nerves about how the knee would hold up. I didn't want to let anyone down. Playing on a ruptured ACL isn't exactly how you imagine you'll be entering one of the biggest games of your life!
There was plenty of motivation ahead of the game. The Rebels had won three in a row and, with the injuries and travel schedule the Waratahs had endured to start the season, there'd been a few questions asked about us.
And, on a personal note, I was playing against Will Genia.
I'll be honest: it was a bit of dream come true. He's an incredible player, the Wallabies' No. 9 and the crucial link in the Rebels this season. A lot of what they create in attack comes through him – a kick, his passing game, a run. As a team we were focussed on shutting him down and the ball carriers around him.
We all did our job. After trailing at halftime, we ended up breaking 50-points and winning by quite a decent margin. I was lucky enough to be on the end of an awesome linebreak and pass from Curtis Rona and scored a try.
It was a good day, and one that showed our fans and the rest of the competition what this squad is capable of.
FOR MUM & DAD
I was really happy my mum, Kylie, could be there to watch the game. Our family has been through quite a lot together.
We lost dad in 2009.
I was quite young at the time, but to this day dad is always there in the back of my mind.
With every game and every little milestone, I take a little moment to think about how proud he would've been. My run-on debut for the Waratahs would've been one of those occasions. He was always a massive supporter of me and my brothers and sisters.
It was special to have mum there. She congratulated me after the game and gave me a big hug (although I think she might have been eyeing off the big bottle of wine I was presented for being named man-of-the-match by the supporters!).
Playing on a ruptured ACL isn't exactly how you imagine you'll be entering one of the biggest games of your life!
To that point, the few opportunities I'd had for the Force and the Waratahs had been off the bench – I debuted for both teams in Durban – and when she travelled to Brisbane to watch us play the Reds, I only got on the field for two minutes.
But this time I started and played 60 minutes for my home state, in my home city, in front of a big Sunday afternoon crowd, in an Aussie derby game. And we won!
It's about as perfect a scenario as I could've dreamed of for mum to see me really play Super Rugby for the first time.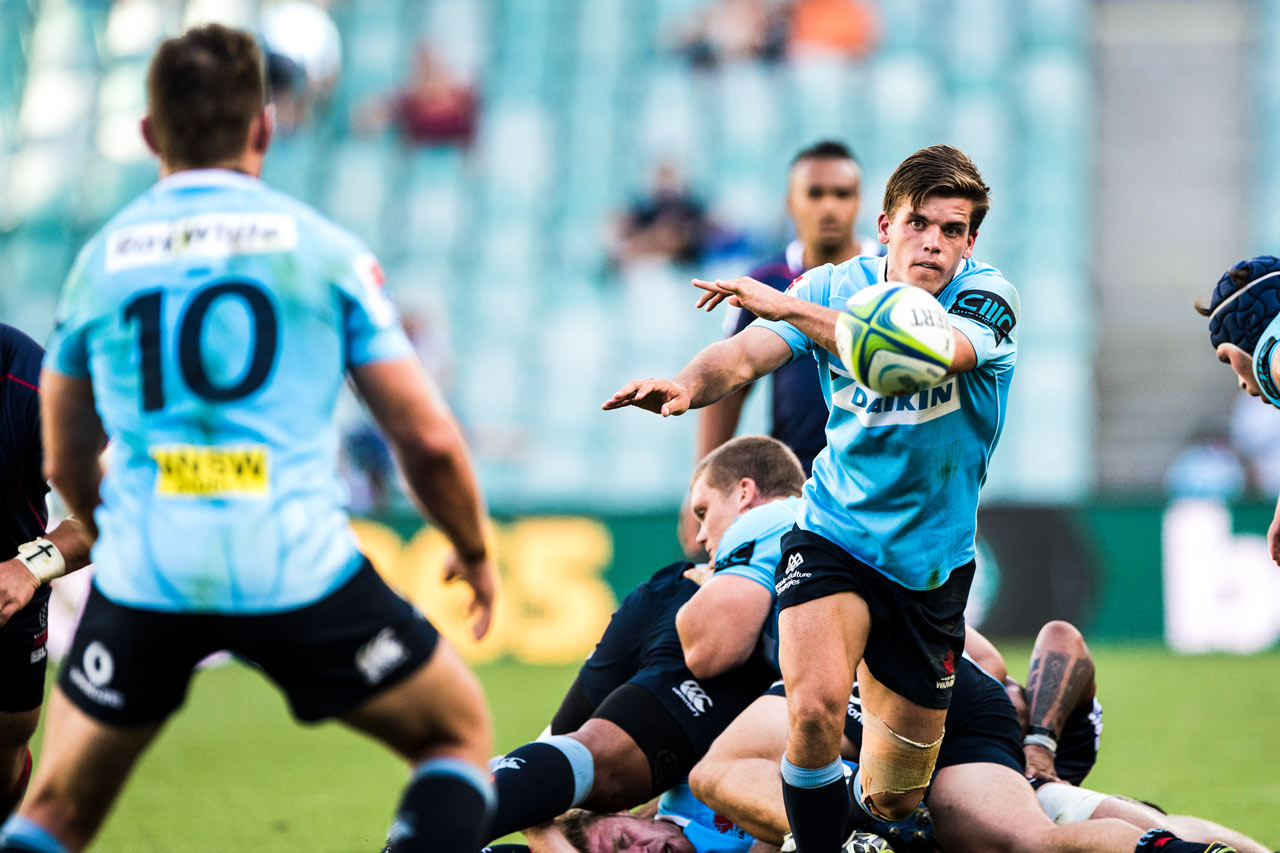 CONTRACTS & OPPORTUNITIES
This year has moved at a thousand miles an hour.
About a month or so before the Durban game, I'd been working on the family's slipway in Cronulla painting anti-foul on the hulls of boats. And just before that, I had been living in Perth and playing for the Force.
When I returned to Sydney, I realised there were no guarantees. Nick and Jake are both quality halfbacks so I was focussed on knuckling down for Randwick.
I was invited to join the Tahs pre-season when Nick was away on Wallabies duty and loved it.
When he returned, I went back to work at the slipway, but then I received another call saying Nick was in doubt for the first trial with a calf injury and was asked to rejoin the Waratahs' pre-season.
I then played in the trial against the Highlanders in Queenstown.
It was pretty cool to get my first game for NSW, even if it was only a trial – pulling on the sky blue jersey was something I'd always wanted to do since I switched to rugby union from rugby league when I was ten.
To then get my state debut against the Sharks and run-on debut against the Rebels has been incredible. Being named man of the match in a big home win with my friends and family in the crowd is hard to believe!
I'm not sure what the future holds from here – I am off contract with the Waratahs at the end of next week – but am feeling really positive about the future.
It would be great to be offered another contract but, if not, I feel like I'm ready for the journey and will go wherever the game takes me.
More about: Injuries | Super Rugby | Waratahs