THE WORDS I NEVER SAID
Anyone that has moved cities before, knows how difficult it can be beginning a new life.
Coming back to play for the Mariners in 2015 wasn't too bad, because I had so many friends and family nearby in Sydney. But when I moved down to Melbourne to play for the Victory in 2016, I didn't know anyone.
As professional footballers, you spend a lot of time with your teammates. You train together most days and might catch up for lunch, but everyone has their own lives as well. You go your own way a lot of the time and without other friends and hobbies, you can struggle to fill those gaps between club commitments.
So, I set out exploring Melbourne and ended up finding a great little café close to where I lived in South Yarra. And from that first visit, I struck up a friendship with one of the guys that worked there.
That's how my new routine began. I'd train in the mornings with the Victory and then I'd go home, get changed and go to the café. I was there every afternoon for hours, doing admin on my laptop, reading the papers and just chatting to my mate as he worked. He made pretty good coffee as well!
Over the course of the next 12 months, we became really good friends. He made a real effort to include me in things and introduced me to his group of mates, who all came by the café each day as well. It became a real clique.
We started hanging out away from the coffee shop, going to events and that sort of thing. My mate had given me a life outside of football.
And then one day, he was gone. I won't get into what happened, but he passed away suddenly.
It honestly flipped my world on its head.
He'd been my best friend in Melbourne and someone that I could confide in. And I never even got the chance to say goodbye or tell him how much our friendship meant to me.
I felt like I couldn't go back to that café either, because the grief was still so fresh. I didn't know how to cope with it and I didn't think anyone would understand.
And when you can't speak about things like that, the pressure pretty quickly builds up.
A month or so later, I was on set at the ABC …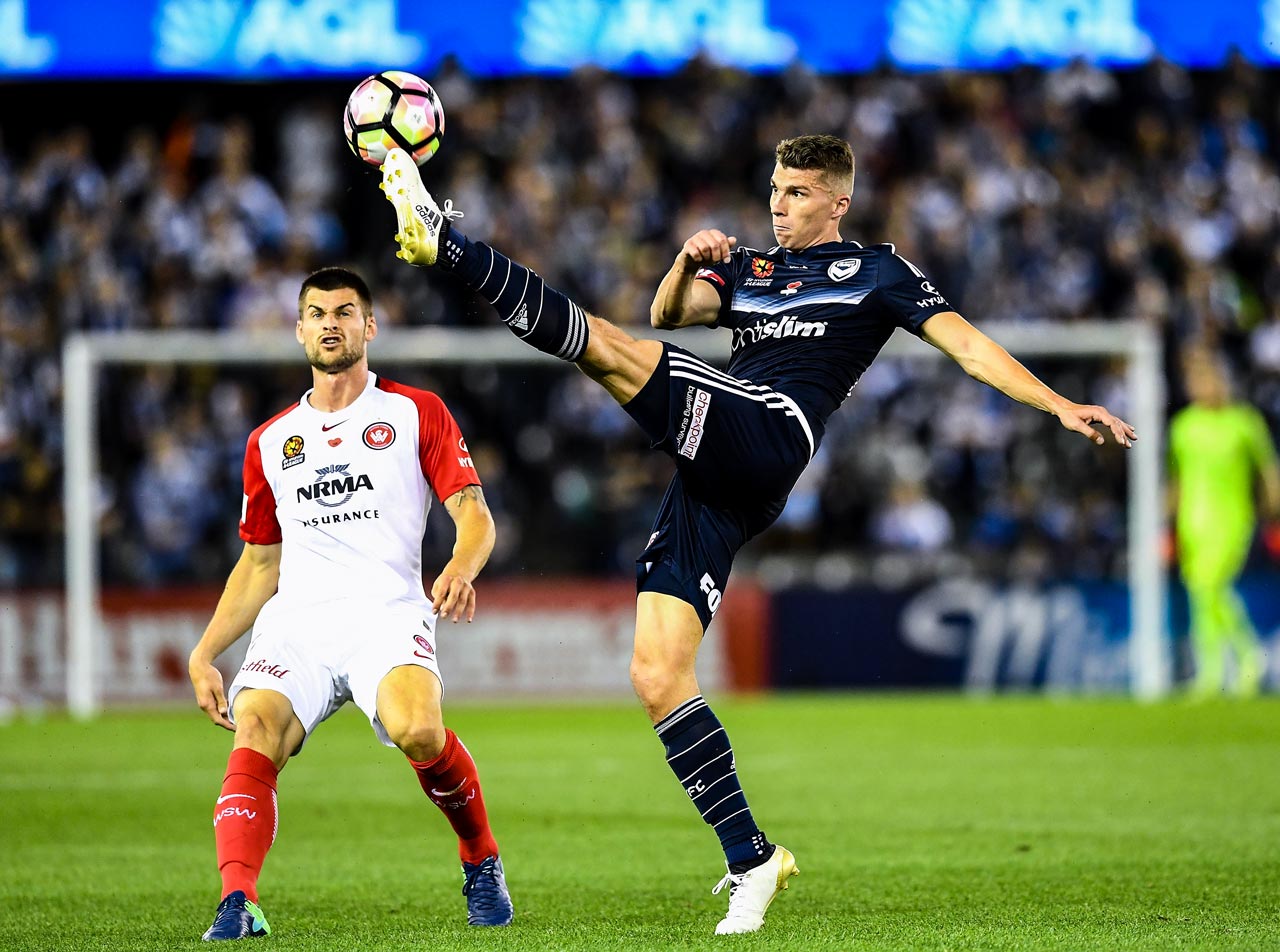 MY RESILIENCE PROJECT
It wasn't long after, that the Victory brought in an organisation to run some workshops with the team, around mental health issues.
It was called The Resilience Project, and it was run by two guys from Melbourne named Martin Heppell and Hugh van Cuylenburg. I didn't know it at the time, but Martin was about to become a really important person in my life.
At first, my way of coping was just putting my head down and trying to play good football. That lasted for just six rounds, until I tore my ACL at training.
From that point, I didn't even have football to take my mind off things. My season was over, and I was facing 12 months on the sidelines.
Martin was one of the first people to reach out. He had heard the news about my injury and remembered me from the workshop. He asked if he could come visit me at my house.
We had a meeting about how I was dealing with everything and that's when our friendship really started.
I'd go and visit him at his office in Collingwood every couple of weeks to just chat about things and I always came away from those meetings feeling better.
He gave me some practical advice as well. He asked me to start keeping a diary, which is something I'd never thought I'd do. It wasn't to vent or express my emotions or anything like that. It was for another purpose.
At the end of every day, it was for me to go home and write down five good things that had happened. They didn't have to be big moments. Even just little things like catching every green light on the way to training could make the list.
Martin had a big thing about empathy as well, so he encouraged me to help others because that would help me feel better about myself. And it would give me another thing to write down as well!
It might seem silly, but I wrote in my diary every day. And over time it turned my thinking around. I started noticing the good in life again, rather than just the bad. I couldn't be more appreciative of Martin and The Resilience Project.
There were a lot of jokes going around, and people laughing at me online as well. It made me angry at the time because those people didn't know the full story. And if they did, they might have stayed quiet.
I even took some of my mates along to their free sessions in Melbourne. Every one of them took something away from the experience. You don't need to have a problem with your mental health to benefit.
I put my energy into other positive outlets as well.
I'm a big FIFA fan, so when the E-League started out of nowhere, I thought it was unreal. I began representing Melbourne Victory along with my close mate Mouad Zwed, who was also recovering from an ACL injury. We were a great team and had a lot of fun.
The E-League gave me a social outlet, fed my competitive nature and provided me with another way to represent the club. One of the Matildas players, Amy Harrison, was also recovering from an ACL injury. I know she felt the same way.
My sister was actually one of the hosts, so it was great being able to spend more time with her as well.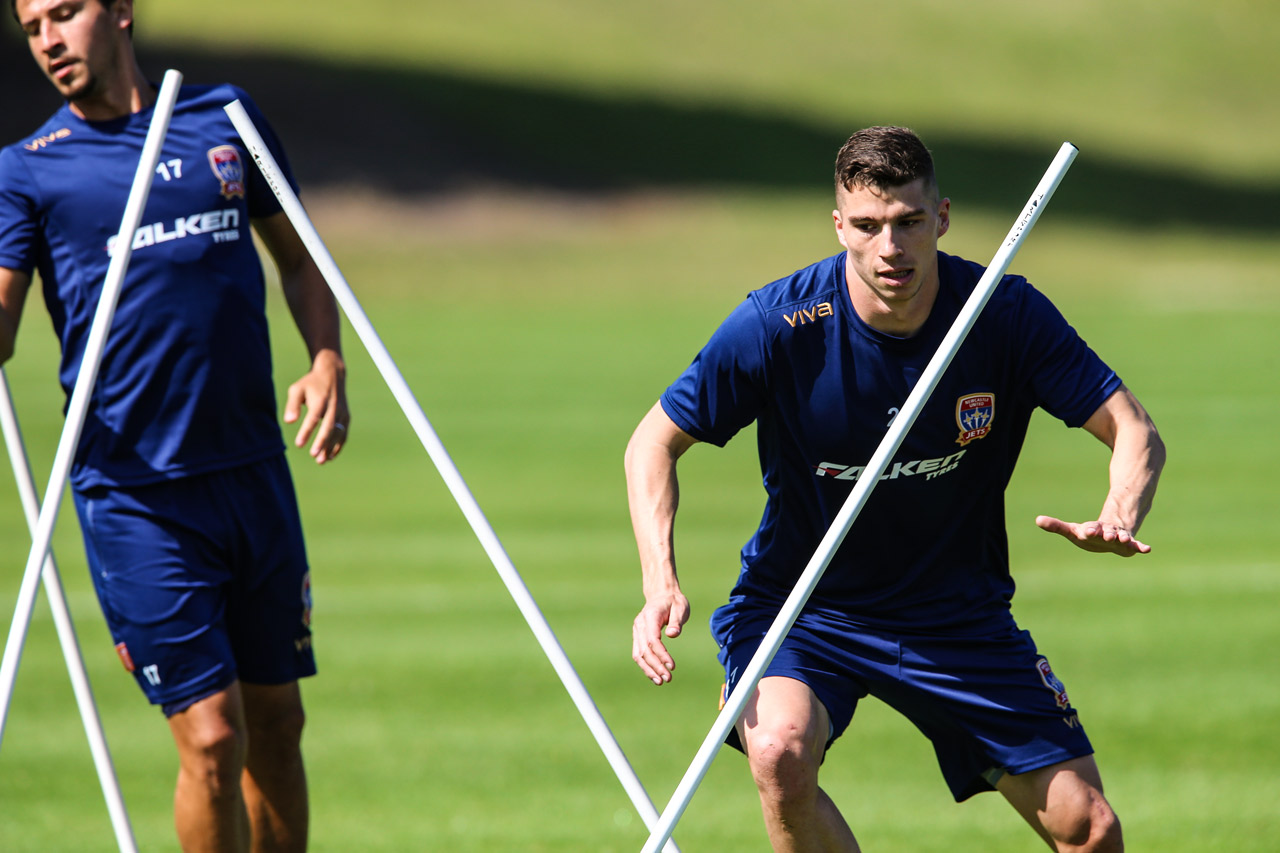 THIS IS THE BEST I'VE FELT IN YEARS
The Victory stuck by me even after my contract with them ended, which I'm very grateful for. They helped me rehab my knee and eventually I was able to return to training with their youth team.
I knew I was all mended up when one of the young guys tested me out with a strong challenge. My knee held up just fine.
Since then, Ernie Merrick brought me up for a trial with Newcastle and they ended up offering me a contract!
It's the perfect opportunity for me because it brings me closer to my family in Sydney, with a club that has done great things for the careers of Andrew Nabbout and Dimi Petratos recently.
Plus, they've pretty much got the same squad as the one that made the grand final last season.
I was down and out for a little while, but I'm in a good place again. This is the best I've felt in years.
I've got my own place up here, playing with a great bunch of guys and I'm excited about the future. I'm back doing media as well and it's great feeling confident about putting myself out there again.
If you're ever having trouble with your own mental health, I'm always here for a chat.
More about: A-League | Central Coast Mariners | English football | Ernie Merrick | eSports | Melbourne Victory | Mental health | Newcastle Jets | Resilience