Mitch Austin - Contributor
Wishing I was anywhere else
Walking onto the ABC set in Melbourne, I remember wishing that I could be anywhere else in the world.
I'd just lost a really good friend and I wasn't in the right headspace to be doing a TV interview. All I wanted was to lock myself away in my room and be alone with that grief.
But I was booked to promote the start of the 2017-18 A-League season, so I turned up. That was my job.
I sat down on the couch, across from the sports presenter Georgie Tunny, and tried to calm myself before the interview began. I could feel the heat of the lights and the cameras on me.
Then we were live.
Georgie asked the first question, which was something about the Grand Final rematch against Sydney FC in round one; a simple question.
And I froze.
I had to get out. So, I stood up and walked off set.
From that moment, I had countless people contacting me to check that I was alright. I think 140 people sent me messages on social media, offering their support. A lot of those messages were from people I didn't even know. That meant a lot to me.
What made dealing with the whole thing more difficult was that it was so public – on national television.
There were a lot of jokes going around, and people laughing at me online as well. It made me angry at the time because those people didn't know the full story. And if they did, they might have stayed quiet. At least that's what I'd like to think.
Because the truth is, it was actually the third time in just a few years that I'd had to deal with the death of someone that I was close to. Each loss had taken its toll and without me realising, had worn me down.
And when I look back, the signs were there.
I don't want this to come across as a sob story because I've dealt with this stuff and I'm stronger than ever now. I'm back playing football and doing plenty of media work again, which I love. 
I just want to share what I've been through. And how I've overcome it.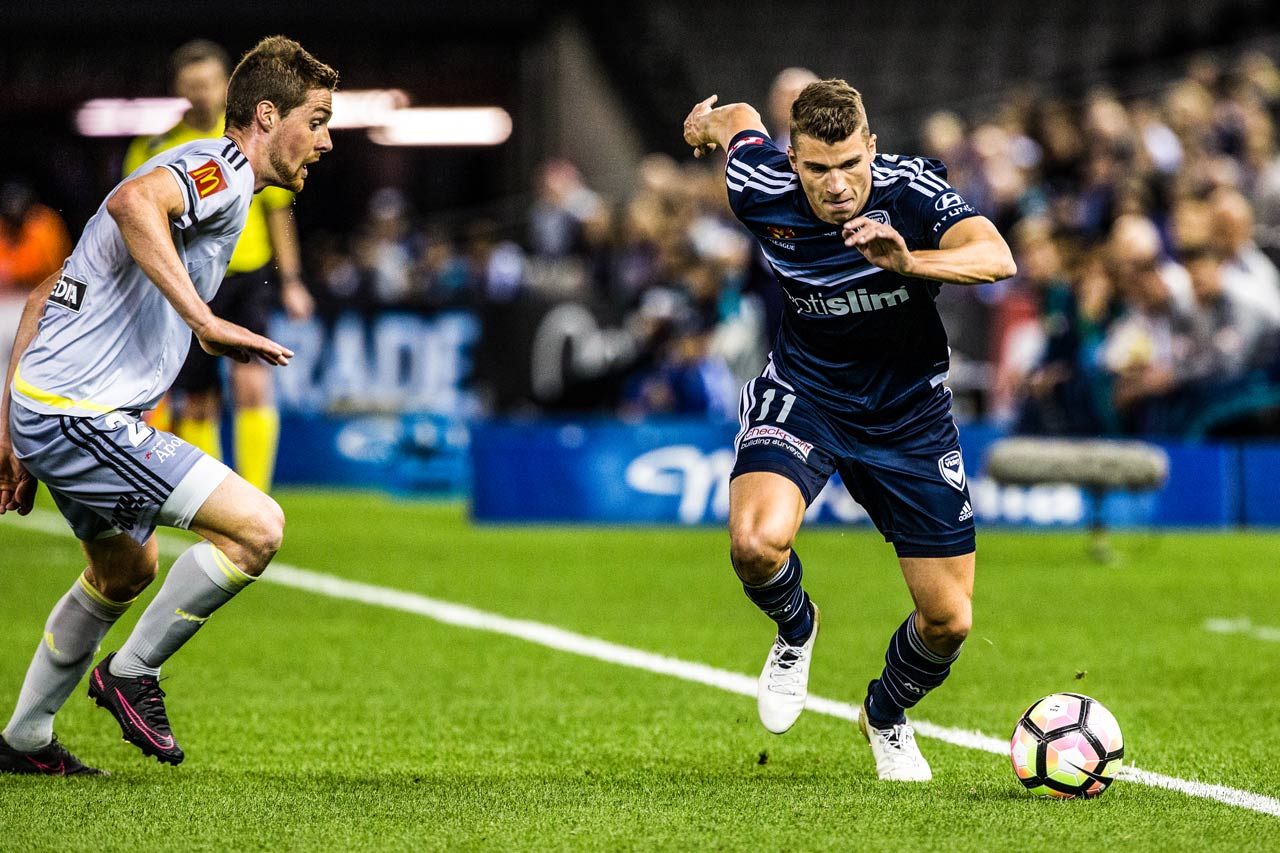 MOST BLOKES WOULD HAVE RUN AWAY
I was a Manly United junior in Sydney, but my football career really started in the UK, with a club called Rotherham United.
I was born in England, so moving to the other side of the world when I was 16 wasn't all that intimidating. If anything, it just meant I would be closer to my grandparents.
Rotherham sorted out accommodation for me and I served a proper English football apprenticeship. It was an incredible experience but after two years, the club didn't have a pro contract for me.
It should have all ended there really, but I didn't give up. I went to Sweden to play a season for a semi-pro team called Unik FK, which was based in Uppsala. And when I returned to England, I was offered a full-time contract with a club in the Conference North, Stalybridge Celtic.
It wasn't big money and it wasn't in the football league, but it was something.
My grandparents lived nearby, in Rochdale, so I moved in with them to make it work financially. But aside from being able to focus on my football career, I'm glad I got to share those couple of years with them.
My grandad was like a father to me while I was in the UK. He lived for my football and never missed a game, driving me all over the country.
He was my biggest supporter. Except for when I sat in his favourite chair! That would always earn me a clip over the ear.
I probably never told him, but I really looked up to grandad because he was one of the strongest people I knew. He never complained once, no matter how tough it got for him caring for a wife with multiple sclerosis.
Nanna was diagnosed before they got married and although most blokes would have run away, my grandad stuck by her side for 50 years. I think that says everything about his character.
If you don't already know, MS is a terrible condition that effects the nervous system. It has kept nanna in a wheelchair for most of her life and means she can't really look after herself. Grandad was her primary carer.
Seeing how he looked after nanna taught me a lot about the true meaning of love and loyalty.
Most blokes would have run away, but my grandad stuck by nanna's side for 50 years. I think that says everything about his character.
But grandad's health wasn't great either. He was suffering from chronic pain while I lived with them and he had a lot of stomach problems as well. But like many men from his generation, he just tried to tough it out.
Eventually the pain got too much, and he went to see the doctor, who diagnosed him with liver cancer.
Grandad deteriorated really quickly after that and within a few weeks he was gone.
Living in that house, the loss hit me really hard. He was someone that couldn't be replaced.
But what made it really difficult was seeing the effect it had on nanna. Her whole life was flipped on its head. All of a sudden there was no one to take care of her.
My uncle Brad held everyone together. He always found a way to cheer everyone up and make us remember the good times.
We couldn't have got through that period without him.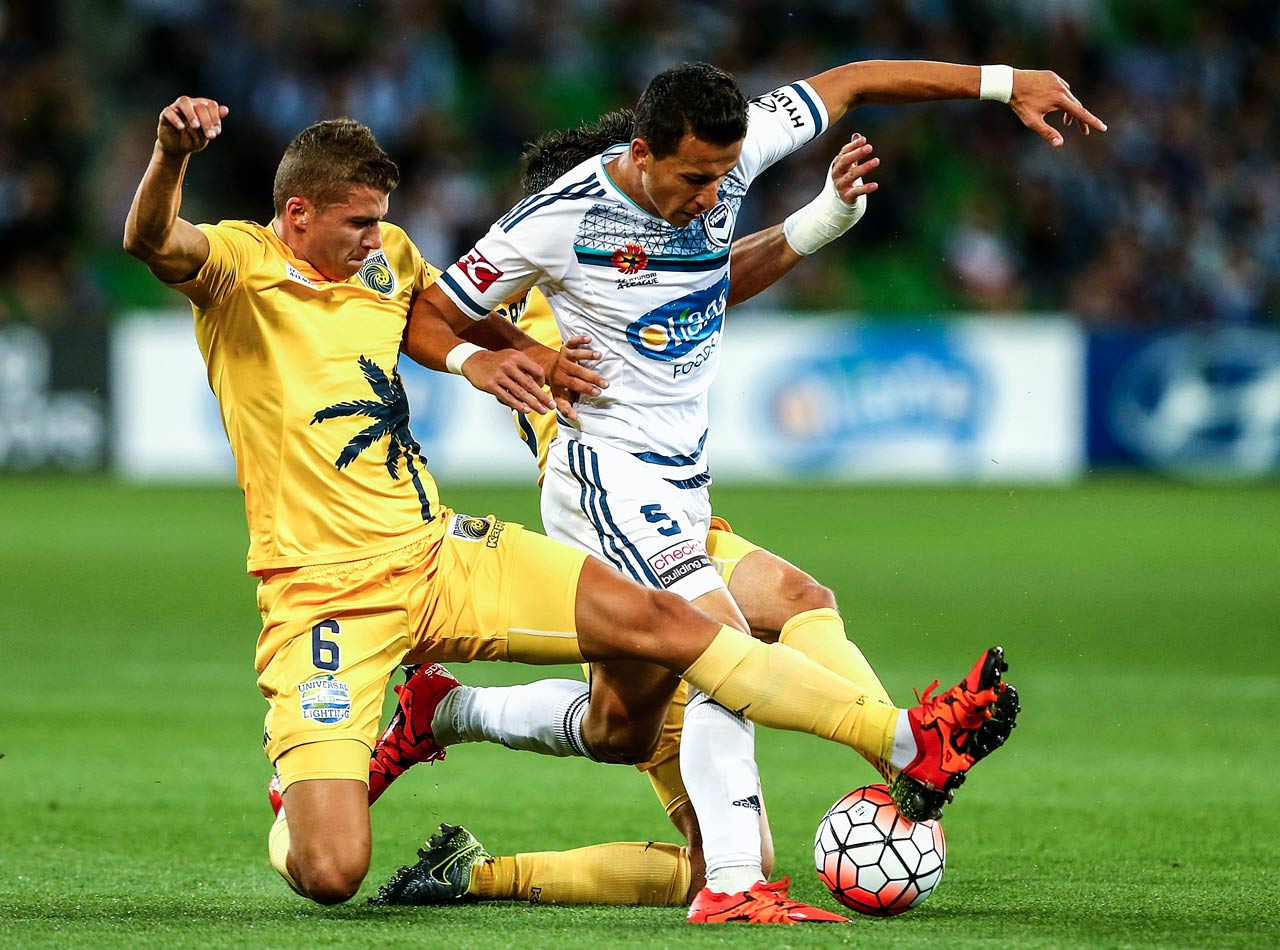 WHY I REFUSED TO GIVE UP
It wasn't long after grandad passed, that I got some bad news from back home.
My oldest friend had died in a motorbike accident in North Sydney, while riding to work one morning. His name was Nathan Kinny and he was my best mate.
Hearing about his death really rocked me because he had been a huge inspiration in my life, ever since we met on my first day of school in Australia when I was ten.
From the start, he was this larger-than-life Steve Irwin character who took me under his wing.
I remember we were out walking the dog one day and he found a green python up a tree. I bet him $10 that he wouldn't touch it, but without a second thought he went straight up to that snake and gave it a pat on the back.
I don't know whether he knew it wasn't poisonous or not, he just loved an adventure.
I even let him take my sister to his year 12 formal, although I wasn't completely happy about it!
And when we used to play sport, he had this never-say-die attitude. It rubbed off on me I think. It definitely helped when I was in England, dealing with a lot of setbacks.
He was that one friend you could always call, and he would cheer you up!
I could have come home after Rotherham, but I decided to graft it out in the lower divisions.
Then after Nathan passed, I was at a club called Cambridge United and I worked my way up to League 2, only to be loaned out to non-league clubs again. I still didn't give up on football. I stuck it out, because that's what Nathan would have done.
I still think of him and my grandfather before every game.
Nathan will always be my best mate and, in a way, his legacy lives on. He signed up as an organ donor not long before he passed, and I know that final gift has helped many people. It says everything about the kind of bloke he was.
THE WORDS I NEVER SAID
Anyone that has moved cities before, knows how difficult it can be beginning a new life.
Coming back to play for the Mariners in 2015 wasn't too bad, because I had so many friends and family nearby in Sydney. But when I moved down to Melbourne to play for the Victory in 2016, I didn't know anyone.
As professional footballers, you spend a lot of time with your teammates. You train together most days and might catch up for lunch, but everyone has their own lives as well. You go your own way a lot of the time and without other friends and hobbies, you can struggle to fill those gaps between club commitments.
So, I set out exploring Melbourne and ended up finding a great little café close to where I lived in South Yarra. And from that first visit, I struck up a friendship with one of the guys that worked there.
That's how my new routine began. I'd train in the mornings with the Victory and then I'd go home, get changed and go to the café. I was there every afternoon for hours, doing admin on my laptop, reading the papers and just chatting to my mate as he worked. He made pretty good coffee as well!
Over the course of the next 12 months, we became really good friends. He made a real effort to include me in things and introduced me to his group of mates, who all came by the café each day as well. It became a real clique.
We started hanging out away from the coffee shop, going to events and that sort of thing. My mate had given me a life outside of football.
And then one day, he was gone. I won't get into what happened, but he passed away suddenly.
It honestly flipped my world on its head.
He'd been my best friend in Melbourne and someone that I could confide in. And I never even got the chance to say goodbye or tell him how much our friendship meant to me.
I felt like I couldn't go back to that café either, because the grief was still so fresh. I didn't know how to cope with it and I didn't think anyone would understand.
And when you can't speak about things like that, the pressure pretty quickly builds up.
A month or so later, I was on set at the ABC …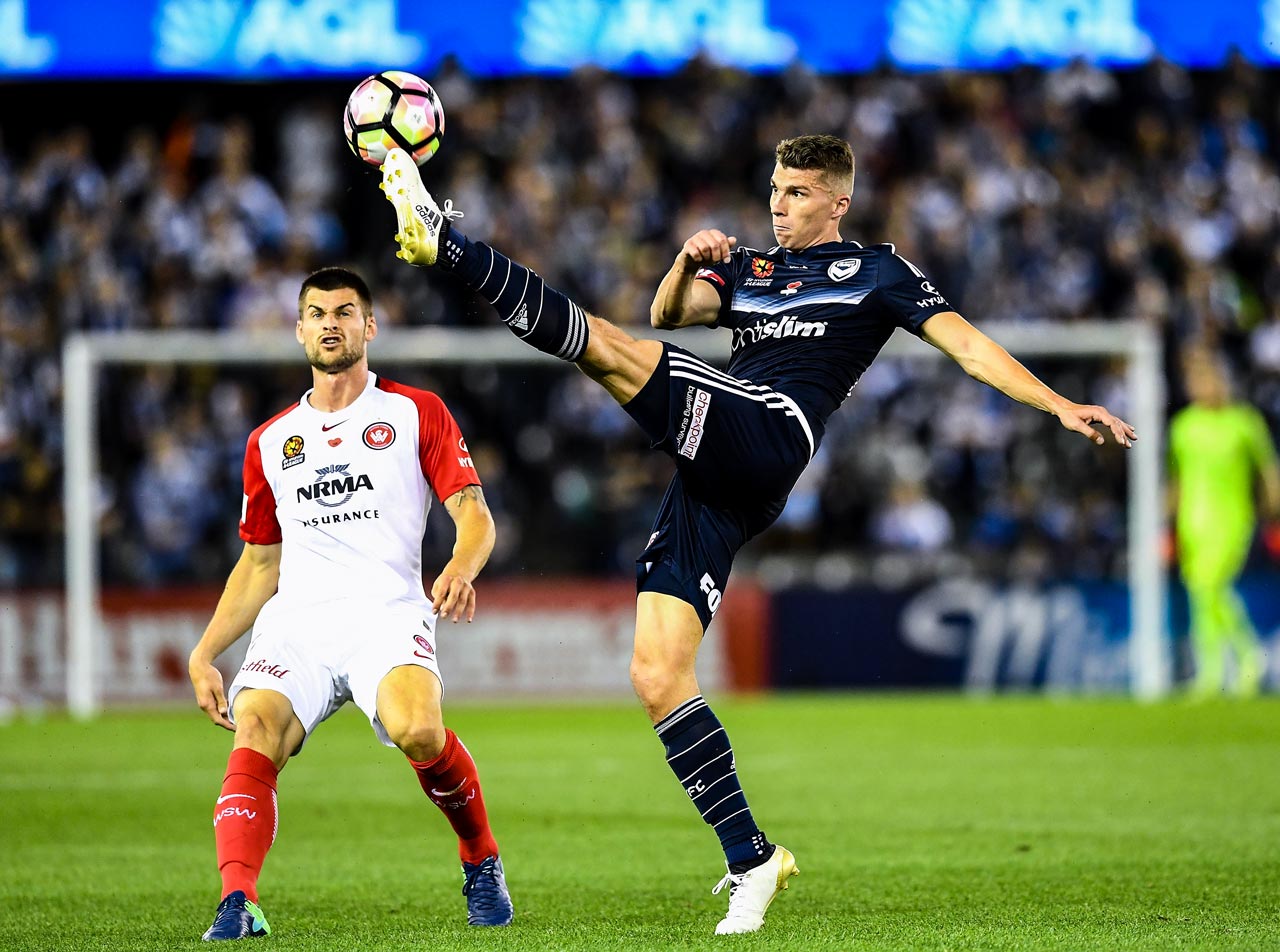 MY RESILIENCE PROJECT
It wasn't long after, that the Victory brought in an organisation to run some workshops with the team, around mental health issues.
It was called The Resilience Project, and it was run by two guys from Melbourne named Martin Heppell and Hugh van Cuylenburg. I didn't know it at the time, but Martin was about to become a really important person in my life.
At first, my way of coping was just putting my head down and trying to play good football. That lasted for just six rounds, until I tore my ACL at training.
From that point, I didn't even have football to take my mind off things. My season was over, and I was facing 12 months on the sidelines.
Martin was one of the first people to reach out. He had heard the news about my injury and remembered me from the workshop. He asked if he could come visit me at my house.
We had a meeting about how I was dealing with everything and that's when our friendship really started.
I'd go and visit him at his office in Collingwood every couple of weeks to just chat about things and I always came away from those meetings feeling better.
He gave me some practical advice as well. He asked me to start keeping a diary, which is something I'd never thought I'd do. It wasn't to vent or express my emotions or anything like that. It was for another purpose.
At the end of every day, it was for me to go home and write down five good things that had happened. They didn't have to be big moments. Even just little things like catching every green light on the way to training could make the list.
Martin had a big thing about empathy as well, so he encouraged me to help others because that would help me feel better about myself. And it would give me another thing to write down as well!
It might seem silly, but I wrote in my diary every day. And over time it turned my thinking around. I started noticing the good in life again, rather than just the bad. I couldn't be more appreciative of Martin and The Resilience Project.
There were a lot of jokes going around, and people laughing at me online as well. It made me angry at the time because those people didn't know the full story. And if they did, they might have stayed quiet.
I even took some of my mates along to their free sessions in Melbourne. Every one of them took something away from the experience. You don't need to have a problem with your mental health to benefit.
I put my energy into other positive outlets as well.
I'm a big FIFA fan, so when the E-League started out of nowhere, I thought it was unreal. I began representing Melbourne Victory along with my close mate Mouad Zwed, who was also recovering from an ACL injury. We were a great team and had a lot of fun.
The E-League gave me a social outlet, fed my competitive nature and provided me with another way to represent the club. One of the Matildas players, Amy Harrison, was also recovering from an ACL injury. I know she felt the same way.
My sister was actually one of the hosts, so it was great being able to spend more time with her as well.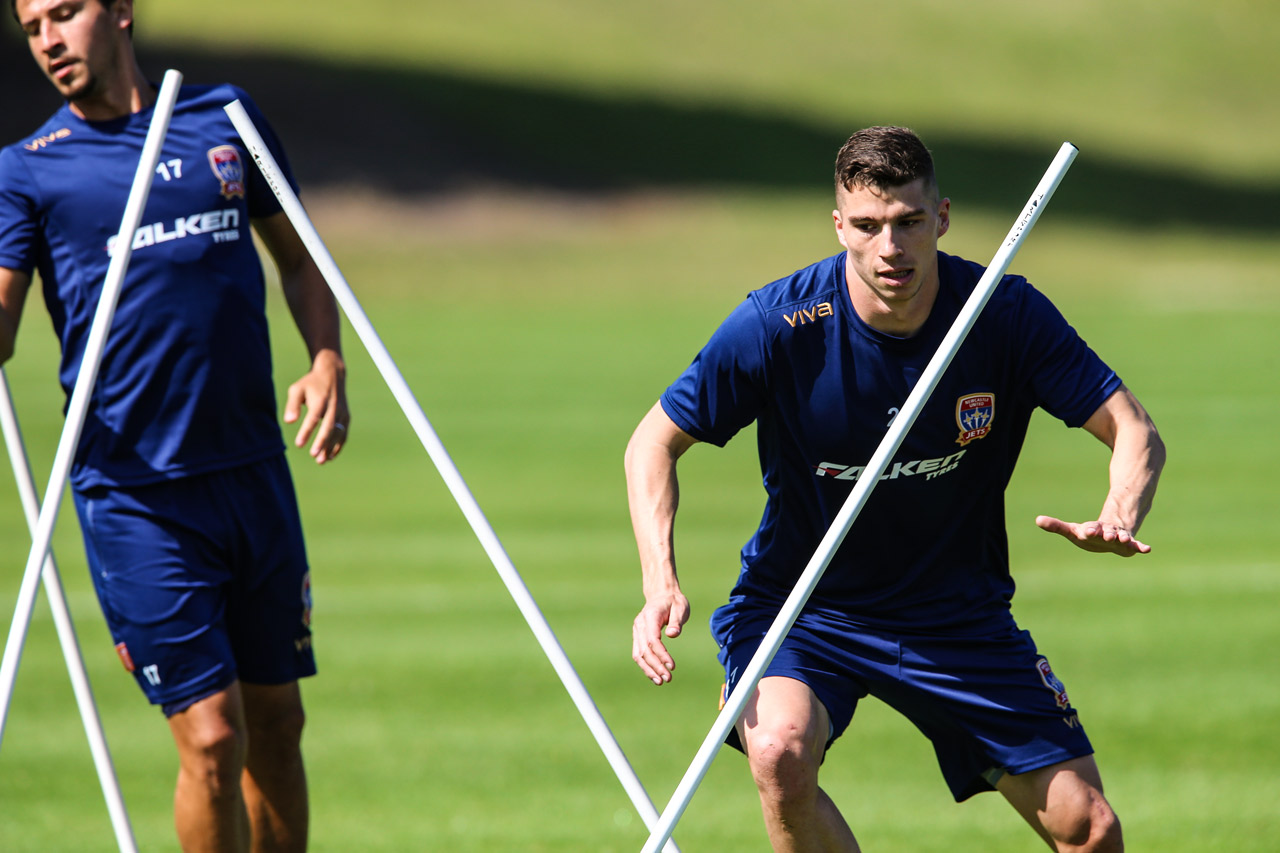 THIS IS THE BEST I'VE FELT IN YEARS
The Victory stuck by me even after my contract with them ended, which I'm very grateful for. They helped me rehab my knee and eventually I was able to return to training with their youth team.
I knew I was all mended up when one of the young guys tested me out with a strong challenge. My knee held up just fine.
Since then, Ernie Merrick brought me up for a trial with Newcastle and they ended up offering me a contract!
It's the perfect opportunity for me because it brings me closer to my family in Sydney, with a club that has done great things for the careers of Andrew Nabbout and Dimi Petratos recently.
Plus, they've pretty much got the same squad as the one that made the grand final last season.
I was down and out for a little while, but I'm in a good place again. This is the best I've felt in years.
I've got my own place up here, playing with a great bunch of guys and I'm excited about the future. I'm back doing media as well and it's great feeling confident about putting myself out there again.
If you're ever having trouble with your own mental health, I'm always here for a chat.
More about: A-League | Central Coast Mariners | English football | Ernie Merrick | eSports | Melbourne Victory | Mental health | Newcastle Jets | Resilience