The siren, then the bomb shelter
The story of how I came to love Australia is different to most people's.
I wasn't born here. I didn't speak English when I arrived. To be honest, I thought the place was pretty strange when I first laid eyes on it.
But this country means more to me than words can describe (although I'll do my best over the next few paragraphs!). No matter where I am in the world, Australia is always where my heart is. I'm pretty sure I am speaking for my parents, Dusan and Nada, and my brother Djordje when I say that, too.
Australia took my family in and gave us hope after the hopelessness of war. It provided us with an opportunity to work hard, buy a home and build a new life. It showed me that dreams were worth having.
'I HATE WAR'
I was born in Croatia in 1994 during the war of independence.
It was a difficult period for my family. I was 18 months old when we had to leave our town of Knin. I was on a tractor with mum and dad for nine days as we fled to Serbia. We had only milk and bread for the journey.
We left everything behind. Our house, our land, our relatives and friends. It is a difficult subject for my family. I don't talk much about it and neither does my father. It was a very sad period for him and his heart. He has not been back to Croatia since. That's 24 years now.
We started again in a town called Arandelovac. It's about 70 kilometres south of Belgrade.
It was a peaceful town, a beautiful town near Bukulja and Venčac mountains. The thing that made it beautiful wasn't so much the scenery, although that was very nice, but the fact you could speak to everyone, you knew everyone.
In 1999, NATO bombed what was then known as Yugoslavia for reasons I will never understand.
I was six.
I would be playing with my friends in the backyard or the playground. Then I would hear a siren. That meant an attack was coming. I would have to go to the underground bunker, which most older Serbian buildings have built underneath them because of all the conflicts through history.
We would be down there sometimes for 48 hours. There was no natural light. We lived on canned food like dogs. But the worst part was the uncertainty.
If you did manage to get some sleep, you didn't know whether you were going to wake up the next morning, nor whether you would see your parents again. You felt the ground shake with every bomb that dropped and you would hear the noise. It was safer in the bunker than outside, but only if your building didn't collapse.
It's shit to say, but I have seen dead bodies, felt bombs land on the ground, experienced their impact. No child should ever have to live through these things, yet it still happens all over the world.
I hate war so much. It was an awful experience and one I haven't spoken about publicly before.
So many died needlessly, kids and innocent people. I don't know why. I'm not a politician.
All I know is that I hated the whole thing. Whenever someone talks about war, I stay quiet.
I know what it is. I survived. But so do the memories.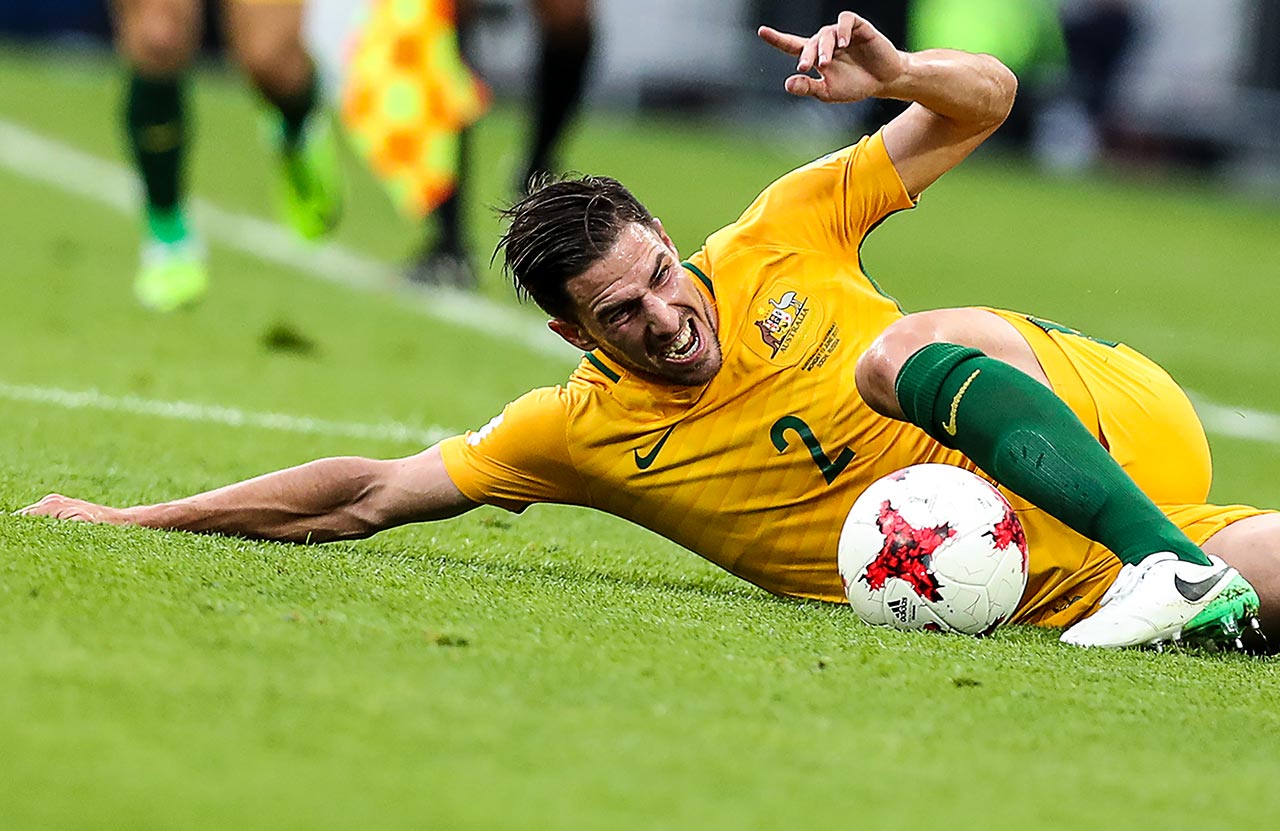 A NEW LIFE
Dad was an 800-metre runner. He competed at the national level in the old Yugoslavia. I was too young to watch him, but they tell me he was pretty fast.
One of the people he used to run with worked for the Red Cross. He told dad about a program through the United Nations or the Red Cross (I'm not sure which), where they could take your family away from the war and move to Australia. You didn't have to pay for anything at first, but once you earned a certain amount of money you reimbursed the organisation for the relocation costs.
There wasn't much reason for the family to stay where we were. Dad's work was minimal. Mum's work was minimal. Football was the only thing that made me happy and kept me off the streets.
We barely had food on the table. We didn't have much of anything.
I don't remember mum and dad talking to Djordje and me about Sydney. We knew we were going somewhere, but had no idea where that was or how long we would be staying.
Djordje and I were both excited. The flight didn't even seem that long. We were only young and being on an aeroplane felt like a big adventure to us.
It wasn't until we landed in Sydney that we realised we were in a new country called Australia.
We started out in Campsie, a suburb in the western suburbs of Sydney. That's when it really hit me. Arandelovac was a small town that was many centuries old, and now we were in a place surrounded by all these huge, new buildings and skyscrapers. And there were people everywhere!
Everything was new and different. We didn't know anyone. We couldn't speak the language.
It was a totally different world.
I have seen dead bodies, felt bombs land on the ground, experienced their impact. No child should ever have to live through these things, yet it still happens all over the world.
The first year was quite difficult. But it got a bit easier as we met new people and made new friends from the Serbian and Croatian community. And it got easier again when I started school and my parents found work. Life was starting to tick all the boxes.
For me, there were two big moments that made me fall in love with Australia.
The first one was when we bought our first house in Liverpool. It was something we never thought we would do. Australia gave us the chance to work hard, and by working hard we earned some money, and by earning some money we could afford a house.
It was a very, very old house but it had a huge backyard. That yard was the best thing that could've happened to me. It was where I got up every morning at 6 o'clock to train before school. And when I wasn't training, it was where my brother and our friends would play three-against-three, four-against-four. We turned it into a mini-football complex.
The second big moment for me was when I captained the Joeys at the under-15s level.
It wasn't a big game, just a friendly against Japan at the Australian Institute of Sport in Canberra. But it meant everything to me. My family were there. Dad cried. It was the moment a dream was fulfilled.
There were boys in the team of Australian background. They knew the country better than me, they knew the meaning of Australia. But the coach gave me the chance to lead the country, a boy who arrived with nothing from the other side of the world less than a decade earlier.
It was a beautiful experience. It's a moment that will always be in my heart.
FOREVER GRATEFUL
I will never forget what Australia has done for my family and me.
Croatia and Serbia have places in my heart. Yes, we were born there. Yes, we spent our small childhoods there. Yes, the most difficult part of my life was there.
But Australia took us in when we had very little and gave us the chance to rebuild our lives.
I am based in Japan these days with my club Yokohama F. Marinos, but I get the same feeling every time I come back to Australia. It's a place that makes you feel wanted and welcome. People smile. You're encouraged to chase your dreams, not laughed at for having them. It's a very young country compared to where I'm from, but it is moving forward rapidly.
Mum and dad moved to Serbia three years ago. Djordje, too. I was playing in Germany at the time and I had already been on my own for five or six years pursuing my football dream overseas. They thought they would move back to Europe to be closer to me. That way, they could visit me a lot more and make my life easier.
Now that the situation has changed, they all have ambitions to go back to Australia. They think it's the best country in the world.
Dad and Djordje flew out to Sydney to watch our final World Cup qualifier against Honduras. It was a very emotional moment for all of us. It was the first time I had ever qualified for a World Cup and I had done it for Australia, the country that gave us everything.
I missed my mum, she couldn't come, but it was a great to share this proud moment with my dad and my brother. I have a lot of photos from that night which I will cherish forever. There were a lot of hugs and kisses and congratulations.
And then dad said, 'Keep your head down and keep working.'
He's right. Even though it felt like the end of a journey, it was really just the start of one.
WORLD CUP DREAM
There are four things that I hold on to: my family, my football, my belief in God and my country.
I believe all of those things would come together if I am given the opportunity to represent Australia at the World Cup. Honestly, it would be the best thing in my life.
My family are planning to make the trip to Russia. I can just imagine them jumping up and down in the stands, smiles on their faces.
This joy would only be possible because of Australia. There were periods in my early life where the only happiness for me was the thought of 90 minutes on the pitch on a weekend. It sounds dramatic, but that's the truth. In Australia, I could throw myself into football, work hard and realise a dream.
I can't think of a better way to repay Australia for all the kindness it has extended to my family than to give my heart and soul to the Socceroos' cause at a World Cup.
That would be a dream all the family could share in.
More about: FIFA World Cup | Milos Degenek | Russia 2018 | Socceroos