Letters of confusion & love
I know the power of a smile.
I get lots of emails and letters from teenagers. They come up to talk to me after games and hand me envelopes with a story about themselves inside. Mostly girls, but sometimes boys.
They're drawn to me because they can see I'm happy in my own skin at a time when they're trying to come to terms with who they are.
They're still young. They're confused. All they really want is for someone they can identify with to tell them it's OK to be gay.
It's a big responsibility, I know, but I'm happy to take it on.
The world would be a better place if we were all a bit kinder to each other, wouldn't it? That's my motto.
When I was with the Matildas for last month's game against Brazil in Newcastle, a girl handed me a lovely card and said, 'Thank you for being you, because you've helped me so much with my life and understanding who I am.'
I've met this girl maybe four times now. I'd seen her at games in Canberra and Sydney before that. We've made a little bond. I got to meet her family this time as well, which was really nice.
She wants to be a Matilda, that's her goal, and she was just so happy I could be a role model for her on and off the field. It makes me so glad that I'm able to help that way.
I've even had a Mum come up to me and say her 14-year-old daughter was very confused because she was figuring out her sexuality. She said I was her daughter's idol and that I'd shown her you can be yourself and not be worried about that.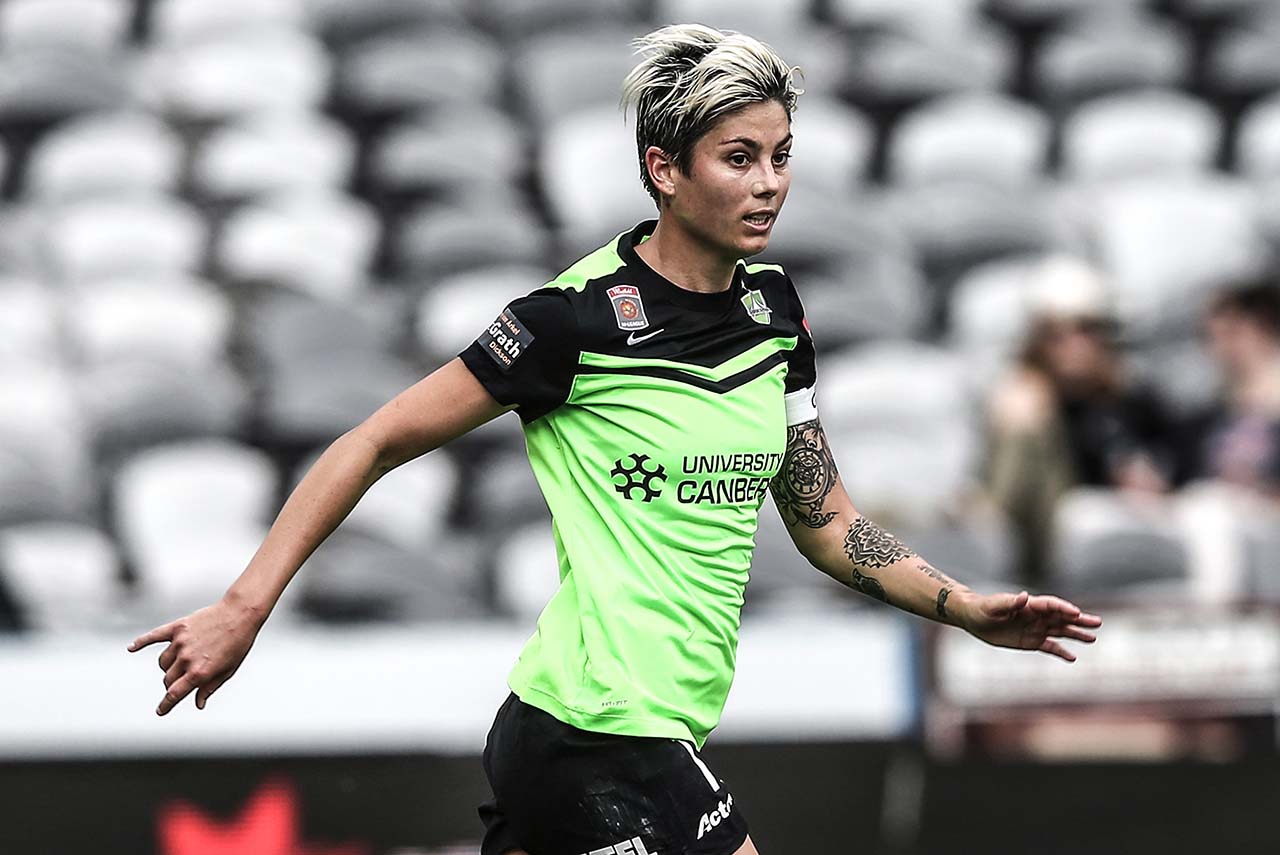 COMING OUT
I always have a smile on my face. I'm true to myself and honest with the public about who I am, because I'm proud of it. I don't let negative people get to me. I concentrate on the positive feedback that I get.
It's hard to keep up with the correspondence sometimes, because of football commitments and the time I spend working on career ideas that might sustain me beyond my playing days, but I try to get back to all the emails and letters.
I just want these young people to know there's nothing wrong with being who they are, and that it's safe.
They're often scared to talk to their parents about it. They say to me, 'What if Mum and Dad don't like me? What if they don't understand?' But I encourage them to talk to their parents.
When I was with the Matildas for last month's game against Brazil in Newcastle, a girl handed me a lovely card and said, 'Thank you for being you, because you've helped me so much with my life and understanding who I am.'
I've always had great feedback from my Mum and Dad. Mum has always said, 'You're my daughter no matter what and I love you for who you are.'
I was about 10 when I realised I was gay. I knew I was different from most girls when I was young, but I just thought I was a tomboy. It was my Dad who pretty much told me I was gay. He helped me come out. Like, he knew, and I was like, 'Thanks Dad, good conversation.' It was very funny.
That's what I tell the kids when I write to them, or speak to them after games. I say I'm lucky enough to have parents who accept me for who I am and that I'm optimistic most parents and families would be the same.
There wouldn't be so much stress in their lives if they could be open and comfortable having this conversation with their Mum and Dad.
HELPING A NEW GENERATION
The kids talk about bullying. Suicide is a massive problem around the world and for people to get bullied so bad that it leads to them taking their own lives is heartbreaking.
I think if I can help try to save some lives by sending out the right message then that's something I must do. I tell the kids there's no reason they can't be like me and lead a happy life and not be stressed and sad.
I've always been fine with it. I've never tried to hide it. I 'came out' publicly in a women in sport article several years ago because I was encouraged to do so, but that was no big deal to me. It wasn't a revelation. Everybody knew that I was out and proud.
I won the LGBTI Sports Personality of the Year award in March. It was a very cool moment, because this wasn't just about football. It was the first time I'd won an award for just being me.
I didn't go out of my way to try to win it, I was just doing what I feel is right. If people want to pull me up and talk to me about being a gay athlete, I'll talk to them. I believe that's why I won the award, because I'm trying to use my profile as a Matilda to help.
The kids talk about bullying. Suicide is a massive problem around the world and for people to get bullied so bad that it leads to them taking their own lives is heartbreaking.
I've got no doubt that what I'm doing is helping. What people say to me at games, what they write in the letters and what they post on my social media wall tells me that. Some of the feedback I get is incredible and makes me feel so warm inside. I'm going to keep doing it.
My partner, May, and I have known each other for a very long time, but we only started a relationship not long ago. We're coming up to two years together in December.
May lives in Sydney and I'm based in Canberra as my team prepares for the W-League season, so it's a long-distance relationship, but it works. Love has a way of overcoming obstacles.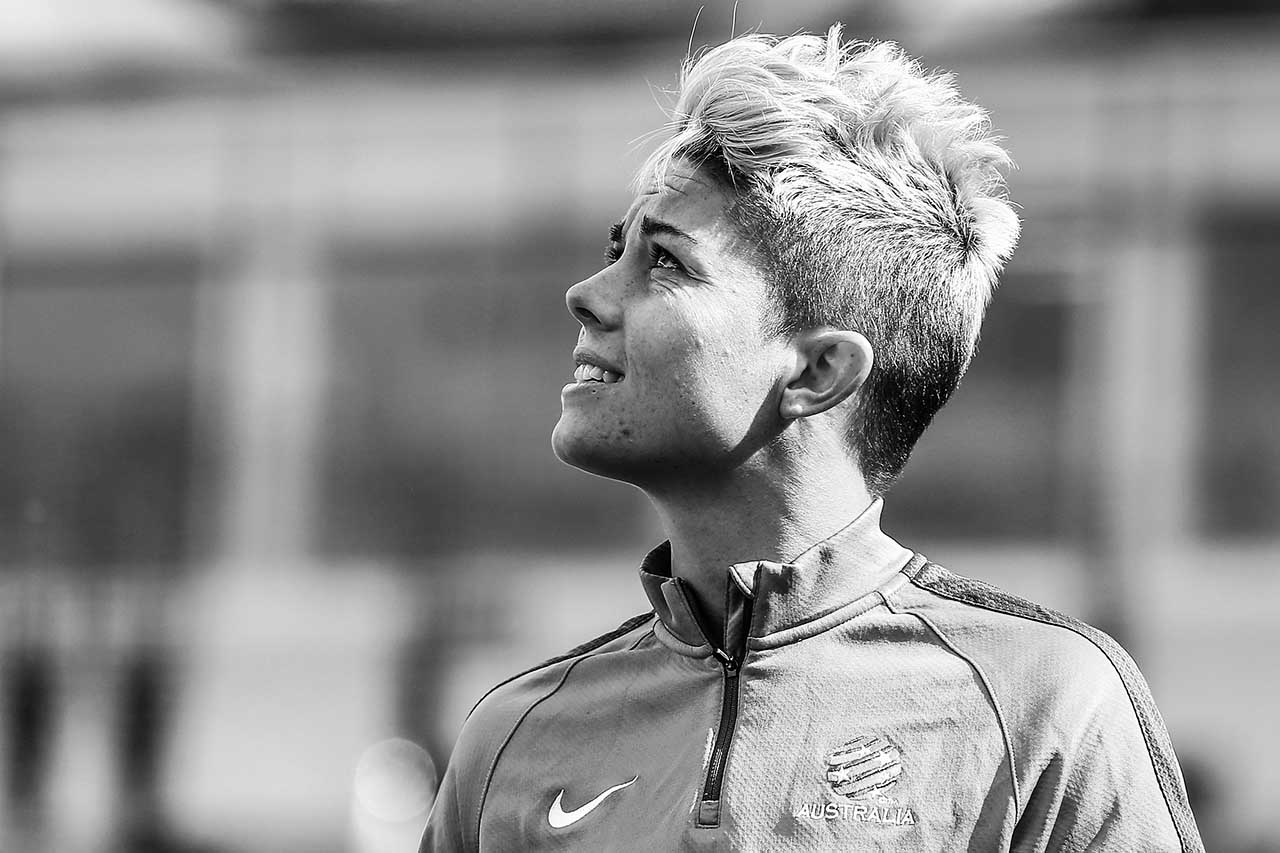 EQUALITY & MY DEATH-BED FEAR
That's what frustrates me about this whole same-sex marriage debate. I don't understand how some people don't just get it. It's just love. No one's hurting anyone, we just want to be equal. It's stupid that it has to actually go to a vote in the first place.
It has been totally politicised, which is no surprise at all. I sometimes worry that it might be a 'no' vote and we're going to have to keep fighting for this, over and over again. Fingers crossed it's a 'yes' so we can stop all of the bullshit.
I respect that everyone is entitled to their opinion. What I'm hoping is that all of the campaigning that goes on doesn't cause people to second-guess themselves.
The public is choosing the future for gay people, what they can or can't do, so I hope people stop and realise it could turn out to be their daughter, son, aunty, uncle, friend or whoever that is affected. Think about that.
One thing that really makes me angry is this: what if I was on my death-bed in hospital and my partner wasn't allowed to come and see me because we're not legally a couple, so she's not immediate family?
That's just sickening.
I'd love to spend the rest of my life with May and it's my intention to do that no matter how this vote turns out. We haven't really spoken about marriage yet, but I want the right to have that option available.
I'm a bit concerned about how some people in the older generation might vote, given that what we're talking about was so forbidden when they were growing up. I have a couple of friends whose parents couldn't handle it when they came out to them.
They still can't.
But the fact my Mum and Dad readily accepted me for who I am makes me believe everyone in the world is at least capable of looking at this debate the right way.
I've got faith in human nature. I believe if people ignore the outside noise and look within their hearts before they vote, we'll get the right outcome.
OVERCOMING ADVERSITY
It hasn't been a good year for me on the football front because of a bad ankle injury I got playing for Canberra United last December.
I wasn't quite ready to play for the Matildas in the two games against Brazil, but I'll be back on the field when the W-League season begins at the end of the month and I'm looking forward to playing for the national team again in our two home games against China in November.
During the training camp ahead of the Brazil games I had a meeting with our coach, Alen Stajcic, which has put me in a great frame of mind for the challenge ahead.
I'm only human. I'm 29 and when you haven't played for so long you start stressing about your place in the team.
It's scary, because thoughts start running through your head like. 'What if I don't get in the squad again? What happens if he doesn't need me anymore? What is my life after that?'
I'd been panicking. The pain in my ankle wouldn't go away and what I was told would be a three-week injury had turned into a three-month one, and then six months.
I had so much doubt in my mind and every day I'd wake up the same, thinking 'oh, shit, here goes another day of not being able to run'. Sometimes I couldn't even walk around the shops properly. It was so frustrating.
It wasn't until they injected saline and cortisone into my ankle to try to break up the scar tissue that something good happened. I felt it pop and I got relief straight away. Things improved quickly from there.
I'd never had a major injury before. A sore knee for a week or two was as bad as it had ever been for me, so this injury was a huge shock to the system.
It's been nine months since I've played now, but I'm finally ready to go again.
This four-year cycle takes us through the World Cup in 2019 and the Olympics in 2020, so it's up to me now to make sure I'm good enough to still be there.
Staj's timing is great. He seems to know when you need some positive reinforcement. He told me what he expects from me, what he wants me to work on and how I can remain a force in the team.
His words made me wake up to myself and get back to where I needed to be in my head. The doubts, the negative thoughts, they're gone now.
I know I've still got it, I'm still part of this team. The rest I can handle myself.
More about: Canberra United | Matildas | Michelle Heyman | W-League