Tonga's World Cup revolution
Here's what it means to represent Tonga.
Andrew Fifita told me a story about his Dad. He said his old man was happy after hearing Andrew was going to get selected for Australia at this World Cup. But when Andrew told him he would be representing Tonga instead, his Dad cried.
I know what he means.
Playing for the Kangaroos is the pinnacle in rugby league. If you make that team, you're up there with the best in the world in your position. It's been an honour and a privilege to represent Australia in seven Tests and bagging a few tries along the way. I'll always cherish those memories.
But it's a very different feeling playing for Tonga. There's more emotion in the Tongan jersey. You know what your family has been through and you think about them every time you put it on.
We're not representing ourselves. We're representing our families and our heritage.
Think about what Andrew and Jason Taumalolo have given up to represent Tonga at this tournament. I don't even know how much we're being paid. Maybe $4,000 depending on sponsorships? Something like that.
I've heard Kiwis players will be paid $50,000 and the Australians could earn double that at this World Cup. To turn your back on that kind of money is massive. It shows the kind of people they really are.
Andrew and Jason are playing good footy and they're both at the peak of their careers. They haven't disrespected the New Zealand or the Australian jersey by playing for Tonga. Anyone saying that is speaking a load of rubbish.
In their hearts, Andrew and Jason felt that playing for Tonga was the right thing to do.
They chose the home country over the big country.
That's what it means to represent Tonga.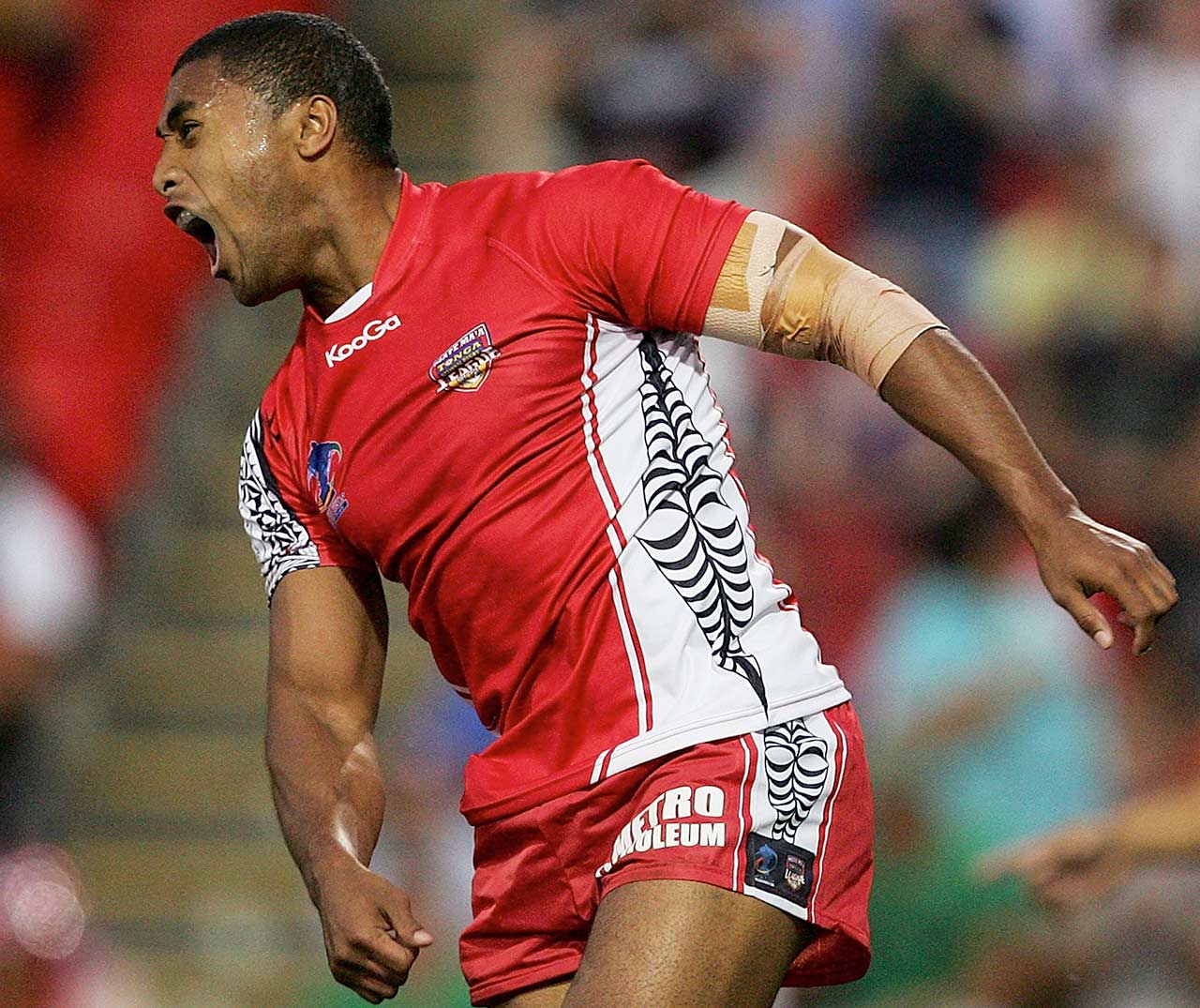 MY DAYS IN MA'UFANGA
My Mum and Dad, Vialata and Antonio, were both born in Tonga and had my oldest sister, Lola, there. There wasn't a lot of work around so they moved to Australia in their mid-20s to make a better life for their family.
All of us boys – Fred, Paul, me, George and Robert – were born here but we were very aware of our Tongan heritage.
When I was eight, the family went back to Ma'ufanga for Lola and Paul's Holy Communion. We ended up spending a few months there. I loved it.
I worked for one of our relatives who owned a pub there called the Blue Pacific. We used to clean up during the day, working 9am to 3pm. We got paid 20 pa'anga for a week's work. That's a tick under $12 Australian. He did pretty well out of us!
But it's a very different feeling playing for Tonga. There's more emotion in the Tongan jersey. You know what your family has been through and you think about them every time you put it on.
My cousin Taani used to work there, too. Every day on our walk to the pub this mean old local dog used to chase us down the street. Geez it was cranky! You had no choice but to outrun it. It only got me once and that was when we were riding. We were doubling on the bike and the dog was nipping at Dani's feet. I was on the handlebars, he stopped and I went flying. The dog came straight at me so I grabbed the bike and threw it at it and bolted!
When it was payday we would go down to the markets and I would blow all my money in one hit on food and toys. Work all week. Gone in one hour.
Fred and I would head down to the shops and play the arcade games. And we'd buy marbles and play against all the local kids.
There was a wharf down the road from where we used to live. We used to jump off and go for a swim where the boats were. 
They were great days. I've loved going back there with the Australian Schoolboys and again when I played for the Tongan team at the 2008 World Cup, catching up with my family and hearing their stories.
There's a feeling I experience there that I don't get any other place else in the world. It's a feeling of warmth, like another home.
That might seem a bit strange because I wasn't born there, but that's honestly how it feels. It's just comfortable. You're part of it somehow. I don't know. It's hard to explain.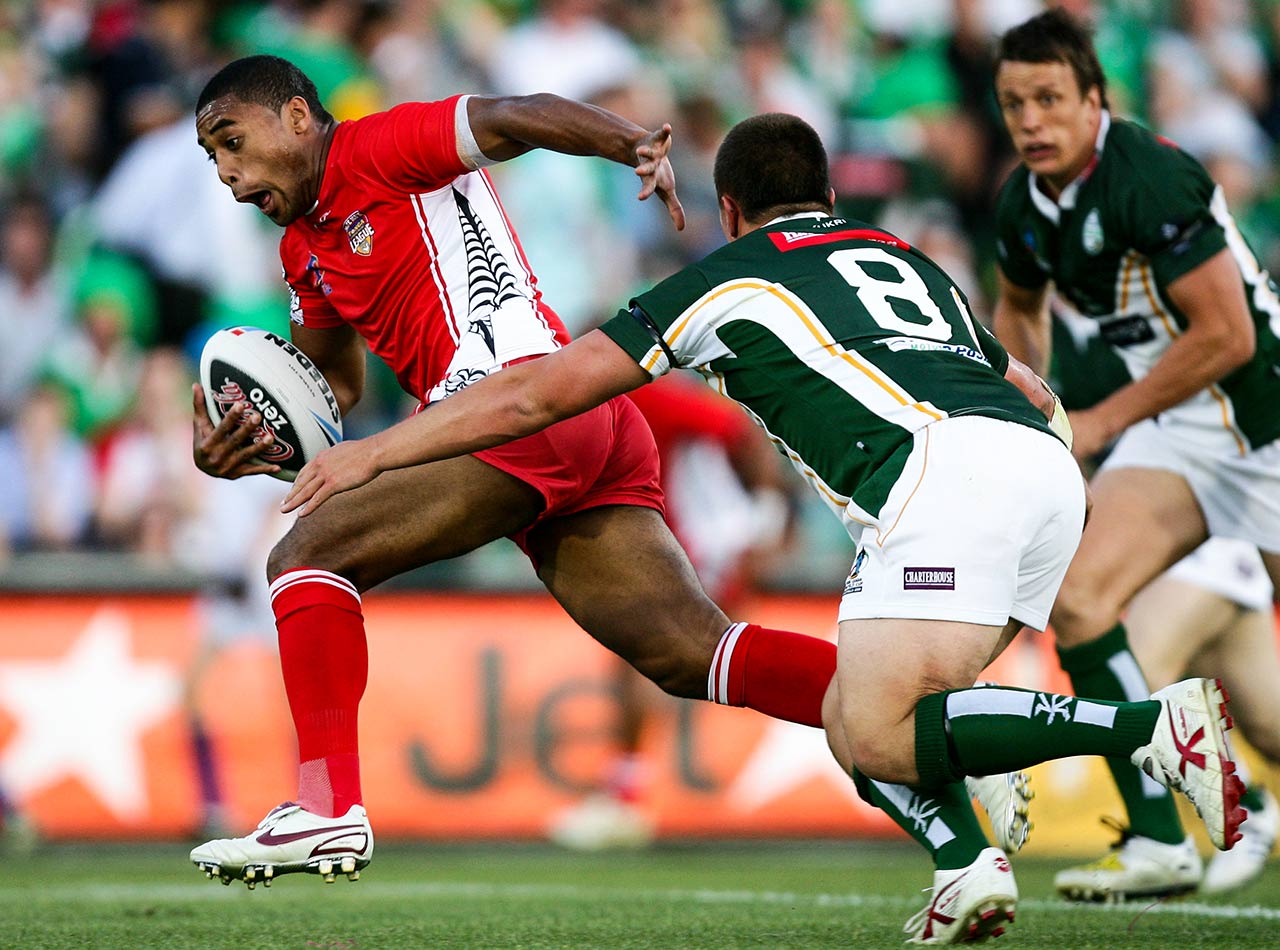 THE PASSION OF THE SIPI TAU
It's also hard to find the right words here to explain how it feels to perform the Sipi Tau, the Tongan haka. But I'll give it a go.
The first time I performed it at a World Cup was against Ireland at Parramatta Stadium in 2008. You feel this incredible energy and passion flow through your body. I was so full of adrenalin. I'm pretty sure I was just screaming and shouting and not saying the words properly!
There's a line in there, 'Mate ma'a Tonga!' It means, 'Die for Tonga!' That's how you feel. I'm getting goosebumps right now thinking about doing it again at this World Cup. It gives me shivers every time I watch it on TV. I can't think of a single thing in life like it in terms of the adrenalin.
I remember that time at Parramatta Stadium. The stands were full of people from the Tongan community. They were going mad. I couldn't hear anything from my teammates on the field. They were doing the haka in the stands and you could hear all the ladies and the Mums shouting.
I'm looking forward to practicing it as a team when we go into camp. Some of the boys will be learning it for the first time. It's actually changed from 2008.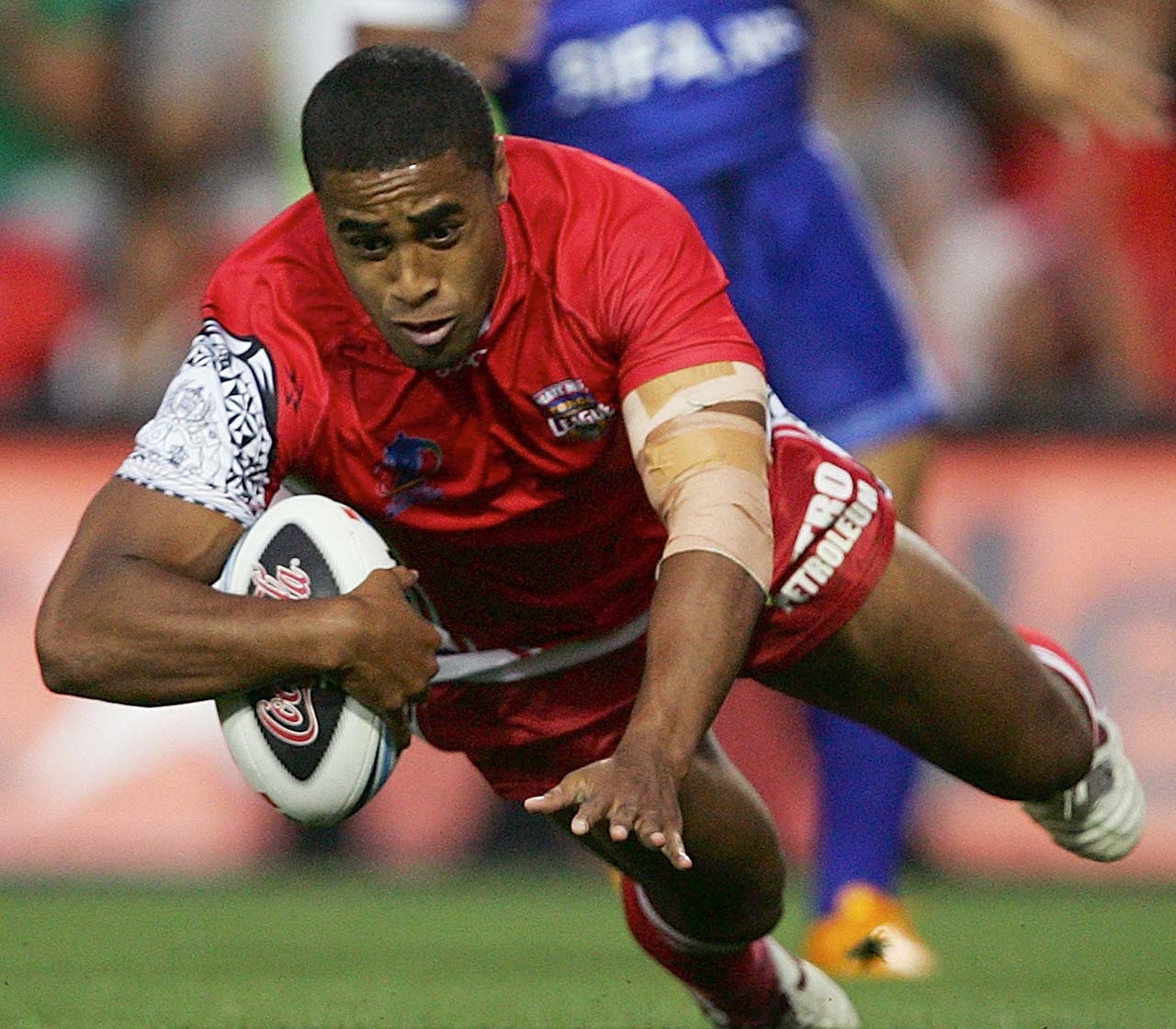 THE FIFTITA-TAUMALOLO DECISION
I don't think Andrew and Jason realise how big an impact their decision to represent Tonga will have on the generations to come. It will be massive for the kids coming through. They'll all be wanting to copy their heroes and pull on the red jersey.
I had a feeling it would happen a few months ago. Andrew asked me whether I would be playing for Tonga. I had an approach from Fiji – my old man is half Fijiian – but I had already committed to Kristian Woolf, Tonga's coach.
I told Andrew, 'Yep, 100%.'
I think he was waiting on Jason to make his decision before he made his. Andrew told me a while ago he thought Jason would choose Tonga over New Zealand. I think we both knew that Jason making a move like that would convince other Kiwis and Australians to do the same.
The talk among the Tongan boys in the NRL has been going on for a few months. Jason and Andrew were leading the change. Koni Hurrell has had a bit of an influence on some of the players and Woolfy has, too.
In a lot of ways, it's the reverse of what's been happening in rugby union. For years, Australian and New Zealand rugby teams have recruited quality players out of the islands. It's understandable that the players would want to take them up. To play for the Wallabies and the All Blacks can set them up for life and is the pinnacle of that sport.
Now you have a situation where some of the best players in rugby league have chosen the smaller home country over the prestige and dollars of playing for the big country. I've never seen anything like it in my time playing footy.
There's a line in there, 'Mate ma'a Tonga!' It means, 'Die for Tonga!' That's how you feel. I'm getting goosebumps right now thinking about doing it again at this World Cup.
I'm not quite sure why the announcements around Jason and Andrew happened so late. In Andrew's case, there would have been lots of things to consider including whether representing Tonga would impact on his Origin eligibility. I haven't asked him for the whole story yet. I just know that he wasn't being disrespectful to the Kangaroos jersey. Neither was Jason with the Kiwis jersey.
For the Tongans, it's been great publicity. We don't have many sponsors. Now everyone is talking about us. The feedback from the Tongan community on social media has been nuts since Andrew and Jason made their decision. It's been pretty amazing.
We've obviously put together a stong squad with a few Kiwi internationals and a few Australian internationals. But there's a lot of work to be done.
In 2008, we had a strong side and fell short of making the semi-finals.
We understand the excitement, but in our inner circle we're not getting too far ahead of ourselves.
To bring all the boys together, to get the combinations working, is going to be a big job. It's a bunch of people coming together fresh with just a few short weeks to make it all work. It's too early to be talking about finals or anything like that.
The idea of flying into Nuku'alofa for our five-day training camp at Teufaiva Sport Stadium is pretty exciting. I saw on TV the reception the team got before the last World Cup. The players were on the back of trucks and the locals were lined up for miles down the street.
It was a sea of red flags and red jerseys.
It was absolutely mental.
And I reckon it will be crazier this time.
More about: Andrew Fifita | Fiji | International rugby league | Jason Taumalolo | Michael Jennings | Rugby League World Cup | Tonga