Cyndi Lauper won't win you the game
I have to say, when I was approached to do this article, I wasn't sure what to do. Firstly, I'm not a player, and it is the AthletesVoice.
I've always been a pretty closed guy but I also want to let more Aussies know about their team and the people in it. The more I thought about it, the more I realised I can lead the way with that.
We won't be Australia's team if Aussies don't know who we are.
WHO WE ARE
One of the things I love most about rugby is how it constantly challenges your thinking.
Here's an example.
I was chatting with a guy called Peter O'Connell, who I know through footy, and he mentioned something called South by Southwest. I'd never heard of it before. He explained that it was a festival in Texas that brought together thought leaders from all kinds of industries to talk technology, innovation and more.
I was invited to speak at a sports leadership event in Los Angeles around the same time, so getting to Austin was pretty easy. I jumped on the plane, switched on the laptop and started doing some video analysis work.
LIVE stream your favourite sports. Get Foxtel & start watching in minutes. SIGN UP NOW >
I was pretty caught up in work and didn't take much notice of the bloke sitting next to me. But he saw the footy on my screen, tapped me on the shoulder and asked, 'What are you watching there?'
That started a conversation. It turns out he was Lee Daniels, the producer of Monster's Ball and director of Empire, the TV series, among many other things.
He was heading down to SXSW too and invited me along to the talk he was giving on movie streaming and connecting with audiences. It was fascinating.
That kicked off an incredible few days dipping in and out of talks and seminars on technology, sports and entertainment across a huge campus in Austin. I was a kid in a lolly shop. I took away more ideas than I knew what to do with, like the e-sports seminar that discussed everything from preparation of teams, to knowledge of audience and how to deliver to them.
Being exposed to new ideas is great, but you have to know how to balance them with the universal, old-school values that have always and will always make great footy teams.
I often find myself quite conflicted between my traditional beliefs about what constitutes good footy and the constant technological, psychological and sports science breakthroughs happening around the world.
I think it's a healthy thing. It means you're open to being challenged.
What I do know is this: the technology has to work for you, not the other way around.
Arnie was right about Skynet.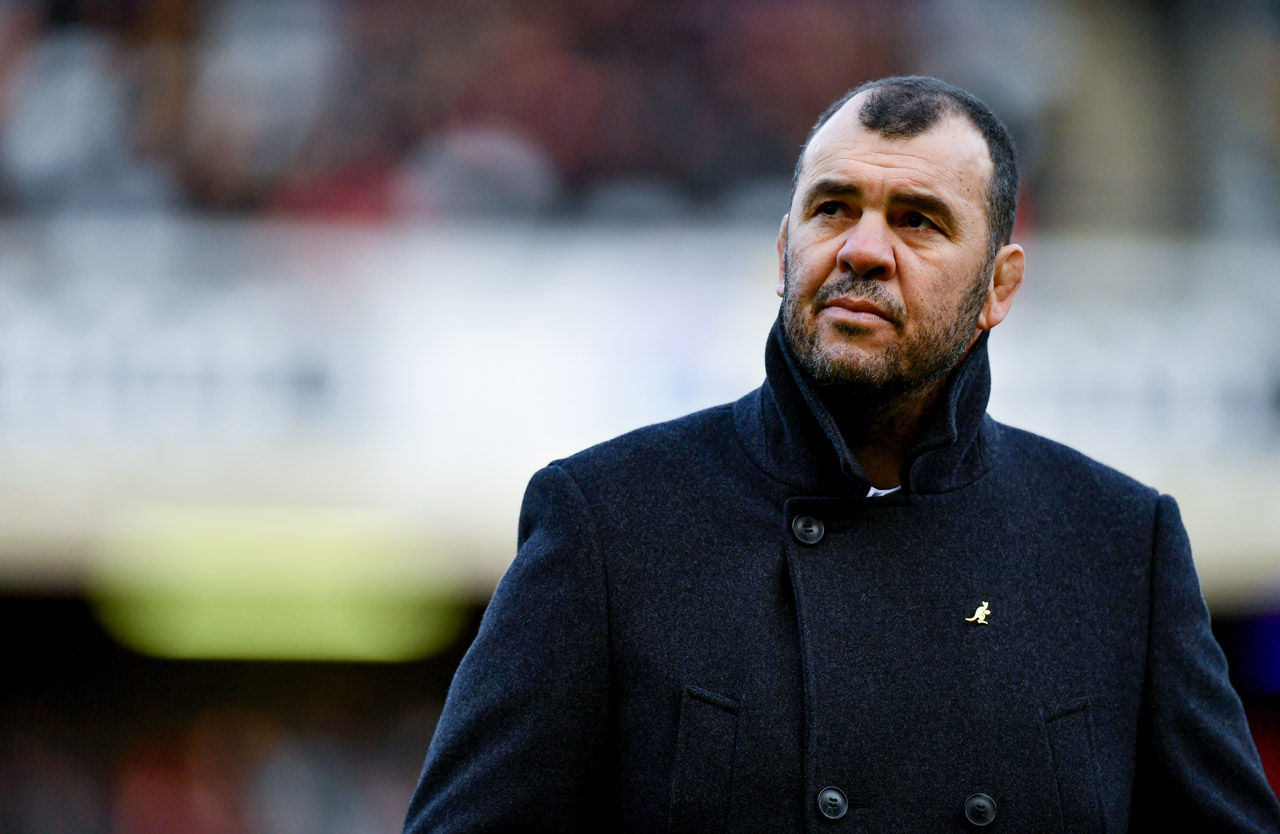 OLD-SCHOOL VALUES
The non-negotiables are the things you don't need talent for.
Every successful rugby team from William Webb-Ellis to now has possessed these traits:
Work ethic. Trust. Physicality. Aggression. Focus.
Focus is a major factor in this era of technology and connectivity. As a society, we're more connected than ever but, in many ways, we're distracted and getting worse at communicating.
We have a few simple rituals about getting connected at the Wallabies.
When we're eating together, there are no phones. Everyone greets each other by shaking hands in the morning. And there are no headphones around game time.
When I came back from overseas to coach the Tahs, I was watching the players during the trials. They all had the headphones on before games. I asked them why. No one said anything at first, but I pushed them. 'Are you listening to the answer to the game? Is it a mantra? What is it?'
'It's pump-up music,' someone said.
'Righto,' I answered. 'We're going to trial brushing the headphones. I want you to talk to your teammates. I can guarantee you Cyndi Lauper won't win you the game.'
I said the last bit as an attempted gee-up, but none of them knew who Cyndi Lauper was! In any case, it's a policy that worked and something I've stuck with ever since.
Symbols are another powerful, old-school tool in coaching.
Think about it: why do we hand over a trophy after a game? The trophy itself is nothing except for the importance people choose to place in the symbol. Attaching significance to symbols is built into our DNA. We have them scattered around the Wallabies set-up, reinforcing key messages.
We had dog tags a few years ago, a mirror in another season, a kava bowl and even a cowbell once.
Each symbol had its own purpose. Some helped us achieve our target. Others helped bring the group closer together. At the end of it all, it creates a shared experience for the players in the team.
The same applies to symbolic acts. I think back to my Lebanese heritage. Our culture is massive on symbols – both physical and ceremonial – particularly around religion. I used to think it was crazy.
There is a tradition called Mahfa (Lebos have a different alphabet, so I'm not sure how it's spelt!). When someone dies, the family sits up the front of the church hall for three days and people come to visit, sip coffee and pay their respects.
I didn't think anything of it until my father passed away. But, in those moments, I understood the importance of the symbolic act. I felt a real warmth and support from people while I was sitting up there. It made sense.
'I want you to talk to your teammates. I can guarantee you Cyndi Lauper won't win you the game.'
We do a lot of symbolic things around the Wallabies. I'd love to list what they are, but that would be giving it away. And we have symbols everywhere around the team set-up.
All are designed to reinforce the why.
In the professional era, the why of playing rugby seems to be becoming less and less relevant.
You can play rugby in any corner of the world you want. You can get paid anywhere.
But we think the why is the most important thing for a footballer, and it's for very old school reasons. Every person, at some stage of their career, looks at themselves in the mirror and thinks, 'Why am I doing this? What's my sense of achievement? What am I playing for?'
Some blokes might be playing for money. That's fine.
But we reckon there's more to rugby than that, the pride of representing a country. You can't teach a player that. They either have it or they don't.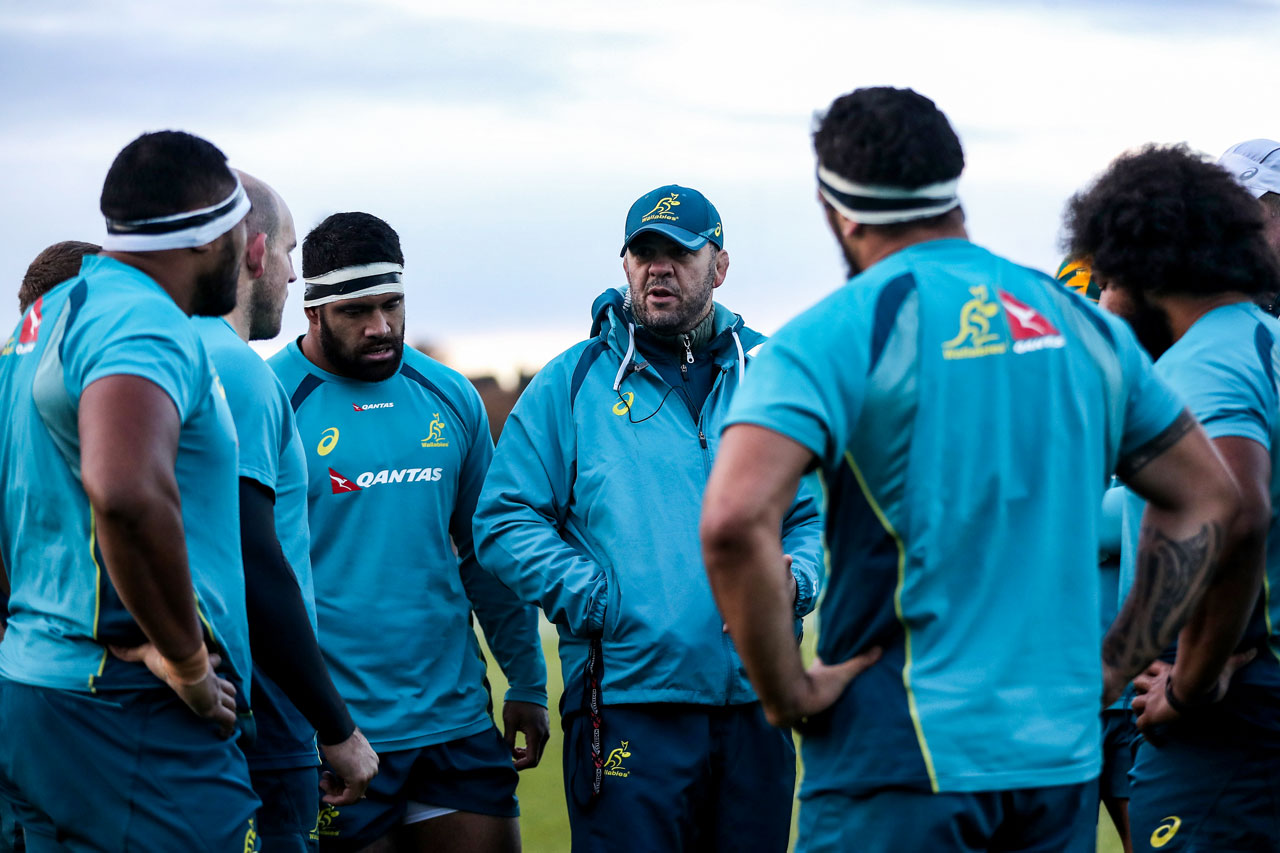 NEW-WORLD THINKING
Wallabies teams have always prided themselves on being smart and creative.
That's what Australian rugby has traditionally been about. If I'm not being creative in the way I prepare, I'm letting the team down in relation to looking outside the square for answers.
I'll provide another little insight into this.
I was fortunate enough to attend a leadership course a while back at Stanford University. It was pretty intimidating. There were 39 chief executives and founders in attendance … and a rugby coach. Fortunately, all they wanted to talk about was footy!
There was a discussion one day on the subject of human bias. I'd never given it much thought before but, as the talk went on, it began to have a major impact on me.
It got me thinking that maybe I had to change the way I looked at selections. Maybe my own subconscious bias was influencing how I picked teams.
So we changed the way we looked at selection.
We introduced new criteria based on three categories: purely objective data that no one can argue with; partially objective factors like how we want things to be done and scored and analysed; and then fully subjective data, gut-feel stuff, questions like, 'What was that guy's attitude like?'
We layer those three across all the players when we're selecting a squad or a team.
The pride of representing a country. You can't teach a player that. They either have it or they don't.
I also met a couple of Sydney boys from Scots College living out in Palo Alto. They were working for Apple but quit to start up their own business, which was broadcasting live e-sports.
Their network and their audience were unbelievable. They were constantly striving to improve and innovate. E-sports wasn't even a thing a few years ago and now it's a massive industry.
To me, it reinforced the view that we can't just sit back and expect rugby to grow and thrive because it is a 'traditional sport'. Someone told me that croquet was a big deal once upon a time. There aren't many people playing it now. Evolve or perish.
We're always looking around for innovations we think might help us. We've introduced visual tools that get the players engaged, learning and more interested in what they're doing, being more intrinsic in their motivation.
That's where technology works. It can make the experience more interactive.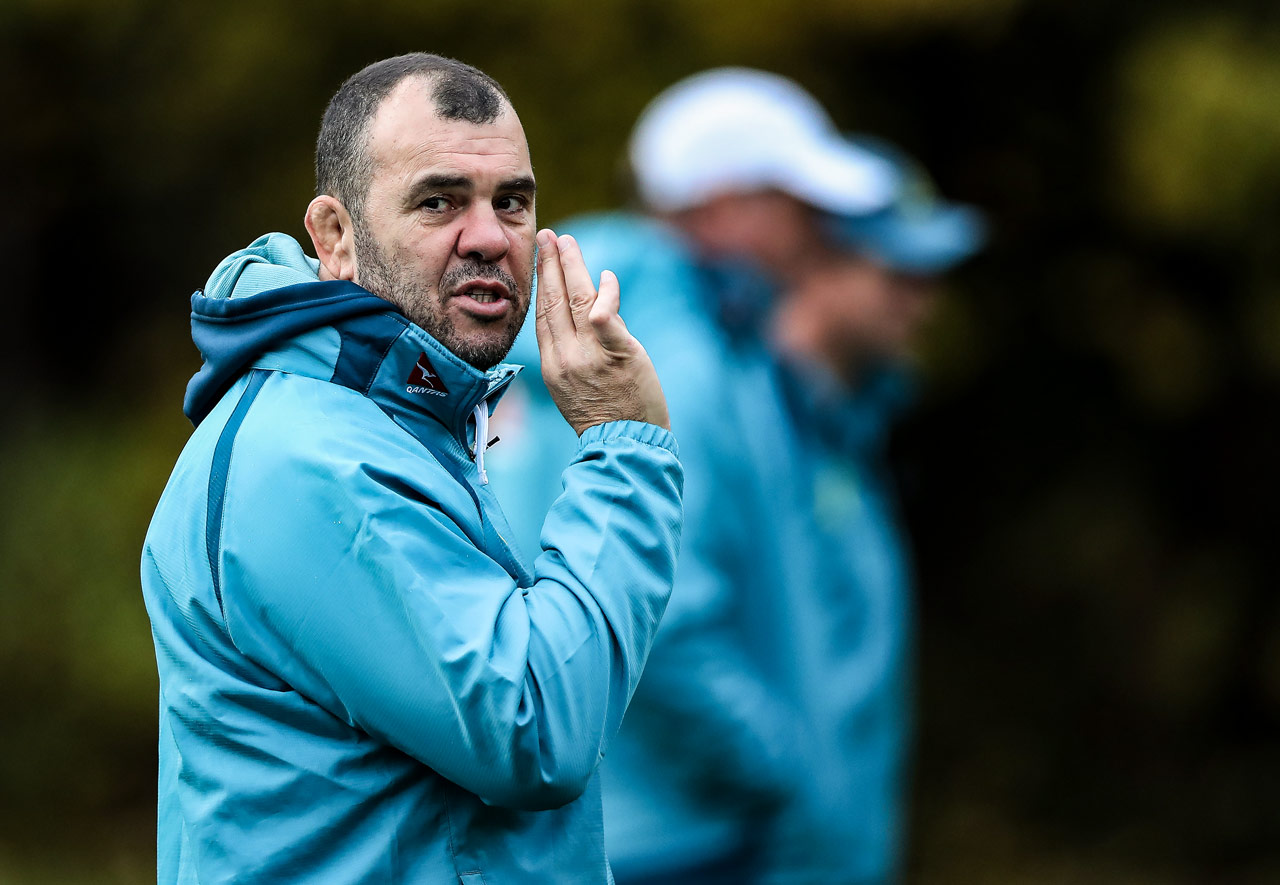 BRINGING THE TWO WORLDS TOGETHER
In the end, it's about balance.
You can't lose sight of the universal lessons of rugby, but neither can you shut yourself off to innovation.
You can take that too far, of course. You can let innovation control you. That never ends well.
An example of where the two worlds have met is that, with all the metrics tools at our disposal, we at the Wallabies have our own formula for physicality and what it means to us, as well as other mindset markers which we can measure.
You might ask, 'How can you put a metric on something as subjective as that?' But for us, when combining a number of factors, we believe we can measure it.
The trick is to be able to distill everything down in a way that players understand and act upon. Messages from people dressed in suits aimed at executive-level issues aren't much good to me if I can't turn that message into footy-speak.
There's a social component to that and a technological one. Understand the person, understand what you need them to achieve, deliver them tools and messages that get them there.
When it all comes together, it ignites something within the player that makes them want to be their best. A player who wants to be better will investigate, ask questions. Then we need to be able to deliver that message with real clarity and in a way he understands.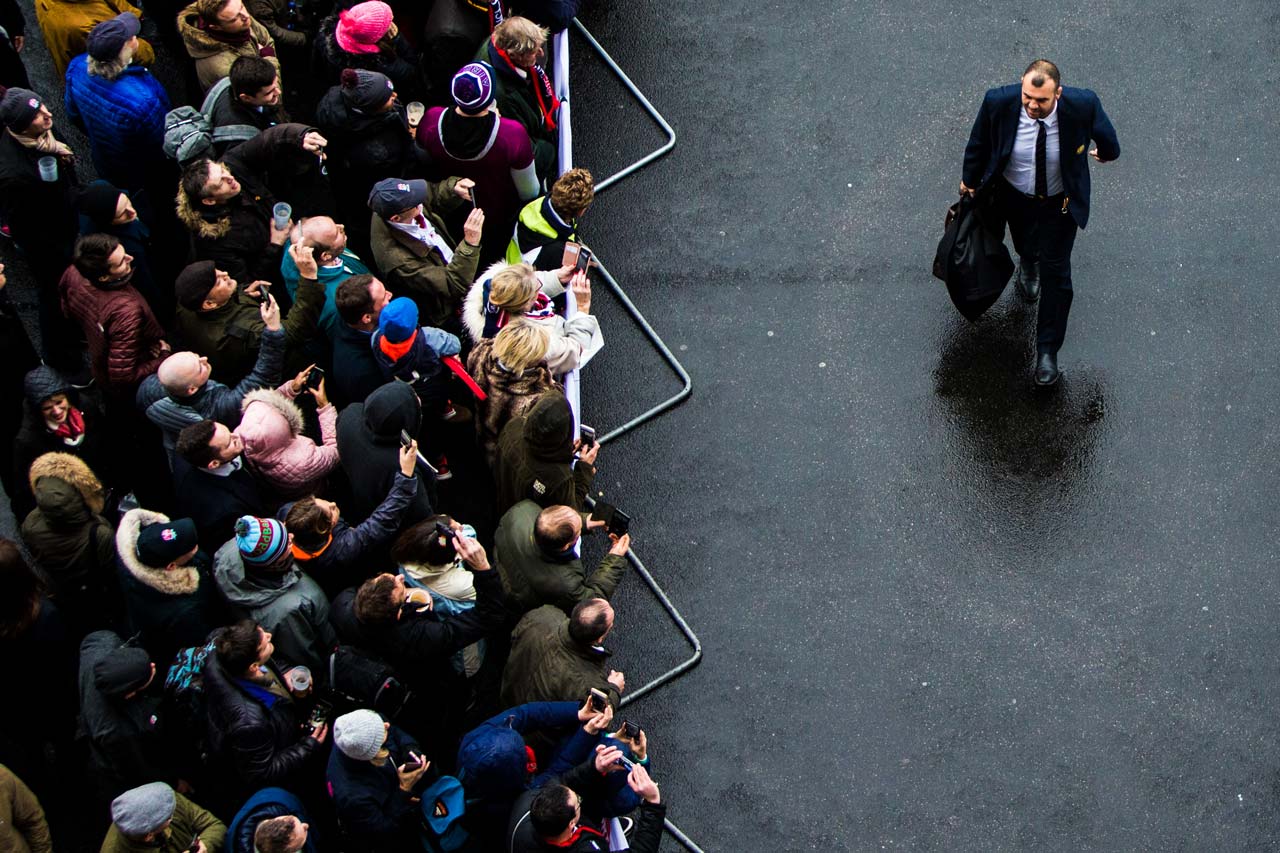 THE WORLD CUP CYCLE
I'm excited that the players have returned from Super Rugby duties, the international season is upon us and we're about to put all this into practice again.
There has been plenty of learning, changing and adapting since Twickenham in 2015.
Now we're getting close to the fine-tuning stage.
Of the 33-man squad that was there at the World Cup final against the All Blacks three years ago, only 11 have been named for our three-Test series against Ireland. In all, 27 players have made their Test debut in those 32 months.
We've done our Japan World Cup preparation the other way around compared to a lot of other teams. We've still had a day-to-day focus, while ensuring that we're building the depth of the squad with a view to the World Cup in 2019.
Setting up the long-term while focusing on the short-term.
A new generation of Wallabies players has been exposed to the unique pressures and challenges of Test football and I've enjoyed watching how they've combined with the older, more experienced group.
We've worked hard to identify players that can help us build depth in key positions. For the most part, we've done that. There are still some areas we're assessing – losing Jordan Uelese for the Ireland series will give us the chance to take a better look at guys like Brandon Paenga-Amosa, Folau Faingaa and Tolu Latu – and obviously having Pete Samu in camp is good news for our back-row depth.
We're clear in the direction we're heading and, like all Aussies, we won't take a backward step on our way there.
More about: Coaching | eSports | Leadership | Michael Cheika | Rugby World Cup | Super Rugby | Wallabies | Waratahs