Couldn't blink, couldn't close my eye
Imagine what it's like not being able to blink your eye. That's what life's been like for me lately.
About two months ago, the Gold Coast Suns played Southport in the NEAFL – the second-tier league which functions as reserve grade for the four QLD and NSW-based AFL teams.
In the second quarter, I got a kick to the jaw. I'd broken my jaw a few years ago, and quite badly too. This time, I could feel that I'd probably done some damage but it wasn't fully clear that anything was out of place. The doctors did an assessment and gave me the professional courtesy to see if I could keep going, and I did. I played through it.
That night, it was quite sore. Early the next week, I got some scans and it came back that I'd require surgery. The first time I'd broken my jaw, I was back playing within a week of surgery. So whilst my current situation was a bit frustrating, I knew I'd been putting some good performances together, and I thought I might be back in the senior team in one or two weeks.
I had the surgery that week, and as is the case with most surgeries, you come out with a fair bit of swelling around the incision site. It didn't look great, and my eye wouldn't close and my eyebrow wouldn't lift. For a couple of days, I wasn't overly concerned. I just thought it was a result of the swelling.
But by the middle of the next week when I caught up with the surgeon, he explained that the fracture was in quite a tough place to access and manipulate, so they'd had to move some nerves out of the way.
Nerves don't really appreciate being touched or moved – I've had a nerve injury in the past to my shoulder which took some time to heal, and that was career-threatening to a much bigger extent than this one.
They diagnosed my condition as Bell's palsy – a paralysis or weakness of the muscles on one side of the face which can happen for a number of different reasons.
It's been two months now. I've been back playing footy in the NEAFL for a month and I'm slowly getting better. I'm at the point where I can pretty much close my eye fully, but there are still some lingering effects of the Bell's palsy at the moment which is pretty frustrating. I suppose it's a case of 'how long is a piece of string' till it's behind me.
With past injuries, things were more black and white. You can't play because you're on crutches or you can't walk. But this one has been quite frustrating. I could go out and do skill work or an enormous running session, but I wasn't given medical clearance for some time to train because I couldn't close my eye, and if you get a finger in it or whatever, it could be quite detrimental.
I've had quite a lot of injuries in my AFL career, and I did have a moment recently where I thought, 'OK I've been through two pretty significant broken legs, a fractured shoulder, really bad stress reactions, and now the thing that might ultimately draw a curtain on my career could be that I can't blink my eye!'
Closing your eye is definitely something you take for granted until you can't do it. And it was six weeks with that, when I thought it would be a one or two week thing. I reckon it was probably as low as I've been in my career.
A DEGREE IN FOOTY
Whilst It's been a fairly challenging year on a professional note for a couple of reasons, I've also gotten a lot out of it. You find out a lot about yourself when you have injuries or form issues or things that are not quite going your way.
Mostly I've learned to be resilient. And I've probably gained or added to some skillsets. Being 30 and a bit of an older player at the Suns, I've gotten a lot out of my involvement with younger players – seeing them grow and develop and get reward for good form.
It sneaks up on you when you become one of the older players on the list. You go from being one of the median-aged players to one of the older ones pretty quickly!
I've been through two pretty significant broken legs, a fractured shoulder, really bad stress reactions, and now the thing that might ultimately draw a curtain on my career could be that I can't blink my eye!
I suppose I can relate to Alex Johnson's story on a very minor level – and I just want to say that his latest knee injury is heartbreaking. The whole football world and many Australians outside of football have followed his story, and their hearts sunk when they saw what happened last weekend.
When things aren't going your way through injuries or whatever, I think you do have your moments. But overwhelmingly from my point of view, it's always come back to the fact that I love what I do. The positives always far outweigh the negatives in my opinion. I'm blessed to have pretty much spent my whole twenties being an AFL footballer.
I've had some really significant injuries in my career, and my most recent leg break in a game was only last year. This year, I've played just one senior game. But I've never considered giving the game away. I want to do this for as long as I can.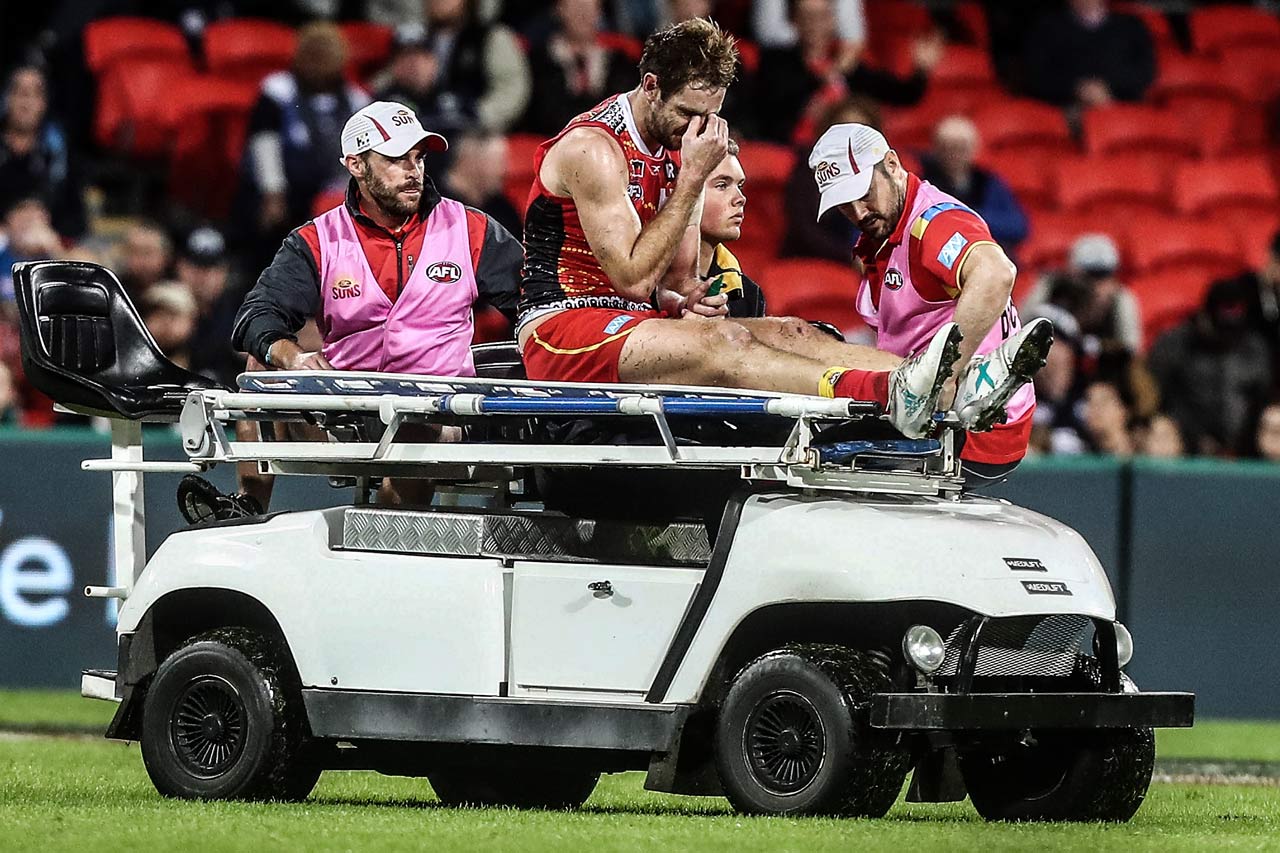 Everyone always says that you can't do it forever, and they're right, it's not going to last forever. But I'm a big believer that the experiences I've had, and will continue to have, throughout my career will benefit me in whatever I want to do next.
I've always thought whatever gets thrown at you, you've always just got to try and enhance your reputation and build on your skillset. I still feel like I've got a fair bit to offer. Whilst I've had moments this year where I've thought this might be it, my form's been quite good and my body's holding up really well outside of the Bell's palsy.
I almost feel like I've got a degree in football and in high performance, being around it for so long. And I want to stay involved at some level in high performance sport going forward regardless of what happens at the end of this season.
A GOOD MAN TO PLAY FOR
I'm from Shepparton in Victoria. The town was in the headlines recently with the passing of golfer Jarrod Lyle, who was also from Shep. I obviously knew of Jarrod growing up, although I never met him personally.
He had so much humility and such a selfless attitude – it would be very easy to lose that when you become so big so quickly. I think in his 36 years, he did a lot more than many people do in four or five lifetimes. It does make you really grateful for everything you've got.
Personally, my football career has been an Australia-wide journey and I wouldn't change a thing. Fremantle will always be a huge part of me, and the people there have had a profound impact on my career – especially Ross Lyon and Mark Harvey initially. They're two people that I will confide in for a long time going forward, even though Ross ultimately moved me on.
No hard feelings. That's just the nature of the game.
I first met Ross when he was the head coach when I tried out for the Saints when I was 19. I'm not sure it was his decision alone not to take me. There might have been a few others involved.
What I realise now is that it would have been a huge risk for them to take me back then. To be honest, it worked out better for me when I was drafted a couple of years later. I knew I'd done the body of work required, and I knew I could compete at the level.
Ross Lyon and Mark Harvey are people that I will confide in for a long time going forward, even though Ross ultimately moved me on.
Coming out of Shep United, eating pies and having a can of Coke before a game, I don't know if I was ready. I was happy to back myself in and was keen for the opportunity, but whether it would have been a success and whether I would have had as much longevity as I've had, I don't know.
Mark Harvey was the coach when I started with Freo in 2010, and before long I was probably one of Harves' men – one of the guys that he'd go to even though I was only at the beginning of my career.
I'd had a pretty rough second year of my career because I missed half of the year with a broken leg, and came back in the second half of that year and was very sore. I wasn't really up and going at all, but Harves stuck by me and played me.
Then one day, right after I'd had an operation on my leg, the news came out that Harves had been sacked. Ross Lyon was the new coach and with all my physical ailments, I had this uncertainty around what the new coach would think of me, and what plans he'd have for me.
I was half buoyed by the fact that he'd actually tagged me in a game that St Kilda played against Freo – I think it was my third or fourth game in 2010 – so that gave me some confidence that he might think I have some ability.
In the end, lingering effects of having been under his nose for a pre-season but not being rookie-listed all those years earlier were cleared pretty quickly when I first saw Ross at training. He talked about it straightaway and he pretty much palmed it off to list management. He said, 'Oh, now I've got you, so we'll see what we can make work'.
I was really underdone going into that 2012 season with still some soreness in my leg, and he tabled a program to make me available for round one and backed me in just like Harves had done.
I was really slow to get going for the first half of the year and had some moments there where I thought I'm probably not fulfilling my end of the bargain for him here. But I got going like the whole team did, eventually.
I really loved playing for Ross because what he valued most was your effort. He very rarely gave me a compliment, and when he did, he would always backhand it with a slight pullback on your ability.
So he'd be like 'Oh, we love what you did, your effort was fantastic, we'll cop you butchering the ball every now and then if you bring that'. He was a good man to play for.
THE REASON WE do this
If there's one game that sticks out in my mind across my career, it would be the qualifying final against Geelong in 2013. It felt like Fremantle versus the world, or at least Fremantle versus the AFL.
The game was at Skilled Stadium and all the media commentary around it was how Geelong would win that game and end up playing Collingwood in a preliminary final and the controversy over how that game would be at the MCG rather than in Geelong.
I think Geelong had only lost one of their last 30 games at home, and the whole football world thought they would win. But I remember going down to play that game and I'd never felt such a strong sense of belief in the group.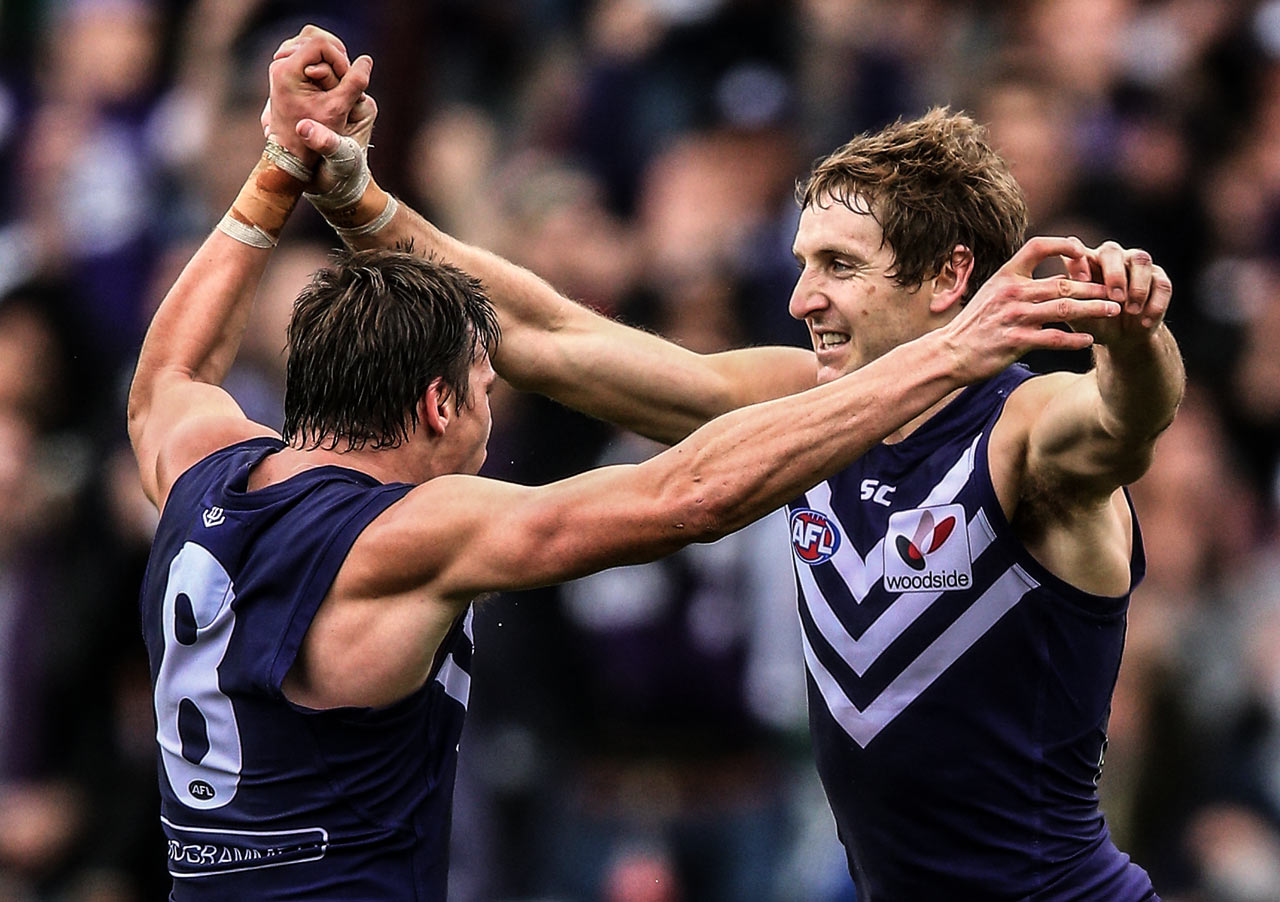 We played horribly the first quarter and I remember thinking, 'This is not going the way it should here', but Ross brought us in and gave us a lot of clarity and said 'We're all right here, we're OK'. His message was so simple and we ended up winning by a couple of goals.
We were treated as a bit of a by-product of the finals that year, but to win that match was as satisfying a day as I reckon I've ever experienced. And then, of course, we won a preliminary final at home against the Sydney Swans and made the grand final, which we narrowly lost to Hawthorn.
You play footy for moments like that, but you also play to be part of a club that is building.
All AFL players on the senior list are there to play senior footy, and unfortunately the 46 doesn't go into 22 at times. My response is that I'll just keep turning up and doing what I can do.
With the Suns out of finals calculations, there has been media speculation that the club might be looking to blood younger players instead of playing older players like me. What you have to realise is that I'm classed as an inside midfielder, and our inside midfielders have actually been quite solid all year, and been available.
Touk Miller has played all year and gone quite well, David Swallow has been good all year, Jarrod Lyons has filled that role and Will Brodie is a guy that has come in and had some impact. So I don't sit here feeling victimised or segregated from opportunity, those guys have all done really well.
For me, the week-to-week challenge has been not to get disappointed with non-selection.
Sometimes you might not see eye-to-eye with the match committee, but it's never a personal thing. It's always for the greater good of that football club, and I'm a part of that football club, and I want to see it grow and become successful.
More about: Alex Johnson | Fremantle Dockers | Geelong Cats | Gold Coast Suns | Injuries | Jarrod Lyle | Resilience