To borrow a line from the late, great Johnny Warren: 'I told you so.'
Anyone who has read my columns here over the last few months will have picked up a couple of consistent themes.
Even when times were tough – when we missed direct qualification and our World Cup spot was up in the air – I wrote of our belief in the changes we were implementing, as difficult as they sometimes were.
And, as an extension of that, I wrote that we were all right behind Ange Postecoglou and his vision.
Now look where we are. We've booked our ticket to Russia. We've done it by travelling further than any other team in the world – something like 250,000 kilometres across 29 months and 22 games – and by playing a brand of football we believe will make a real impact at the World Cup.
We're not going to Russia to make up the numbers.
We're going to make some noise.
There were plenty of people who wrote us off. In this age of 24-hour news and social media, it can feel like you're surrounded by criticism sometimes.
The playing and coaching groups were as disappointed as anyone that we didn't qualify directly for the World Cup, but we didn't get caught up in the blame game and the finger-pointing that was playing out in the media.
In fact, we doubled down. We blocked out the noise. We didn't panic. We backed the changes we were implementing. That's how much we believed in them.
It might have seemed turbulent from the outside but, in-house, we were always confident. There were times through the process where we could have sat back defensively, shut-up shop and protected leads.
But that wasn't how we wanted to play. That wouldn't have been true to our objective.
Ange and the coaching staff had a plan from the moment they took over. They wanted us to be competitive at the World Cup, not just be happy to get there. We've improved every moment, every camp, every game.
We're a better team for the experiences we've endured together. We've progressed so much since Brazil. We're a better team than we were at the last World Cup.
My first column here was titled 'Never, ever write off the Socceroos.'
I told you so!
ANGE & THE WORLD CUP DRAW
Qualifying for a World Cup is bloody difficult.
People forget sometimes the decades and decades of heartache that World Cup qualification brought Australia. I remember. I was a kid when we missed out at the last hurdle to Iran and Uruguay. It wasn't much fun.
To qualify for our fourth consecutive World Cup, and fifth overall, just shows the progress Australian football has made.
We have a very clear goal in mind now. We want to show the world that Australia is not an underdog nation, that we're not inferior to others. That's rubbish.
We're not going to Russia to make up the numbers. We're going to make some noise.
We're as capable as anyone of playing an attractive brand of football and taking on the world's best. Individually, we play in some of the world's best leagues. And strategically and creatively, Ange and the coaching staff have equipped us to compete with the big guns on the international stage.
We're going to show the world that Australia is a true football nation. We have big plans for Russia.
Italy didn't qualify for this World Cup. Neither did the Netherlands, Chile or the USA. It's going to be a different World Cup this time around with some massive teams missing and some newer ones in. Iceland and Panama are playing in their first World Cup. Senegal are in their second and Egypt their third.
It will be fascinating to see what pool we land in at the World Cup draw in Moscow on December 1.
As I've written here before, I hope Ange is there with us for the whole journey. He's still our coach. I won't be thinking otherwise until Ange or someone from the FFA tell us themselves.
THE MARINERS REMINDER
I broke my own personal record for tickets given away for the game against Honduras in Sydney.
In total, I handed out 85 tickets to family and friends. No one can accuse me of not doing my bit to fill up the stadium!
There were a couple of really special moments from the night that stand out.
When Mile Jedinak scored his second goal, he ran straight over to the section where our families were sitting. I could see my little cousins and uncles in the front row jumping up and down celebrating that goal with the boys.
As exciting as it was, I still took a few moments to take Trent Sainsbury aside to remind us that we still had a job to do.  We spoke about the time we were playing for the Mariners in our first A-League Grand Final. We were leading 2-0. We went on to lose on penalties.
The job wasn't done yet.
We were pretty confident from the outset against Honduras in Sydney. We had done our homework on the opposition and thought there were quite a few weaknesses we could exploit.
I thought we dominated the game. The scoreline ended up flattering Honduras a bit.
Part of our gameplan was to be unrelenting. Honduras sat pretty deep in the first half and didn't lose their shape much. We had some difficulty in breaking them down, but when you're relentless something has to break.
We broke them early in the second half. Then we got the second goal and the third. They didn't really have too much in the end. It was a decisive way to get through to the World Cup after a qualification campaign that had been a bit up-and-down.
The celebrations on the field and in the dressing room were brilliant. But probably my favourite part was going back onto the field with my little cousins after the crowd had left the stadium and playing in-goal with them. They loved it!
In total, I handed out 85 tickets to family and friends. No one can accuse me of not doing my bit to fill up the stadium!
I will do anything for my family. If I can give them little experiences like that along the way, I'll do it. Life's too short for my family not to be happy. I take pride in doing what I can to bring a smile to their faces.
If I'm fortunate enough to be selected in our World Cup squad, I'm planning on taking as many of them as I can with me to Russia.
I hope it will be a memorable life experience for them. I mean, how many times in your life do you get a chance to do something as cool as go to a World Cup in a country like Russia?!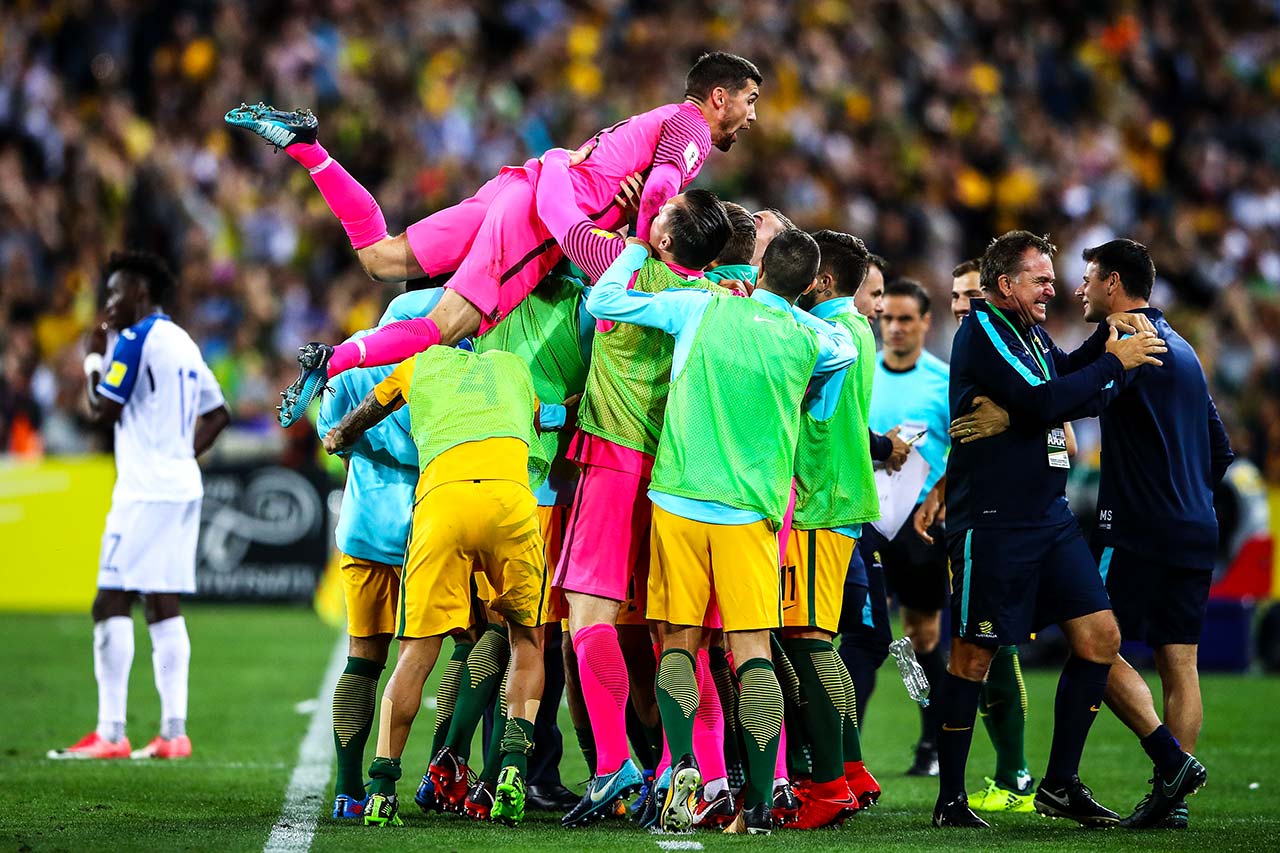 THE (NOT SO) WILD PARTY
I'd love to tell you that the after-party went all night and we were the princes of Sydney.
The truth is I was all tucked up in bed by 2am. It was pretty tame, really.
I posted an Instagram Live video of the celebrations after the game. I just wanted to give the fans a little insight into what it was like inside the inner sanctum. For a few hours we could unleash the inner kids in all of us. I hope it wasn't too R-rated!
And then we were off. Some of the boys were on 6am flights back to Europe. Matty Jurman was on a midday flight to Korea. I was lucky enough to be on a Thursday night flight, which meant I could attend the reception in Martin Place in Sydney at lunchtime with Ange, the Prime Minister and some of the boys.
It was awesome to see so many people there waving flags and wearing their Socceroos jerseys. I'll need the 24-hour flight to get over the writer's cramp from all the autographs!
I've been lucky throughout this World Cup qualification that I've generally had two days to recover before my next game for Brighton. That's the case this time, too. I really want to be out there on Monday night against Stoke. Hopefully the gaffer picks me.
I feel like my 'keeping has gone up a level since moving to the Premier League. I went through a pretty turbulent couple of seasons at Valencia with injuries and inconsistent minutes.
To be playing regularly against some of the best teams and players in the world can only improve you as a player. I'm in a good spot at the moment.
That carries over to Socceroos duty, too. Between now and the World Cup I hope I can maintain and improve my form for Brighton so, when the time comes to head to Russia, I'll be at the very top of my game.
It's a very, very exciting year ahead.
More about: Ange Postecoglou | FIFA World Cup | Maty Ryan | Russia 2018 | Socceroos