Origin, SuperCoach and the Eels
I was a bit of a sports guru at my primary school. I represented in pretty much every sport, including rugby league, and I played a year or two of that.
I was a five-eighth. Agile on my feet. They used to give me the ball and I had a bit of footwork, a bit of a side step, a turn of foot and run away. That was my go-to game.
As a kid growing up, I'd play touch or tackle footy in the street with my neighbours. I love rugby league and I grew up watching it.
I'm a Parramatta fan and I still follow them closely. Jarryd Hayne was a favourite when he came onto the scene and I followed his career when he played with the Blues and Kangaroos as well.
I had a soft spot for the flair that he had, the ability to take the game into his own hands and do special things in big moments. He had that real wow factor in what he could do on the pitch.
I watched more rugby league than football. It was on TV a lot more in prime time in Sydney. To this day, I'd probably prefer watching a Parramatta game to most football games.
I love the competitiveness and I love the banter side of it with my mates.
When I'm in England, I stream games on my laptop and I play SuperCoach with my friends. We've got a Socceroos SuperCoach league going and bragging rights and banter is quite strong.
Robbie Kruse and Matt Jurman are the other two apart from me who are good at it. We're the frontrunners. I should also give a shoutout to Socceroos team manager Joel Freeme. He likes to think he's a good SuperCoach player, but really he struggles.
I was thinking of going up to watch game one in Brisbane with mates but some of them couldn't get out of work, so I'll go watch it on a big screen somewhere with them, maybe the casino.

I got to the Blues Origin camp earlier this week after I appeared on a radio show and Hayden Knowles, their performance coach, called in and said he'd love to get me down.
Freddy Fittler and the boys were happy for me to poke my head in and say hello. It was cool. I was there more for media purposes than to enjoy the session, so I was keen to go back and watch the training and chat a bit more with the boys, when there's a more relaxed atmosphere.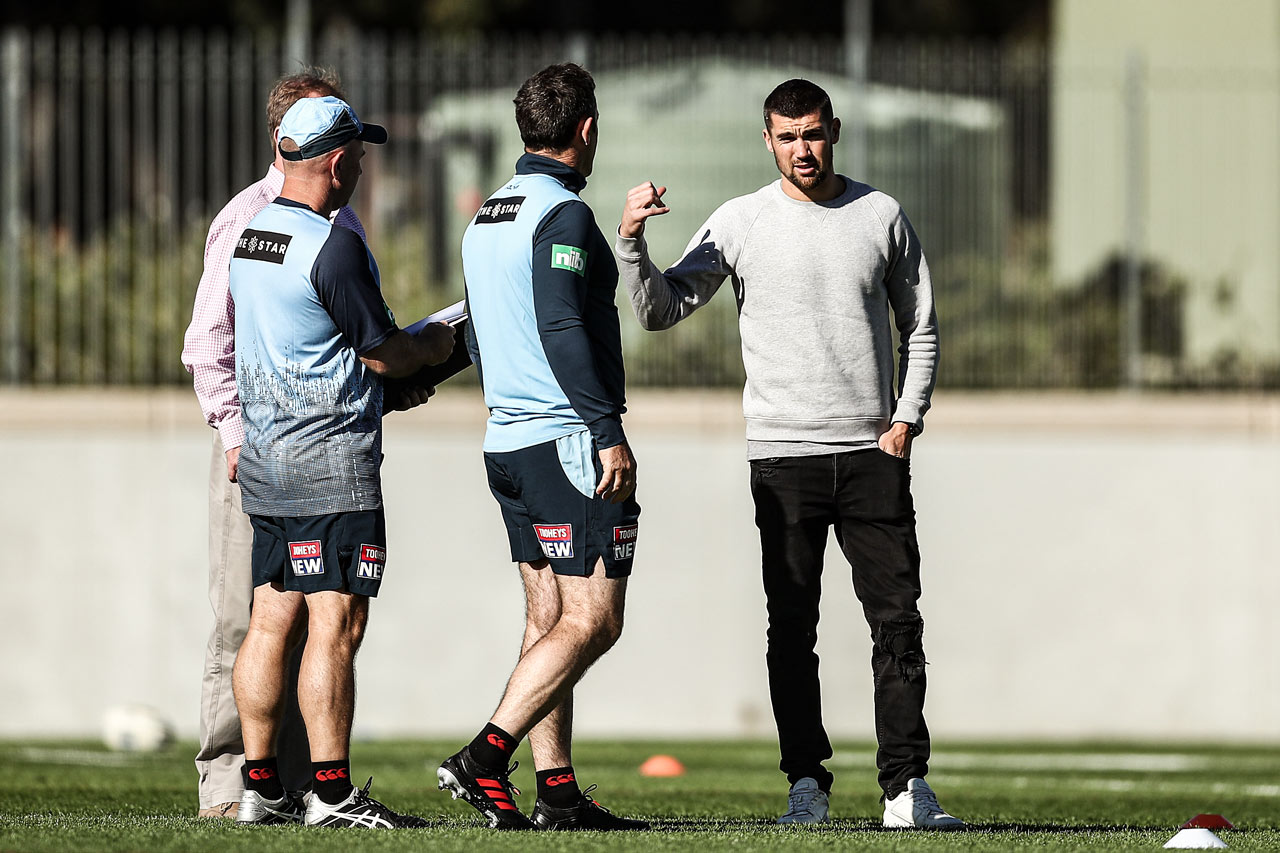 I was at Westfield Sports High at the same time as Blues forward David Klemmer. He was a couple of years below me at school but always two heads above every other kid there. He was always a big figure walking through the playground – I don't think he's grown since he left school.
I don't remember speaking to him at school, not being the same age, but having gone down to Origin training this week I saw him there and had a quick little chat with him and a good laugh.
He's a great down-to-earth guy and I get the feeling he's really settled up there in the Hunter and enjoying his footy.
I was catching up with a few of the legends as well. Joey Johns, Danny Buderus, Blocker Roach and Greg Alexander – having a good chat with them as well as some of the other players.
A lot of the boys follow football and watch a few of the games. There was much commenting about Liverpool with the Champions League final coming up.
More about: Andrew Johns | Brad Fittler | Danny Buderus | David Klemmer | Greg Alexander | Liverpool | NSW Blues | Premier League | State of Origin | UEFA Champions League