There is a photo of me on my website from when I was born, premature at 25 weeks, vision-impaired and with cerebral palsy.
It was a struggle when I was little. I went through more than 50 surgeries to my brain, my heart, my lungs, my ears and other parts of my body. I still have a shunt that drains fluid from my brain to my stomach. Most people have a mechanism that releases pressure from the brain. I don't.
I probably spent 90 per cent of the first five years of my life in hospital. It was normal for me. I don't remember many of the operations from when I was little, but it couldn't have been easy on mum and dad. I'll be forever grateful to them for all they did for me.
I didn't learn to walk properly until I was around six or seven. Prior to that, I used to roll around on a flat board with wheels on it. A scooter-type thing. But over time, things improved. I had a few hospital-free years towards the end of school. And here I am now.
I don't hide away from those stories of hardships. I'm actually quite proud of them. There was a lot of resilience and positivity needed to get through that period of my life. It has helped shape the man I am today.
I created the website as a way of showcasing who I am, what I'm all about, what I've done and where I'm going, and I guess the photo is there to show people where I've come from and what I am today.
It's good to look at that picture and know how far I've come in the 31-and-a-bit years that I've been on this earth. The journey that I've taken will hopefully inspire people.
I have always believed in being positive. If I could talk to the baby in that photo, I guess I would tell myself to stick in there. I'd say, 'You're going to be all right. There's always light at the end of the tunnel and opportunity at the end of the rainbow. You never know what's going to happen in the future, but you can always create your own lessons and your own stories from what you're doing'.
I guess it's really about learning from what you do every day to make you a better person. In a nutshell, that's what I'd tell my younger self.
FIFTEEN METRES I'LL NEVER FORGET
I started learning to swim when I was 12. It wasn't about being competitive or winning medals or anything like that. It was mainly for health reasons. To keep my body moving.
Over time, I realised I was fast. There was a real sense of amazement in that. I'd spent much of my life pushing my body just to do normal everyday things and now I'd discovered that I had a physical talent. It was quite a thrill.
As I trained more, my swimming started to feel effortless. I would get to a competition, knowing I had done the work, and I would feel fast and effortless through the water. It was encouraging. It spurred me on to push harder.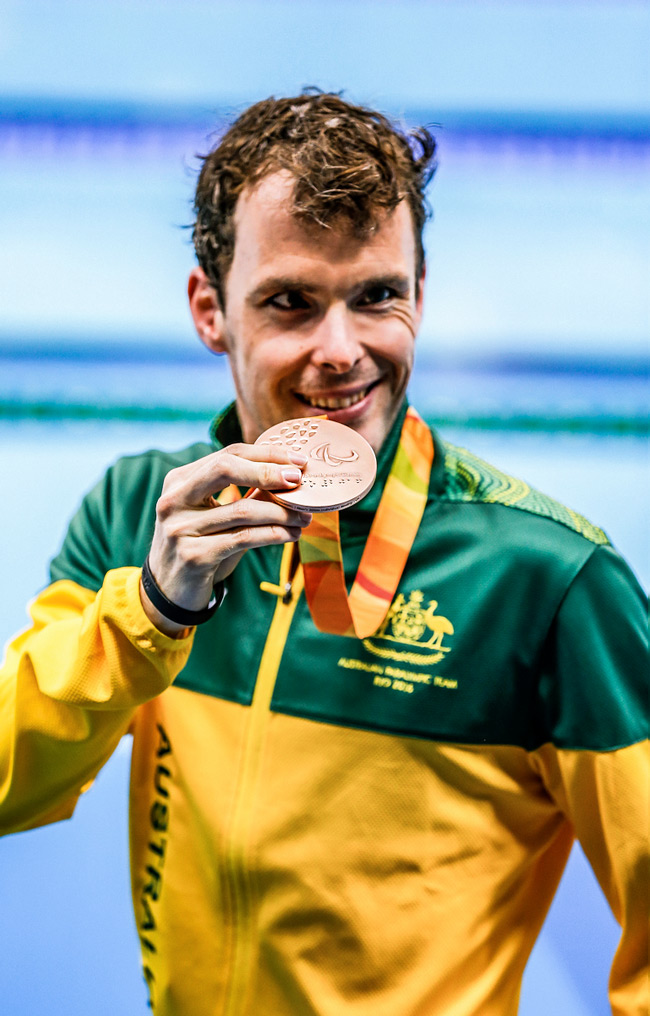 My first international meet was in 2002, which means I've now been swimming for Australia for 16 years now. When people ask me if any particular memory stands out in all my years swimming for Australia, I usually say, 'It's not one moment, it's many moments'.
But if I had to pick one – a moment in time from my career that stands out in my mind – I guess it was back in 2012 at the London Paralympic Games when we won gold in the 4x100m freestyle relay.
Everything kind of came together at the right time. I dived in as the second swimmer and we were about 14, 15 metres in front of the rest of the world.
That felt pretty good! I think I ended up getting mowed down a little bit, but it felt pretty amazing being that far in front, trying to hold a lead on the second leg of the relay. We ended up winning quite narrowly, but overall it was just amazing to come together as four individuals and put it together on the day.
Obviously we celebrated afterwards, but the relay was on the second day of a 10-day competition, so we had to keep the celebrations under wraps a little bit.
There were a few late nights after the meet. At all the Paralympics I've been to, we always have about three days after the competition to let our hair down a bit and it always gets a bit rowdy.
The McDonald's gets a workover. We've been known to have a bit of a binge! I heard McDonald's have reneged on their Olympic sponsorship for Tokyo. There might be a protest from the athletes because they all like their Macca's after a competition.
More about: Para Sport | Paralympics | Resilience | Rio 2016 | Swimming | Tokyo 2020