Beating a tumour, tackling a dream
It had all happened so quickly. I never saw any of it coming.
I couldn't call my parents. After all they had done for me – after all they had done for my football career – the news would have upset them too much.
I thought I could call Holly. She was my best friend and partner at the time. Holly was at uni, midway through her dentistry course, when I called. But I couldn't get the words out.
She kept asking, 'What's wrong, what's wrong?' She ended up rushing home to see me. It was there, face-to-face, that I could finally give her the news.
I had a giant cell tumour in my leg. The doctor was making no guarantees that I would ever play rugby league again.
I felt like my world was caving in, but Holly calmed me down a bit and called my parents. They rushed over, probably freaking out as well. It was a very heavy time for everyone.
The year was 2014 and I was coming back from off-season shoulder surgery. I was doing plenty of rehab running. On some days, I was feeling pain behind my kneecap. It would come and go.
I thought it was happening because I hadn't done much running post-surgery and put on a little extra weight. Our physio at Penrith was treating me. One day it would feel good and on others, it wasn't too flash.
I wasn't worried about the leg pain very much – my shoulder was the main concern at that time.
THE HARD ROAD BACK
It all came to a head when I was preparing for my first game back from the shoulder injury.
I was warming up for a Ron Massey Cup game for Windsor Wolves, the feeder club for the Panthers. I tried to stride out and accelerate but couldn't run properly. I went into the sheds, told our physio and had a massage behind the back of the leg.
I went out and played. I had a shocker. I couldn't get around the field too well.
Straight after the game, I messaged the physio telling him something was wrong. He arranged for me to see the Penrith club doctor on the Monday morning. The doc told me it might be a knee thing, a meniscus or something, and sent me for scans.
I had a giant cell tumour in my leg. There were no guarantees I would ever play rugby league again.
In the middle of the scans, I could tell something wasn't good. The people at the imaging place stopped what they were doing and came in to ask how long I'd been experiencing pain, and some other questions. Something was seriously wrong. They couldn't tell me, they weren't allowed to say anything.
I found out the next day that it was a tumour and that it had to be removed.
The doctor said there was a chance I wouldn't be able to come back and play rugby league. I broke down. I was shattered. I had gone to his office by myself. He didn't tell me to bring anybody so I just turned up one-out.
That's when I made that phone call to Holly. The call when I couldn't say a word.
I had the surgery in June and thankfully it was successful. The surgeon removed the tumour and filled the void with what he called bone cement, some kind of synthetic stuff.
The Panthers were brilliant through this period. I'll never forget the things they did for me.
I missed the entire 2014 season getting over that operation. It wasn't a normal football injury, and no one at Penrith was going to take any chances with me. They weren't quite sure about what I could and couldn't do.
I was OK with that. I was pretty much in the dark as well.
When I hit 2015, the surgeon told me my leg was basically going to be as strong as before. And he was right – I can't tell any difference to this day.
I spent the whole of that season in Penrith's NSW Cup team. I played some good footy but got the feeling that NRL opportunities weren't going to come my way at the Panthers. After talking to my manager, I contacted my old under 20s Parramatta coach, Matty Cameron, who was doing some junior development stuff at Wests Tigers at the time.
He put in a good word for me and I got a part-time gig with their reserve grade squad. The Tigers were struggling and I went there from Penrith with a mindset that if I could play some good football, I might sneak in and get a shot at the NRL.
Jason Taylor was the Tigers' head coach with Paul Stringer coaching reserve grade. I had a pretty good year and Paul pushed my case to at least trial me with the NRL squad in the 2017 pre-season.
JT gave me a first-grade contract and I began the new year with a run at the Auckland Nines.
I heard later that I might have been a chance of making my NRL debut in the opening round of the 2017 season but an injury I picked up in one of the trials ended that. A short time later, it was pretty early in the year, JT got the punt as coach. I was disappointed. I got on very well with him.
Ivan Cleary came in and sat down all of the forwards, promising that opportunities would arise. He explained that he couldn't just arrive and make wholesale changes. It would take a little time, he said, but if anyone's form was of a high standard, he would look after that.
Ivan is much the same type of coach and people person that JT is. He's a good family man. The first question he's likely to ask is, 'How are things at home?' and he cares about the answer.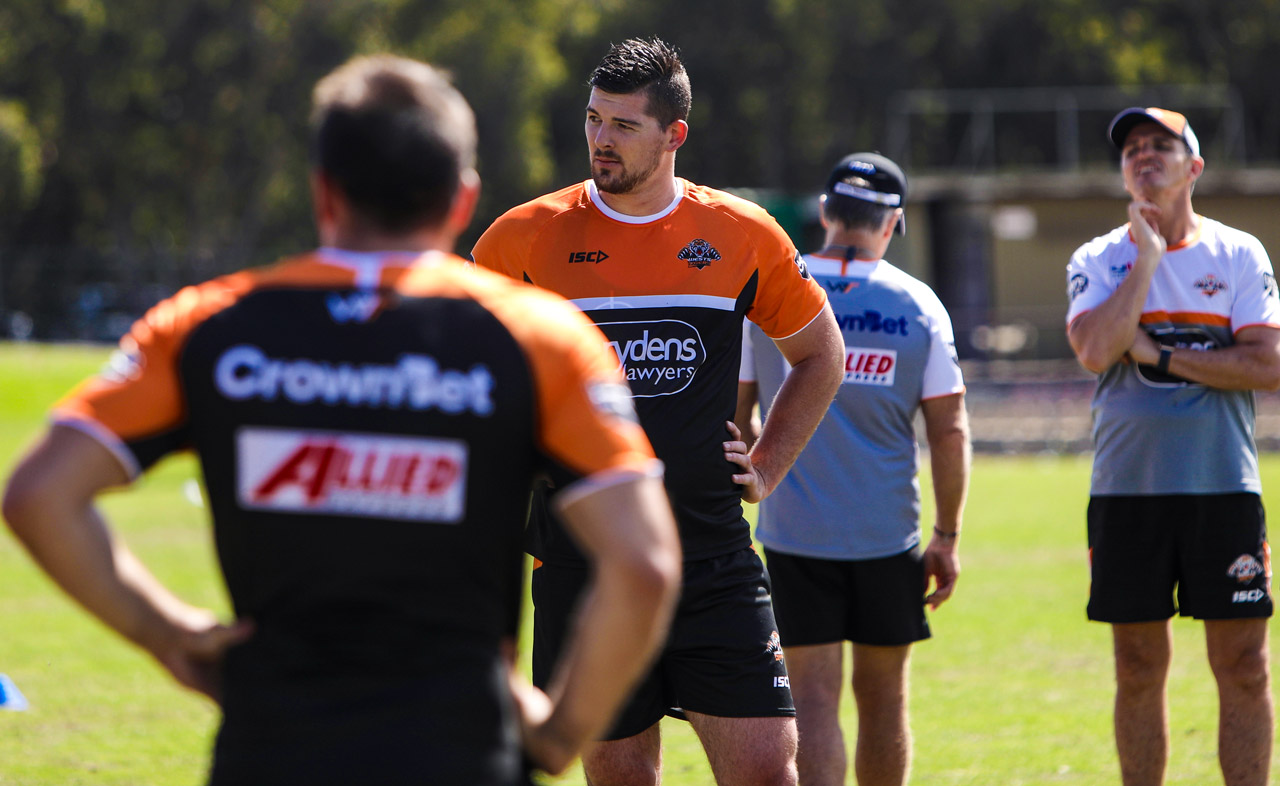 More about: Esan Marsters | Injuries | Ivan Cleary | Paul Gallen | Penrith Panthers | Wests Tigers