54 flights & the battle for fairness
My family moved to Perth from Durban in 2001 – for sporting opportunity and also university prospects for my two sisters. When I left there, I was No.1 in the country in under 12s and I'd just been on a trip to Spain with Kevin Anderson, who was No.1 in under 14s.
I nearly stopped school in Year 8 to do full-time tennis. But I was at a great private school, so we came up with an arrangement that I would skip Year 9 and go straight to Year 10, so that I would finish school when I was 16, turning 17, and then I would have that extra year to go on the tour.
Those few years between 14, 15 and 16, I didn't play many junior ITFs at all. I just played basically men's tennis and tournaments for those years, then after I finished school I trained up even more and then started Futures straight away. In my first couple of Futures I was able to get points, get ranked and continue on from there.
I went to Hale School in Perth and finished with a good TER score, so that kind of got me entry into anything I wanted. I entered into law/commerce at the University of WA but then obviously deferred it because of tennis. My heart was always set to go with tennis.
I was 23 when I broke into the top 70. I was younger breaking in than a majority of guys on the tour, but not as young as some guys like Nick and Bernie, who were maybe about 18. If I'd stopped school at Year 8 and gone to full-time tennis then, maybe that's the path I would have taken. But there are never any guarantees in life. Also, I really valued my education and the whole of life, not just tennis.
Physically, I didn't grow as tall as I am now until more like 18 or 19. I wasn't one of those really tall kids when I was 14 or 15. I could have done it differently, but I wouldn't give up everything my schooling did for me as a person, and in life. Everyone has their own paths and ways.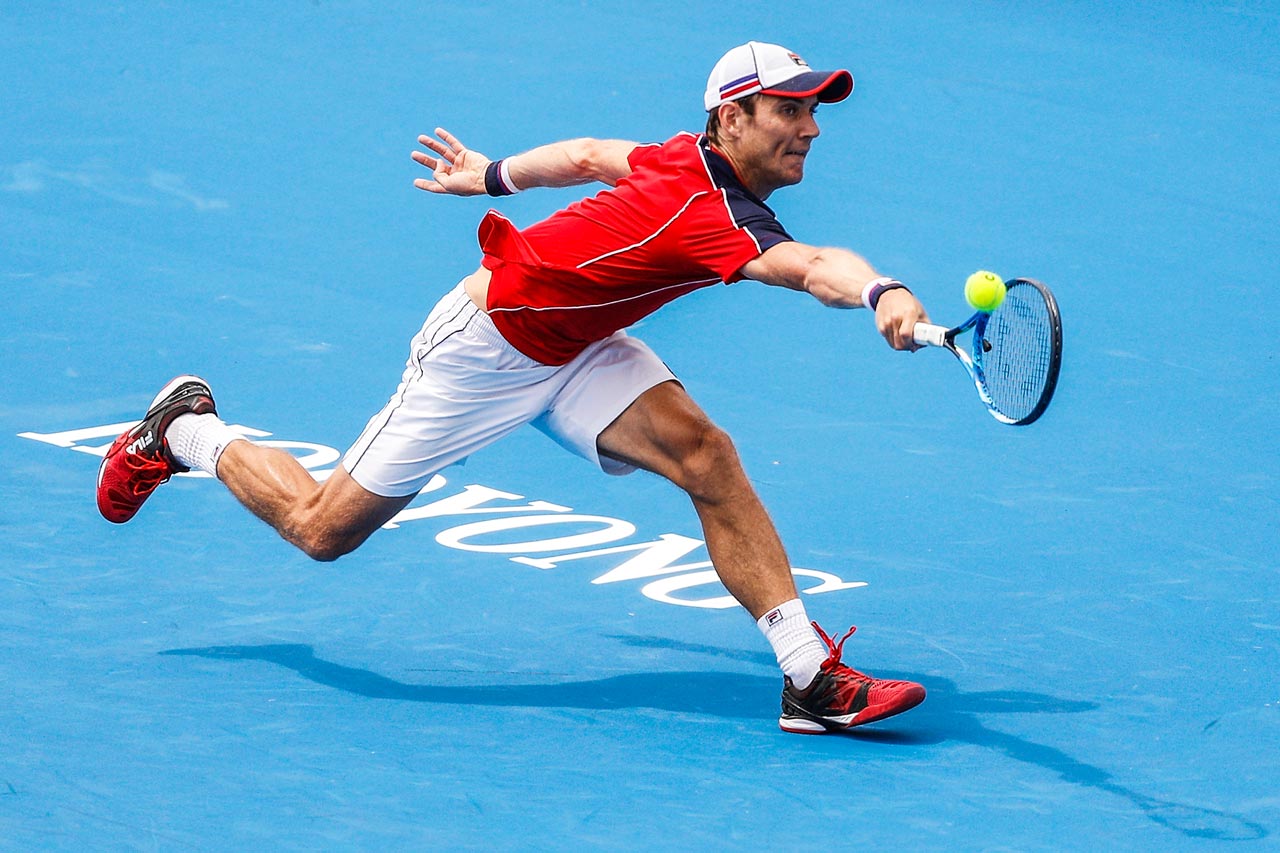 THE PROBLEM YOU NEVER HEAR ABOUT
Until I had missed six months on tour with a knee injury in 2016, I'd never really been injured for more than a week or two. But there's so much that can take a toll on you: travel schedules, changing coaches, you can burn out.
I don't think people realise how hard it is being an international tennis player coming from Australia, and that will show in our numbers at the top of the game. Nobody spends the amount of time away from home that we do.
It's just a fact. We often go on the road for four months or more at a time; Americans or Europeans are away more than three or four weeks from home and they are sometimes fried. They think this is inhumane. We're like, 'Three or four weeks is like a weekend, guys!' One year I did eight months. Maybe it was too long. I ended up with a fatigue virus late in the year.
If you take out Roger and Rafa and a few of those guys, the tennis life is not always as glamorous as some people may think. But it is great, and I'm very appreciative – and even more so since I was injured for those six months in 2016.
It gave me a lot of perspective on life inside and outside of tennis and made me see things really for what they are. All the fake stuff, it doesn't mean anything. I can see all that and understand what's real.
People get caught up with egos, with images, with this, that, the other, but it doesn't help you play any better, doesn't help you win tennis matches, doesn't help you in life. And life doesn't stop when you win a tournament; life's a never-ending process until one day you're finished here, and that's it.
Actually, that's happened to somebody close to me recently. Just over two years ago, one of my long-time coaches, Darren Tandy, passed away. He was my coach on and off since I was 16. He used to live around the corner from me in Perth.
He was with us at the 2015 US Open, on the court with me. After I came home, he was to leave New York a couple of days later, he went to the airport and, before he could board his flight, he had a stroke. When he was taken to hospital, they found cancer and unfortunately three months later he passed away. It was terrible. Such a shock.
He was only 48 years old, with his wife and two kids and parents back in Perth. I know them very well, of course. Everyone's lost people close to them, but it just sort of makes you look at the value of life, and time, and you can't take anything for granted. Family, friends, loved ones, spend your time as best you can. There's no point really worrying about the fake stuff that people are concerned about in this world. Life's short and you never know what's around the corner.
EBDEN ENTERPRISES
We got married in 2012. Kim is a lawyer. She worked in a top law firm in Perth before we got married. She could be doing whatever she wants, really. She's a very smart woman and well-credentialed.
But, being from Australia, you have to take your life on the road with you. There's no other way around it, because you can't not see your wife for months-and-months on end forever. So we always had that plan that once she'd finished uni and worked and been admitted to the bar, and once I was on the tour and doing well or whatever, we'd have a family business.
Ebden Enterprises? Actually our business name is Born to Win. My sister registered that for us a long time back.
Kim is virtually our day-to-day, week-to-week manager, the CEO of this family business. She helps take care of everything, so I can focus on tennis.
When my ranking dropped from being out injured, I stopped receiving any sort of travel coaching support, so most weeks of the year it was just the two of us. And that was fine because she's such an important person to have with me.
Kim loves the travel and what we do, but she's sacrificed a heck of a lot to do what she does for us and, just like any business, paying for her to come on the road is another consideration that has to be factored in.
THE TRUTH ABOUT PRIZE MONEY
A lot has been written and speculated about what was said at the ATP player meeting held before the Australian Open. It's no secret. But Novak Djokovic, the player council president, wasn't the only one who talked.
Many of us got up and spoke and asked questions. It wasn't Novak going up there saying, 'Guys, let's boycott for more prize money.' It was guys saying, 'We think, as a group, we should have a voice that's our own players' association.'
That's it. The ATP is 50 per cent players, 50 per cent tournaments, but the tournaments control everything, including the money, so their 50 per cent probably accounts for a whole lot more in terms of voting rights and power.
At the Australian Open, I think the prize money is at about seven per cent of total revenue which, well, let's just say it's not great. Without the players there's no tournament, right?
Most of the big sports – and we are one of the biggest global sports, and growing every year – put up between 15-25 per cent of revenue back into prize money.
NBA, Major League Baseball, NFL and soccer etc – some of these guys are signing deals of $30-$40 million in playing fees over three years. I know everything's relative, but we're the top 100 players on the entire planet, we have an 11-month season, and probably travel more and longer than any other sport out there.
Yes, the very top guys in tennis – Roger, Rafa, Novak – get paid a ton. The winner of the Australian Open gets $4 million, but consider what they have to go through: the whole season, all the training, then the couple of weeks of the tournament, to make that money.
I know the general public are going, 'Greedy Novak', because he does earn a lot of money, but they're not equating apples with apples, or a top global sport with other top global sports.
Our sport is an incredibly good place, it's very healthy, it's growing every year. The slams' revenues are skyrocketing, and yet most of the lower-ranked guys in the top 100, through main-draw entry at the slams, are only sure of getting 50 or 60 grand, four times a year.
I know from the public's eye they think, 'Oh, they get $60 grand even from a first round loss.' But $60 grand? Really? Probably everyone at this tournament could be earning millions if total revenues were shared better or more fairly. You've got 30 or 40 guys, whatever it is, earning $1 million in prize money, but it's a long way off.
As tennis players, we do not get weekends off, we work virtually six or seven days a week. Two years ago at the end of the season we counted, I took 54 flights during the year.
The other things most people probably don't see or think about is if you don't play well, if you don't win, you don't make any more. I don't think a lot of people realise the expenses too in paying for travelling coaches, flights, hotels, food and daily expenses, everything.
I think a players' association will happen. We had some legal advice as a group and talked about how to set it up. I think doing that in itself will have a good impact.
A strike? It's possible. We don't want to boycott, we don't want to make problems, it's not what anyone's after. We love the people who are running these businesses for us to play, we appreciate everything that's happening for our sport.
What it comes down to is that we're all just boys who play tennis: Roger, Rafa, anyone in the sport, even guys in qualies, juniors coming up, we're all the same. But on the global scale things are business: there's management, contracts, things like this, and everyone wants to be treated or valued, fairly, whatever their business or profession.
As tennis players, we do not get weekends off, we work virtually six or seven days a week, nearly every week of the year all around the globe with tons of flying and travel in between. Two years ago at the end of the season we counted, I took 54 flights during the year, so more than one a week, and many were international flights.
The scale of what we do is crazy when you sit back and think about it. What we put our bodies through, our emotions, our families and friends, it's an enormous challenge and task. We love it, we wouldn't change it for the world, and if we are making these tournaments hundreds of millions of dollars, I think all players agree they just want a more equitable percentage distribution.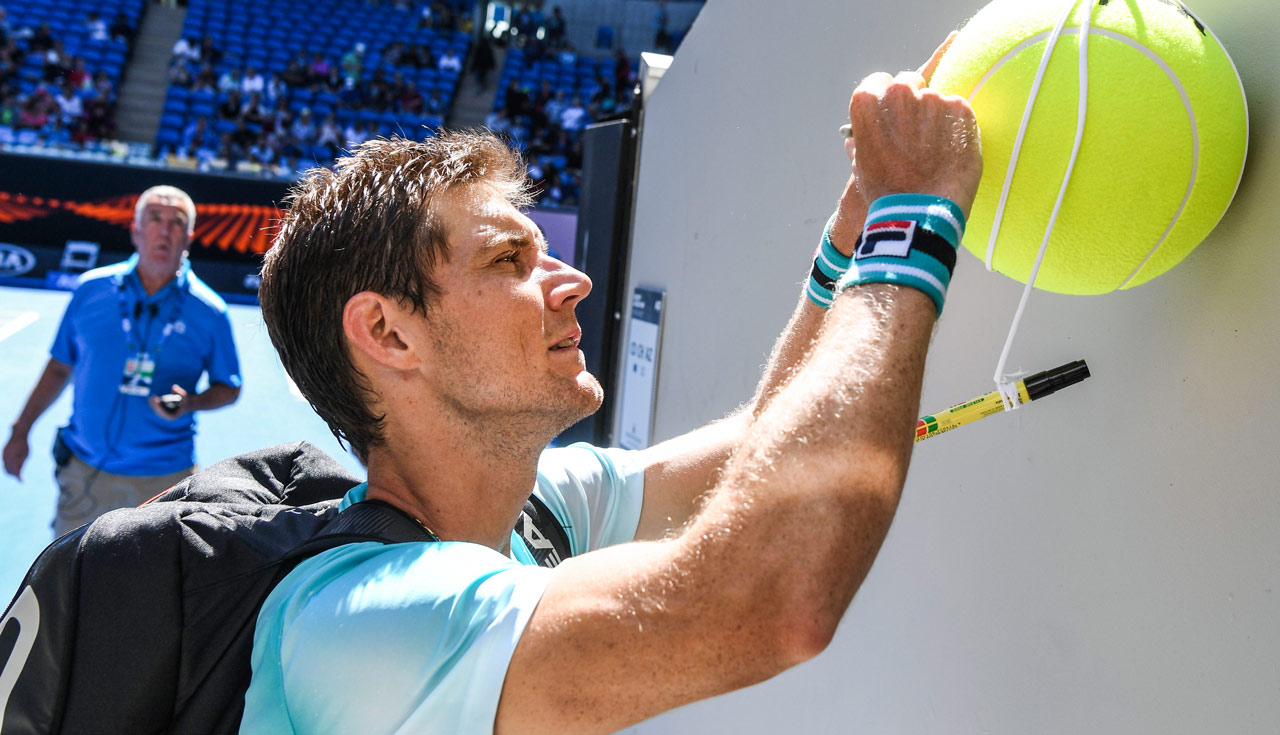 AGE IS JUST A NUMBER
It's a goal of mine to win ATP Tour titles in singles – I've done it in doubles, mixed, and a lot in the slightly smaller single titles, so I want to do it in bigger singles tournaments as well.
Last year, I had some of my career-best results. I've been working with a new coach for the past year, Liam Smith. It's all going pretty well. In July, I qualified and made my first ATP tour final, on grass in Newport. John Isner beat me. He played really well. But I was close.
I'm 30 now, but I still feel like I'm 24, 25. I'm still in that headspace, and my body, other than that one little thing with my knee, is one of my assets – my physicality, my movement, all that stuff, is a strength of my game.
The way I see it, because I wasn't top 100 or top 70 by the age of 17, 18, I probably feel like there's five years there that I might get later in my career, anyway. I've always had a goal to play until at least 35. I know now, of course, that you can't take anything for granted. I may have one year left, I may have seven. I hope it's at least five or six. I've still got a lot I want to do.
Next is Davis Cup, against Germany in Brisbane.
As a tennis player growing up, you want to win tournaments, win slams, and Davis Cup. So those years I've played and been part of the team have been very special and, even when I was out injured, one of my main ambitions was definitely to get back into the Davis Cup team.
I want to be a great player that they can make use of me in singles or doubles. I want to get to the top of the game or else I wouldn't be out here, so that's what I'm pressing on with.
More about: ATP Tour | Davis Cup