It's crazy what goes through your mind sometimes.
In the hours after I got hit, my biggest concern was whether it would stop me flying to our next tournament.
When that possibility passed by, I wondered how I could get myself to the Gold Coast for the Commonwealth Games. It's a very long drive from Perth!
A few weeks later, once it became clear that I'd recover, I asked my girlfriend Maddy what she'd have done if things had turned out worse.
'What do you mean?' she said.
I asked her again. 'Would you have stayed with me if I'd lost my eye?'
She said she would have stayed with me no matter what.
In fact, a number of people showed me incredible support in the weeks and months after that terrible day in February.
Maddy was great. The team's coaching staff was, too. My mum Trish flew over from the east coast to be by my side by the time I went in for surgery. Mum played cricket for Australia and knows the perils of sport. But her concern, of course, was as a mother above all. Seeing her son in that situation must be have been tough.
Then there was Knowlesy – our former captain Mark Knowles – a great leader, a former mentor of mine, who kept telling me to look after myself and that the team needed me back. His words were really important to me.
Thankfully, things worked out OK. I was given the all-clear to fly to the Commonwealth Games, though I did have to wear some pretty funky glasses during the matches. On Friday, my Kookaburras teammates and I head off to India for the World Cup, which if you ask any international hockey player is as prestigious, or even more so, than the Olympics.
It's my first World Cup, a major milestone personally and an important event for a number of young players who could form the nucleus of our side for years to come.
But it could have been so different. Instead of continuing the career I've put everything into since I was about 12 years old, I could have been out on my own and wondering what to do next with my life.
Pretty much literally, in the blink of an eye, my hockey career could have been over.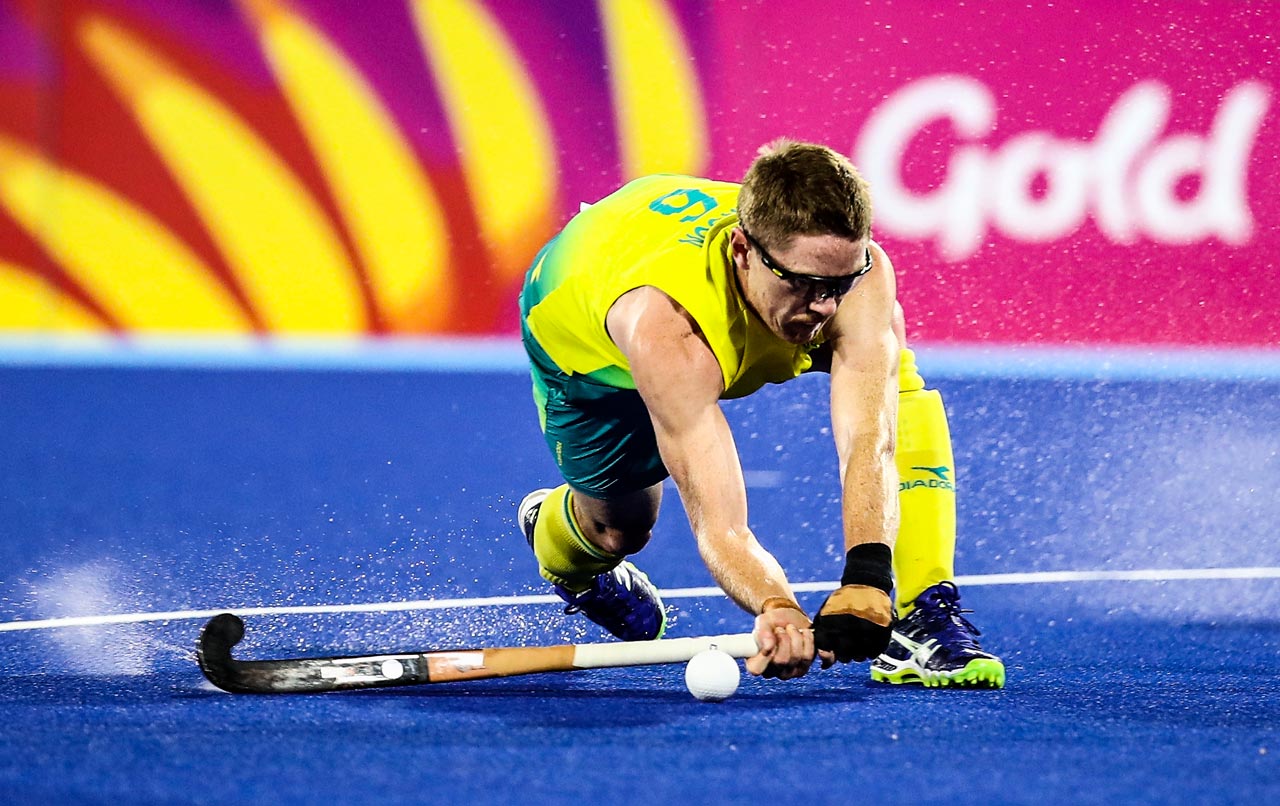 The gory details
It was just a normal practice day. I've been in the same situation many times before.
We were at training in Perth, where our team's headquarters is based. It was a Wednesday, shortly before we were due to fly out to the Azlan Shah Cup in Malaysia on the Saturday.
I was chasing a player from behind, he went to have a shot and had an air swing. His stick came flying around his body, over his opposite shoulder, and clattered straight into my eye.
I've never felt a sense of pain anything like that in my life. It was paralysing. Looking back it's a bit embarrassing, but I couldn't get up. I tried but had to go back onto all fours again. The pain was excruciating, but I'm sure a lot of my reaction was a result of shock.
Usually, when someone gets badly injured, teammates gather around to console them or help out. In this case, there was quite a bit of blood and – I don't blame them for this at all – the boys gave me plenty of space. I don't think anyone quite knew what to do.
Eventually, I was stretchered off and taken to hospital.
'What do you mean?' she said. I asked her again. 'Would you have stayed with me if I'd lost my eye?' 
As the shock subsided, those funny thoughts started entering my mind. Early on, as most sportsmen might react, I thought, 'Oh, it's just a fractured eye socket. I'll be right. I can deal with that'. And I just wanted to know I could fly by Saturday.
The doctor was pretty straight-up. 'Ah, no, you're not going to be able to fly', he said. And that was that. And then my mind threw forward to the Comm Games, which were a couple of months down the track.
Things were put into perspective once the plastic surgeon inspected the damage and gave me the rundown. It was pretty extreme. 
He told me I was very lucky that my eyeball hadn't burst. But there were still big problems to address, mostly that there was heavy bleeding behind my eye and pressure was building. They were also concerned about permanent nerve damage.
The surgeon outlined his plan to operate. He wanted to take a bone graft from my skull and put it under my eye to fill in the hole that had broken away.
I thought plastic surgeons used synthetic materials for that sort of thing. But he explained that using bone was better because it's stronger and there's less chance your body will reject it. I was on board with that. Who was I to argue?
By the end of the surgery at St John of God Hospital at Subiaco, I had 30-odd staples across the back of my head, from about the middle over to my right ear, where they took the graft from. And, under the eye, there were 30 internal stitches. Needless to say, I felt pretty sore and sorry.
Why am I telling you this gruesome story? It's not because I want to appear tough or macho or anything like that. In fact, quite the opposite.
This experience, to me, was a huge wake-up call. It was a brutal realisation of how fragile we all are and how all your plans can be turned upside down in an instant, no matter how much work you've put in. Above all, it reinforced for me the value of what I'd learnt in the aftermath of the Rio Olympics in 2016.
satisfaction from within
People always talk about how they dreamed of playing for Australia when they were a kid. I wasn't really like that until I was about 12. And I only got into hockey by chance.
I grew up around Killarney Vale on the Central Coast of NSW as the youngest of three children. My eldest sister, Jessica, played quite a lot of netball but decided she'd had enough and wanted to try another sport.
It just so happened there was a hockey field about five kilometres from the netball courts. My parents saw an ad in the paper calling for youngsters to join the local competition and took my sister down to have a look. As little brothers tend to do, I tagged along and watched my sister play hockey over the next couple of years.
Finally tired of watching and not doing, I picked up a hockey stick and basically never looked back. From about the under-15s, I was consistently picked in NSW youth teams and got swept up in the development system.
When you see the Kookaburras and Hockeyroos putting in that much time and effort for tiny wages compared to Australia's major sports, you can be pretty sure we're doing it for the love of the game and not much else.
By 2014, soon after my 21st birthday, I made my debut for the Kookaburras and have since played over 100 matches for my country. We've had quite a lot of success in that time. At the moment, we're the number one ranked team in the world.
Reaching the pinnacle in any sport is, of course, very hard work. But I think it's especially hard in hockey. It's really cool, what we do. We get to travel around the world with our mates and play the game that we love. I'm very thankful for the opportunity and cherish every game.
But the reality is, we train six days a week and dedicate ourselves without a whole lot of reward from outside. Ninety-nine per cent of people see you travelling and getting good results and think it's all rosy. But when you see the Kookaburras and Hockeyroos putting in that much time and effort for tiny wages compared to Australia's major sports, you can be pretty sure we're doing it for the love of the game and not much else.
What that means is, satisfaction has to be found from within. It has to be felt by the players because very few people outside the team environment can really relate to the world in which we work day-to-day. I think once the playing group can feel that satisfaction, they're on track towards getting good results.
More about: Gold Coast 2018 | Hockey World Cup | Injuries | Kookaburras | Olympic Games | Rio 2016