The rise and rise of Ratboy
My kids Diaz, Matthew Junior and Tatum all love rugby league. Most nights they ask me to fire up YouTube so they can watch old videos of Johnathan Thurston and me from our nine seasons together at the Cowboys.
The tries, our combination, the partnership, the fun of it all. Honestly, that's all they want to see. They like the try celebrations and sometimes try to copy them in the loungeroom. I still love watching how it all turned out, too. They're fantastic memories.
A lot of what we did on the field was pure instinct. Sometimes JT would give me a look, maybe a little sign with his finger, just a nod of the head. He knew what I wanted, and I knew what he wanted. It worked more often than not and it was pretty exciting to be a part of it.
Other stuff we did was the result of hours and hours of training and repetition. We practised some of those plays hundreds of times trying to get them perfect. When we tried stuff and it came off, nobody outside of the club really knew the background to it all.
They were great days.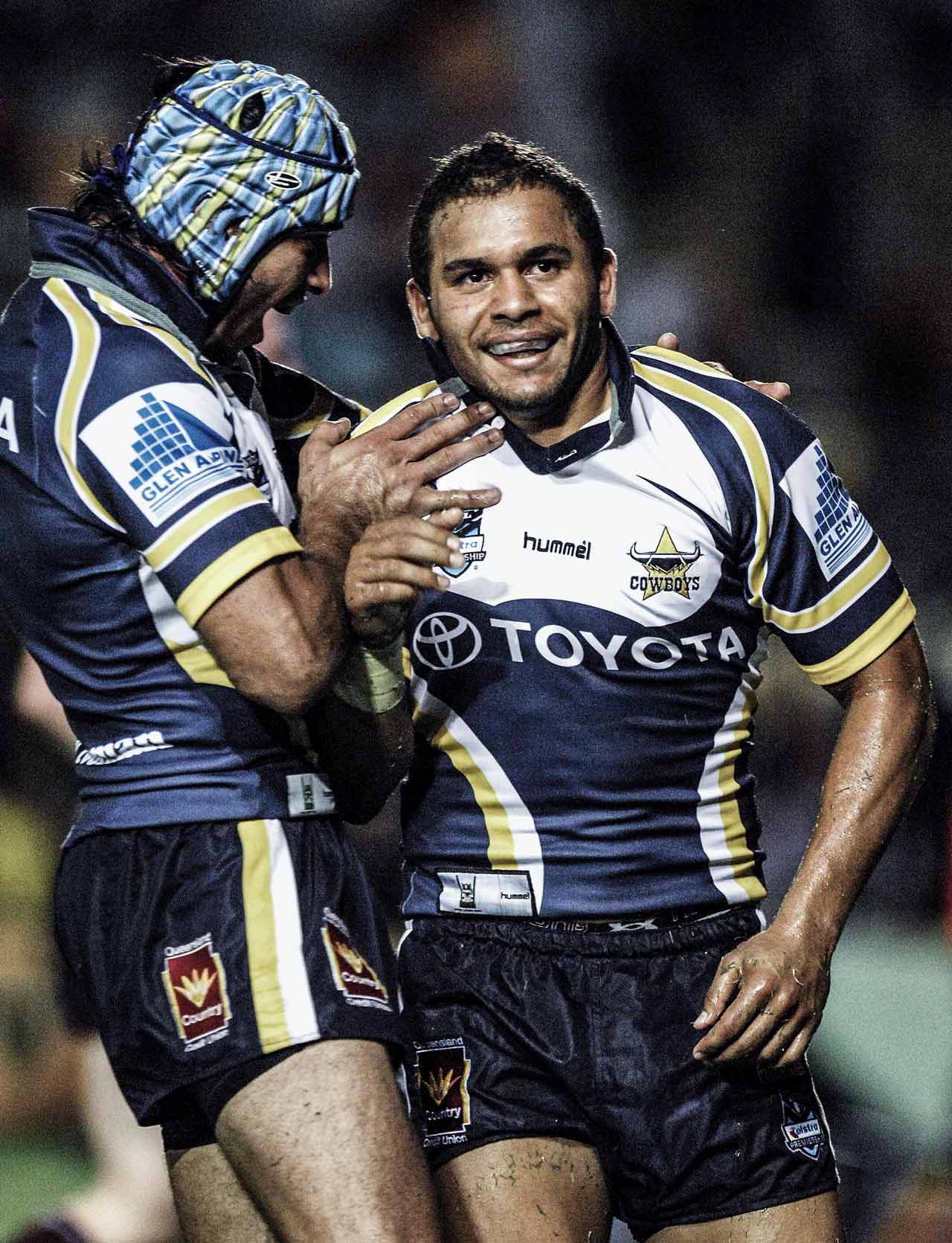 WHEN RATBOY CAME TO TOWN
We first met as teenagers. It was in the Confraternity Shield, a schoolboys competition up this way, and we played at the Emmaus College ground in Rockhampton. He was 16 and I was a year older. JT was five-eighth for St Mary's Toowoomba and I was the No. 6 for St Teresa's Abergowrie College.
From memory, we pumped them 44-4 that day. I can't recall if I got over the line or not, to be honest, but what I can remember is Johnathan Thurston was the kid everyone was talking about. He showed plenty of skill. Even in a beaten team, he tried his heart out.
It was the only time we were on the same field together until we were reunited at the Cowboys when he moved up from the Bulldogs in 2005.
We called him Ratboy. He'd get around with his cap on backwards and the seat in his car was so far back you could hardly see him. It was a silver Commodore, one of the gun cars at that time. Johnno had that wild hair, the stubble on his chin and I'm pretty sure he had an earring.
We all thought he was a bit of a ratbag kid. Ratboy stuck.
I was pretty well established at fullback when he arrived and early on, we formed a handy combination. There was me, JT and also Aaron Payne, our hooker. The three of us just gelled. We all had a chemistry between us from day one. There were plenty of great players around us, too, including Matt Sing and Ty Williams.
Scoring points was never a problem for the Cowboys.
Johnno was a natural leader from the start, a young guy with loads of skill. And, man, was he competitive. You could see that by the way he launched himself into training drills. He had to be the best, even though it was days away from game-time.
We called him Ratboy. He'd get around with his cap on backwards and the seat in his car was so far back you could hardly see him.
He was just as competitive off the field.
The Cowboys had a ping-pong table in the locker room and, at the start of the season, all the boys started with a ranking from 1 to 30. To advance, you had to challenge someone higher up you on the ladder, play them twice in the same week and win.
One year, I can't remember exactly when, JT and I got right into the spirit of it. We were both handy table tennis players and we'd advanced to the finals section. Whoever won would be crowned the Cowboys' champ for that season.
One afternoon we began playing after training at around 3pm, maybe 4pm. JT was sweating. He was carrying on a bit. He wanted it bad. With the way he was approaching it, you'd swear we were playing for an NRL premiership ring.
He refused, point-blank, to leave the dressing room until he was on top of the ladder. I was playing well but I eventually threw that game because I had to get home for dinner. It was after 7pm. We'd  been going for hours!
That's what he was always like. The ultimate competitor.
A few seasons later, after he'd been away with the Kangaroos, Johnno reported for pre-season a month after all of us. He'd been on holiday and hadn't done any serious training. He jumped in, cleaned everyone up and blew us all away.
It was incredible, but that was JT. Second place was never an option.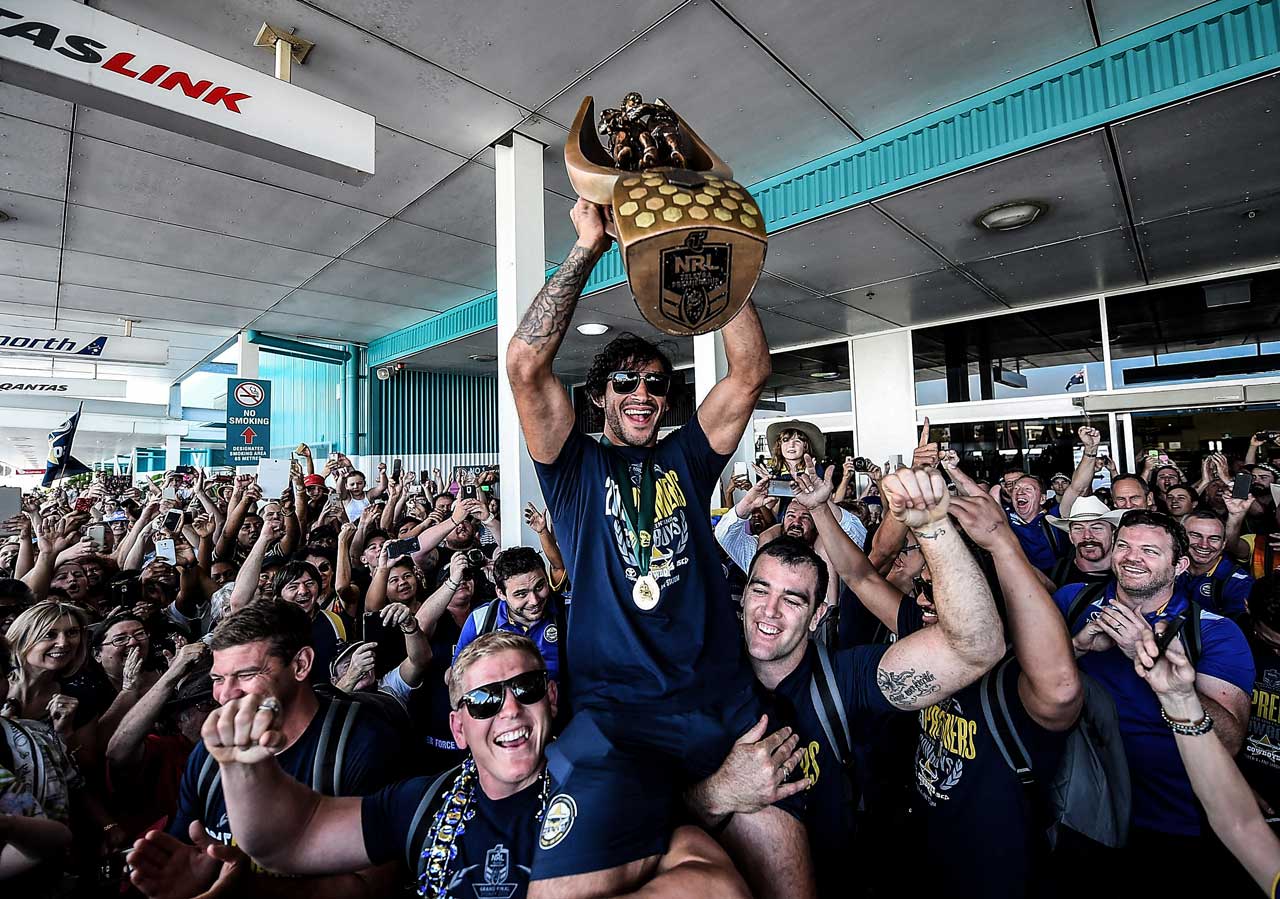 THE LEADER
From the moment he joined the Cowboys it was like … wow! We all knew immediately he would be running the team before long. It seemed to be his destiny. He had something unique.
We played in the grand final against the Wests Tigers in that 2005 season. The title was there to be won and, looking back, there were plenty of little things we could have done better, myself included.
I remember in the first half, when our centre Paul Bowman got tackled, he threw the ball over my head and the Tigers scored. I was singing out for the ball and I should never have done that. The ball bounced in the in-goal area and was pounced on by Bryce Gibbs. I had scored the opening try – after JT had handled twice – but that try by Gibbs made it 6-all and gave the Tigers momentum.
We lost. It's still very hard to talk about. Like lots of players who lose grand finals, I could never bring myself to watch the replay of that game. I never will.
The 2015 result for North Queensland was way better! I was travelling on a train from Wigan down to London at the time for the Super League grand final against Leeds. I followed the scores from Sydney via Twitter and Facebook. I was fist-pumping when I learned JT had knocked over the field goal to win in golden point. The other passengers probably thought I was nuts! But I knew how hard the boys had worked to get there, none more so than Johnno.
That was JT. Second place was never an option.
Throughout his career, JT made a habit of popping up on either side of the ruck. He would have been almost impossible to defend. He could pick holes in any defence. He could slow the game right down, wait for the moment and a few seconds later he's scooting 100 metres up field. He was great at backing up the ball runners, too.
He's always been a tremendous defender, a clever reader of play, a great goal-kicker and smart kicker in general play. He's got an amazing ability to put players through holes. He has been a tough and resilient throughout his playing career.
Someone asked me recently if there was a standout game where my partnership with Johnathan was untouchable. My answer was to look at virtually every Cowboys game against our big rivals, Brisbane. We always lifted for the Broncos games. They must've got nightmares when they knew they were coming up against JT.
Without a doubt, he's one of the best players of all time.
And I consider myself very lucky to have played so much footy alongside him.
It may well be that the biggest impact Johnno makes on society will happen after he finishes playing. He's passionate about helping indigenous kids and he's about to have a lot more time to devote to them. With his standing in the game, and in the community, you get the feeling he's going to make a difference in society.
We've done some work for Cowboys House helping out indigenous boys. It has been going for just on two years. It's like a boarding house and the club invites up to 50 kids from rural areas to come to Townsville. Most come from remote areas where quality education is hard to come by.
It's a great place for kids to roll up, get a better education and pick up important life skills along the way. I love it. I'm really looking forward to spending more time with JT there.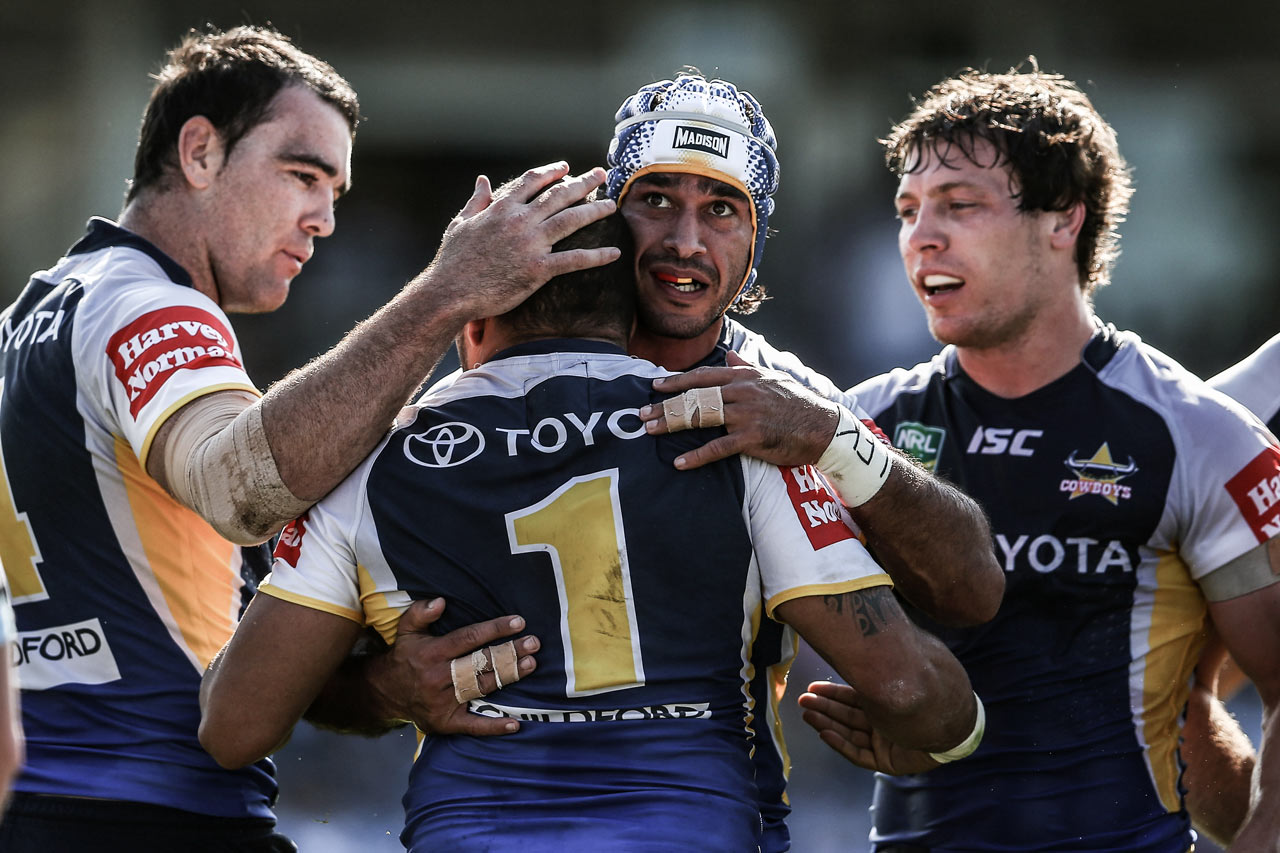 THE FINAL CURTAIN
I'm not sure if I can make it down to the Gold Coast for JT's final game at Robina.
I play in the local comp here in Townsville and coach the Central Tigers. We've got our grand final against Brothers on Sunday. I'll be playing in the game – five-eighth these days for me, not all that running around at fullback – but my problem might be with the airlines.
I have been madly trying to book a flight that will have me back in Townsville in time. Fingers crossed.
Of course, I'll be wishing JT all the very best as he steps out against the Titans for his final NRL game. He and the Cowboys turned on something pretty special against Parramatta at home last week. You can almost guarantee his farewell will be just as memorable.
Ratboy has certainly come a long way since those early days. I have a feeling we might be calling him something else in years to come. 
Immortal sounds pretty good to me.
More about: Brisbane Broncos | Gold Coast Titans | Grand Final | Indigenous Australians | Johnathan Thurston | North Queensland Cowboys | Wests Tigers