Mark Riddell - Contributor
The Thommo we knew
I was always first in line at the buffet on away trips.
We got the full spread: lasagne, veggies, chicken, the works.
Lance Thompson was different. He always made sure he had his own meal. Steamed fish and veggies. It always stuck out to me.
Fast-forward 10 or 12 years and that's what every NRL player eats. Healthy and professional.
Thommo was a man before his time.
While the other boys were ripping in, Thommo sat back and waited for specially tailored food that gave him the best possible preparation for games and kept his body right. He was well ahead of me in that regard!
That's what Thommo was about. That's how he went about his business.
He looked after me when I first came into first-grade. 
He also knew when to put you in your place. He was a really good trainer and always made sure you ripped in. He loved to have a joke and a muck-around, a trait we shared, but he was very serious when it came to his football.
He went hard every day of a career that featured 239 first-grade games.
One thing you knew about Thommo: when he went out on that field, he was going to give you his heart and soul. He gave that every game for the Dragons, as he would have for the Sharks.
A lot of people are hurting today. We've lost a champion bloke, far too young at age 40.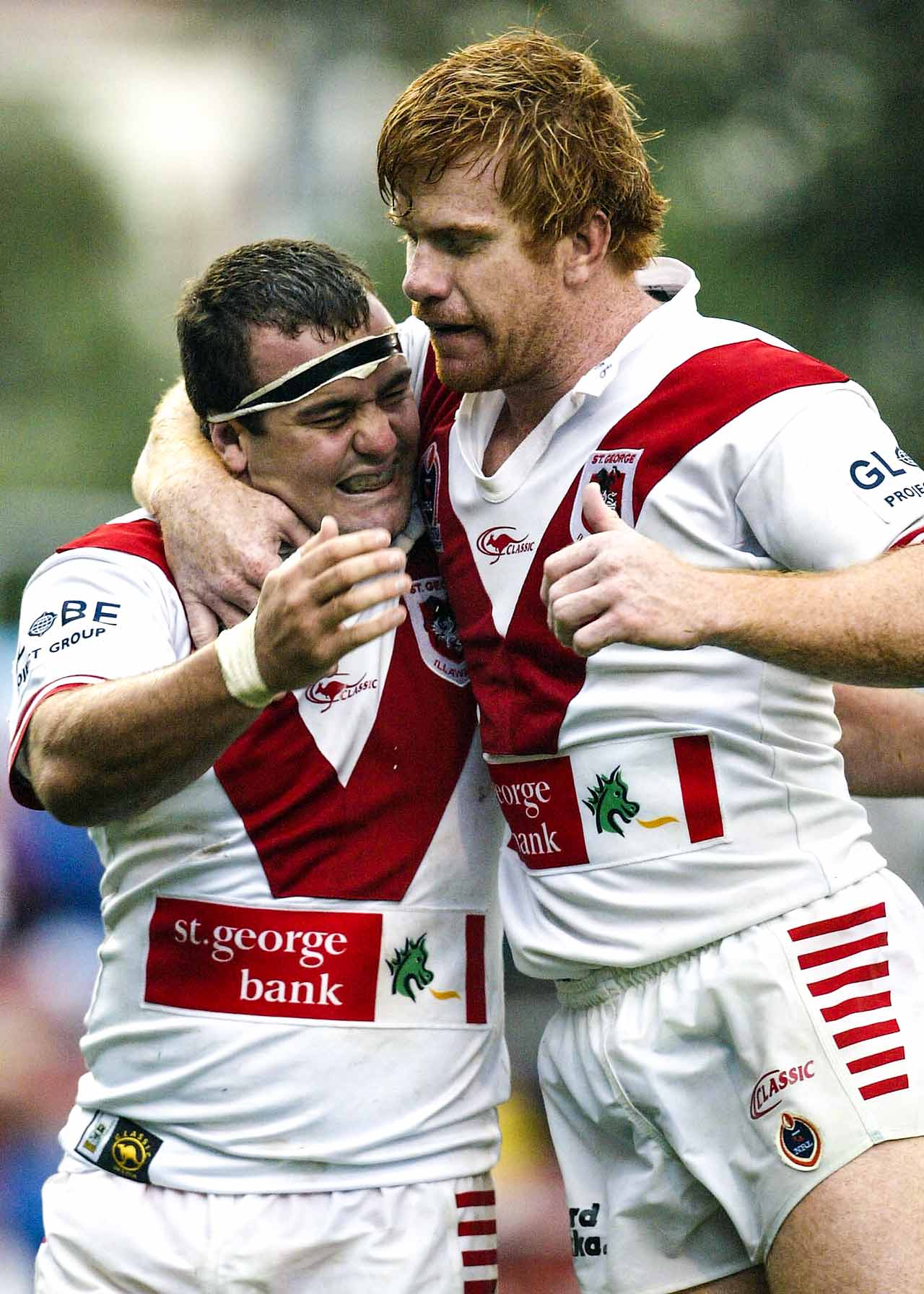 DRAGON TEARS
I was in at work early for my breakfast show with Mark Levy on Macquarie Sports Radio. We saw that Steve Hart had broken the news on Twitter that a former NRL player had passed away overnight. The first thought that went through my head was, 'Who that I played with has it happened to?'
We followed it up with Steve. When I heard the name Lance Thompson – a bloke I played with, knew very well and had a great relationship with – it hit me like a tonne of bricks.
I was sitting at my desk. I was devastated.
There were tears when we first heard the news. And there were tears when I was on air. All the memories, all the emotions start to come flooding back when you try to talk about a former teammate and a terrific guy.
I've had a lot of the Dragons guys from that era ring me and text me to try to find out what happened. I've had text messages from Paul McGregor and Trent Barrett – Baz rang this morning. Mark Gasnier, Jason Ryles, Shaun Timmins, Willie Peters, Dean Young, Aaron Gorrell, Matty Cooper – the list goes on.
Everyone was reassuring each other, making sure everyone was all right. That was a touching thing, in a terrible situation. It's something Thommo would have done, for sure.
One thing you knew about Thommo: when he went out on that field, he was going to give you his heart and soul.
Perhaps it would surprise people who didn't know him, given he had a tough exterior, but Thommo loved taking young players under his wing. If you asked a lot of the younger Dragons boys from that era, they'll tell you what an influence Thommo had over them.
When I came into first-grade at 20-21, he was in the pack with me and he always made you feel comfortable; you knew he'd be ripping in alongside you, and knew he'd get the best out of you.
Thommo and I got on really well because we enjoyed having a bit of a joke with each other. But when he spoke, you listened. That was the big thing with Thommo: if he pulled you back into line, you knew it was warranted. He had the respect of the whole playing group, top to bottom.
After his long career at the Dragons and then the Sharks, he had a boxing career off the back of footy. He also had some successful businesses, with his management company and his restaurant down at Woolooware, near Cronulla.
Everyone knew Thommo. Everyone would have a story about Thommo.
He was a great mate.
He leaves behind three beautiful children and he loved them a lot.
That's the most heartbreaking part. We have lost a mate, but they have lost their dad.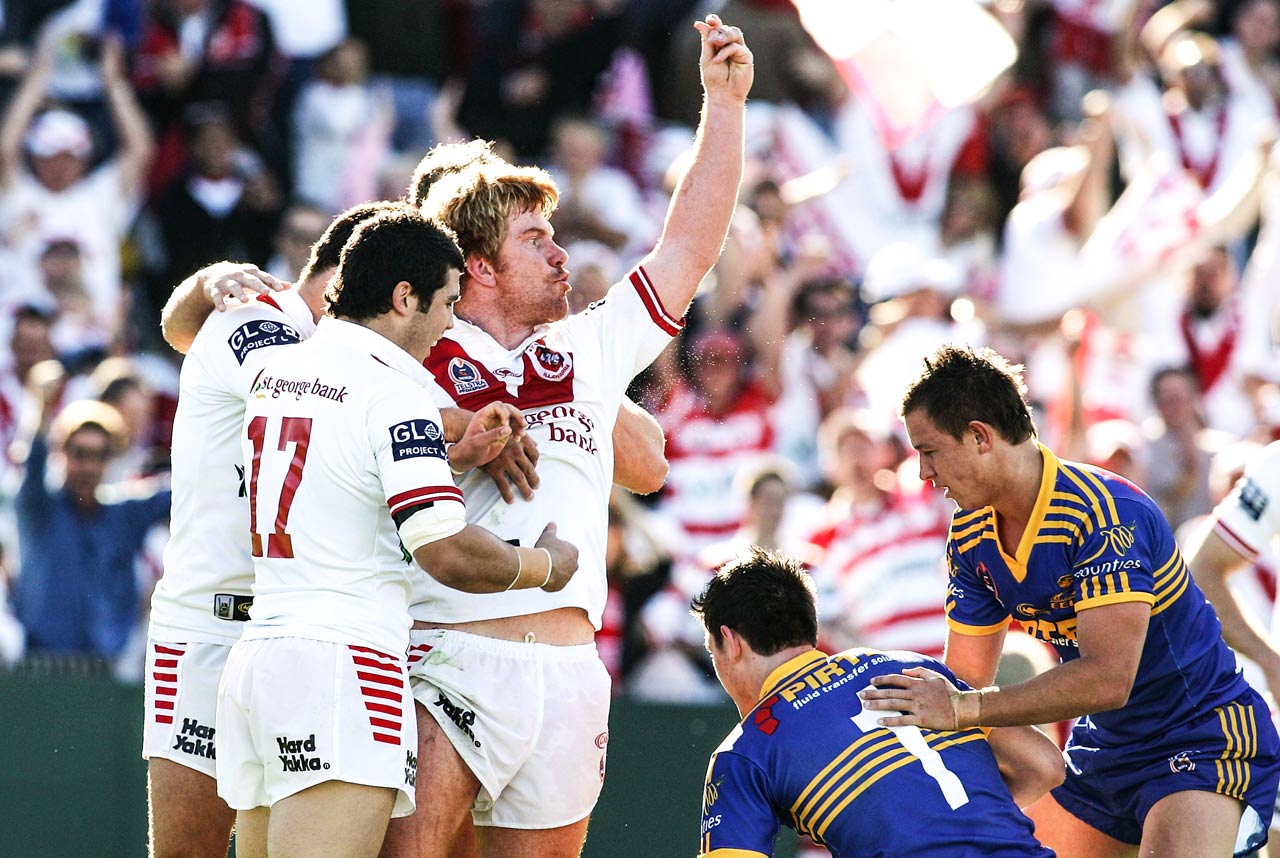 GREAT FOOTBALLER & DAD
While Thommo was a new-school thinker, he was an old-school footballer, through and through.
He debuted in first-grade as a 17-year-old back in 1995. He played through the end of that semi-professional era in the late 90s and was at the forefront when the game ramped-up into full professionalism in the 2000s, with his work ethic, training methods and the way he ate.
You just knew what you were going to get with Thommo. You knew he'd be there to take the tough carry at the start of the set, when you're trying to get out of your own end of the field. And you knew he'd be there to make his tackles, hitting hard on each one. He'd turn up when you needed him to help you out. He had a really good offload in him as well.
He was the type of bloke you loved to play with, and there can be no higher compliment to a footballer.
It's never easy coming up against your old club and your old teammates, and Thommo was top of that list; I had to play against him after leaving the Dragons.
You knew he was going to rip in against you, he wouldn't care that you were mates – if anything, he'd wear it as a badge of honour if he got one over on you! He was so competitive and that's what you were up against when you played him: a man who never gave up.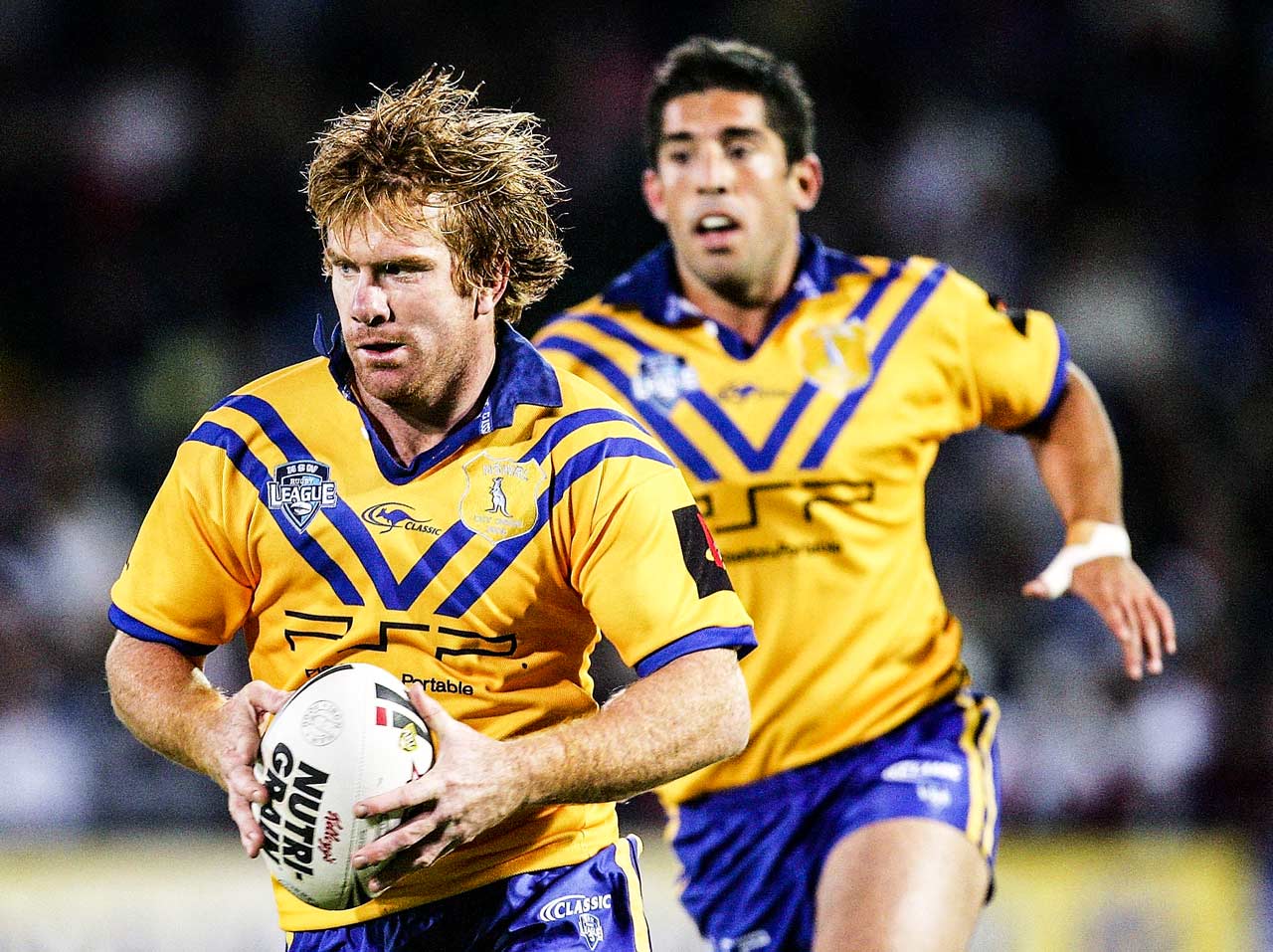 Thommo is probably a player you'd call unlucky never to have played State of Origin. There's no doubt that if he was picked, he would have done a job. He got plenty of City Origin games in his prime and showed he was of that calibre. He was a tough, no-nonsense forward.
He played through pain in the final years of his career at the Sharks, carrying a knee injury. He battled away with it, before making a decision that again showed the type of man he was.
Thommo described how he was playing soccer in the park with his daughter, Shalisse, one day and felt like he couldn't keep up.
He didn't want to spend his life not being able to play with his kids, not being able to look after them as best he could. He put his family before any personal desire to play on and he has to be commended for that decision alone.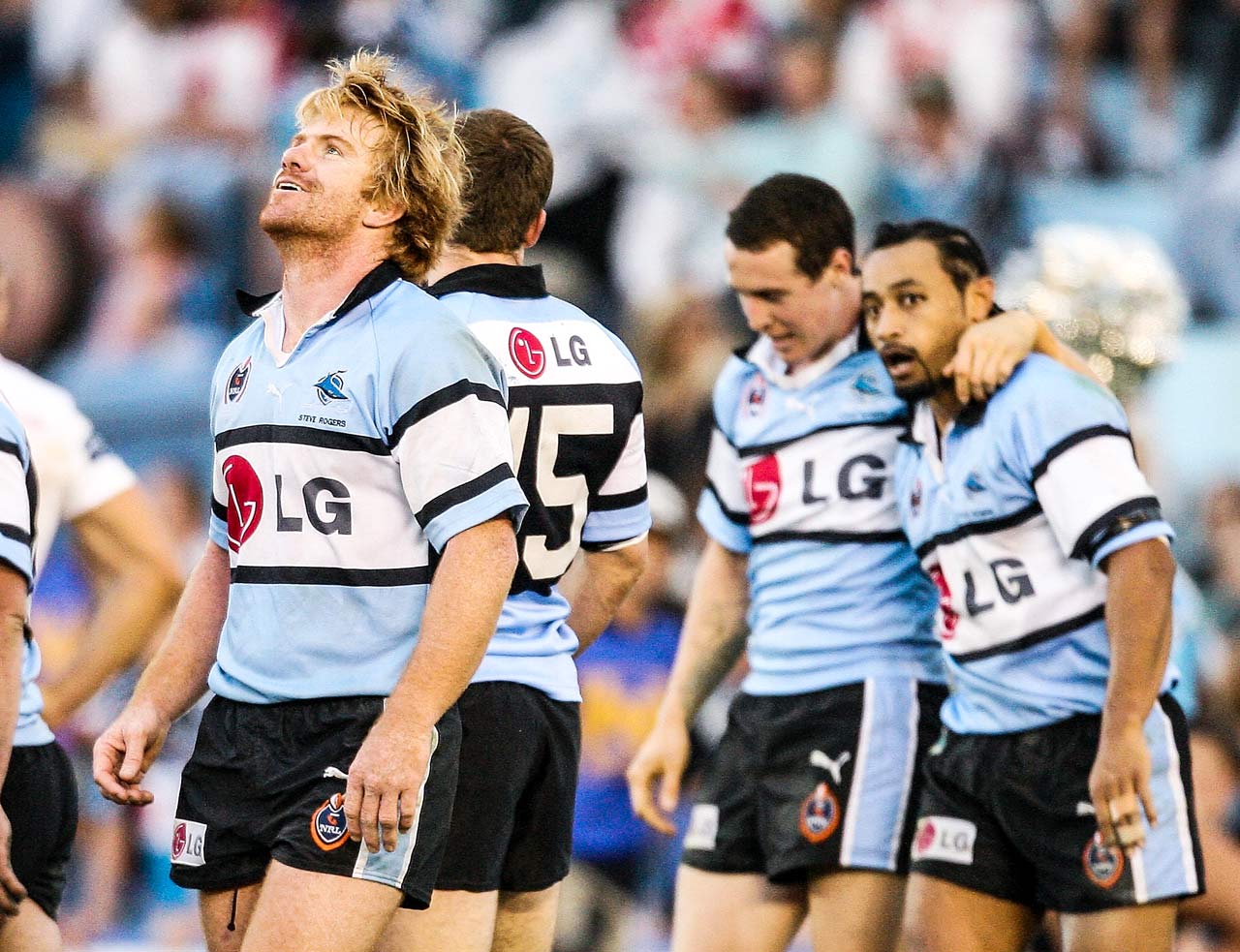 I saw Thommo a couple of months ago.
We had him on the show, talking about the old days and what he was up to then with his Lance Thompson Bar and Grill at Woolooware Golf Club. It was great to catch up; it was always good to see Thommo.
It still hasn't sunk in. Just 40 years of age, and very, very fit and healthy.
I can't believe Thommo is gone. My heart goes out to his partner, kids and close mates.
We've lost one of the best.
More about: Cronulla Sharks | Injuries | St George Illawarra Dragons