'My god, they're going to kill me'
Mark Ella played 25 times for the Wallabies, including 10 as captain. He reflects on his career alongside brothers Gary and Glen with the Australian Schoolboys and beyond in this extract from the Talking With TK podcast.
The 1977 Australian Schoolboys side that went invincible through 16 games had 10 full Wallabies and Wally Lewis.
Gary, Glen and myself were all part of it, coming from Matraville High, and we had to pay $900 each to go on the tour.
In those days, we couldn't do it. We'd had dance parties and the school helped raise the money. Then a person, who I still don't know anything about, came forward and paid at least half of it for us.
Without that contribution we wouldn't have been on the plane and would have gone back to playing rugby league.
It was an anonymous donation, so we never met the gentleman. We were told his name was Harry Ella, but I don't even know if he is indigenous, he might not be.
It was interesting in the early days playing for Matraville High. Six out of the seven players in the backline were indigenous.
Initially we copped a lot of criticism, a lot of racist remarks. But in the early days, we literally belted out the opposition.
After the second or third year they were suffering more, when the scoreboard was something like 65-3. We belted the living daylights out of them on the scoreboard so it stopped being a hassle.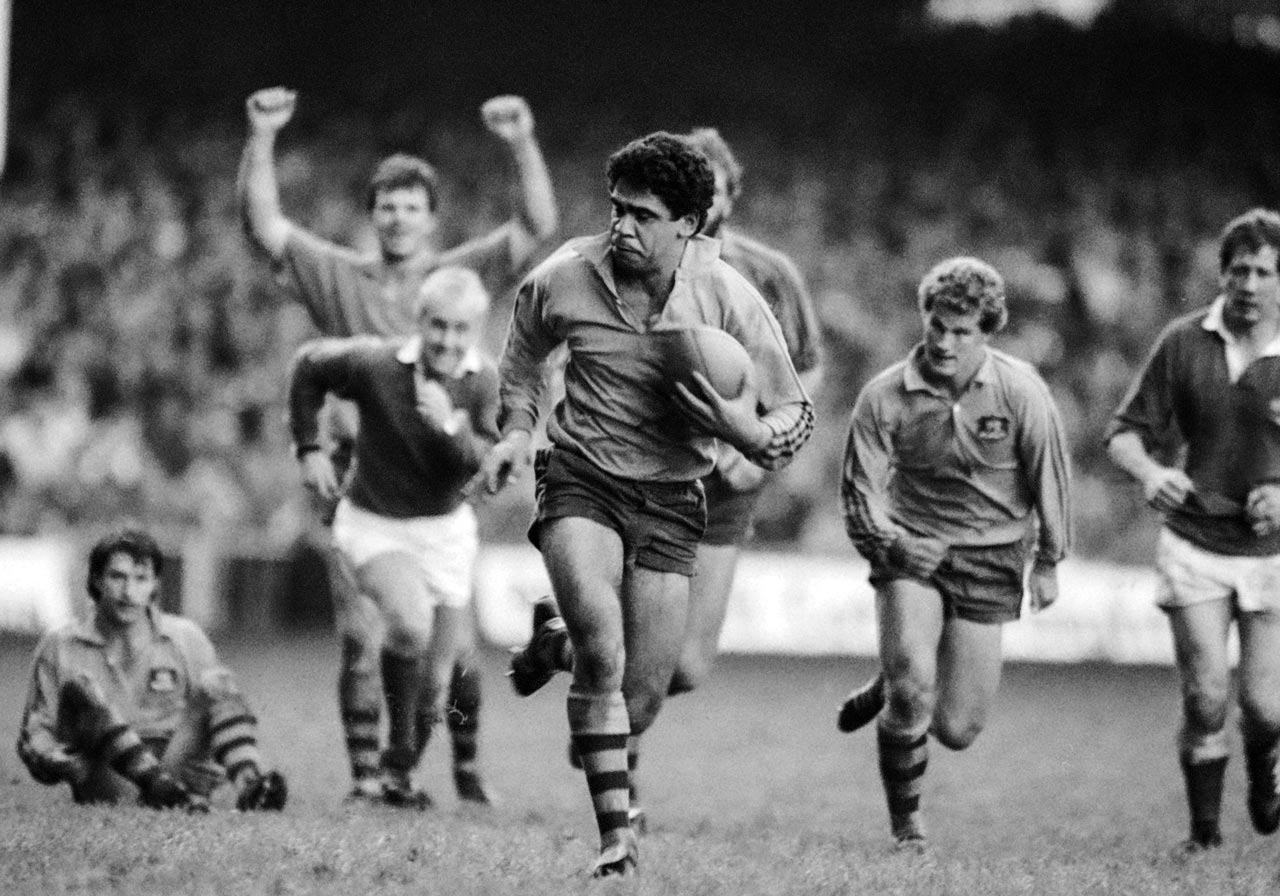 When we played it was almost like the circus had come to town. We started building this reputation and people would come and see us play. There weren't a lot of indigenous players playing rugby at that stage.
We were playing games against St Joseph's College and some of the other big private schools, and defeating them. We would turn up and there could be 2000-3000 watching us because 'look at all these black kids they're playing rugby and they're pretty good.'
We just did what we did, and it was the best time of our lives.
The first thing you noticed on the Schoolboys tour was how big the place was and how many people were around. It was intimidating and we didn't know what to expect.
They were big boys we were playing against. I thought they were going to run over the top of us.

The tour four years before ours, Australia won every game except against England.
We got to Twickenham and they were going to call the game off because of fog. We wanted to play to seek revenge for the last time, but it was a pea souper.
Luckily it went ahead and for the first time ever they let the crowd come down to the sideline of the field.
It was incredible. The first time I got the ball I kicked it. Chris Roche said, 'what the far out are you kicking the ball for you bloody black whatever.'
I said, 'Rochey leave me alone, I know what I'm doing'. I kicked the ball out of sight and I've never done that before.
It was outrageous but I'm glad they let the game go ahead. If they hadn't we would have been the Invincibles with a question mark.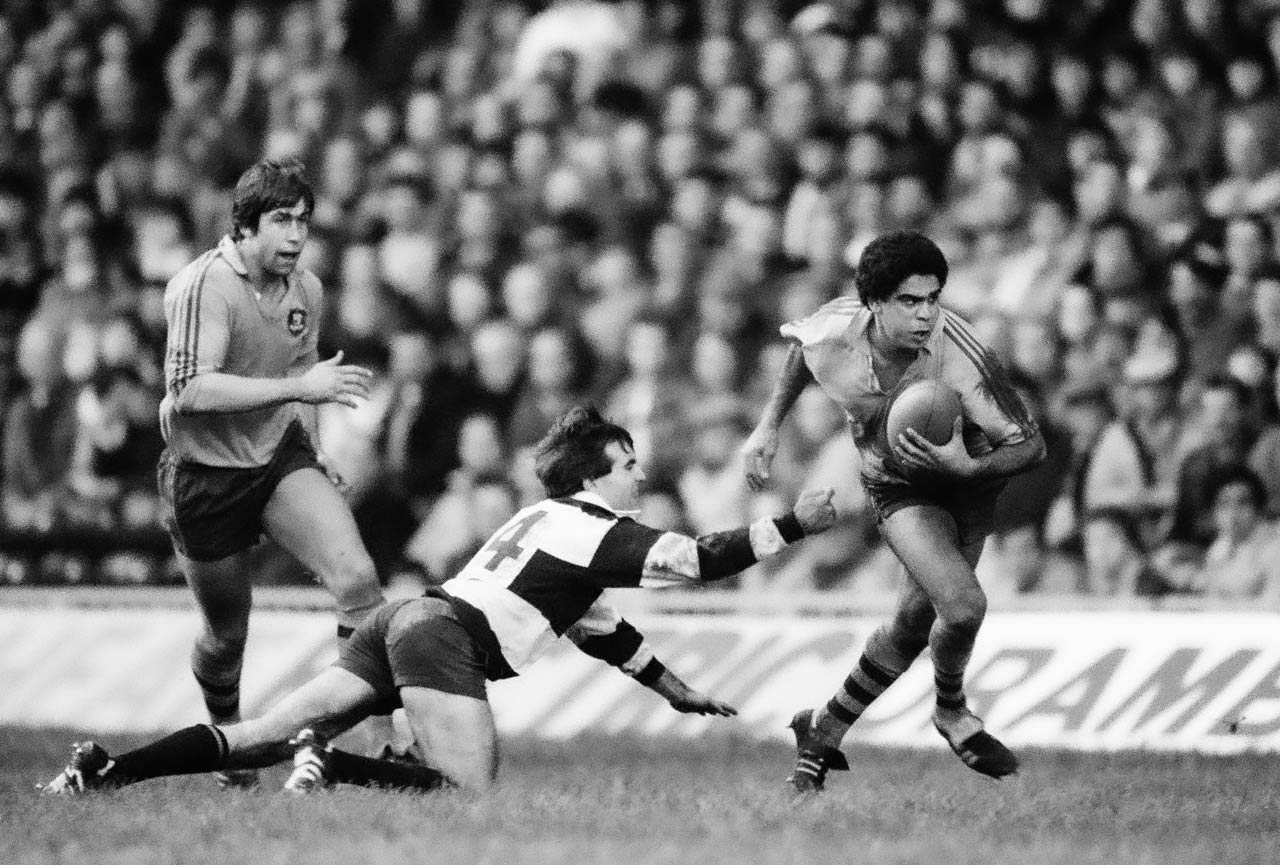 We never really thought about it too much at the time. Glen has got all the articles and there are probably two or three books of stories about the tour.
When we came home, we woke up the next morning and mum gave us the Daily Telegraph. She said, 'you guys have made the paper'. She gave us the sports pages and we read through them and said, 'what are you talking about we're not in there at all?'
She said, 'turn it over'. Glen, Gary and I were the whole front page of the Daily Telegraph. For rugby that was huge, for indigenous kids that was crazy. That's when it hit, we thought, 'holy shit, what have we done?'
We were just playing sport because we loved it. It shook us a little bit. We went out and people would recognise us and that was totally foreign to us. When we were overseas it was phenomenal. Again, it was a bit like the circus.
When we got home we all got approaches from rugby league. I spoke to South Sydney. But we felt obligated. Even though we still played some rugby league we felt obligated because we'd been on this amazing tour. We weren't going to come back and say 'thanks very much we're going to go play rugby league now.'
We felt we'd give it a couple of years, see how it went and if it didn't work out we'd go back to rugby league.
More about: Alan Jones | All Blacks | Australian Schoolboys | Bledisloe Cup | Indigenous Australians | South Sydney Rabbitohs | St George Illawarra Dragons | Wallabies