How a bushman became a Wallaby
I'm from Naraiyawa, a small village in the Fijian hills three or four hours' drive from Suva. Life there is old school. I miss that – the culture, how laid-back everyone is.
There's no missed calls, no emails, just kicking back with your mates talking nonsense.
It's pretty emotional thinking back to being a little boy. Each morning I'd go with my dad to the farm, which was our five or six acres of land on the side of a hill about 20 minutes' walk away. We'd plant cassava, taro and kava. We had a couple of cows, but crops were our main source of income. My grandfathers on both sides, they're farmers.
I have an older brother and a younger sister, but my sister didn't have to go to the farm, she was kind of spoilt because she's the only girl in the family. My brother and I would walk there with dad or go by horse.
You had to work hard to earn a living, but my father would say, 'I don't want you guys to be in the same position as me, I want you to study and get a better life. I want you to be successful in life.'
Harvesting is the interesting part – you eat the cassava root, and you don't know what you're going to get until you pull it out. Only the stem is above the ground, so you pull it out and hope it's not a small one.
If it's big you'll be rapt, because you make more money.
We'd take the cassava to town by truck and wait for the people to come and say, 'You guys got any cassava? Ok, how much?' Big 35kg bags would be 10 bucks, not much for nearly six months of growing in the soil.
The taro you wait seven or eight months for, then after harvesting an agent comes to the village in a big truck to buy it. They might be needing five or six tonnes, so all the families in the village line up with their harvest. They weigh it and give you the money.
Back in the day it was $1.80 per kg, now it's getting up a bit more.
Our house was small and very simple. It was one room, with curtains closing off where Mum and Dad slept and where us kids slept. Whoever got there first would get the bed and the others would sleep on the floor, but as long as you got a blanket that was okay. 
There's no electricity in the village. It's like another era.
Cooking is done on a fire. When we'd wake up in the morning my dad would tell us our chores for the day, and after we'd been to the farm and done some work he'd send me and my brother off to collect firewood. We'd bring the firewood home so my sister and mum would be able to make dinner.
There was no oven. You'd put soil on the floor, four big stones at each corner, then the steel over the top for the pot to sit on and the firewood underneath.
I can make fire even with no matches, that's how I was brought up. You get a certain wood and dig away at it with another piece to get to the dry wood underneath.
Then you start scratching, scratching, scratching until you can smell the fire coming, then you bring some coconut over the top and the spark comes.
Everyone shares their food. You walk past one house, people call out, 'Come have breakfast! Come have dinner!' If you're hungry you go in, because one day they'll be walking past your house. Everyone in the village is pretty much related, everyone looks after each other.
Sometimes we'd just have cassava or taro with tea – boil the water, chuck the cassava in with a bit of salt. You're supposed to eat cassava with meat, but that was all we had.
We were bushmen, and the ocean was a long way away.
Us bushmen, we're scared of the sea, just like the people from the sea are scared of the hills.
Sometimes during school holidays we'd have a picnic organised by the village. There was a big five-tonne truck with benches along each side and a tarpaulin over the top, like an army truck, and we'd go to the beach in that.
We'd taste the water and say, 'Err, it's salty!' It was so different to our water. But we'd never seen the ocean before.
Most of the time, when we weren't working, the kids from the village would play 'He'. There was a big pond with rocks around it, and if you were 'He' you had to chase the others and try to touch someone. They'd be jumping off the rocks, out of trees, swimming away, running away.
That was mainly what we played.
'PRETTY MUCH LIKE PRISON'
When I was seven I went to the Seventh Day Adventist primary school, which was about six kilometres away. You had to be there before 8am so we'd leave before 7am.
If you were late to school you'd get a hiding.
It was a hilly track, gravel, and you'd walk bare feet. If one of your mates had thongs you'd ask to borrow one, and you'd walk with one thong. Halfway there you'd swap thongs.
My mum has uncles in the village and sometimes when I couldn't be bothered to walk to school I'd say, 'Uncle, can I borrow a horse?' I'd have a quick trip to school that day.
I liked school. I love my parents so much, and I appreciate the sacrifices they made to get me where I am. Part of that was getting an education, so I'd go and try hard.
I was lucky enough to get some good marks in my last year of primary school, what we call class eight. The majority of people in the village don't pass year eight so they just go back to the village.
I went to a religious high school – my dad's pretty religious. It was a boarding school, and they weren't really into playing rugby, more study and biblical things.
You'd walk bare feet. If one of your mates had thongs you'd ask to borrow one, and you'd walk with one thong. Halfway there you'd swap thongs.
It was six hours away, through Suva then another bus for three hours. I'd only come home after each term, three times a year. It was hard, but I made mates, a few who I'm still in contact with.
We'd sleep in a big, long building that was divided into three, with maybe 30 or 40 boys in each room. You got to know everyone.
It was hard.
Every morning you'd wake up at 4am and go farming, then study from 5-6am, then breakfast 7am, then school 9-4pm, then work, dinner, study, sleep. Same routine every day. Everyone grew their own food, we baked our own bread, we cooked. We pretty much did everything for ourselves.
People were given different jobs. Me and three other boys were the paddock bulls, which meant working with the bullock, ploughing the soil for the other boys to plant the cassava and taro.
We did that for a year. Some other boys would clean the cassava, others would cook. Some would mow the lawn, some would clean the dormitory.
It was pretty much like prison.
I got upgraded after a year to mowing lawns, which was much easier.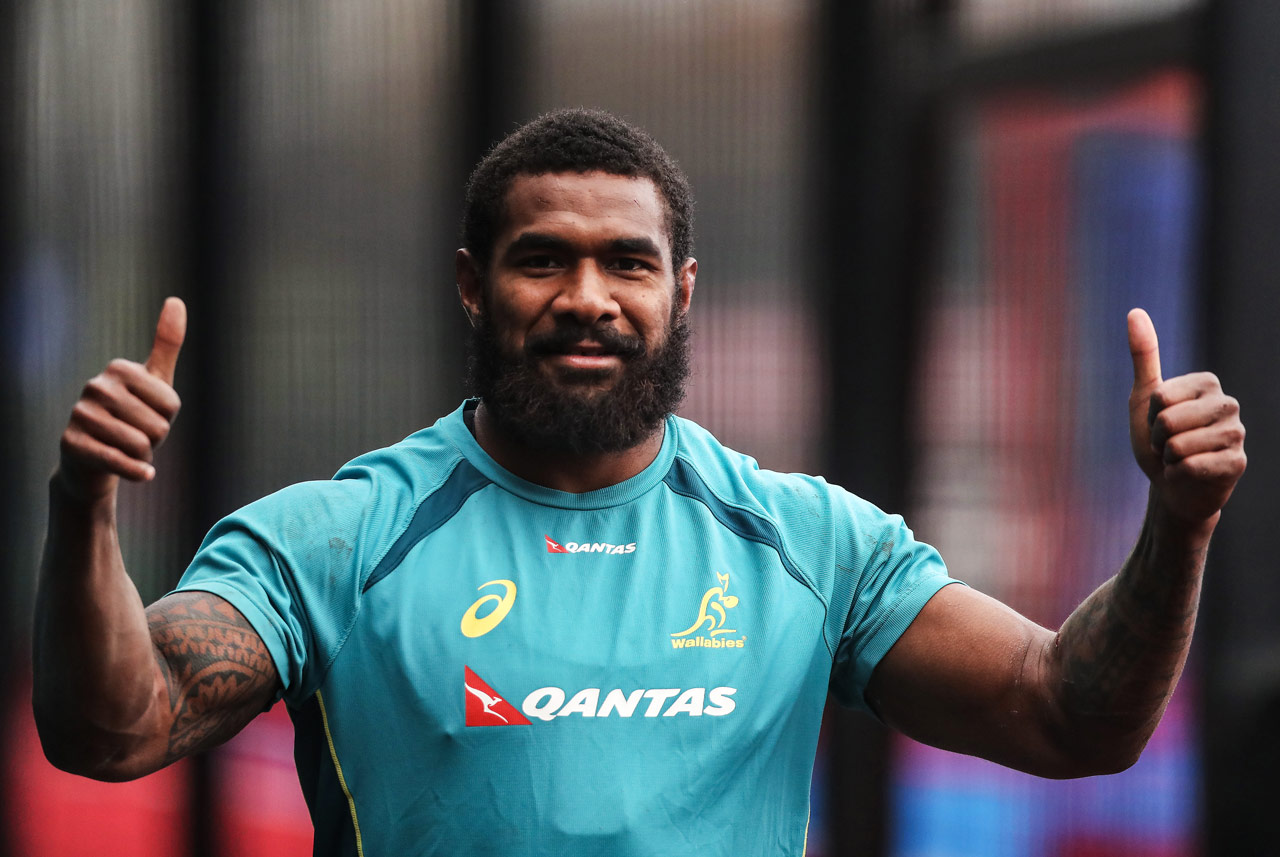 'STUFF THIS, I WANT TO GO BACK HOME'
I was shy, depending on who I was with, but if you talk to me I'll talk to you. My mates called me cheeky.
When I went to high school the boys were like, 'You're pretty fast, eh?'
I'd say, 'Am I?'
Back in the village we used to play touch rugby in the afternoon. It wasn't a field, and it wasn't even really flat (you'd have to dodge potholes), but there was a space between the trees. They called me Tuma. One of my uncles saw me play and came home and said to my father, 'Hey, Tuma is very fast, eh?'
In 2009 and 2010 I went to school in Suva. They were asking if anyone wanted to play rugby league, and I said I'd give it a go. Then I was playing rugby union, under 17s in the first school term, then in the second term the coach for under 19s asked me to play.
I thought the under 19s were too big for me, but we made it to the final of the big competition back home, and they picked the Fiji under 18s to come over to Australia from that.
I remember telling my parents I'd been approached by a few clubs in Sydney to come over. It was very hard to leave Fiji, and very hard for them to see me leave, but in another way they were happy for me to come to Australia for a better life.
I'd come from the village to a school in the bush, then to boarding school, then school in the city for two years. I was just getting used to city life in Suva and then I was in Sydney, the busiest city in Australia.
I couldn't understand the accent properly, the culture, just the way of life was so different. I couldn't even use a knife and fork – we just use our hands and a spoon.
Sometimes I'd sit by myself and think, 'Stuff this, I want to go back home. I can't live this life, it's not me.'
I'd call my parents and tell them it was too hard.
My dad would say, 'Nothing comes easy in life. If you want to be successful you have to overcome obstacles.'
So I stayed strong.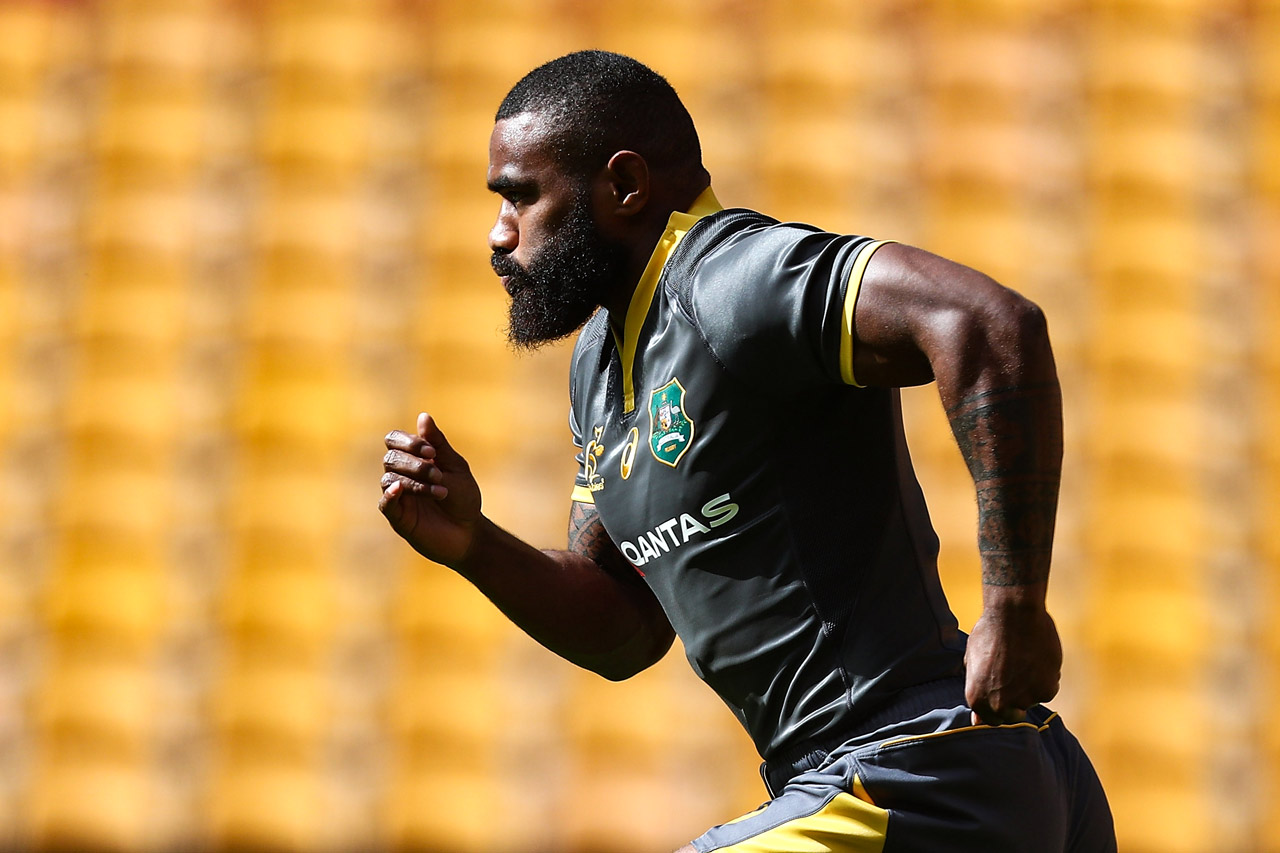 MY PROMISE
I'm proud of what I've done.
I hadn't played or watched rugby league, then I came to Australia and played for Wests Tigers and then Melbourne Storm. Everyone in Sydney, they grow up dreaming of playing NRL. For me to play without growing up watching or playing the game, I'm proud of that.
I love rugby, so to get an offer from the Rebels, of course I wanted to play.
Now I'm lucky enough to be selected for the Australian team. The kids back home, ask them if they want to play for Fiji or Australia and they all say, 'Australia of course.'
Because they're on top of the world, we always look up to Australia.
To come this far, it's an honour, I'm very proud. I've got my Wallabies cap at home, I'll get it framed up with my debut jersey. It's something I'll take with me everywhere.
All the hard work, it's all in there. That's something you never forget.
I met my beautiful wife in Fiji and we went to the rugby league World Cup in 2013 in England. We came back and I asked her to come over to Australia, then I told her, 'Don't go back! Just stay with me!'
We made a little boy, Iliesa, named after my old man. He was three on Monday, and my parents were here to celebrate. They hadn't been at his birthday before. It's emotional to see him growing so quick.
When I first came to Sydney I bought my parents a TV and got them Sky Pacific, with the dish on the roof, so they could watch my games.
Now I've built them a house, exactly where our old house was, and bought them a 4WD. That's the blessing from God coming back to them. We put solar panels on the roof so they have power now, and a flat screen TV on the wall.
I've done everything I promised them when I came over – to build my mum a house and buy my dad a car.
Now I can look after my wife and my son.
One day we'll go back home – I think I've got something in me that's about the farm, I loved my life there, that's what I want to do. I've just bought a few acres to put some cows on and grow crops after rugby.
When we talk about how far I've come, my mum always cries.
My dad says it's in God's plan, from all the hard work and sacrifice they made back in the day. I believe that too.
Even if there was hardly anything on the table he'd say we had to appreciate how God is blessing us. My father always taught us that if you want to get respect you have to respect others. And that hard work will take you a long way.
Mum supports every decision my dad makes, but she's always on our side too. When my dad went hard on us, she was encouraging us. Dad was hard on us in a good way, and mum would be soft on us. She's supported everything we do.
I've had an opportunity to represent my family and come overseas and make more money than I ever dreamed.
I'm blessed.
And this weekend, for the first time, my parents will see me play rugby. And they'll see me play for Australia.
More about: Fiji | Marika Koroibete | Melbourne Rebels | Melbourne Storm | Wallabies | Wests Tigers