I love proving people wrong
I didn't really understand how much cricket cost my parents until I had to start paying for the petrol myself.
I grew up in a coastal town called Wingham, which is about four-and-a-half hours north of Sydney. That meant waking up at 3am on a Sunday, leaving home at 4am and driving to Sydney so I could play for the Sydney Tigers in the women's comp. I'd get home at around 10:30pm and have to be up for school on Monday morning.
It was full on. I did that for a few years.
Before the solo trips my mum would always cry. She worried about me driving after a game and that I might fall asleep behind the wheel and crash.
They made a lot of sacrifices for me and hopefully if I do make it as a cricketer and get one of those big contracts, making 'the big bucks,' I can start to pay them back a little.
I'm on the way.
The last year was the most unexpected thing ever. I've gone from not even having a contract to opening the bowling for the Melbourne Renegades in the WBBL and ACT Meteors in the WNCL. I've been selected in some Aussie teams and I got to go to Sri Lanka with the National Performance Squad. That was my first overseas trip.
The funny thing is, my mum and dad are still driving to Sydney every weekend because my brother is an absolute gun golfer. He's looking to turn professional and that's all he's focused on. His name is Reid but most of his mates don't even know that. He's been called 'Chopper' ever since he was born.
We've both had very similar experiences, spending all that time on the road. I don't know how mum and dad did it.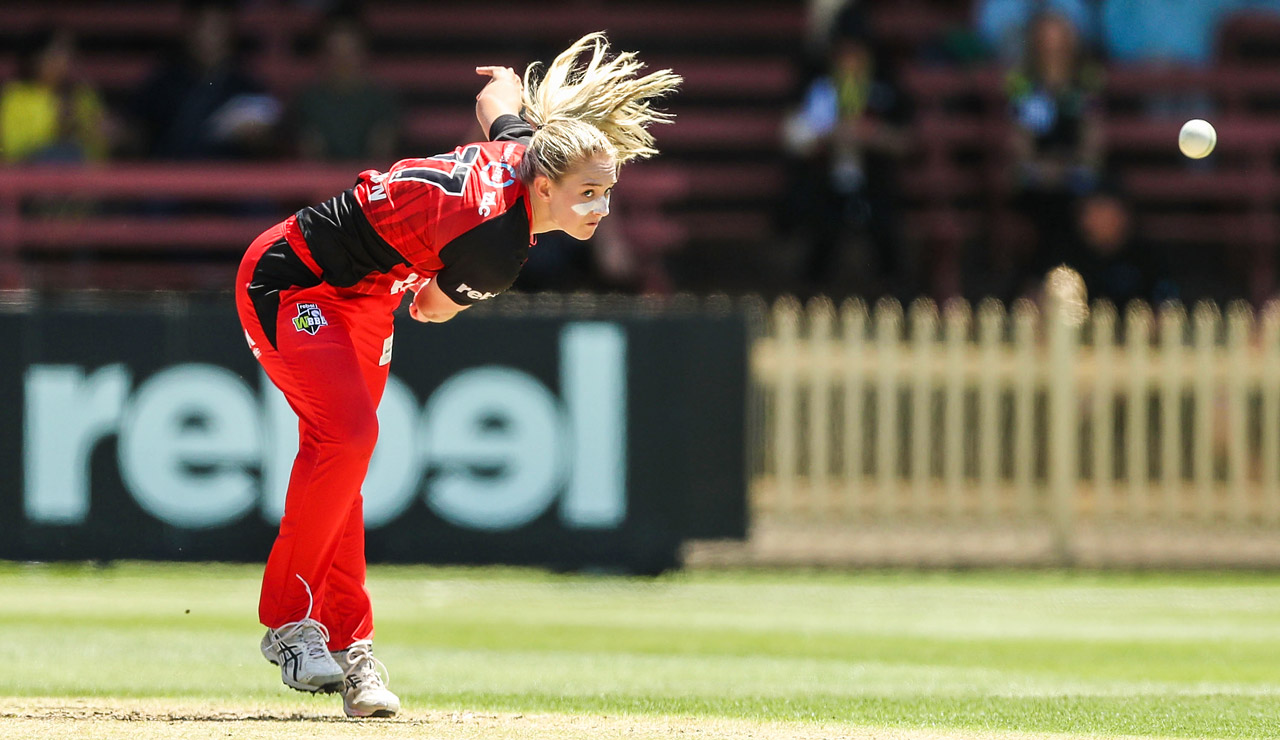 THE AXE HANDLE
I loved growing up in Wingham. It's super relaxed. There are no traffic lights in town. About 6,000 people live there and I'm probably related to half of them.
My dad is a farrier – someone who shoes horses. I was never interested in following in his footsteps because it's a bloody tough life being a farrier. You're bending your back all day. Come to think of it, that isn't much different to the life of a fast bowler.
My pop is the one who got me into cricket. I used to play backyard cricket at his house all the time. We played on this little concrete path that went from the back steps to the clothes line, which we used as the stumps.
We used an axe handle as a bat. Someone had taken the blade off so we couldn't hurt ourselves but the handle had a big curve in it, which made hitting the tennis ball a bit more challenging than usual. I have no idea why we didn't just go and buy a cheap plastic bat. We played with that axe handle for years.
I wish I had video footage from those days because I reckon it would be pretty funny to watch myself play cricket for the first time. I didn't even know what an over was back then because I never watched cricket on telly.
I first knew that I had a bit of potential when I got selected for the Manning and NSW invitational school girls rep teams in my first year of cricket. I had no idea what I was doing but I still got picked.
I think it went to my head a little. I thought I was pretty good!
A GIRL AGAINST MEN
Junior cricket finished when I was 16 and I started playing local first grade with the men on Saturdays. I did that for a few years.
I played for Taree, in the same comp as Wingham, so there was plenty of banter. One time, I took a five-fa against them. I copped a fair few glares when I was in town after that game!
It was great playing against the men. I already knew most of the blokes and they were always really respectful. The only sledging I copped wasn't directed at me. I'd bowl someone out and I'd hear people laughing at the batsman, sledging him for getting bowled by a girl.
It was really satisfying. Some of the blokes I played against had a bit of an ego and thought they could just hit me around the park. Bowling them out gave me a lot of confidence, especially after the disappointment of being dropped from the Breakers Academy team when I was 18.
I was doing my HSC at the time and I just couldn't get down to Sydney for every training session. There aren't many opportunities for sportspeople in the country, so I was pretty devastated. I didn't think I'd get another chance.
I didn't give up though. I just focused on playing.
We used an axe handle as a bat which made hitting the tennis ball a bit more challenging than usual. I have no idea why we didn't just go and buy a cheap plastic bat.
You can train as much as you want but nothing beats the experience of playing matches. That's why it was great playing on both Saturdays and Sundays, even if it didn't leave much time for other things.
I did a lot of waitressing to pay my way but it was tough having a job and playing cricket. I lost one job because I was just never available. I remember the manager calling me up while I was out playing a game to tell me the news. He said, 'Yeah, umm look, we probably don't need you anymore.'
The next job I had was in a café at home called Bent On Food. My boss, Donna, was so understanding and supportive of my cricket career. She still shares every post about me on Facebook.
Wingham has always been supportive of me. These days, I'm in the paper up there a bit and when I go to Coles I'll always run into someone telling me that my parents must be so proud. It's nice.
I was offered a NSW Breakers contract before this season started. That was satisfying, knowing that I'd changed their opinion of me. But I decided to stick with the Meteors because I love it in Canberra and they were the ones who gave me that first chance.
I love proving people wrong.
THE BIG CHANCE
When I first got the call up to train with the Meteors squad in 2016 I was still living in Wingham, which is about seven hours away from Canberra. It was risky not knowing if all the travelling would be worth it but they gave me an opportunity and I took it.
In my first season, I couldn't move down to Canberra because I didn't have a contract and wouldn't have been able to afford living away from home. There were a few times I made the drive only for the game or training to be cancelled because of rain. That sucked. I got down there as much as I could and trained by myself a lot when I was at home.
I made my debut for the Meteors at the WACA. My first wicket was Elyse Villani, who's a really good batter for the national team. I still have the video. I go crazy celebrating.
It was incredible becoming a part of the Meteors team that season but it was tough not having a contract. There were players like me who were struggling, playing every week but only getting $200 per game. But everything has changed with the new MOU. Now, when you play four games or accumulate a certain amount of points, you're automatically upgraded to a contract.
If you're playing domestically, you still need to have a casual job to pay the bills but the situation for female cricketers in general is so much better than what it was. Being able to sign multi-year deals, on more money, gives us a lot more security. For a university student living in Canberra that makes a huge difference.
The Women's Ashes got heaps of exposure this time around. It was a fully ticketed event and people still showed up in good numbers. With that lead in, I just knew this season of the WBBL was going to be exciting as well.
The Renegades experience has been incredible, They put me up in a hotel for the season with a couple of other ACT girls, as well as some international stars like Amy Satterthwaite and Lea Tahuhu who play for New Zealand.
I love it. Kris Britt, one of my Meteors teammates, lives next door to me so I'm never lonely. It also means I never have to sit on my own at breakfast in the hotel. We're like one big family, which helps when you're a long way from home.
More about: Big Bash League | Melbourne Renegades | WBBL | Women's Cricket | Women's Sport