My body is beautiful because…
I think the perfect body does and doesn't exist. It kind of depends how you're looking at it.
Socially, my body might never be seen as perfect or beautiful or any of these things. But if your body is doing everything that you need it to, then I think it absolutely is the perfect body.
As a Paralympian and an athlete with a disability, I have a very interesting platform to speak from. On the one hand, by having a disability I have a body that is never going to be seen as perfect. No matter how much work I put in, it never will be.
Then on the flipside, you're an athlete and so your relationship with your body is incredibly important. And you can't have a negative relationship with your body if you want it to do everything that you need it to do.
You're pushing it so hard every day that you have to look after it and have that very, very positive relationship with it. I think the contrast between those two things is really interesting.
They say you're meant to be happy in the body you're in. But, in sport, they're constantly trying to evolve your body. You need to be stronger or leaner or smaller or bigger. There's a constant evolution that's happening, and it changes throughout your career.
So, to be happy in the body that you're in, but also wanting to improve it and have those things coexist is difficult to achieve. But it's also so important, not just for athletes but for everybody.
But I think my body is beautiful because it does everything that I need it to do.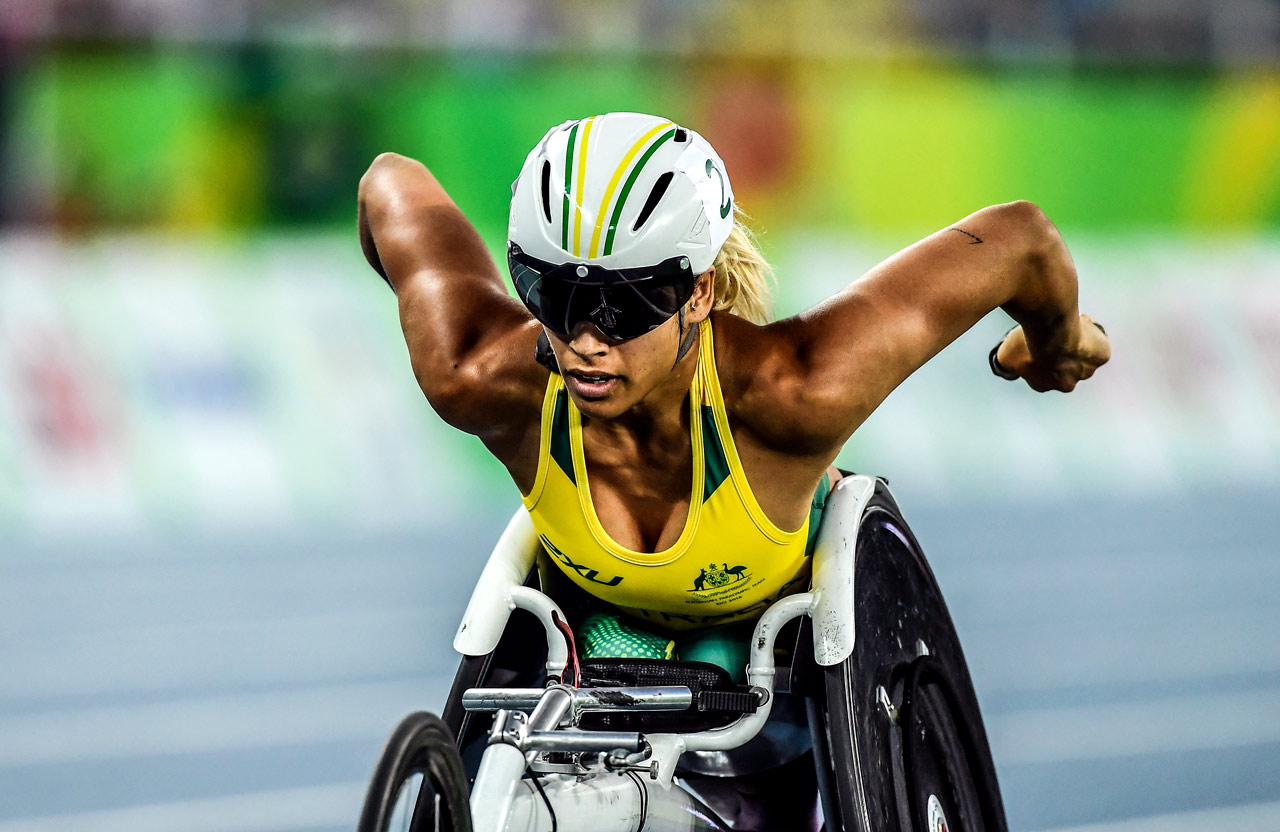 IN HERE, NOBODY CAN TELL YOU'RE CRYING
I'm doing two events at the Commonwealth Games – the 1500 and the marathon. Only two events are offered for wheelchair racing at the Games and both are T54 events.
I haven't done a lot of marathons over the course of my career, but I began to get back into them at the beginning of last year. I did three in 2017, and hopefully I'll continue doing them.
The marathon is virtually a whole different sport. There's a very big gap between other distance events on the track – like the 5000 – and a marathon. There's no step up to it. A lot of the training that goes into a marathon is very different.
But overall, it's been really good. And hard.
My body is beautiful because it does everything that I need it to do.
Leading up the Games, I've been doing six chair sessions a week and two gym sessions. In the current block, one of those sessions is on the track – not terribly long in terms of distance, just 16 or 17 kilometres. Then there are a couple of road sessions. Those are usually a long push – about 30 kays.
Then there are the indoor chair sessions on the rollers in the climate chamber where we're in the heat and at altitude. The temperature in the climate chamber was 34 degrees the last time I was in there. It was absolutely miserable, and I think it was at 2700 metres altitude.
It's so sweaty, but the best part of sweating so much is no one can tell that you're actually crying, so it's fine!
I don't really cry that much. I'm just a drama queen! But it is very sweaty and pretty full-on in there. My coach Louise Sauvage gets the rower in there, the ergo, and trains with me as well. So we both suffer together, which is nice.
Louise is great. Oh my god, she yells at me all the time. All the time! She trains with me nearly every day on her hand cycle and if for some reason she's not training with me and I have a cyclist, one of the instructions she gives the cyclist is, 'Make sure you yell at her'. So you can't escape it, it's always there.
We've been working together for 10 years, Louise and I. At some point, your body can always do that little bit more than you think it can do, but sometimes you need an external push to get that little bit more out of it, and Louise is the expert at that.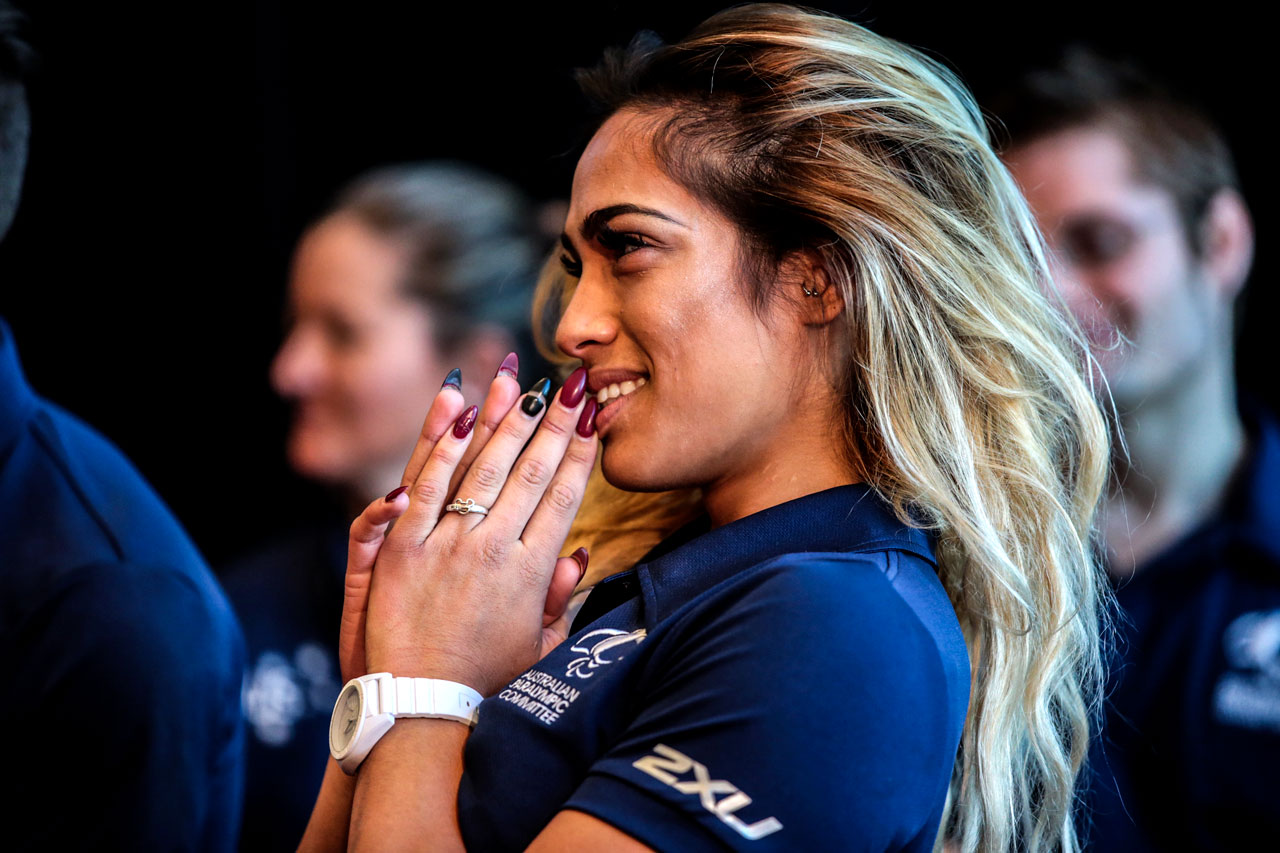 When you're at the end of a session and you're exhausted and you want to stop and you think you've hit your wall and then someone says, 'No, you can do more', it kind of gives you that little bit of motivation to give that little bit more. That's kind of where the yelling comes in. She always makes sure I give a little bit more than I think I can. And it does work.
I think for me it's just a fact that your mind really is stronger than your body. If you tell your body to do something, it is going to do it, it's just a matter of making it happen. If I think I'm giving 100 per cent and I swear I'm done, it's kind of like that last bit of logic kicks in and says, 'You're not, and if you don't do this you will be underperforming'. So you just kind of force yourself to do it.
And I think when you repeatedly go through that process, it becomes easier to tell yourself that you can give that little bit more. Sometimes you can't, of course. You really have hit your wall and you end up throwing up. But then, at least you know you've hit your wall.
A FEELING I'VE NEVER FELT …
I competed at the 2008 Beijing Paralympics when I was just 14 and won a silver medal. I also won two silvers at Rio 2016. But this is going to be my first Commonwealth Games.
In 2010, we didn't send anyone on the women's side, and in Glasgow in 2014 I was training the best I had in my life and I was one of the fastest qualifiers going in and was really excited about racing. But I got DVT on the flight over, so one of my legs was twice the size it was meant to be. I pretty much went straight to hospital and stayed there for three days and didn't get to race.
I watched my event from the stand, which was the weirdest feeling. But Angie Ballard won – she was my teammate and my roommate at those Games – so it was a mix of emotions.
It's just a fact that your mind really is stronger than your body.
Missing out on the last two Commonwealth Games is one reason why I'm really looking forward to competing on the Gold Coast. The other reason is that I've never competed in front of a big crowd in Australia. We usually only get big crowds at World Championships and Paralympics, and this is going to be the biggest event I've raced at in Australia.
I get so nervous before I race. On the start line of my 1500 semi-final in Doha at the 2015 World Championships, the camera was on me and I was the last name called before the race started and I threw up in my mouth, I got so nervous.
And I couldn't do anything about it because the gun went 10 seconds later. I totally swallowed it and then raced and then drank so much water afterwards, and I can't watch the video back because I don't want to see what that looks like!
So in a way I'm dreading the big home crowd. When we go away, we compete at Paralympics, World Championships and those sorts of events, the amount of support we get from back home in Australia is overwhelming even when we're not on home soil. The messages and how many people tune in on the TV and the rest is great.
To have all that support in person is going to be incredible, but it will also maybe be stressful having that many people in a crowd wanting you to perform. So I'm trying not to think about that side of things.
I think the build-up is always worse than the actual race. It's definitely the most stressful part. What I love about distance races is when you're actually doing them. In races like the 5000 and the marathon, you've got so much time to be in that moment, doing what you love. I'm sure everything will be fine as soon as the race starts.
Away from the track, I'm actually studying at the moment which I know does not sound like the most relaxing thing, but the balance is important. When I'm doing nothing away from training, I kind of get stuck with my own head and stress myself out, whereas right now I'm studying online and getting my business degree.
Most of my spare time is spent studying. It's something I can actively do which completely takes my mind away from sport. It's so far from sport, and it's nice to have that balance.
More about: Disability | Madison de Rozario | Para Sport | Paralympics | Women's Sport