Maddy Turner - Contributor
United by teamwork & MAFS
Fun fact: When I was younger, I used to play golf. Or, I should say, my dad Neil made me play golf.
There were times when I didn't want to, when dad was the one pushing me, and I think that's what's made me the resilient person that I am today.
He's going to hate me for saying that!
A coach had seen my swing and said 'she's actually got something there' and I think dad probably thought 'oh, hey, golf's got more money than netball, so why not pursue that?' I also don't think dad had even considered netball as a potential career.
I kept going until I was 13 or 14, and at one stage I was second in my age group in South Australia. But then more opportunities started coming from netball and I guess dad could see how much more fun that was for me, playing in a team sport.
We joke about the golf now. If we go to the driving range and I can still hit it better than him, he gets a bit angry.
But he's happy for me. He is! I should give him credit. He's always supported me in netball, as well, and he's coached netball, so he's done it all. He turned a lot of footy drills into netball drills when I was growing up.
I'm so glad I've made the choices I have. I would never have dreamed five years ago that I'd be living in Sydney with a few teammates, playing a sport I love at the professional level.
It's a pinch-myself kind of thing. Definitely.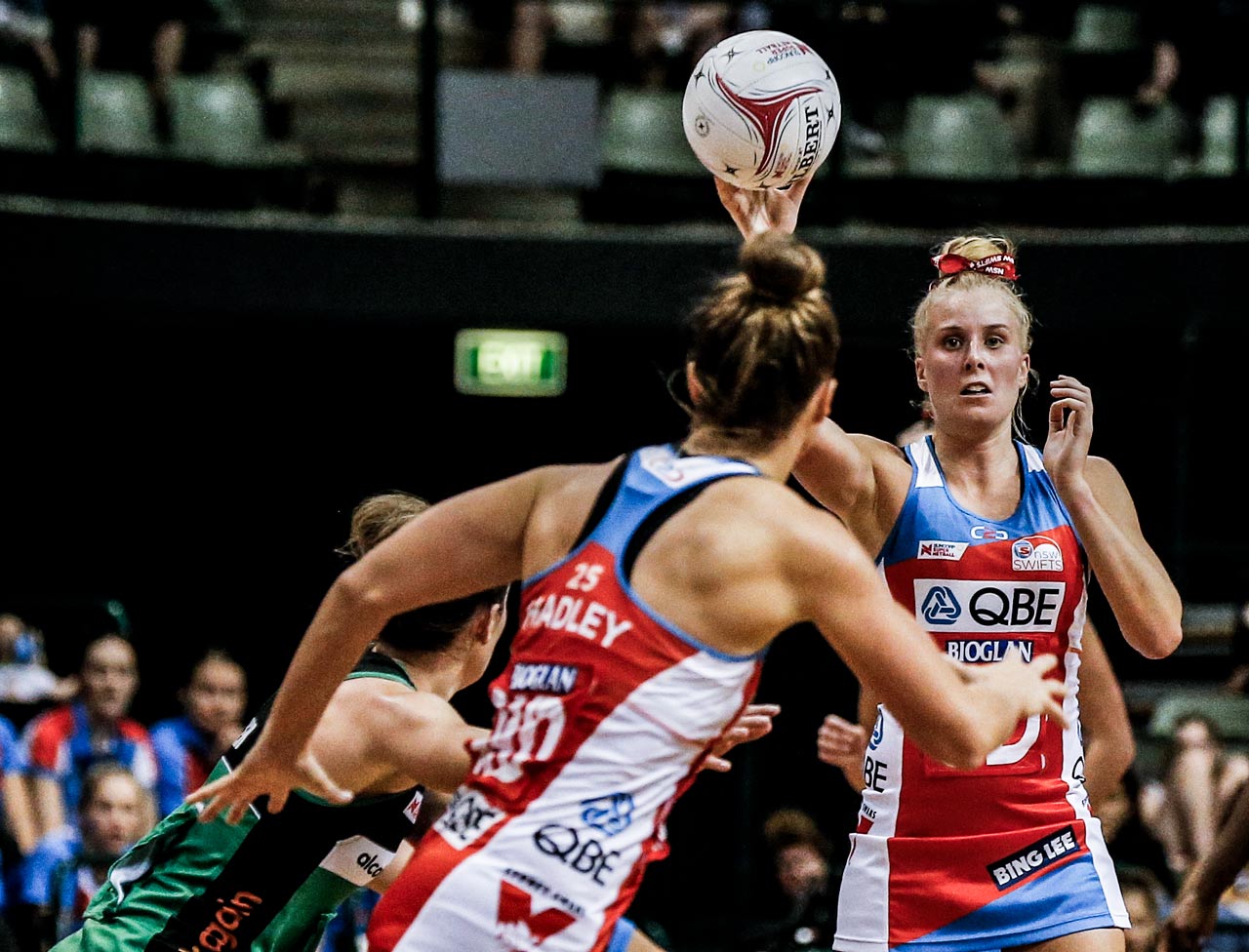 A HOUSE FULL OF SWIFTS
I've moved four times in four years and keep rolling through housemates. Maybe it's me!
This year we've got almost half the Swifts team living together: myself, Maddy Proud, Kate Eddy and Sophie Garbin. While we like to watch our netball together and bounce ideas off each other when we're researching opposition teams, life's all about balance so MAFS is also a regular feature in our lounge-room at the moment.
We call Maddy the dad of the house. She's our resident bug-catcher. That's her job. Sophie's the bossiest in the kitchen. She won't deny it. She likes control. Kate's a little kid. She likes calling us mum and dad. 
I'm playing the role of mum, somehow. I don't really know how that's happened, considering in my first year in Sydney, when I was the baby living with Steph Wood and Laura Langman, I had no idea what I was doing –  just basic stuff, like cooking, you don't even think about until you have to move out of home for the first time. So a massive thank-you to those two for putting up with me!
When I go back to Adelaide in the off-season or even just for a weekend, I fall back into my old ways and let mum do everything for me. Perhaps I shouldn't be admitting that.
Coming from so many different places, we have to be each other's friends and family as well as teammates. It definitely makes us closer because we don't have that external support close by.
In Adelaide, I was fortunate enough to come through the pathway: playing my juniors and seniors at Contax Netball Club, making my first state team at under-17s, SASI, did the old 'Thunderbabes' program, played ANL, all of that. Then somehow I wound up getting a contract in Sydney for the last year of ANZ Championships.
At the time of signing, I was fortunate enough to be in the position of tossing up whether to move to Sydney or stay in Adelaide and continue on the path I was on. I guess there were a couple of things that ultimately landed me in Sydney: I wanted to challenge myself, and just take a giant leap of faith.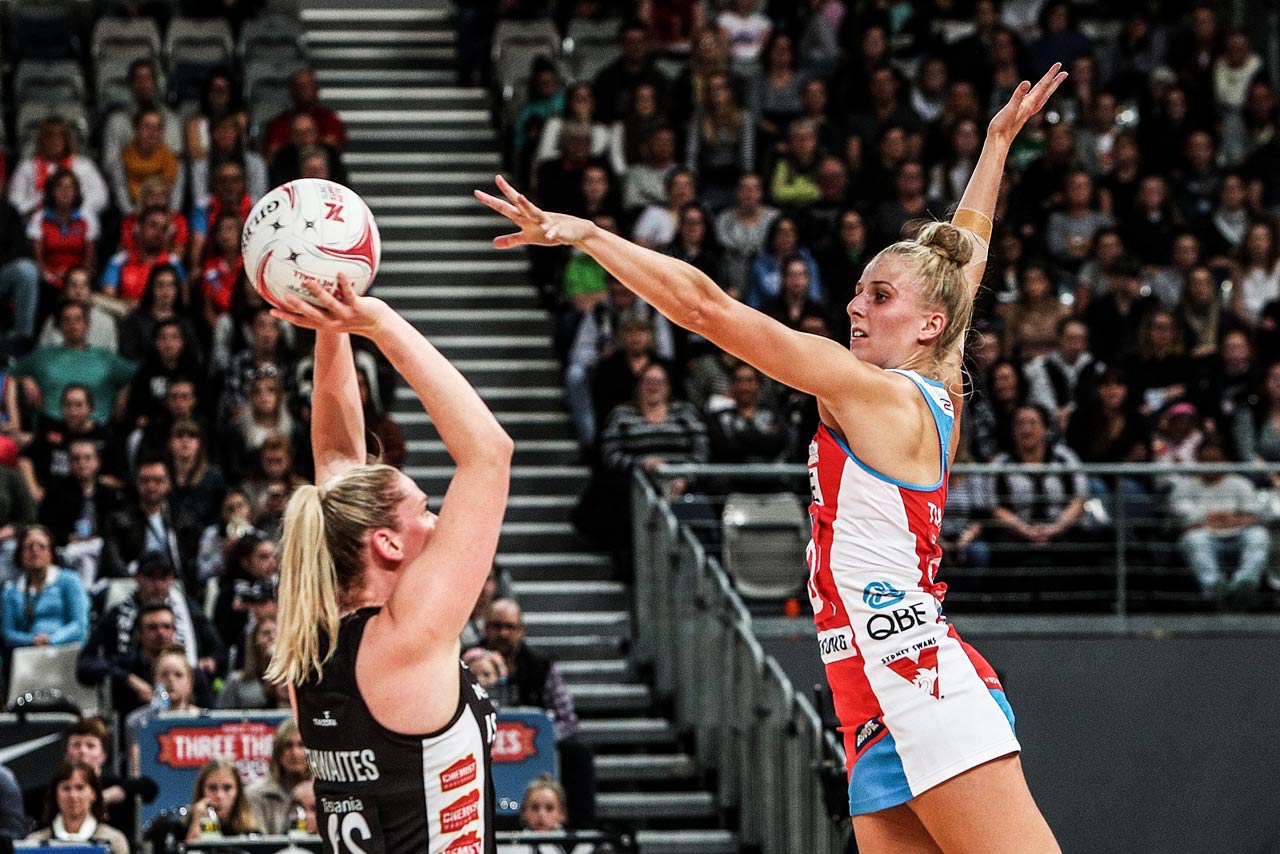 I was 19, and knew no-one in Sydney, but there was a spot open that I could see I could take with Julie Corletto having retired. Rob Wright, the coach at the time, also had the confidence in me that I could be that player. When I was young, I always loved the way Corletto went about her game, so having the opportunity to wear her bib was a privilege… I want to say it was also a childhood dream, but I don't think I had ever even dreamed of it! 
To work with players like Sharni Layton and Susan Pettit in my first year, why would I not take an opportunity like that and learn from the best of the best? I definitely needed that support starting out in the ANZ Champs, and it helped me having such a mature playing group – I had so many people that I could look to, or tell me what to do, while I was finding my feet.

The year before, I'd come off 21s nationals, and I was just the young kid at home on the couch watching the first of the two great Swifts-Firebirds grand finals.
If someone had told me 'in 12 months, it's going to be you on the court', I'd have been like 'you're dreaming'.
Looking back, 2016 is a blur. I don't know how it happened. I was lucky enough to play every game – which was pretty special to do in my debut year, and I definitely did not take it for granted. Then to wind up in the grand final, I literally had to pinch myself.
I know we lost, but it was probably the best game of netball I've ever been involved with in my life. Just how it went down, with the double extra-time and everything, you never expect that. To have played in a game like that still blows my mind, and it just makes me want to get there so badly with the Swifts group that we have now.
More about: Grand Final | NSW Swifts | Queensland Firebirds | Sharni Layton | Super Netball | Women's Sport