Maddie Studdon - Contributor
High price of an Origin dream
Last week, I resigned from my job.
I was a stevedore, a wharfie. But now I'm NSW Blues captain for the first official match of women's State of Origin.
It came time to make a choice: footy or work. The two are very difficult to balance. And money isn't everything.
So, I'm jobless. But at the same time, I've just been handed the biggest job of my life. Our NSW team is going for three wins in a row.
It was hard to get time off work for so many rugby league commitments. It was a good job on the wharves in Sydney, I loved it out there but it was so hard to juggle the shift work with footy.
I was worried about my health. It was stressful.
I wasn't enjoying when I was going to work, there was just too much on my mind. And I wasn't putting 100 per cent into my football. I wasn't happy about either of those things.
Earlier this month, we had the women's national championship. I wasn't too sure if they would let me then have the time off for State of Origin.
I had a meeting – I went in not knowing if they were going to sack me. With Origin coming up, wanting to go into it with a clear mind, I resigned instead.
I just said, 'Thank you for helping me out. I appreciate it. After my football career, hopefully I can get back on at the wharves'. They were great. They said, 'All the best for your career, hopefully we'll see you back here'.
I was happy to leave on good terms. My family and partner, Mason Farrell, were very supportive.
I did it for my passion: rugby league.
The women's game is growing and we're getting a little bit more money into it now. We're very thankful for that. We're continuing to pave the way for women who have already made sacrifices like I just had to; selling their cars, getting loans, losing their job as well. I've seen how hard it has been for them and the time came to make a big decision for myself.
The dream, one day, is to be a full-time professional rugby league player. This year, we're taking historic steps towards that eventually happening.
The recognition we have been given for Friday's game, that this is now officially a State of Origin match, the same as the men's, is huge. So too will be the inaugural NRL Women's Premiership later this year, where I'll play for the Roosters.
It's a pathway to the very top of club rugby league, a whole new level for the women's game. It begins with four teams, which means each side will be stacked with talent and show off our game at its best, and we hope it will only get bigger each year.
Maybe one day I'll get to play NRL footy for the South Sydney Rabbitohs, where my dad Chris and uncle Tony both played. The red and green jersey has been in my heart from the beginning – right back to when I first played rugby league at four years old for the mighty Mascot Jets.
https://www.instagram.com/p/BkM7oyTllyJ/?taken-by=nrl
LOVE STARTS WITH A COATHANGER
In my first game, we were at Mascot Oval playing the Matraville Tigers. It was against the boys.
I remember them saying, 'Are we allowed to tackle the girl?' I screamed out, 'Yeah, you can tackle me!'
My first hit-up, I got coathangered!
I was a bit shocked. I didn't expect that at all. I was like, 'OK, boys…' They roughed me up a bit. I guess I went a bit quiet after that. But my dad pumped me up and said, 'You know, you can do it back to him'. Then I got a bit rough! Good fun.
I'm thankful that I went through those times as a young kid. I loved playing with the boys – until I was 12 years old. Then I wasn't allowed to play anymore. Until age 16, I had to go to touch football.
Being forced out of rugby league for those four years was devastating. I remember my last game at age 12, at the old Redfern Oval in a grand final against Matraville Tigers. We lost by four points
It was the last year that the old Redfern Oval was being used. Every time I ran out there was special, I'm blessed that I have those memories. I remember Nan always telling me, 'You score a try, I'll give you $10!' When I scored a try, I was always happy to get my $10 – I probably spent it on lollies.
So, I'm jobless. But at the same time, I've just been handed the biggest job of my life. Our NSW team is going for three wins in a row.
While I wasn't playing touch football by choice, it definitely brought new skills into my game. It's a very skilful, fast game. I learnt a lot, especially with my decision-making in attack. That really helped when I took it back to rugby league.
When I turned 16, I was able to play for a women's rugby league team. Sam Bremner, still a teammate for NSW and Australia, asked me to come to the Helensburgh Tigers. I joined her there and I've played ever since.
There was one hurdle. When I first turned 16, Dad didn't really want me to play. I was like, 'Really?'
I was playing AFL at school and there was a club team I could join, so dad said, 'You can go and play AFL'. I went and gave AFL a go, played the one game. Dad came to watch.
He said afterwards, 'Right – I'm signing you up in rugby league, I can't watch that!'
So luckily enough, the opportunity to play the game came back to me. My mum (Joanne) and dad were very supportive from then on.
I played four years with Helensburgh. We were undefeated. Then I came to the Sydney Metro competition, playing with Cronulla-Caringbah. We won the Harvey Norman Women's Premiership.
Then I went home, to Redfern All Blacks – back to the South Sydney area, where I belong. We won the comp last year. Now, Redfern All Blacks are under the South Sydney banner. We're fortunate to wear the famous red and green jersey every weekend.
Being at the Rabbitohs has always been great. Dad was a coach with the SG Ball side for a while and coached Adam Reynolds, Nathan Peats, Tim Lafai and some others. I was Adam's ball girl back in the day and got to watch his goal-kicking from up close; very handy, being a goal-kicker myself. My dad and Adam's father are good mates.
The Rabbitohs NRL players have been fantastic with the women's team. Greg Inglis has spoken to us all a couple of times. Before the first game at Redfern Oval for this year, he came in and had a chat with us, said 'good luck'. To have that involvement and support from an iconic player lifts all the girls up. We support them, too.
I must say, I've been sharing my game time around this year! I'm playing for South Sydney in the NSW women's premiership; I played touch for Wests Tigers; then it's the Roosters for NRL later this year, on top of playing for NSW City, the Blues and hopefully the Jillaroos.
I'll be very proud to pull on the Roosters jersey, despite being a Souths girl – I played for Easts during those years in touch from age 12-16, important years that kept me in the game. That link will always be there.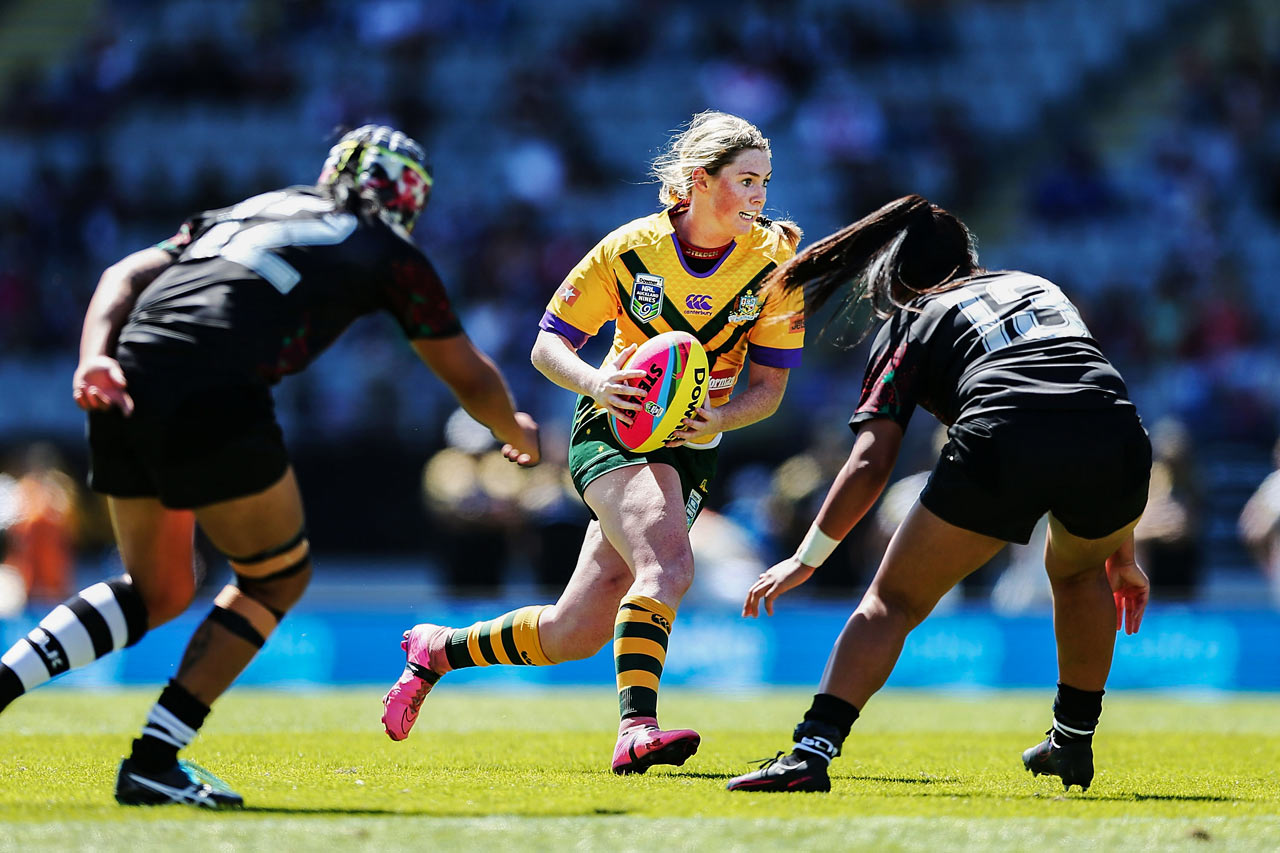 BOUNCING BACK
Getting knocked down forces you to find your feet pretty quickly. I came into this season having not been selected for the World Cup final, which Australia won.
I probably wouldn't be where I am right now if I didn't go through those tough times. I've put in a lot of work, on and off the field, since last season.
Brad Donald, the Jillaroos head coach, has been a big help and offered strong feedback. Jamie Feeney, too, and my personal trainer Tony Chidiac. My family. A lot of people have had input to my good form for South Sydney.
And I don't go easy on myself. I looked at what needed to improve with my game.
I needed to stay more calm out there. More relaxed. I needed to read the opposition's defensive line numbers better. I needed to study the game more. I needed to work on my defence. I needed to work on my communication with the girls.
I'm more composed on the field now. Every time at training, I'll work on something specific, do some extras before or after the main session. I'm learning all the time. No one's perfect.
I remember them saying, 'Are we allowed to tackle the girl?' I screamed out, 'Yeah, you can tackle me!' My first hit-up, I got coathangered!
I was a big Andrew Johns fan growing up, being a NSW fan. How he controlled those Blues teams from halfback and planned out the game really inspired me. That's how I try to play myself and I still watch YouTube clips of Joey in action.
Getting picked for NSW is always unreal. But this time, our coach Ben Cross had some extra news for me that I wasn't expecting. He said: 'I'm going to name you captain'.
I got a bit teary. It's a massive honour. I'm very proud and I'll lead the girls as best I can.
Ruan Sims, who I'm replacing as Blues captain due to injury, is a massive loss – she's one of my idols. An outstanding leader and player. I have big shoes to fill. But she gave me a tip this week: just do it your way.
On Friday night at North Sydney Oval, our NSW team is trying for three straight wins over Queensland, having lost to them for 17 years in a row before that.
We've come a long way. So have I. So has women's rugby league.
More about: Andrew Johns | Greg Inglis | Jillaroos | NSW Blues | Queensland Maroons | South Sydney Rabbitohs | State of Origin | Sydney Roosters