When did I know Cooper Cronk was definitely playing the grand final? Only after the pre-game warm-up. Right before kick-off.
And the thing was, I didn't care if Cooper played or not.
That was the only productive way for me to deal with it.
I had to put it in my mind that, for me, Cooper didn't matter. I didn't have a running discussion with him through the week over whether he'd be fit. I didn't want to waste energy worrying about it. That was for him to deal with, not me. I only worried about my game.
Trent Robinson planned for Cooper being out, or at best carrying the injury. He outlined exactly what he wanted from me. I'd had a bit of practice for it in the Souths game, when Cooper had to carry his shoulder in the second half.
And I knew my game. It was very, very clear in my mind – right from Sunday, when I saw Cooper struggling – what I wanted to do and how I was going to get it done in the grand final.
I wanted to control the game and give our team the best possible chance to win.
You do not work that hard, get all that way, and not be clear about what you're going to do in the grand final. I didn't even look at it as an added responsibility, taking on parts of Cooper's role. All I was thinking was, 'I've got to go and do this'.
It's about the type of player I wanted to be in that moment. About the type of player I have tried to build myself into over the past couple of years at the Roosters.
It's those big stages where you find out if you've truly put in the work and what you're made of as a footballer.
All players should live for those types of games. I wasn't going to let that moment slip.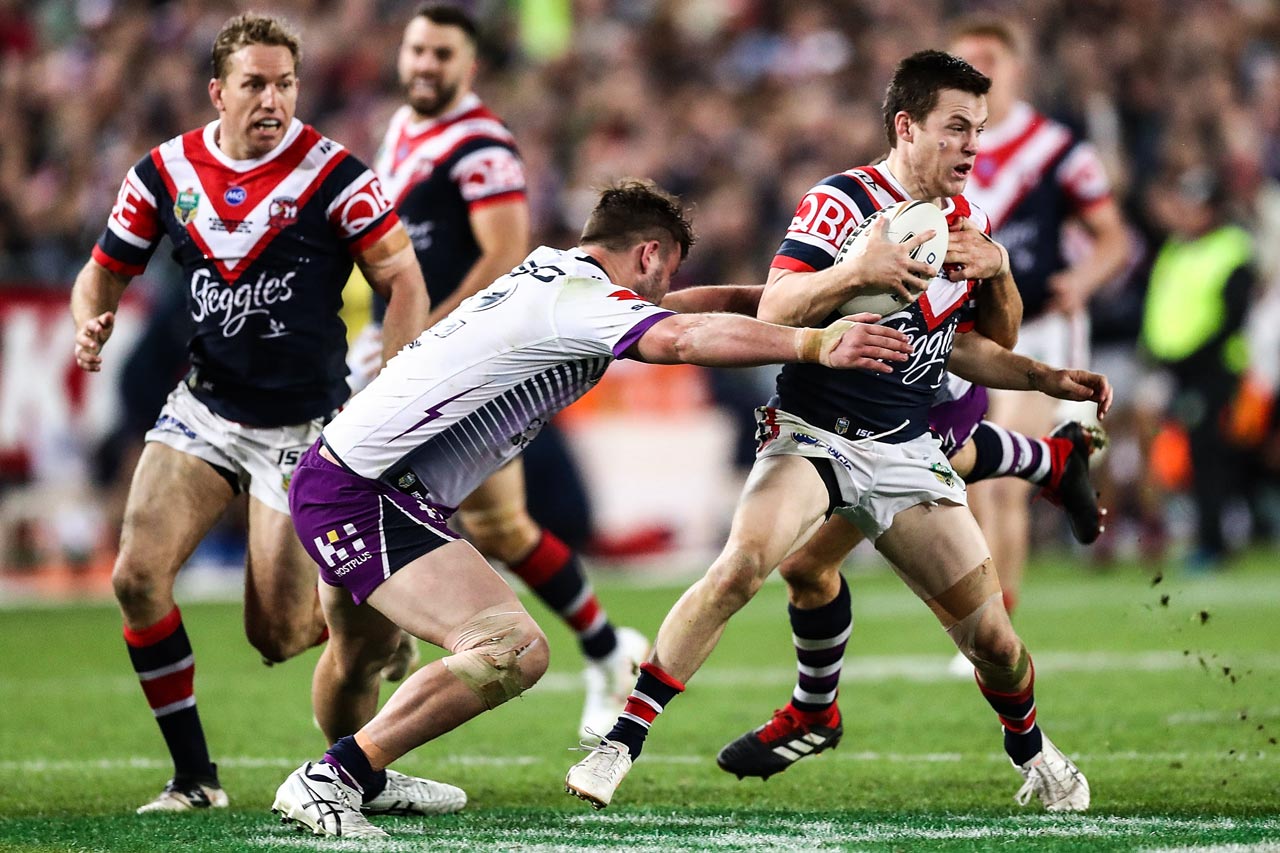 GETTING IT DONE
Once Cooper had scans early in the week, they told us the extent of his shoulder injury – a broken scapula. Robbo and Cooper were really clear about what he was going to try to do, but they told us that he was a very slim chance of playing.
We didn't do too much media during the week, but the reporters were there every day and things had to be kept quiet. While we knew more about his injury than everyone else, the bottom line is that we honestly didn't know if he was going to play or not.
Cooper didn't train at all. He did a tiny bit on Friday, and he looked awful. Then he went off and got some treatment on Friday arvo, including a needle that worked, and he came in on Saturday morning. That was when we found out that he'd decided to play – though it still wasn't definite.
He said, 'Boys, if the needle doesn't work again in the warm-up, I'm not going to play'. The injection was in a really tricky spot in the shoulder. They had to get it right, which they did.
It's those big stages where you find out if you've truly put in the work and what you're made of as a footballer. All players should live for those types of games.
Still, I didn't know if he was going to get through the warm-up on Sunday night. A grand final warm-up, with a broken shoulder! I could see him holding the arm up. It's just the type of bloke he is, that he was prepared to go through the pain.
Whether people believed it or not, Mitch Aubusson was really going to play halfback. We were obviously going to play a different style, but he was the No.7. Robbo would still have had a plan in place right up to the warm-up. Aubsy would have been stoked to be halfback – he's played pretty much every other position on the field! Now, he's got a grand final No.7 jersey.
Cooper was wearing No.23, and he made it through that warm-up. He was in.
We had a quick chat before kick-off about what he could and couldn't do. He couldn't pass much, obviously couldn't run and tackle much and he couldn't do too much kicking, because we didn't want him getting tackled – which he was a couple of times early on.
Though he'd done 80 per cent of our kicking through the year, I'd still done a lot of work on that part of my game. I took it very seriously. I did it to be ready for a moment exactly like that.
Cooper addressed the team before the game, but that wasn't at all unusual. He does it every week. He gave us a quick pep talk and he didn't even mention the shoulder.
Once we were out there, things just flowed. Cooper was directing us around. He and Jake Friend. They were keeping the boys calm. 
Cooper's our general. It was a good feeling to have him out there, because he knows what's going on. He's now won five grand finals. I don't know what it is, but he's got something about him. Something pretty special.
He's just got a great feel for the game out there on the field. He chats about the game, where we're at, where we want to get to. Always calm.
It helped that we got the early lead. We didn't have to play any catch-up footy against Melbourne, where we might have been tempted to involve Cooper more. That would have tested him out.
You could see his left arm dangling during the game, but just like in preparation, you try not to think about it. The best thing you can do for the bloke next to you out there is worry about your own job – though Aubsy and Joey Manu certainly did a great job helping him get through in defence.
That grand final was the moment Cooper was brought to the club for. One hundred per cent. When a premiership was there to be won, we had a guy who knew how to get it done. This time, he just did it in a different way. Cooper had a tremendous year and to top it off like that was special.
The class and the professionalism always spring to mind when you think about Cooper, but from now on, you can add toughness. I can't imagine the pain that he would have been in before the game, let alone while he was playing. It was an amazing effort.
He got a standing ovation in the sheds afterwards, which was fully deserved.
The best thing is that despite being a big-name signing, Cooper is just one of the boys. He fitted in straightaway at the Roosters. 
He's a funny bloke, too. He claimed on Monday that he'd been carrying me for 10 months, so it was OK that I carried him for the grand final! He likes saying stuff like that.
MESSAGE FROM ROBBO
Having arrived at the Roosters following a tough couple of years at South Sydney, I'll never forget one of the first things that Robbo said to me.
'I want you to be yourself.'
That message was a massive help to me. It was exactly what I needed to hear.
More about: Cooper Cronk | Grand Final | Injuries | Luke Keary | Melbourne Storm | Resilience | South Sydney Rabbitohs | Sydney Roosters | Trent Robinson