When youth drive the standards
I wasn't sure what to expect this time around.
Last year was easier in a way because everything was different. Team. City. Role. All brand new. That meant the focus was pretty simple: meeting the guys, making a good early impression and getting to know the coaches. Expectations and goal-setting would come later.
But this year was something else again.
We'd had 12 months together and made progress along the way.
Where would our standards be this time? Where would the bar be set?
I got back from holidays a little bit early and I thought I would check in for a few additional running sessions with the boys. At that time of year, you might've expected three, four or five guys going about their work. But when I looked around, there were 20.
I was quite shocked.
Most of the group were younger players, all wanting to hit the pre-season flying. A lot of the time at a footy club you'll find the younger guys will wait for the older ones to come back – usually a couple of weeks after they start – to set the standards. But here at the Lions it was the young blokes driving those standards in the lead-up to Christmas.
It was guys like Jarrod Berry and Harris Andrews leading from the front and taking the next step towards returning the Lions to the glory days of the early 2000s. It was Darcy Gardiner and Hugh McCluggage and Alex Witherden and Cam Raynor pushing everyone along.
There were plenty of other contributors, too, challenging the wider group to improve.
It was awesome to see. It demonstrated to me just how much they were determined to get the best out of themselves. It also showed how far they'd come as a group in 12 months.
They weren't waiting for direction. They were setting it.
The coaches were impressed and so were the senior players, me among them.
We've also played more matchplay prior to round one than I've experienced at any other stage of my career, largely because we're a younger team and we needed to make sure everyone understood the blokes around them – who's on their left, who's on their right, what way they roll.
That box has been ticked. The level of understanding within the group is high.
Of course, pre-season fades pretty quickly from memory once the real stuff starts.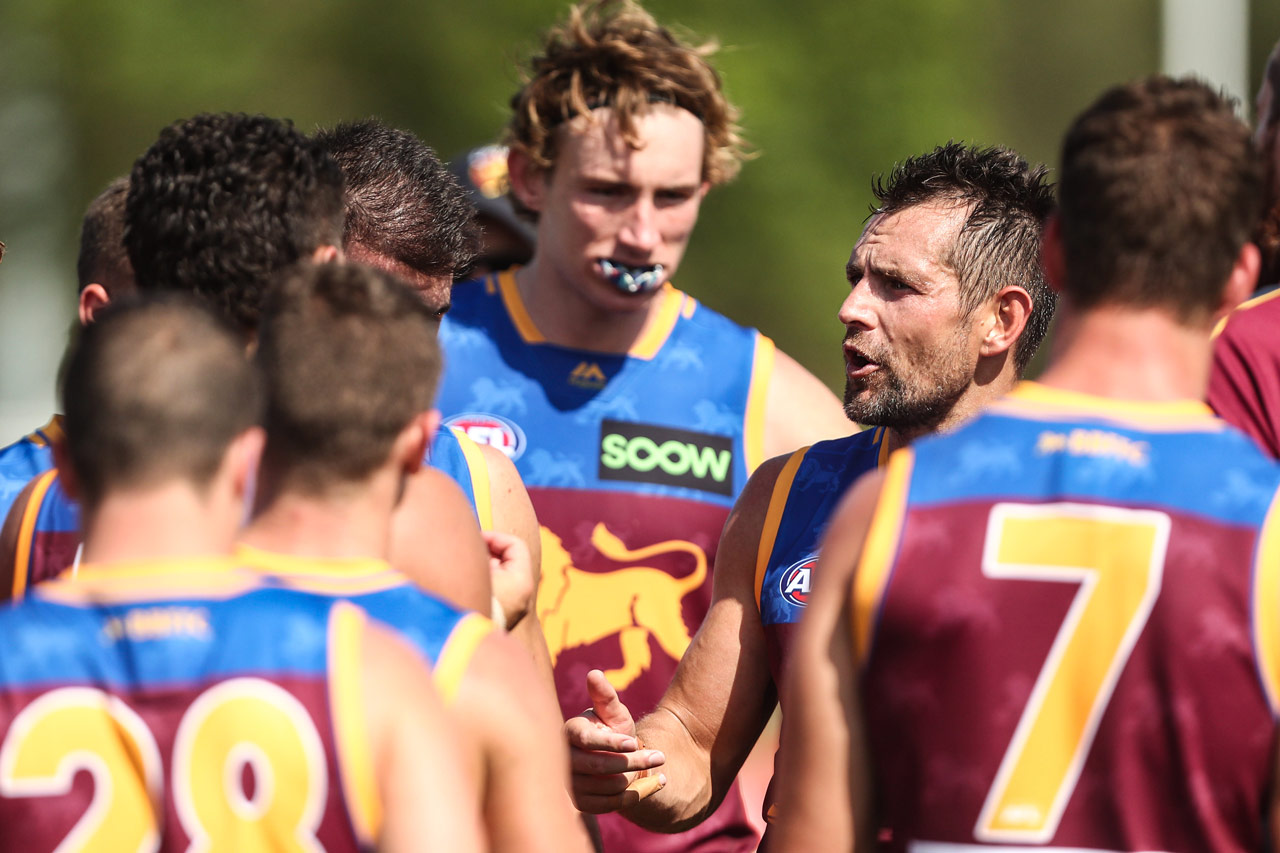 A BOX OF MEMORIES
We've just bought a house in Brisbane.
When we first moved here we took out a two-year rental. We were covering ourselves a bit in case things didn't go well, or if the kids weren't enjoying it, so we could move back to Melbourne without too many hurdles in the way.
But that hasn't been the case. We've loved every minute of it. Coops is playing more footy than he was in Melbourne and Chase has started basketball. The weather is brilliant so they're outside kicking the footy and shooting hoops with their mates 12 months a year.
Leo's loving it, too.
Like all good marriages, my wife ultimately decided what we were doing. Loz had kept her eye on the market for three or four months while we were discussing our options and, when she found the place that was right for the family, we jumped on it. It's only ten minutes from the Gabba, so I'm getting home for lunch a lot more than I used to.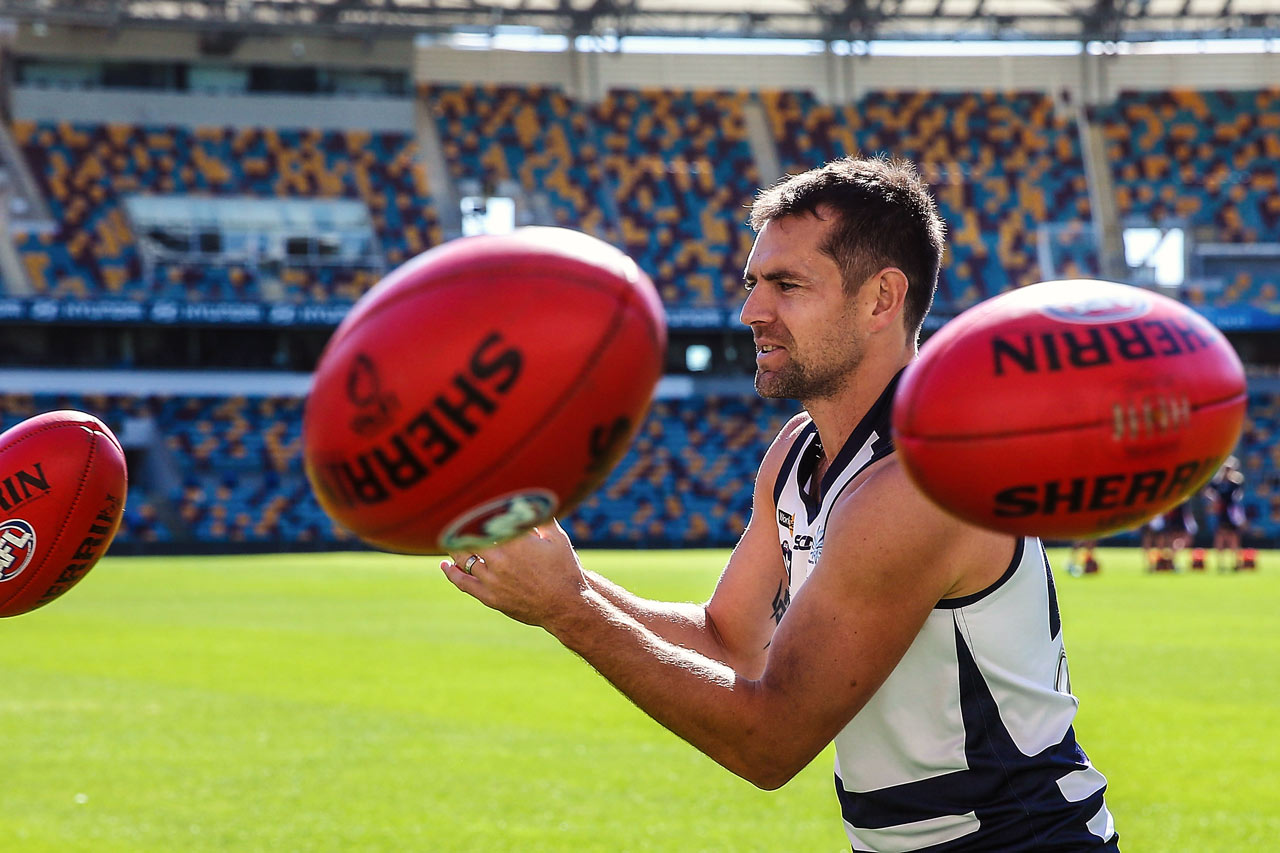 During the move, I was going through some of my old boxes and found a folder with a bunch of leadership material from the period after we'd lost the 2012 grand final and before we went on our run of three premierships in a row.
It outlined our strengths and weaknesses as leaders and players. It also detailed the standards we focused on as a leadership group, topics that came up in meetings and other related stuff. I matched it all up with some notes I'd kept on my computer from those leadership meetings six or seven years ago. There was some fascinating ground covered.
What really struck me was how pointy we were as a group at Hawthorn. People spend a lot of time worrying about not hurting others' feelings but, in that particular group, we gave some pretty honest, confronting feedback to each other. It was always taken the right way because it was said in the spirit of making each other better.

If you want to be a true friend, you have to give your teammates honest feedback.
I spoke to a few people around the Lions about whether they thought it might be something the broader group would benefit from. I didn't want to just walk in and go, 'This is what Hawthorn did here, and this is what we did there, and this is what you should do, too.' It's not about copying everything the Hawks did back then and applying it here. That wouldn't be the right approach.
The view among those I spoke to was that there were areas covered that might help the Lions, or at least give them some options.
Maybe at some point during the season it'll be something that starts a few conversations – something the boys will benefit from.
More about: Brisbane Lions | Hawthorn Hawks | Leadership | Luke Hodge | Sponsored