When the shark was circling
Plenty of people remember Cyril Rioli for the hangers, the snaps, the moments of pure creative brilliance. Fair enough, too. His highlights reel is up there with the very best to have played the game.
But me? That's not the stuff I think of first.
The two moments that most stand out for me were both defensive efforts. In grand finals. Seven years apart.
The first was in the 2008 granny against Geelong, Cyril's first season.
We were up by a goal with seven minutes to go in the third quarter. Cyril was outnumbered on the wing three-to-one by Max Rooke, Corey Enright and Darren Milburn. For most people, that would have been a hopeless situation. Not Cyril. He tackled two of them, pinned one and got a free kick for holding the ball. It set us up for a goal which started our charge to go on and win the flag.
The other moment was in the 2015 grand final against West Coast.
It was in the second quarter and the ball was loose 20 metres out from the Eagles' goal. Jeremy McGovern picked it up and passed to Mark Hutchings, who had a massive headstart on Cyril at the time of receiving the ball.
Cyril mowed him down out of nowhere. He went on to kick a few goals, and set up a few more, on the way to winning the Norm Smith Medal. But when I asked people after the game what their highlight was, they all said it was Cyril's chase-down tackle.
The whole crowd lifted. We all did. Anytime you see a teammate work defensively and get a turnover like that, it's as important as a big goal.
A lot of players go out there and try to get kicks, marks and handballs. That comes naturally. But to be able to chase down and do the hard work? Not everyone does that. If Cyril saw an opportunity to do something in defence to help his teammate, he would be all over it.
He made everyone better.
Opposition players always seemed panicked when Cyril was in the forward line. They knew if they held on to the ball long enough, a shark was circling. He was going to get you.
I couldn't count the number of times we would turn the ball over via a rushed kick from the opposition because of Cyril's pressure – or the perceived pressure that he was hunting them.
So when you're watching Cyril's highlights tape and marvelling at all the incredible things he did with the ball in hand, it's worth taking a minute to think about what he did off it.
I can't think of many players with as many chase-down tackles as Cyril. More than his freakish skill, those are the things teammates and coaches loved about him.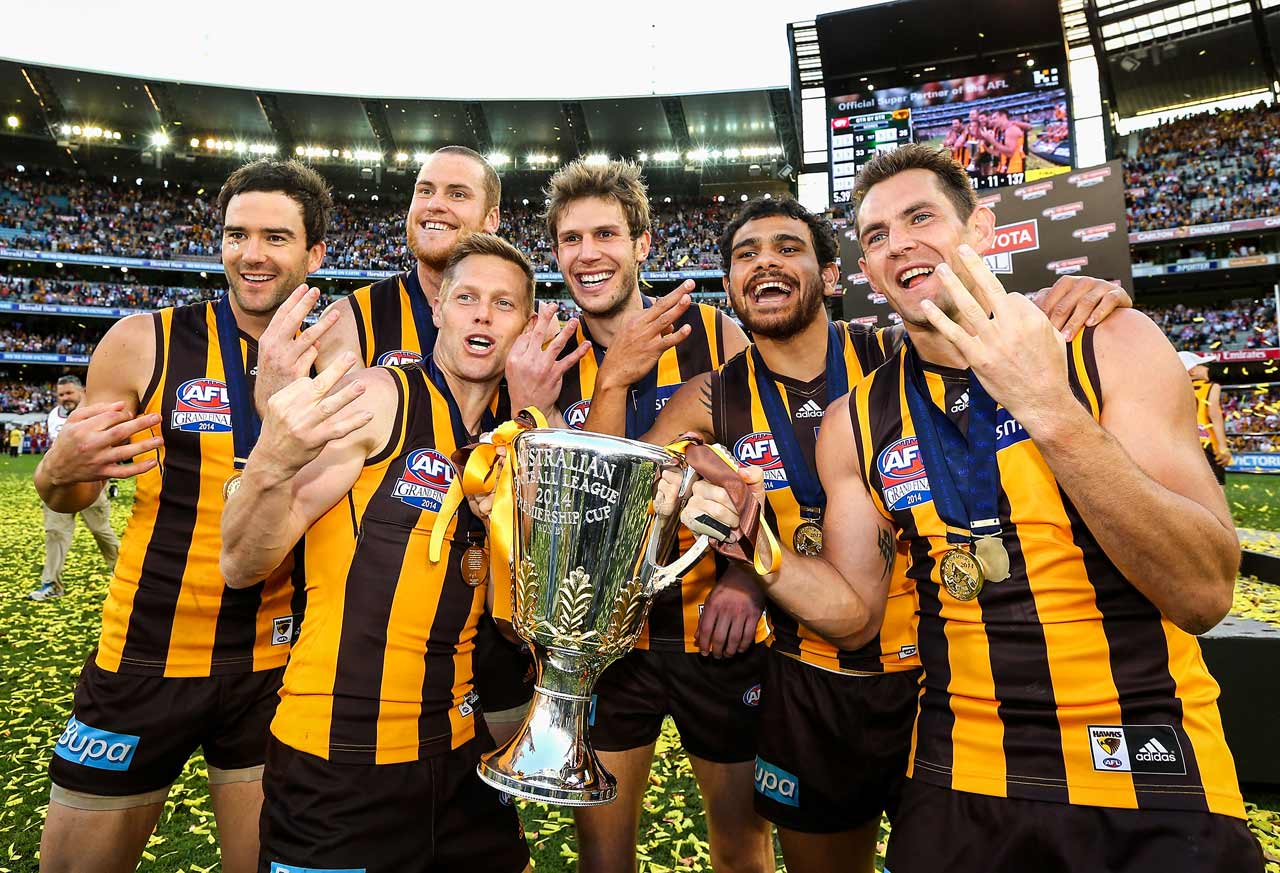 GOD HELP THE LONE DEFENDER
I remember when Cyril first got drafted in 2007.
The Hawks picked him up at No. 12. We all knew the Rioli name. The word was that this bloke, like so many of his relatives, was a freak. A little bit raw, but incredibly talented.
He was a massive Essendon supporter and wanted to go to the Bombers, so the message to us all early was to make the kid as happy as possible because if he stayed at Hawthorn, he was going to do amazing things.
It all turned out to be correct.
He had that big, boofy, curly hair and a young face, but he was no ordinary first-year player. From his first game in 2008, he had an incredible belief in his own ability. He was very shy and barely say a word off the field, but on the track he was completely different. He knew exactly what he could do and it didn't matter who he was up against.
He played all 22 rounds in 2008, as well as all the finals. Twenty-five games for a first-year player: what an effort.
We all knew it then. He was going to be a rare talent and would only improve with more games and more pre-seasons under his belt.
Coaches would say, 'If you see Cyril, just kick the bloody ball to him'. He would do the rest.
If you look up and it's one-versus-two, you'd usually be told, 'Pick the right option'. That was unless you saw Cyril down the line. Then you'd just kick it to him. Two on one? Didn't matter. Everyone else, get the hell out of the way! Let him go to work.
Even if he was outnumbered, you always knew he was going to put in a hell of an effort. He very rarely got beaten. And if it was a one-on-one contest, well, God help the poor defender.
Cyril could take a hanger on his head.
He could bring the ball to ground.
He could dance around him.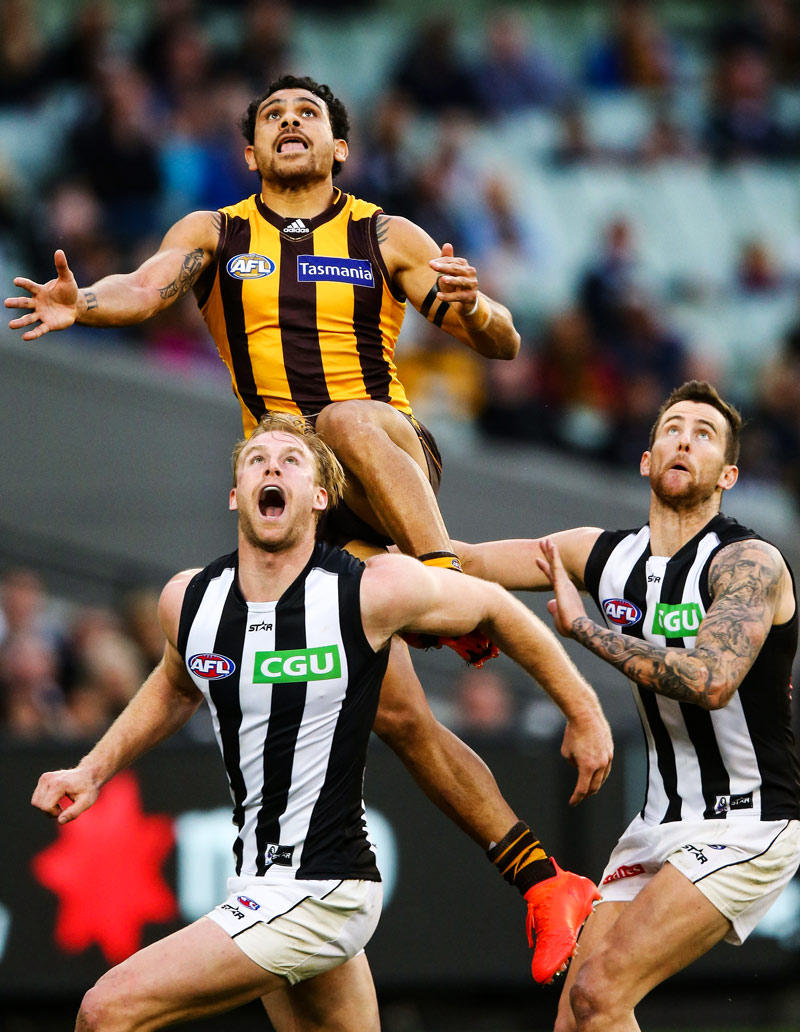 You might recall his 'goal of the year' in 2009. We were playing against Essendon and Cyril was on the half-forward flank. They were kicking the ball out and he had Bachar Houli, Cale Hooker and Henry Slattery all around him.
He took the ball off Houli, ducked Slattery, stepped around Hooker, gave the ball to Chance Bateman, who gave it back, and went on to kick a goal from 40 metres.
If you haven't seen the goal, go and look it up. It was pure genius.
Clarko thought of Cyril as a go-to man. If you needed a little bit of a boost, you turned to Rioli (or Shaun Burgoyne).
There weren't any rules around this, but you knew when the game was in the balance there were certain blokes you would have go through the middle. Cyril might have played forward for the majority of the game, but when you needed a clearance, a good balance was always Burgoyne, Sam Mitchell and Cyril in the midfield. You knew something was going to happen if you had those blokes in there.
His one-on-one strength, his agility to get out of trouble and his understanding of the game were incredibly unique.
FAMILY OVER FOOTY
When people talk about Cyril around the club, they are usually smiling when they do it.
He's just one of those people. He has a natural warmth about him that people are drawn to.
No doubt those same people at Hawthorn will have been sad to learn of his retirement on Wednesday. He was never going to be one of those footballers who played on into his mid-30s, but at 28 and with two years to run on his contract, the announcement would still have come as a bit of a shock.
We always knew he would head back home eventually. It was the way he talked about it. He loved his home. He hails from quite possibly the proudest family in footy history – the Riolis on one side, the Longs on the other – and he grew up with a footy in his hands.
He's a man of few words – he's more a listener and a laugher than an initiator of conversations –  but home was a subject he didn't mind talking about.
What Cyril has shown is that he places family and friends above all else. That's the way it should be. Footy is only a game and there are more important things in life. No one has ever been under any illusions as to what Cyril valued most in life, and that's how he has come to the decision he has.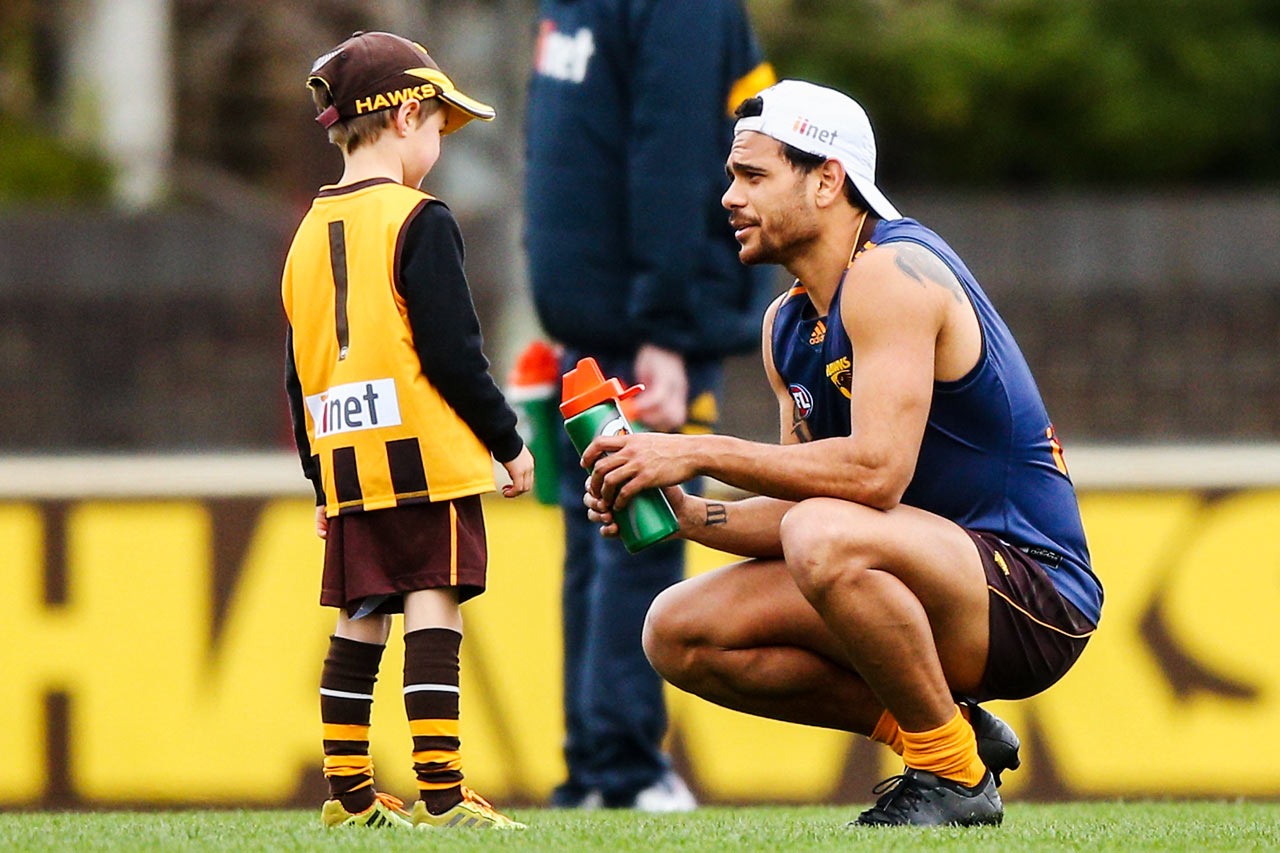 The people at the club I've spoken to since his announcement have all said they will miss him, but they've also remarked how grateful they are for everything he has given the football club.
You won't find a person with a bad word to say about him.
As for the Hawthorn supporters, they would rate him up there with the most skilful, dangerous players the club has ever had. They love him. He gave them the hangers, the spectacular goals, the taking on three or four opponents at a time.
And he also gave them the intangibles, the little things off the ball that not everyone sees and don't necessarily show up on a stats sheet.
He was a 10 or 15 possession player – and they were all unbelievable and exciting touches – but he was among the early ones in the forward line who applied defensive pressure.
That, more than anything else, was why his teammates loved playing with him.
More about: Brisbane Lions | Cyril Rioli | Essendon | Geelong Cats | Grand Final | Hawthorn Hawks | Luke Hodge | Retirement