Luc Longley - Contributor
Remembering where we come from
Watching seven – SEVEN! – Australians play in the NBA playoffs makes me immensely proud. And contemplating what we could achieve as a national team is beyond exciting.
Winning an Olympic medal would mean as much to me as any of my three NBA championship rings with the Bulls.
Possibly more.
I've been involved with the Boomers for a long, long time. I went to my first Olympics in 1988 and, in all the years that ensued, we've finished no better than fourth. Some might argue that was the best we could've hoped for in some of those campaigns – and they might be right – but I couldn't help but feel we fell short in Rio.
LIVE stream your favourite sports. Get Foxtel & start watching in minutes. SIGN UP NOW >
What we're seeing now, however, is a perfect storm: incredibly talented young guys meshing with some very experienced old guys. The NBA is proving helpful in this regard. In Milwaukee, you've got Thon Maker and Matthew Dellavedova forming a bond, and it's the same in Utah with Joe Ingles and Dante Exum. Over in Philadelphia, Ben Simmons has found himself playing for a coach in Brett Brown who not only has led the Boomers himself, but has also known the Simmons family since Ben was a little kid. The connections to home are strong and are being reinforced internally.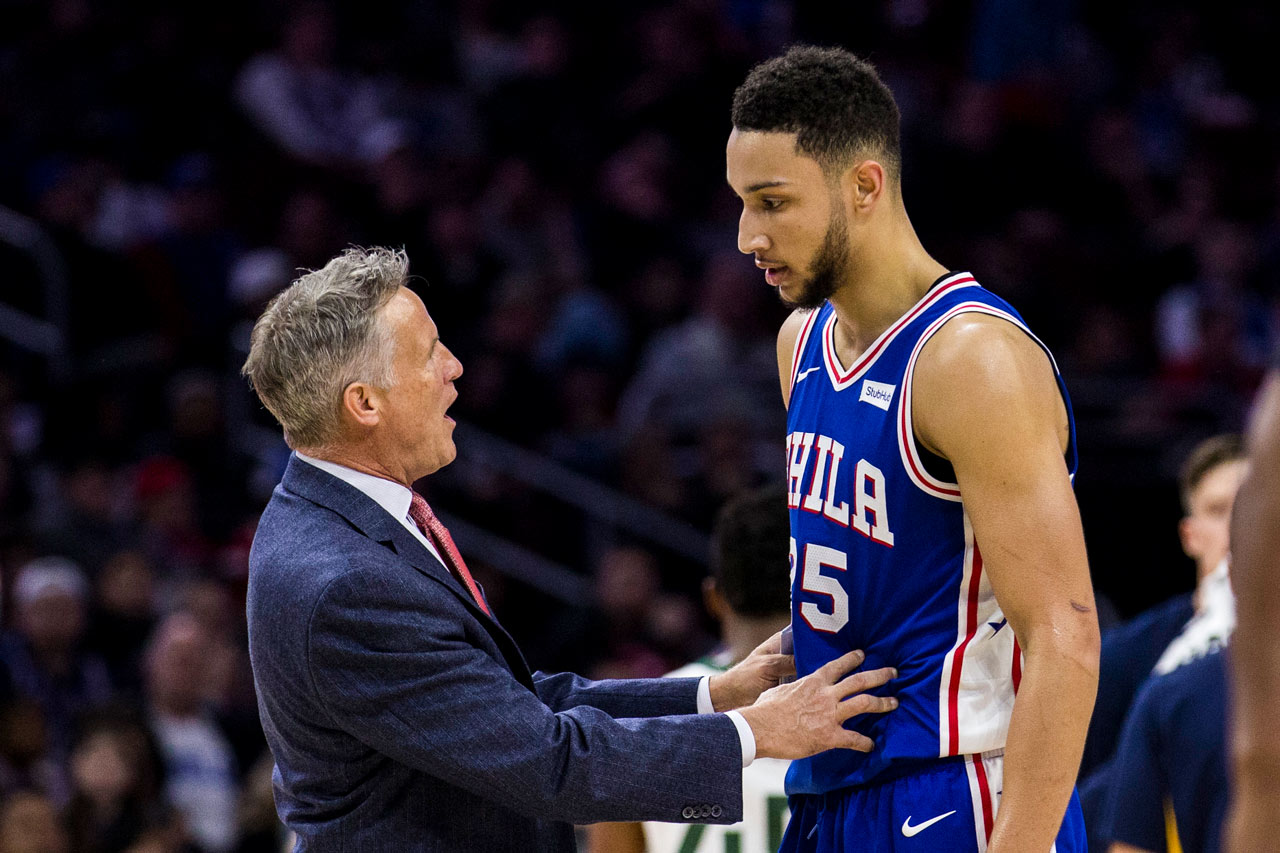 There's no coincidence Australians are showing up on the rosters of big NBA teams.
Recruiters recognise the characteristics that come with being an Australian player. I know it's happening in the college ranks because I get asked all the time by guys over there for Australian players. Coaches want Aussies in their locker rooms. They are professional, they look after themselves, they are not boneheads, they know how to work and support their teammates. I'm sure it's the same in the NBA, too.
The depth of talent in Australian basketball is incredible at the moment. We have guys playing in some terrific competitions around the world, we've got a strong domestic league that will be all the stronger for Andrew Bogut's presence and we've got the NBA guys.
What excites me the most is that they all care. They love the Boomers and what it means to represent their country. Delly and Thon, for example, are coming off a playoff appearance with the Bucks, and have already flagged their intention to play in our qualifiers against Japan and the Philippines.
Everyone in Australia should be proud of that. It's not necessarily like that in other parts of the world. In Ben Simmons, Aron Baynes, Patty Mills, Delly, Thon, Joe and Dante you've got some big names on the biggest stage this sport has.
And none of them have forgotten where they came from.
THE 'FIRST BEN', NOT THE 'NEXT MJ'
Ben Simmons. Wow. How do you even begin to describe a rookie campaign like that?
Probably the only person who hasn't been surprised by his performances this year is Ben. We all expected big things, but his season was beyond great – statistically and in all the intangible areas.
He has played with a level of composure and maturity that I didn't understand he had. It's beyond a normal 21-year-old. It's developed quickly. It wasn't there to the same extent it is now, the last time I coached him.
I love that he's a pass-first guy, that he creates for others. And I love his unflappable persona on the court. You don't see a lot of that. I'd like to think that's some of the 'Australian-ness' coming out in him. It's a character trait we really value in this country.
There is a lot of upside in Ben, too. That's scary for the rest of the league. He has qualities that I think will make him really, really great.
Ben Simmons. Wow. How do you even begin to describe a rookie campaign like that?
The factors that will determine just how great will be how hard he works on his craft and how his body holds up. If those two things maintain, I think he's going to be one of the all-time great ones, for sure. He's certainly had a flying start.
I've seen Ben compared to a lot of the legends of the sport and, as someone who played with Michael Jordan, the question has been asked of me how he stacks up against MJ. I shy away from comparisons. I think they're unfair to both parties. I'll just say this: Ben is going to be the first Ben, not the next Jordan. They might share similar qualities, but what Ben creates for himself will be uniquely his.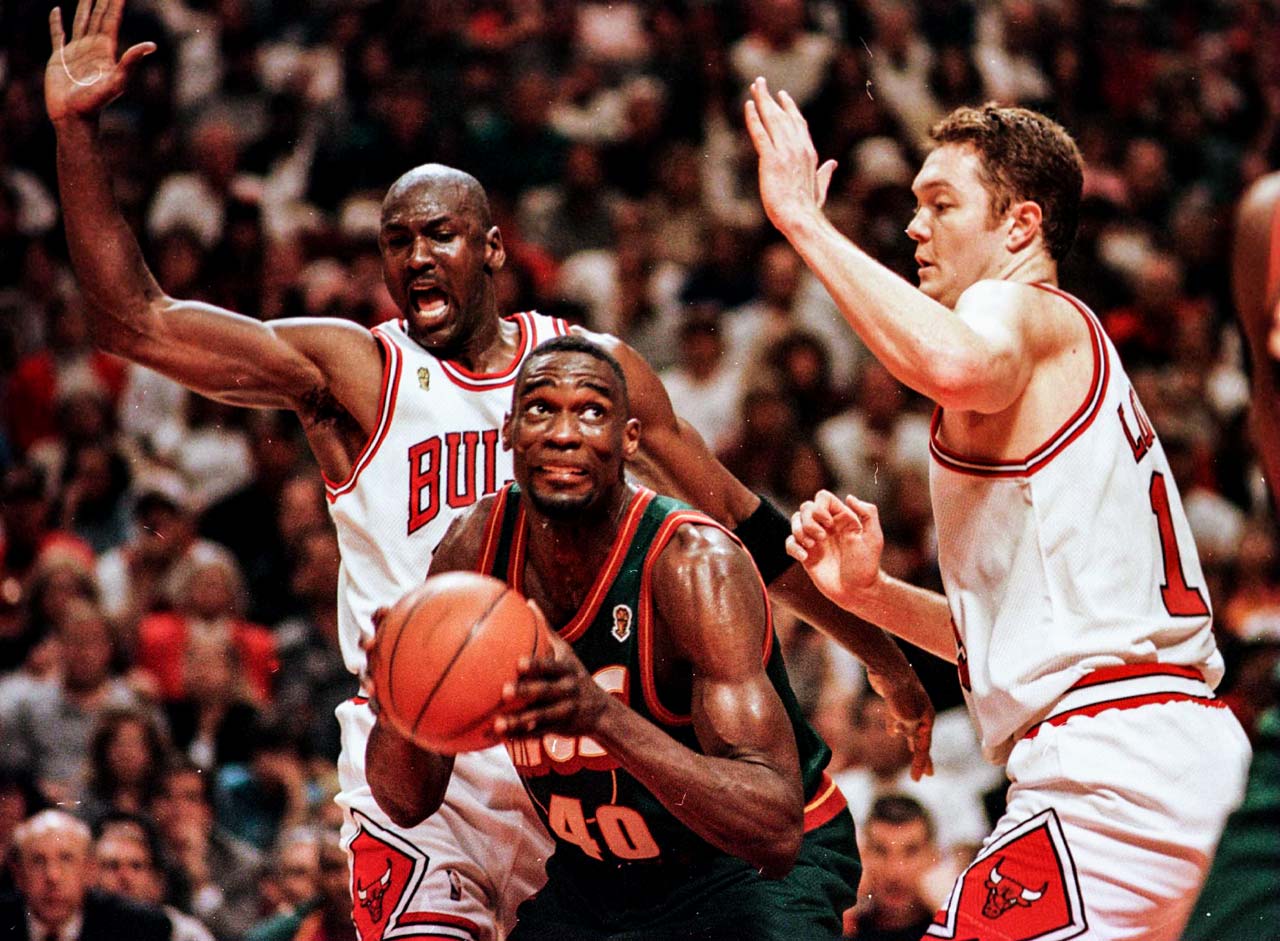 It's fair to say his experience of acclimatising to the NBA has been different to mine. It's a very different landscape to when I was playing. There's the internet, social media and all that connectivity that makes the world a smaller place. He was well conditioned to being in America, whereas it was a total shock to me. There weren't even mobile phones when I entered the NBA in 1991!
I definitely felt a long way from Australia, but Ben has said repeatedly that he still feels very connected to home. That's great. We want him to!
It's a big deal for him and it's a big deal for Australia. And having Brett there as coach certainly doesn't hurt as far as fostering the connection and keeping it alive.
BAYNES: A CULT HERO IN THE MAKING
I've always loved the way Baynesy goes about his business and I know the Celtics organisation do as well. He plays hard, he plays every possession, he really cares, he works his butt off in practice.
I also think it's fantastic to see a big ginger with a beard and top-knot running around for the Celtics. If he doesn't have a cult following in Boston already, he will have by the end of the playoffs!
Defensively, he's been fantastic. He has learned to play down and not be lifted by fakes and get cheap fouls and be taken out of the game. He's become a very smart defensive player compared to how he was. In fact, his game all around has matured immeasurably over the last four years.
I think he'll get rewarded for that this summer. He's a free agent and I'd be surprised if he didn't attract a bit of attention, particularly from teams who are fighting for championships.
He showed great poise against Joel Embiid. Even though Embiid had some success, Aron was patient and, ultimately, the Celtics were the team that won through.
I love his role. The team loves his role. And, I suspect, Aron loves his role.
San Antonio would not have let him go if he was the player then that he is now. He would be perfect in San Antonio. One of the things you look for in players is their understanding who they are, what their role is and what they do best.
That's the big difference in Aron over the last four years.
Also, he's a father now. I think that has settled him down. From experience, the change in priorities that come with being a dad are very grounding for a player.
Baynesy is also a great Boomer insofar as he loves coming back to play with the national team. He attributes a lot of his growth to his time with the Boomers and his Australian teammates. He has a real sense of pride there. It's great to see.
I felt the same way when I was becoming a good player. I felt like the Boomers was my fertile ground. It was where I came from. It's good to see the same recognition in this generation.
THE EVOLUTION OF JINGLES, DANTE
Joe has had a breakout year in many, many ways.
Skill package-wise, Joe has always been excellent and we've known that for some time. But this season he has really found his home and, accordingly, has found his game. He's caught people off-guard a few times. He's 'Slow Joe'. He's laconic. I think people don't know what to make of him sometimes and that works to his advantage.
Joe has brought a lot to that Jazz team and I know they love and value him. It's great to see him light it up in the playoffs. I love it anytime you see a player find a home – a team where he's a perfect fit and a coach who appreciates him. You can go from being an average player to a very good player based on situation and coaching. I feel like that happened to me, to an extent.
A little bit like Baynesy, I wonder whether the family situation has played a factor in his big season. He's in a really stable environment. He has a wife who understands elite sport. He's not moving house every season and bouncing around Europe. I think that has allowed his game to blossom.
He's had a really positive impact on Dante, too. We're all crossing our fingers that he's OK injury-wise. I haven't heard any news and that's usually good news.
The depth of talent in Australian basketball is incredible at the moment.
It was exciting to see Dante showing up big in the playoffs. He's obviously had a difficult couple of years getting on the court. He's put in a lot of work into rehab. That can play on the mind of a young player.
He was so young entering the league, and physicality was an area he struggled with early in his NBA career. To see him grow into that and be prepared to lay his body on people is really encouraging. It makes our medal chances better and better if he's playing that way.
It's difficult to be a rookie with high expectations. All that would have been building up for Dante.
I'm sure he feels released in many ways after his last month of basketball.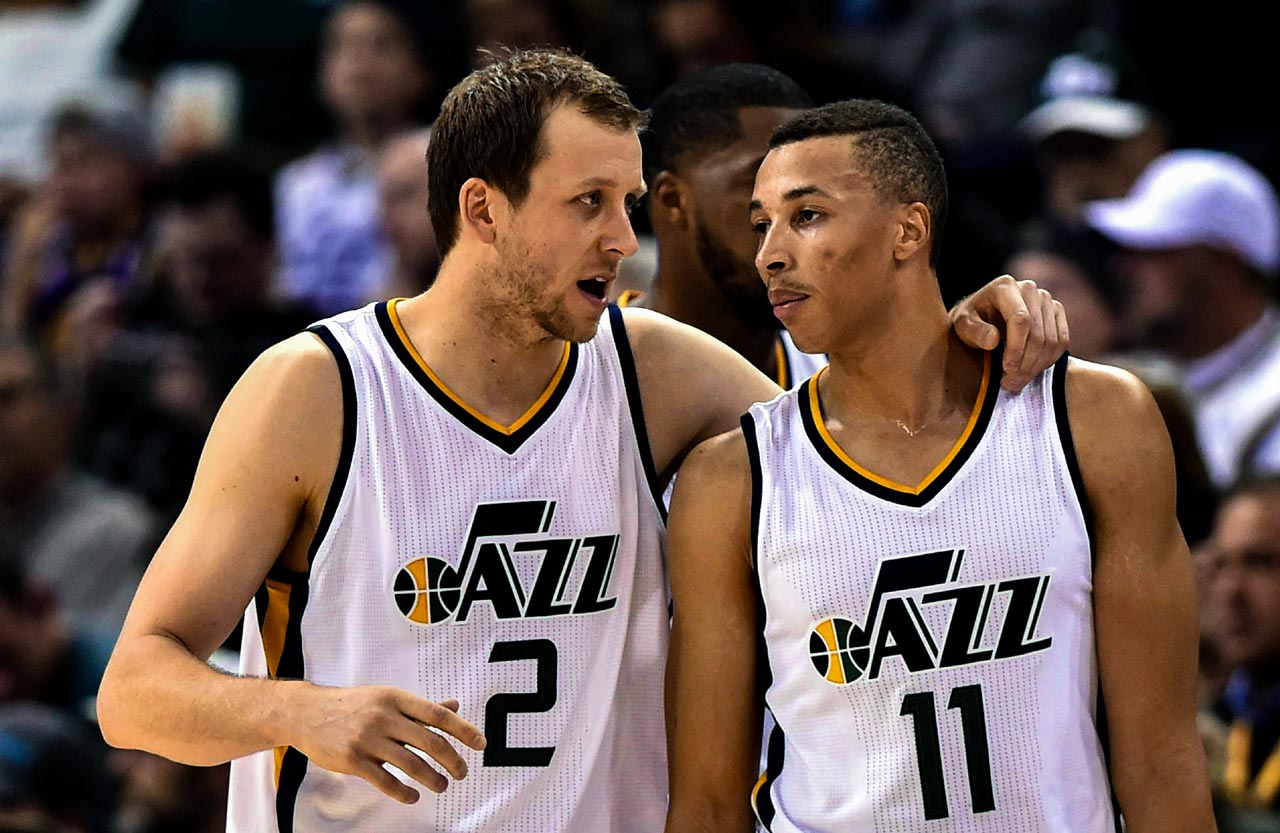 PATTY & POP
Patty found a good home several years ago in San Antonio. He's part of that system now and Gregg Popovich and the rest of the organisation value the qualities that he brings.
They didn't get the result this year, but he plays his role beautifully.
A trademark of all great coaches is that they make the role of each individual player perfectly clear. Pop is a master of this. Patty's role has been clear and consistent. That has enabled him to polish his game and play at a high level.
He's a great piece. They just didn't have their fulcrum pieces on the court this year with Kawhi Leonard out. You need those fulcrum guys to create space and opportunity for guys like Patty. They struggled a bit with that.
But, given the opportunity, Patty is as legitimate a shooter as is out there.
He's also taken great care of his body over the last five or six years. That's been a huge part in his evolution as a world-class player.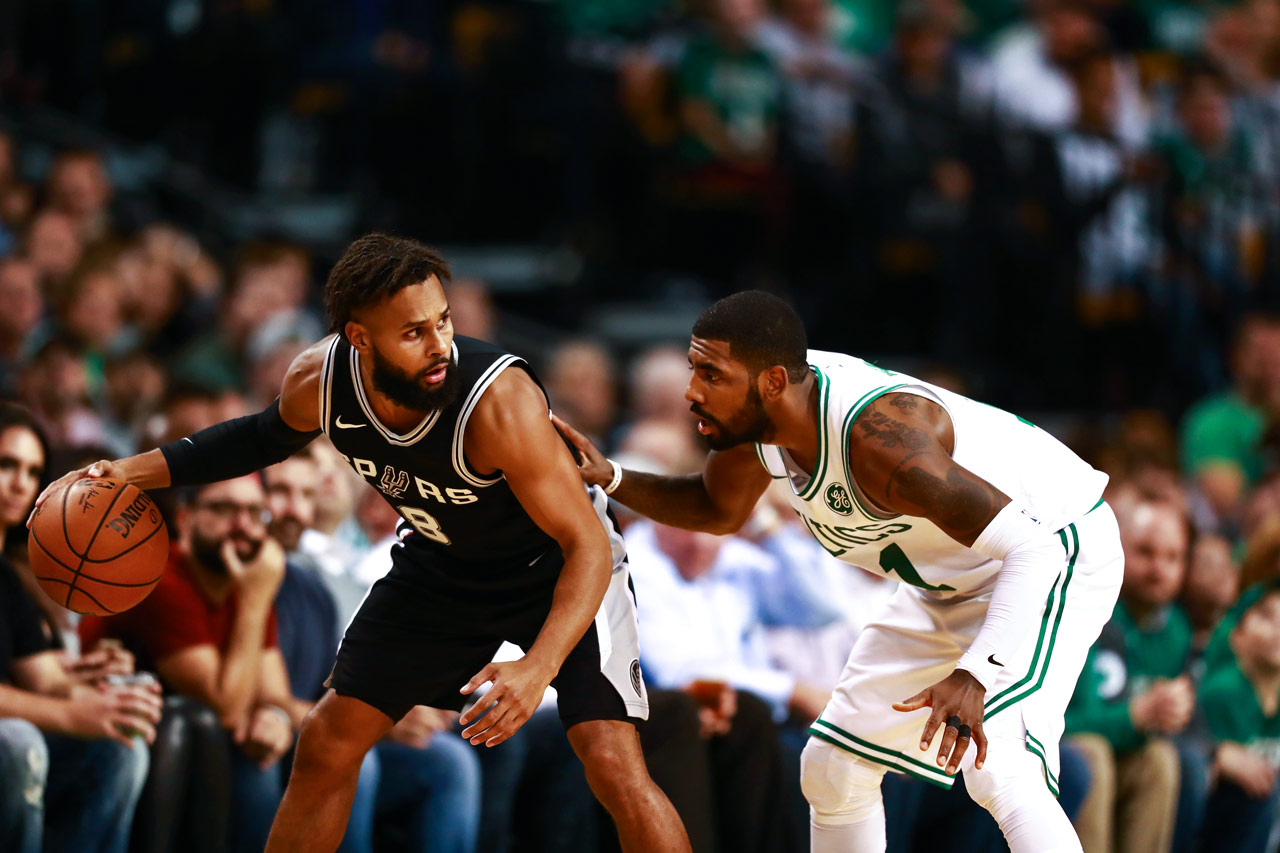 THE BOND OF DELLY & THON
Here's the thing with Delly: you know that the frustrations of an injury-interrupted season will only have a positive impact in how he prepares for the next one.
Some guys can get down and discouraged when things don't go their way. Delly gets determined.
It's obviously been a difficult season with injury and other guys coming onto the roster competing for minutes. But the thing that Delly does great, no one can really compete with. He's always going to have a home wherever he plays. He brings so many intangibles and adds value to a team.
The fact he has put his hand up to play in our qualifiers against Japan and the Philippines tells you everything you need to know about him. He's not precious. He just loves to play basketball. 
It looks like Thon is going to do the same. That's fantastic. It appears the two of them have developed a good friendship in Milwaukee. Delly is a steady example for Thon. They both have insatiable work ethics. They're peas in a pod in that regard.
It doesn't matter who you are, when you go into a new league you need guys to show you the way and help you along. Thon couldn't be luckier. Delly is the best example you could have. And the Australian connection just doubles the value. It's an ideal situation.
Now he just needs to get on the floor more. Hopefully, the coaching situation at the Bucks will provide that opportunity.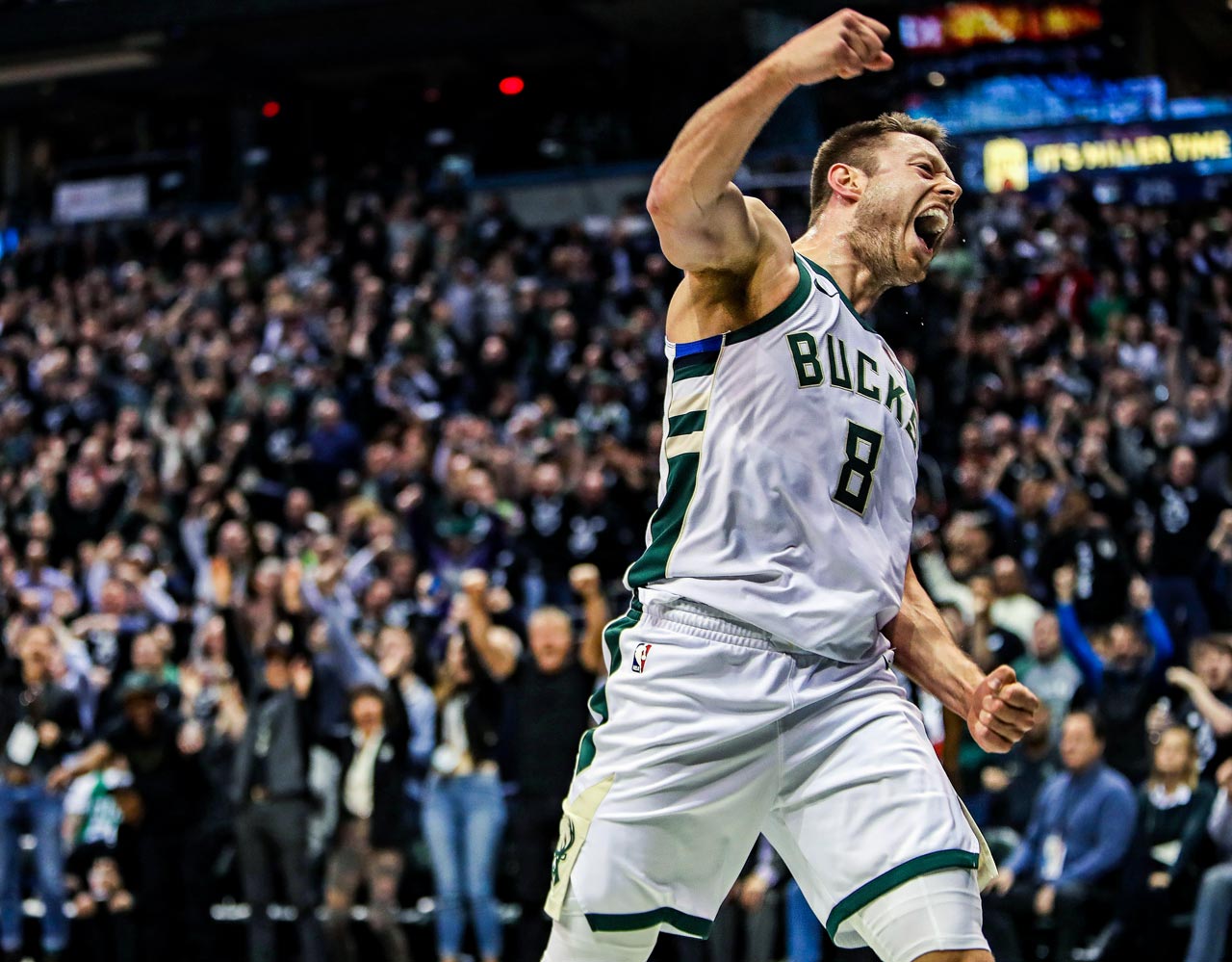 MAKING IT COUNT
The game has changed so much since I was playing. Some nights now you won't even see a seven-footer on the floor. That super-versatile, switching-defensive, transition, everyone-can-handle-the-ball game is completely different to my days in the NBA.
I watch it and really enjoy it. The difference for me in the playoffs is the defensive application and intensity. It makes the game more interesting. Sometimes during the regular season it can get a little flat. I like to see the players challenged by real D and playing for something that counts.
To see a record contingent of Aussies thrive in this playoff environment is not only great to watch, it's also highly encouraging building to the next Olympics.
More about: Aron Baynes | Audio Recording | Ben Simmons | Boomers | Matthew Dellavedova | NBA | NBL | Patty Mills | Thon Maker