'I've held on to that feeling ever since'
My first taste of cricket came in Melbourne, where I was born and lived my first few years. I played Milo cricket and loved it straightaway.
When I was six we moved to Cairns, where I attended Trinity Anglican School at Clifton Beach and began playing for Barron River Cricket Club. I was bowling 'fast' at that stage, but after taking that 6-4, I spent the rest of the season bowling spin and drew the attention of local rep team selectors.
I was picked for a talent group and we were going to play down in Brisbane, but unfortunately the tour was cancelled because it was when they had the floods there in 2009 or 2010. Nevertheless, I was proud to get the yellow and blue baggy cap, which I wore in my club games. I was pretty happy going about as a young fella!
In 2010 we moved to South Australia, where Dad grew up. Apart from getting away from the heat up in Cairns – which definitely didn't suit my complexion – my parents felt there was more opportunity in Adelaide for Dad's IT work and my schooling and cricket. Personally, it was my first chance to be around my extended family.
I started playing for Kensington, which has turned out to be a great club for me. It's a high-performing club. Last season we won all grades except D's, who lost in the final. It's an inspiring environment to be in and they've done a lot for my career.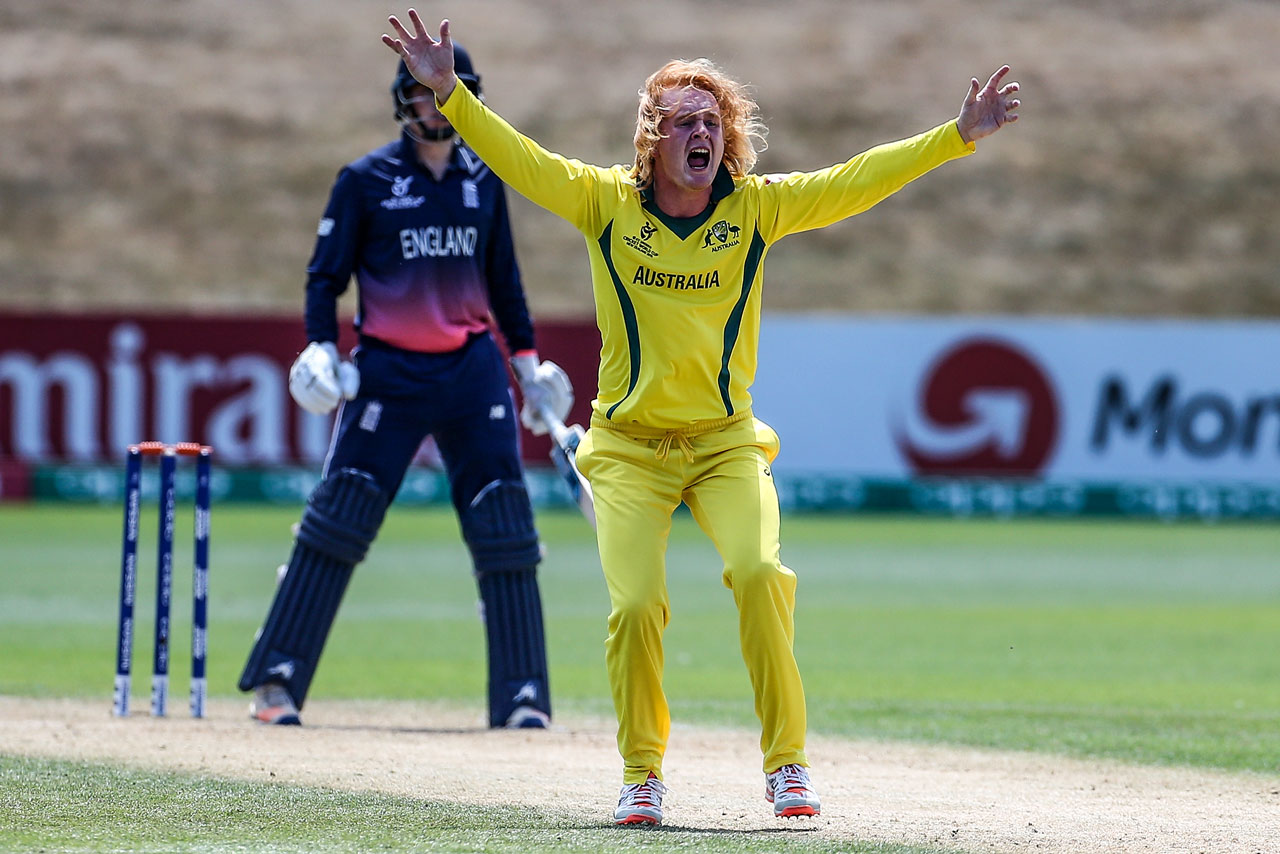 In the under-15s I made my first SA junior state team and we went to Darwin for the national championships. We didn't do that well, and I got smacked around, but it was a useful experience because it showed me how hard I had to work to get ahead.
Jason Sangha was one batsman who hit me around at those championships. I remember there was a lot of hype around him, he had the GM sponsorship and everyone was saying he'd play for Australia. He was being hailed the next Ricky Ponting, despite being just 15, something similar to the experience I was to have being called the next Shane Warne.
Soon afterwards, I was picked as a bottom-age player in the state under-17s team and, at the carnival, got smacked around again. I started to think, 'I don't like this game!' but instead of giving up, I decided to do everything I could to improve.
I was selected in the under-17s again the following season and, this time, ended up leading wicket-taker at the carnival. I got picked in the CA under-17s combined team, which played in the under-19s state carnival, and I was leading wicket-taker there, too.
I was loving cricket by then and felt proud I'd managed to get up to standard. I've held on to that feeling ever since.

Pinching myself in the SCG change room
There have been a few reality checks along the way, which have kept me determined to keep working hard. In game two of last year's BBL, I was bowling to Jos Buttler and decided to give him a slider, just put it back of a length and try to take the top of the stumps or tie him up. I knew I had to execute it really well. The ball came out nicely but Jos jumped onto his back foot in a flash and smashed me over cow corner. I could hardly believe it! But that's why he plays for England and that's why you have to bowl perfectly to guys like that.
Most of my other memories from my first BBL season are a blur. Those three months flew by. But what I do know is that I learnt so much so quickly and am really keen to show I can be a good leg spinner in that form of the game.
Playing BBL has been a life-changing experience. I'm incredibly grateful to the Sixers for giving me a chance. I've gained so much already, working with top quality coaching staff and management, and having the amazing opportunity to be around spinners Steve O'Keefe and Nathan Lyon.
I thought my first season would be about bowling in the nets and learning from the pros. Then, shortly before the opening game, the coach Greg Shipperd tapped me on the shoulder and said, 'You're playing. Good luck'. I was excited but also a bit stunned. I remember sitting in the change room at the SCG, pinching myself.
I ended up playing six games last season and went OK. But the truth is, I probably wasn't quite ready. Never mind. If there's one thing I've learnt in my career so far, it's that the ups and downs of the game are something you have to learn to enjoy and embrace. 
More about: Australian cricket team | Big Bash League | Shane Warne | Sheffield Shield | Sydney Sixers | T20 | Test cricket