Sometimes it feels like I have been playing forever – and some people probably wonder why I still am!
I do feel proud of my longevity, because lots of my friends my age think it's crazy I'm still able to do this at 40. But I'm really loving it. Still.
My best years have passed, if you can put it that way, but I still have the impact on the court that I feel is good enough at this level. And as long as I don't feel too slow or too unfit for it, I'm happy that I can still do what I love doing, because it's a short career as an athlete.
Mine started in the '90s – yes, last century! Some days it feels like yesterday and other days it seems like so long ago I can't even remember how it all happened.
But, to be honest, if it wasn't for the '99 world champs, I probably wouldn't even be here, because that's what gave me the opportunity to go over to New Zealand.
In South Africa, 1995 was when it changed for us, because all our sporting teams were allowed to compete internationally again. The Proteas beat New Zealand in the semi-final of the world champs and won silver behind Australia, netball was on TV for the first time, and the fact we actually did really well opened doors for us.
I remember watching it and saying to my mum, 'I'm going to be in the next world champs'. Mum just kind of looked at me funny and probably thought I was crazy, but it happened. I was in that '99 world champs team, and after it they picked a 'World Seven' team to go and play in New Zealand against the Silver Ferns.
Australia's Jill McIntosh was our coach and I was one of the defenders with Liz Ellis and Kath Harby-Williams, I was rooming with Sharelle McMahon and I was just like, 'Oh, my gosh, I don't even want to talk to her, because she's just amazing'. I was really shy back then.
Everything kind of just happened after that. The team manager from our World Seven team was linked to the Southern Steel – or Sting, as it was – and asked if I would like to come over and play. And I thought, 'Well, I've got nothing to lose', and Dad was like, 'Go, because it's a great opportunity for you'.
I was heading back to South Africa when injury meant that Irene van Dyk's team needed a goal keeper; then one thing led to another and before I knew it I was in the Silver Ferns' squad, which I obviously never, ever, thought would happen.
It was definitely a tough decision to start representing New Zealand, but Irene had already done it and I drew a lot on her experience and asked questions because we've known each other for a long time. Basically, she'd opened a lot of doors.
In South Africa, people were saying, 'Well, you've already gone and played in another country', and it wasn't as common to do that back then, so the reception going back home wasn't as supportive as it would be now. You think, 'Well, what have I got to lose?'. And obviously when you make a Silver Ferns squad and you think, 'I can actually win world champs', that's an exciting thing to want to be part of.
We won in 2003, and two Commonwealth Games gold medals as well.
Mum and I laughed the other day about where I might be now if things had not happened the way they have. I grew up in a small farming town, so most likely I would be married to a farmer and have five kids or something like that.
MOTHERHOOD helped my game
My son, Caleb, is eight. I think I've played a lot better after having a child because my life balance has been a lot better. I tried really hard to make that starting seven for the Ferns and it didn't happen for me for a long time, so I had to really work my way through it.
Once I had Caleb, I didn't just have netball to concentrate on. I had this little dude who was so reliant on me, and I had a place that I could go and just have fun and enjoy myself and have a bit of non-netball time that really balanced things out for me.
There are still a lot more mothers playing at the elite level in New Zealand, and I would say that's purely because of the the depth you've got in Australia. Once you give up your spot in Australia, somebody's already ready to take it, and with New Zealand obviously being a lot smaller, the bunch that we can pick from is not as big.
There's more support now for playing mothers in Australia, with child care and everything, so it will definitely be easier than it was to come back. But it will still be harder here in Australia because of all these young ones coming through all the time.
thunderbirds are going places
I retired from the Ferns in mid-2016, but played on for the Northern Stars in 2017 after the ANZ Champs finished. I was at a bit of a crossroads when I got a call from Dan Ryan asking if there was any chance I'd consider playing for the Thunderbirds.
My answer was that I didn't actually know because: 1) I wasn't sure if I was still good enough to play over here; and 2) I had family that I had to consider, and it's a massive commitment. So I sat on the decision for a while.
Then, Dan basically told me to list everything that I thought I'd need to make it work and I spoke to Caleb to see how he would feel about leaving his dad and his friends. If he would have said no, I wouldn't have even worried about it. I obviously spoke to my partner as well, but at the end of the day it's the best league in the world and you want to be part of it.
Eventually, too, I'll probably want to be a coach, so I thought the experience that I will pick up in learning how things are done on this side of the ditch, rather than looking in from the outside, would really benefit me in my coaching one day.
My career started in the '90s – yes, last century! Some days it feels like yesterday and other days it seems like so long ago I can't even remember how it all happened.
But it's been tough. Obviously we haven't been doing that well, and you feel responsible, especially if other teams score 71 goals against your defensive line and you're there at the back.
So you do kind of re-ask questions like, 'Oh, maybe I wasn't good enough to play in this league'. But it was always going to take us a wee bit of time to get those connections and combinations because we were such a new team.
I still love the challenge that it brings, and my son's having a great time at school and also experiencing a little bit of footy, AFL, and getting to spend some time with my mum, who's come over from South Africa.
So apart from the results, I do believe I've made the right decision. I'm still learning about myself and how to handle things when they don't go so right for when it comes to a future coaching career.
As a playing group, we still obviously have that belief amongst ourselves and we make sure we do fun stuff just to remind ourselves that we're still good at what we do; it's just that those links are not quite there. It's about trying to stay as positive as we can, and trying to get the best out of each other.
We've always said it's going to take a while to connect, and we still have to believe, because we've all made massive sacrifices to be here. We've got to basically still love what we do, and then the results will come. And we have been playing better the last two weeks, so hopefully that will just grow from here.
We've shown real character. We could easily have given up, and especially those girls that have been here before could ask, 'Why are we doing it again?'. But there's a good feeling, and no cattiness or anything like that within the group, which has been great, because it could easily have gone the other way.
I never expected to play for an Australian team. The last time I was asked I wasn't allowed to because I still wanted to play for the Ferns, but it's always been something that I've thought, 'oh man, that would be so cool, just to experience something different'.
Now that you've got so many international players, as well, the games are so intense. Every game feels like a Test match and I can only imagine if I was still playing internationally how much that would have really helped me in getting used to that intensity, and getting more experience against the players you'll be opposed to internationally.
I'm loving it – not the results, but the fact that we are getting better definitely helps.
THE NOT-EVEN-BRONZE FERNS
The Commonwealth Games were very tough viewing. It saddens me to see how far the Ferns have fallen.
Cat Tuivaiti and I watched it together and actually cried for them to finish fourth, because we knew how hard they would have been working to not let that happen.
Obviously, it's not a happy camp. It certainly doesn't look like it from the outside, which is really tough to see, and having so many international players here and not over there you really have to question if that has had an impact on how New Zealand is tracking.
Obviously, the Silver Ferns is not a happy camp. It certainly doesn't look like it from the outside.
There's obviously been a lot of controversy over players like Laura Langman being ineligible for the Ferns if they're playing Suncorp Super Netball rather than in the New Zealand league. But it's a hard one, because if you lose all your good players to the Aussie competition then the fans aren't so involved and the standard drops away. So I can see why they've done it.
But I do think we should have stayed in the trans-Tasman competition by agreeing to drop one team. Instead of five teams, we could have had four stronger teams which could compete more confidently against the Australian clubs.
That's where things have gone wrong for us, but they also need to look at having more flexibility with the rules, based on how many Tests someone has played for the Ferns. The biggest mistake is that we let the ANZ Champs go and wouldn't drop a team to stay in it. That was not the best thing for New Zealand netball.
But one good thing out of all this is that I don't ever think I've heard so many people talk about netball than after these Commonwealth Games. Not just with England winning, but Jamaica, who are not far away – they're knocking on the door – and even South Africa.
Having players from so many countries in this league is definitely making the sport better. So I think it's fantastic, although the Kiwis probably wouldn't agree with me at the moment! You just don't know who's going to win any more, which is awesome, because for such a long time it was just Australia or New Zealand.
one season at a time
When I played for South Africa the first time, if I'd gone to the gym once a week and run 2km I was really fit. That's how sad it was back then! 
Now there's so much intensity around how you train and all the sports science that has come with it. The GPS knows exactly how far you've run in a game and it tells you how much you've jumped and all of that. You adjust your training to your position.
All those things are so different to when we just ran on the court and played, and we didn't even worry about stretching too much.
Nutrition-wise, we used to eat buns and crap stuff after the game because we didn't have any clue what we were supposed to be eating, and now there's all protein powders and stuff like that, so it's totally changed.
As you get older, you also learn what's important. Obviously everybody wants to win, but your life won't end because you lose games, so you still come home and Caleb's still going, 'Oh, good job mum', or, 'Bad luck', or just, 'What's for dinner?'
So you know there's a life outside the game and a life after the game.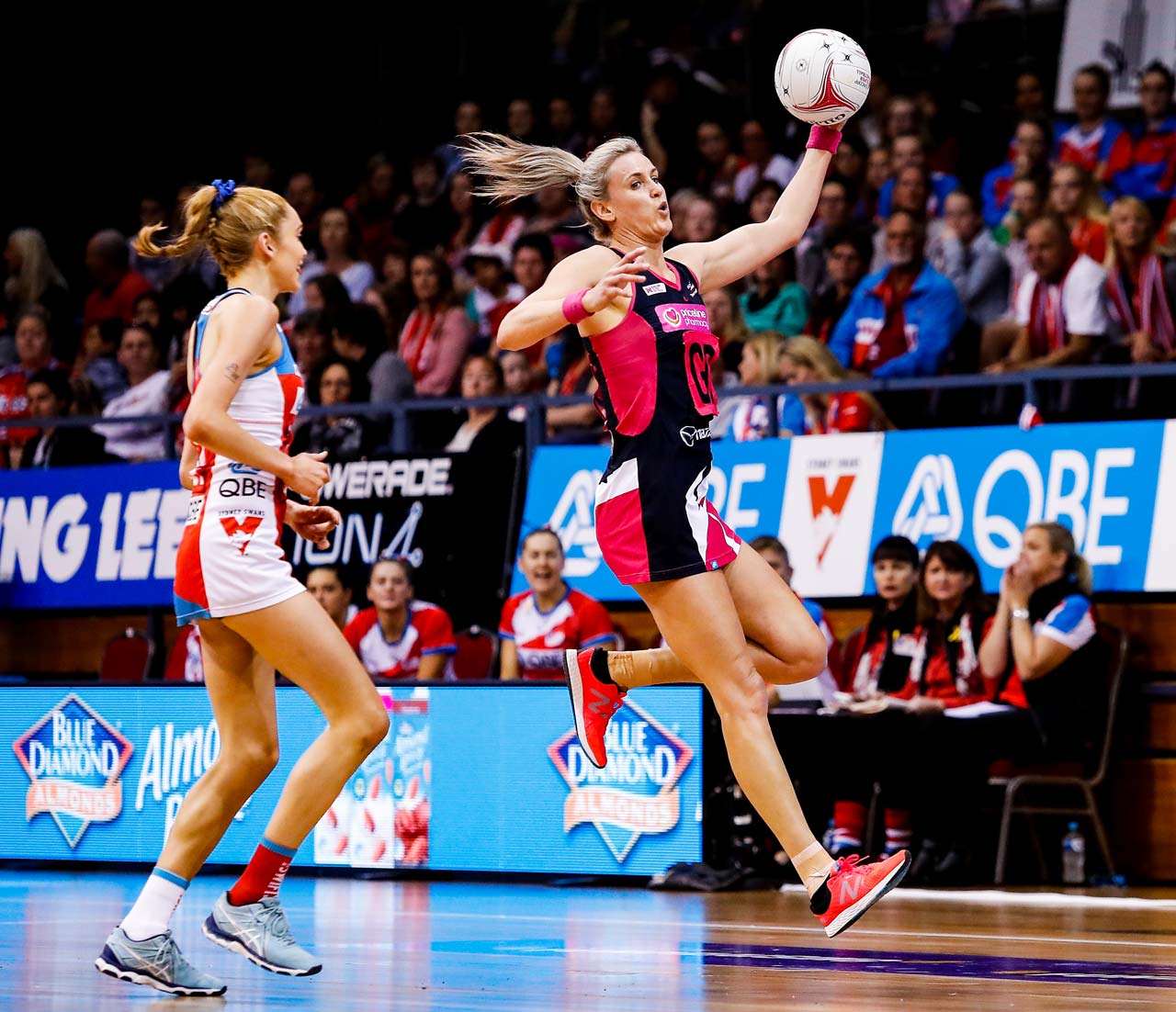 Recovery-wise, it's obviously harder. Your mind still wants to train like a 20-year-old, but the reality is you just have to be a lot smarter in your training and trust that what you've done over the years will get you through. I love running, and I love being fit, and that's definitely something that's kept me in this game for so long. I haven't – touch wood – been cursed by many injuries, and I'm pretty sure it's because I've been quite fit over all these years.
In the future, I would like to help younger athletes achieve their potential because I didn't always have it easy. I had to work really hard. I could have given up a few years ago, because it is tough when you get dropped, or when things don't go your way, or you lose all the time.
I think I can help younger athletes through what I've experienced in my career that worked and that didn't work. All that accumulated 'wisdom' would go to waste if I didn't!
So is this my last season? How did I know this was going to come up? Look, I'm definitely getting closer to the point of going, 'You know what, yes, this is probably it'. But I don't know.
Now that the Thunderbirds are playing better, there is still that, 'Oh my gosh, we could probably be even stronger if we just stay together next year'. But there's a lot of factors to consider as to whether I will play next season or not.
At the moment, I'm just trying to concentrate on making it through this one.
More about: Adelaide Thunderbirds | Diamonds | England Roses | Gold Coast 2018 | Liz Ellis | Silver Ferns | Sponsored | Super Netball | teamgirls