Apologies to the coaches I stalked
To all those coaches I stalked for six years, I apologise.
I'm sorry for bombarding you with my resume and clips of me playing, for all the phone calls and emails during the national league contract periods.
But I hadn't received any offers in the six years since my one season with the Queensland Firebirds in 2010, so I just thought I'd leave no stone unturned. I thought I'd rather go through the awkwardness than be left wondering: if I'd done this or that, just done something more, would it have made a difference?
It was really hard. In 2016, I remember saying to my mum, 'Oh Mum, I don't know if I can do this again. It's just getting a bit ridiculous, sending emails, calling all these coaches. Maybe it's time I realised that ship has sailed?'
I was pretty emotional talking to her about it and Mum just said, 'You'll do it'. I was like, 'What?'. She said, 'You wouldn't be this upset about something if it didn't still mean that much to you'. So Mum was right, as usual. Mums always are.
Mum also reminded me there were more Australian teams in Suncorp Super Netball than in the old ANZ Champs, so more opportunities, and told me I'd be silly not to put myself out there. And it was good timing, because I'd got the passion and enjoyment back in my netball again.
So sure enough, I did it. I tried again. And then three months later, I got a call from Noeline Taurua offering me a contract with the Sunshine Coast Lightning.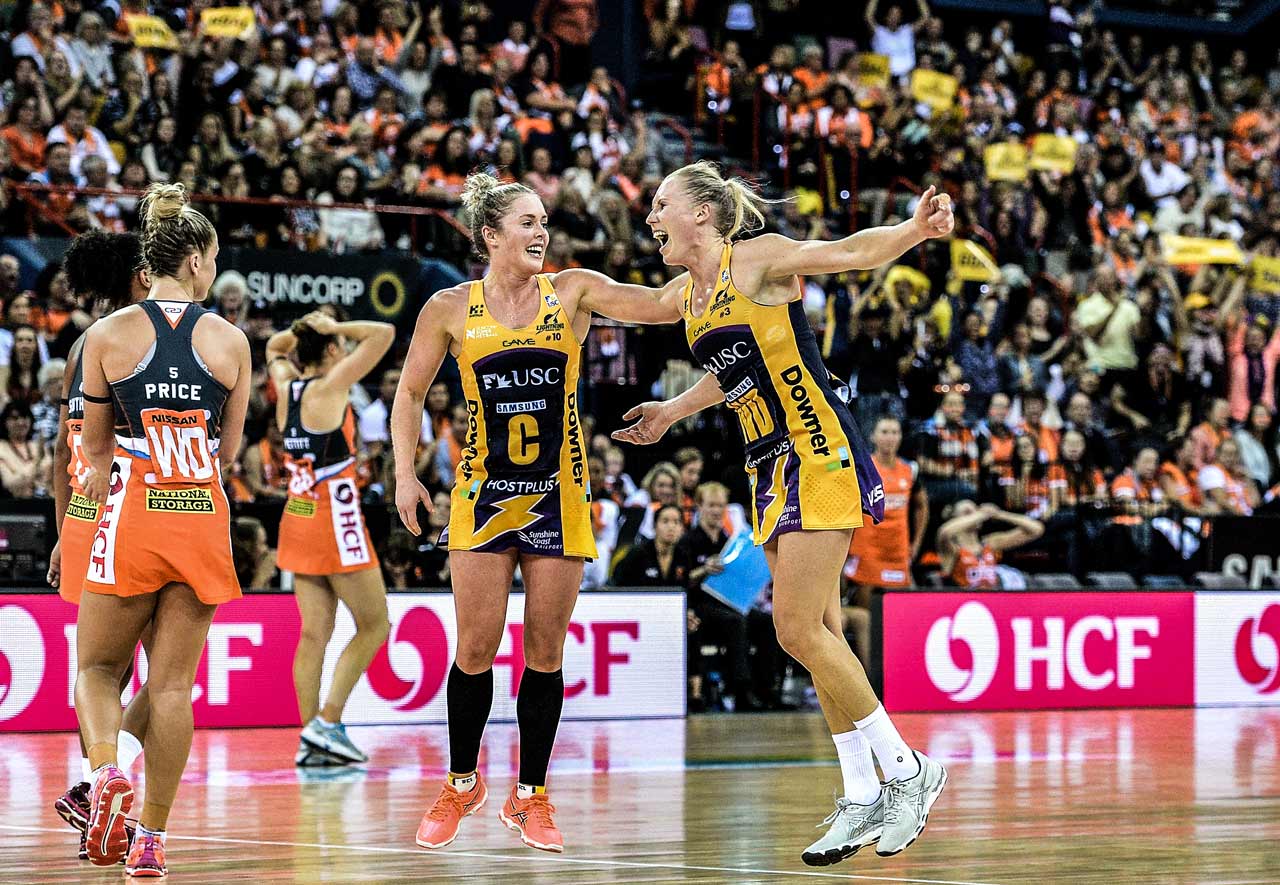 PROVING MYSELF
You can say it's like sending 50 publishers a manuscript of your first novel and getting 50 rejections. It's totally like that. Except that it happened to me for six years. That's not just a first novel.
I got quite a few nice replies, but some of the coaches I called would be like, 'Who are you?', and I'd be, 'Well…' and then I'd have to explain myself. Most would just email and say, 'Thanks for sending through your stuff, thanks for your interest, we'll keep you on file'.
Some of the New Zealand teams would even be like, 'So, do you have a New Zealand passport?', and I'd be, 'No, but how could I get one?'. So that sort of thing, but no-one offering me a contract.
Until 2016, when I got the call from Noels.
I was working as a manager at Flannerys, which is a chain of a health food stores here in Queensland. I was in my office and naughtily answered my phone. Noels didn't even say her name at first, but then she was offering me a contract and telling me about payment and she was like, 'Does that sound all right? Or do you want to think about it?'
And I was like, 'No, look, I will pay you if you want me to!'
Then I was like, 'Sorry, but who is this?' I kind of knew by the thick New Zealand accent, but I just wanted to make sure it wasn't a joke call or something. I was so excited. I rang Mum straight away.
You can say it's like sending 50 publishers a manuscript of your first novel and getting 50 rejections. It's totally like that. Except that it happened to me for six years.
I do feel like it was meant to happen. I'd had that taste of playing netball at this level back in 2010 and it was as if I hadn't finished something, like I wasn't done with it.
I wasn't re-contracted in 2011, and that's fine; things like that happen all the time. It probably wasn't the right environment or fit for me as a player or a person then, and even though it really sucked, sometimes things happen for a reason.
I've always had that passion for netball, and I probably had to find why I really loved it again in between these two national league contracts. Because of those experiences I have a better understanding of what I actually love about the game.
Sure, I love the feeling of when the ball moves so super-quick up and down the court that you don't even remember catching and passing it, or when you take an intercept that no-one saw you coming for. But it's more than that for me.
It's that feeling of achieving something super-amazing with a bunch of special people, it's about being around people who appreciate your unique qualities, and just being in an environment that builds confidence and makes you better. That's what I actually love about netball, and that's why I needed to keep working hard and wanting to play at that level again.
I don't think it was my game that was lacking so much as the way I approached it. At that stage, I was always trying to be better and achieve things rather than just being in the moment. I had six years to reflect on that.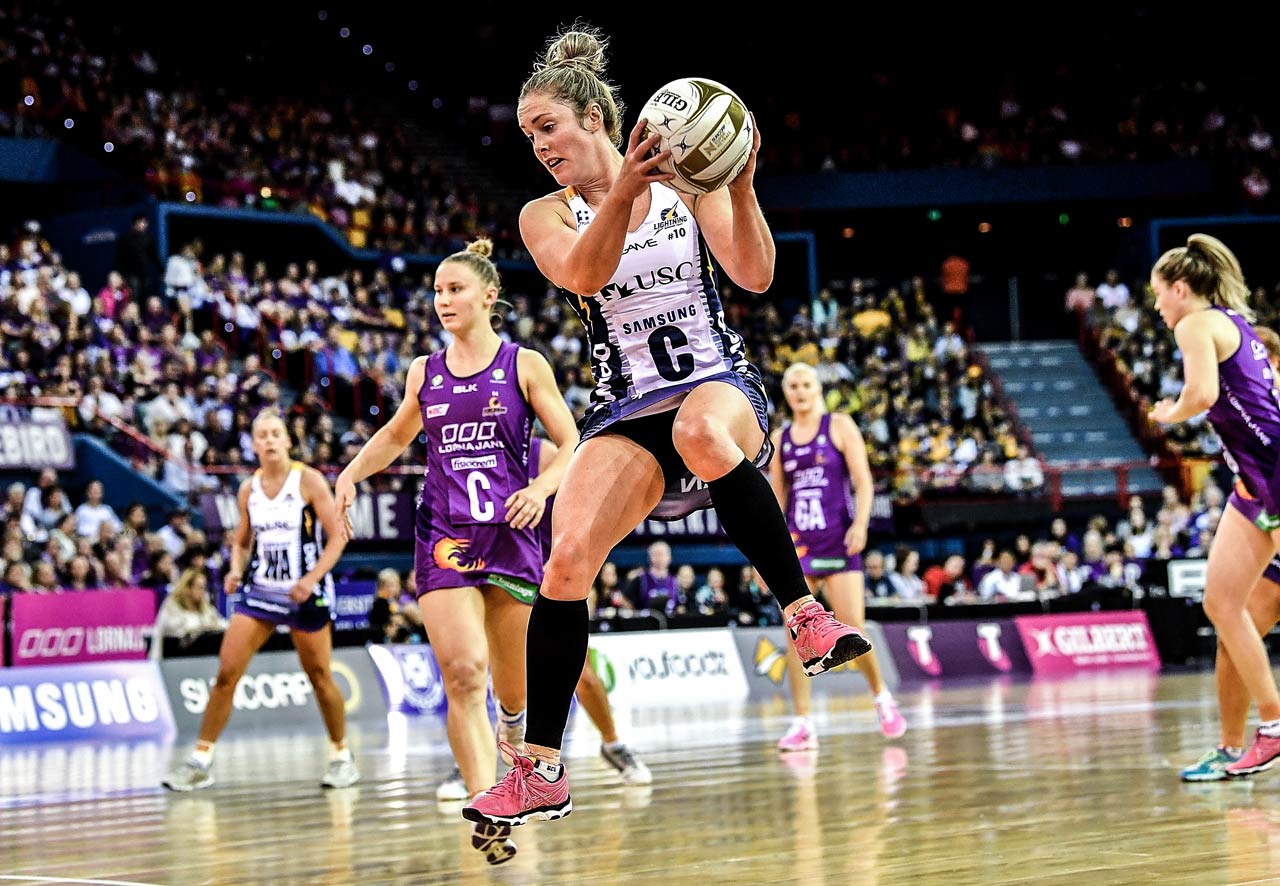 CONQUERING NERVES & DOUBT
I would literally feel sick about going to Firebirds training because I didn't want to mess up the opportunity I'd been given. I spent that whole year playing and training on nerves and being too concerned with making mistakes and trying to prove myself, rather than just enjoying the experience of playing with a great bunch of girls.
That was totally my issue. I created it. Sure, there were other external factors going on that year which contributed but at the end of the day, it was me battling myself.
The first few weeks with Lightning, it started happening again. I would feel sick going to training because I didn't want to mess up this second chance I'd been given. But I remember coming to week three and thinking, 'There's something super special about this team and this club and I don't want to go through this year like I did with the Firebirds'.
It wasn't about me being successful, it was about what I could contribute to the team's success. That was a real turning point.
Noels is such a great people manager. The first one-on-one coach meeting we had, I took in all these notes because we were meant to be sharing our goals and all that jazz, and the first question she asked was, 'Well, what are your strengths?'
She obviously didn't know me from a bar of soap. Although, of course, like every coach, she'd have seen a few of my videos!
I was like. 'Oh, shit, I don't know. I haven't written this down. I haven't prepared for this'. She was like, 'Well, you need to know what you're good at on court so you have something to go to when you really feel like you need to do, and we can build from that'.
'There's something super special about this team and this club and I don't want to go through this year like I did with the Firebirds'.
That positive approach and the way Noels talks to her athletes is what I needed at the time. She's definitely developed my game in that wing attack/centre role so that I feel confident in what I have to bring to the court in both these positions.
I always had belief in myself and my ability; it was more that I was worried I wouldn't be able to prove it to others. But that's not how it works. You can't go through like that, so at that week-three point I realised, 'I'm going to have to just get out here and do my thing'.
What it came down to was that the environment I was in allowed me to be myself. I'm so happy on and off the court, and what's truly special about this club is that it allows everyone to express themselves as individuals.
Of course, at the start, there was an element of wanting to prove people wrong, but I also wanted to prove to myself that I was right that I could do this. After those three weeks, I realised what I was actually part of: the culture was amazing and I was like, 'It's bigger than me, it's not about me proving myself, or what others see in me, it's what I have to bring to this awesome environment, so that's what I need to focus on'.
But I'm sure I surprised a few people, and especially that I was playing centre, as well as wing attack. In the past, I'd been told, 'You won't play centre at this level, you're just not the right type for it'. And I guess every time I put on that centre bib now, I have a little chuckle to myself about it. I'm kind of like, 'Uh, I'm in finals at the moment and I'm playing centre!'
My height was a big part of it. At 167cm, I'm actually five centimetres above the average height in Australia of 161.8cm, according to Google – but even so, very early on I decided I wasn't going to let size be an issue for me. My teammate Kelsey Browne is the same. The #167 club, that's what we call it. We've both always known that it never mattered to us.
Is 10-20cm going to make that much difference in a game of netball? Netball is an amazing sport because it's a combination of athleticism, ball skills and court craft, and the best players are not dominant in any of these; they're the ones who are smart enough to use their strengths in all those areas and combine them with their teammates.
I've definitely been told stuff like, 'Your height lets you down', or, 'I think you're just a bit small', or, 'I'm not putting you out on court this week because they have a gigantic wing defence', or whatever. 
But I've always thought that's the weakest form of feedback a coach can give. Coaches need to come up with something more constructive and realise that it sounds pretty stupid where there's 14 people on the netball court and one little ball flying around. There's so much more that comes into it than body type and height.
I decided my size only meant I needed to improve in other aspects of my game, to make sure that height was only something we saw when we lined up before the start of the game and was then forgotten as soon as I started playing.
For Noels, it's never been, 'You're too short to do this'. It's been, 'How are we going to play this to best suit you?'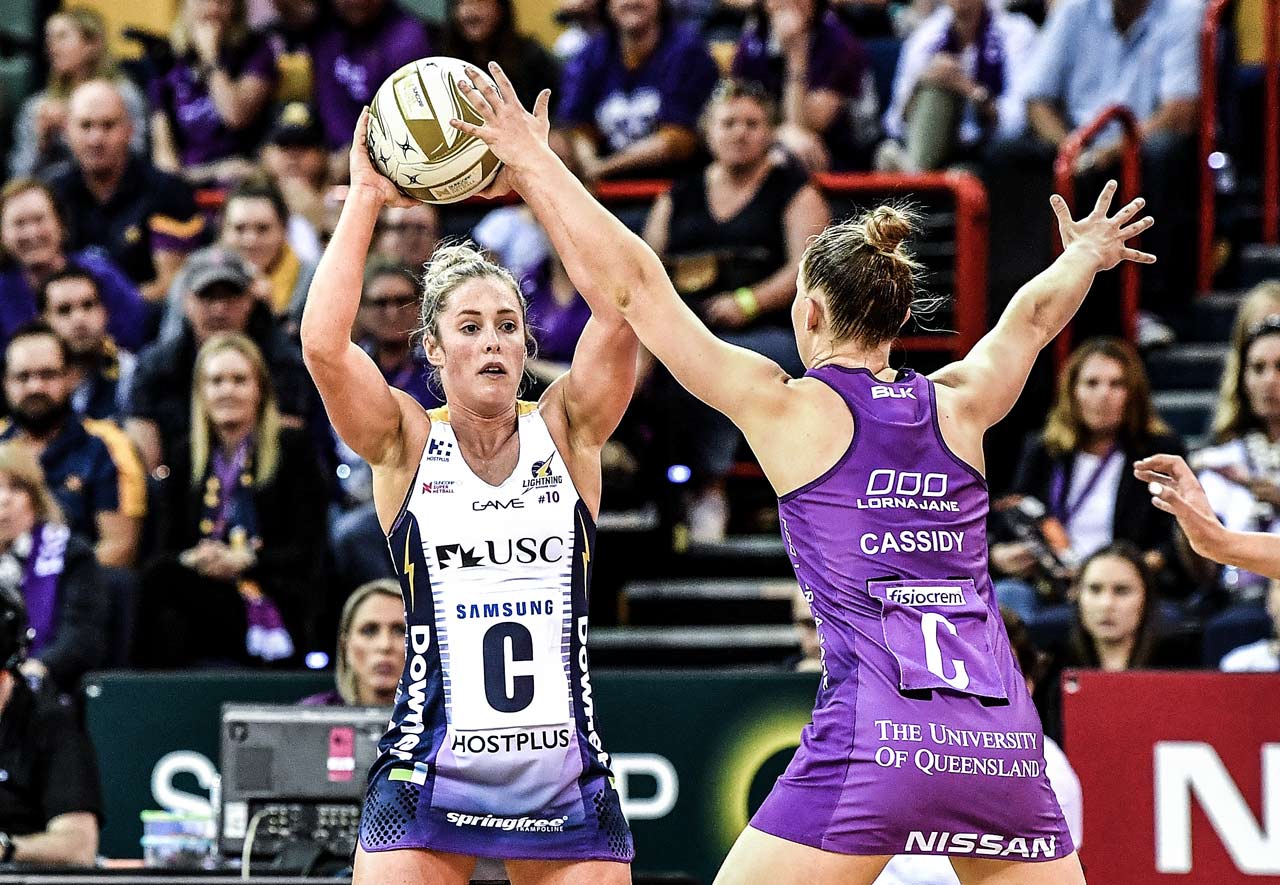 WHAT I'M NOT SORRY ABOUT
I was the last player the Lightning signed. I was No.10. I love my No.10; I was the only one with double-digits that first season. I definitely just snuck in there but I love the Sunshine Coast. I love being here, so hopefully that's the pathway forward for me.
I'm 30, but to be honest, I feel like my knees are maybe a 23-year-old's. Or not even! My body feels really good and six years is a long time to refresh yourself!
I got invited to my first Diamonds camp last year, which was pretty awesome. Then I was invited to a Fast5 camp and made a reserve for Fast5. I don't think you'd play at this level if you didn't ever want to play for your country and of course it's been a dream of mine, but at the moment, I just feel so lucky to be where I am and enjoying my netball so much.
Sure, I'd take the Aussie call-up any day, but I'm just concentrating on finals at the moment and what's right in front of me.
To be a new club and ride the wave together to win the Super Netball championship in that first year was absolutely amazing. We had a tough start to this season, but we were only losing by one or two goals, so we weren't that far off.
We had to win our last five games to make finals, so we did cut it a bit fine! I think Karla Pretorius described it best when she said, 'Some teams like to take the highway, but we're enjoying taking the scenic route this year'. To only win by one in last week's minor semi against the Firebirds was pretty special, as well.
We won't have any home finals this year but we're just so excited to be in this position; to play any final, wherever it is.
Sometimes I wonder if it's all really true. Has this happened to me? But I do feel like I made the most of my time in between contracts and I learnt a lot about myself. It definitely was the time for reflection and evaluation. I never lost my desire, but I also think I needed to experience and appreciate the life that I had outside of netball and just be more balanced.
There's no reason why we can't go back-to-back. It's going to be tough out there on Sunday; Giants are an amazing team. But it's a good match-up and I think it's going to be an awesome game.
I'm loving every minute, and what I'd like to say to all those coaches I pestered is: what I'm not sorry about is that I persevered.
More about: Fast5 Netball World Series | Giants netball | Queensland Firebirds | Resilience | Sponsored | Sunshine Coast Lightning | Super Netball | teamgirls | Women's Sport