The first time I met Johnathan Thurston I was too nervous to say hello.
It was 2008, maybe 2009, and I was a student at Ignatius Park College and a member of the Cowboys academy team. We toured the Cowboys sheds after a training session and JT was the only senior player in there, standing in front of the same locker he uses today.
He did all the talking that day. I could barely get a word out.
A couple of years later, I was a member of the Cowboys' under-20s squad that made the grand final against the Warriors. We were 14 points down with ten minutes to go but levelled it up on the bell. I had a shot at goal to win the game. I missed. We ended up losing in golden point.
The disappointment stayed with me through the off-season and was still weighing on me when I rocked up for the pre-season. I think JT could sense that when he walked over for a chat.
'Every kicker misses a shot every now and then,' he told me. 'You'll get your chance at redemption.'
It meant the world to me. Here was a legend of the game, a future immortal, taking time to comfort a kid in the under-20s who was hurting. It says a lot about the kind of bloke he is and the kind of team culture we have up here.
And he was right, of course.
Four seasons later, I was on the end of a bit of Michael Morgan magic to score in the corner in the last second of the NRL grand final against the Broncos.
More on that later.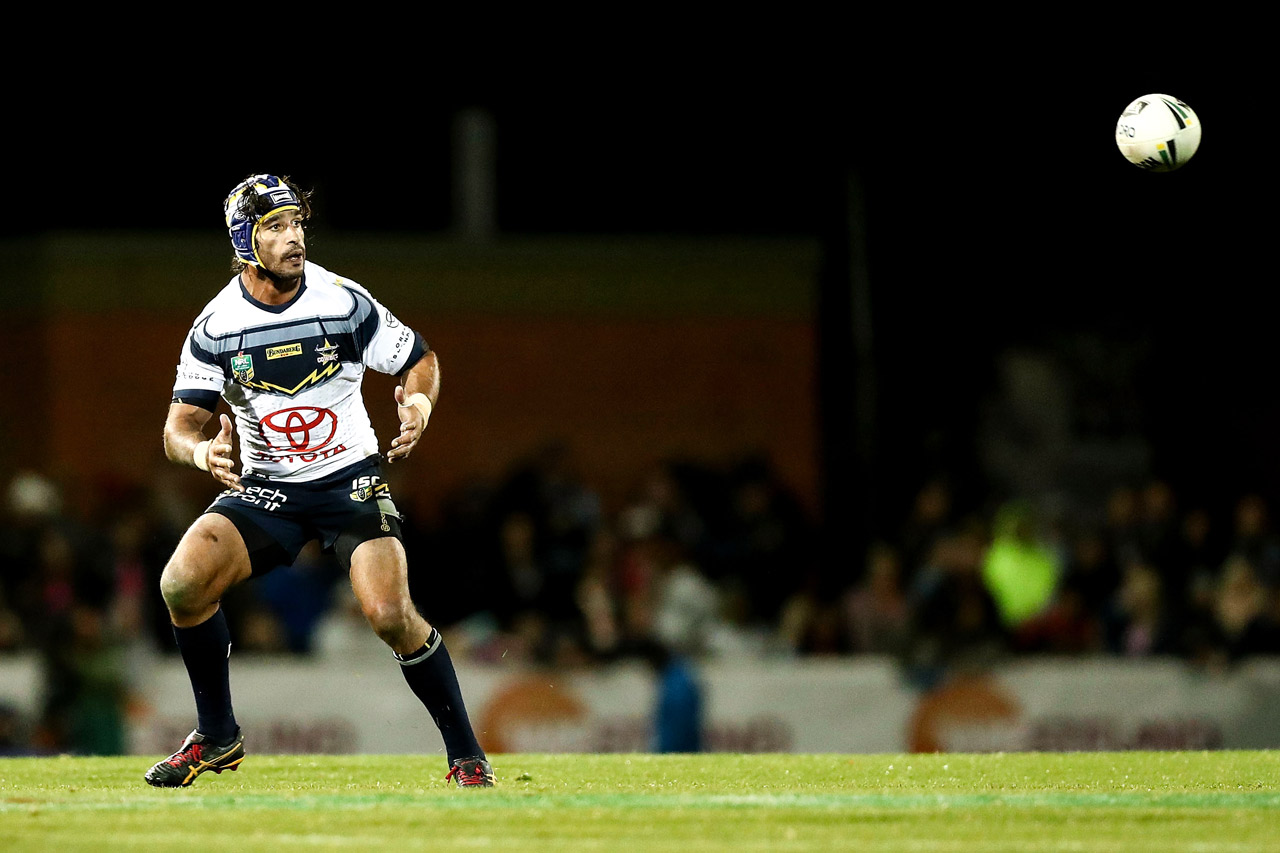 'HE MUST HAVE TWO HEARTS'
I first got to know Johnno, the person, on the golf course. We used to go for a hit at Rowes Bay before his family commitments grew. It gave me the chance to talk to him about life away from footy – and admire his short game.
He's a very handy golfer. He used to play off about 12. He'd pull these miraculous recovery shots out of his arse all the time because he'd slice his drives (the opposite direction to his goalkicking). The one round that really stayed in my memory is the only one he played terribly. Like his footy, he's really consistent on the course, but for whatever reason he shot in the high 90s this one day. He spent the entire round apologising!
It wasn't all cuddles with Johnno, though. There was some tough love dished out along the way.
I remember in one of my early NRL games, I think it was against Parramatta, when I was tackled over the sideline on the fourth tackle. 'Mate, you need more game awareness,' he said. 'We had an attacking opportunity and that's not a good end to a set.' That has always stuck with me.
There was another game early on against Penrith when he made a break down my side. We were going for the corner and I should've stepped back inside to take on Matt Moylan. But I didn't. Johnno gave me a look. 'Back yourself,' he said. 'That wasn't the time to go on the outside.'
None of this was meant to be harsh. It was his way of making me better, of seeing the game the way he sees it. He's up there with the greatest ever readers of the game. You'd have been mad not to listen.
Here was a legend of the game, a future immortal, taking time to comfort a kid in the under-20s who was hurting. It says a lot about the kind of bloke he is.
It's a pretty cool feeling standing on the end of the backline when JT's got the ball in his hands. It feels like it takes an eternity for the ball to get out to you in real time but, when you watch the replay, it's only a couple of seconds.
The excitement builds as the ball passes through each set of hands, or as he swerves around defenders. If you're lucky enough, you'll latch on to the end of a Johnno pass or a kick and score. You always hear commentators raving on about how good his vision and skills are on TV. Standing in the same backline, let me tell you, they're even better.
Standing all the way out on the wing, I can hear him marshalling the big boys, positioning them where he wants them, setting up the next play. His organisation is second-to-none.
He's always moving, always talking. He runs, not walks. He never stops. I don't know how he does it.
He's got too much energy. He must have two hearts.
REAL LEADERSHIP
The whole 2015 grand final was a blur. It happened so fast.
After Morgo slipped me the pass to score in the 80th minute, I remember Jason Taumalolo grabbing me and shouting in my ear, 'This is not going to happen again! It's happened to us once before! Not today!'
Jason and Morgo were in the same team from the under-20s that lost the grand final to the Warriors in 2011. We all remembered the pain of that day.
We got into a huddle while Johnno was lining up his shot at goal. Gavin Cooper and Matty Scott told us, 'Whatever happens with this kick, we'll deal with it. If it misses, we'll be ready for golden point.'
JT is one of the most accurate goal-kickers in the game's history, but that big hook he gets on the ball always makes it interesting. When he's kicking from the left-hand side you're always pretty confident, but not as much on the right.
This kick was from the right touchline and, from where I was standing, it looked like it was going through. I started running over to him, thinking we'd won, and so did a few of the other boys. Then it hit the post. My first thought was, 'Shit, not again.'
But before negativity had a chance to sink in, Johnno trotted over after the coin toss to talk to the team. He was cool, focused and determined. It wasn't one of those 'THIS IS THE BIGGEST MOMENT OF YOUR LIVES!' speeches from the movies. Instead, it was to the point and exactly what we needed to hear.
'We're kicking off and running that way,' he said. 'We had them on the ropes in those last five minutes. We've got a big opportunity here. They're going to receive the ball. It's up to us to turn the screws on them down there.'
He's always moving, always talking. He runs, not walks. He's got too much energy. He must have two hearts.
We got the ball back from the kick-off. From that moment on, Johnno went straight to work organising, planning, trying to break free for a shot at field goal. We tried one straight off the scrum and he got whacked pretty hard. A few plays later, he nailed it.
To me, that's real leadership.
He looked at his group of players and assessed the situation. We were all buggered after 80 full-on minutes. The previous couple of seasons had ended in close finals defeats for the Cowboys, and then there were those of us who still carried those memories of 2011 with us.
He summed it all up. He made sure we kept our cool.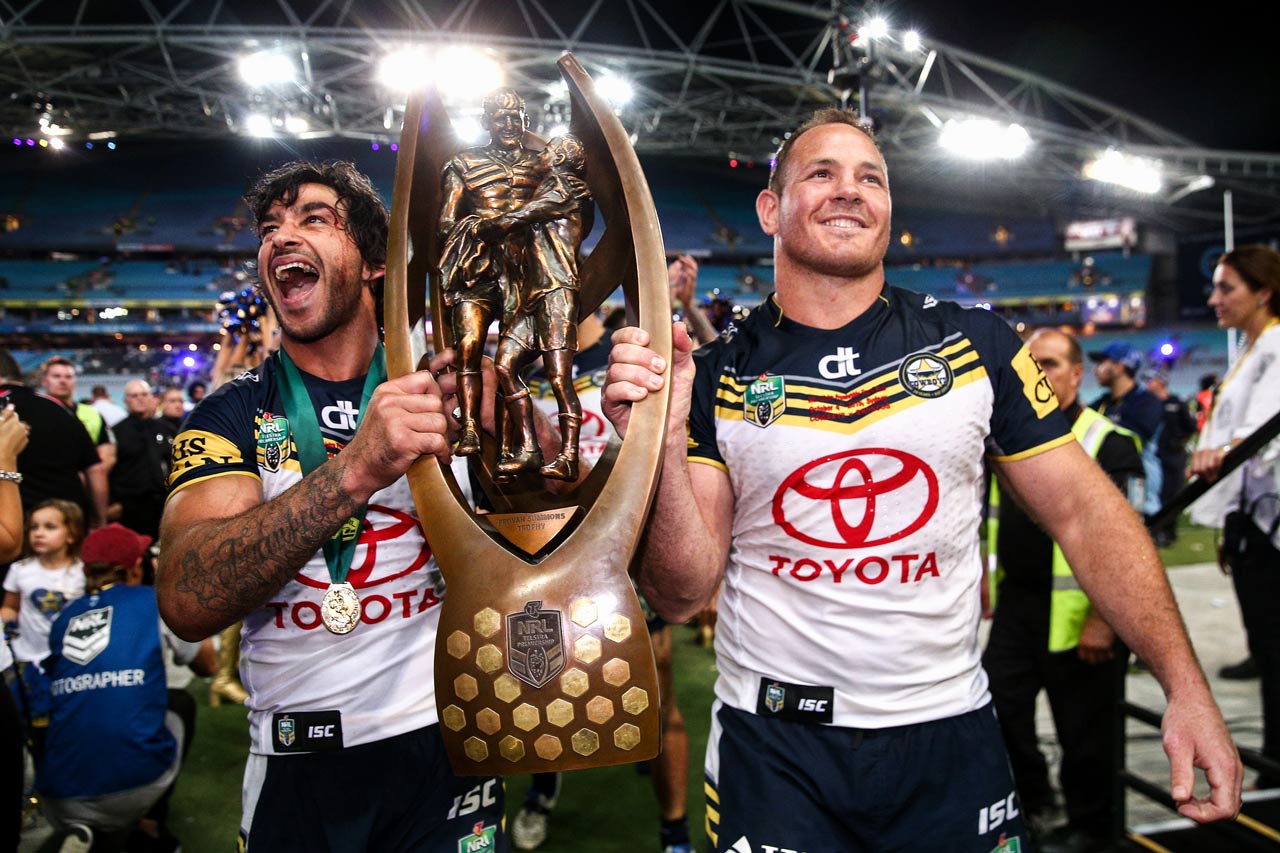 THE LAST GOODBYE
It really hit me after our round 22 game against Brisbane that Johnno was leaving. I'm not quite sure why it was that match. Maybe it's because of the rivalry we have with the Broncos, or because it meant we had entered the last month of the season.
Whatever the reason, it's stuck with me through every game since.
It's going to be strange reporting back for pre-season this summer without him there. He's been with me throughout my whole career. It's something I'll be telling my kids about for years to come. How lucky am I that I've been able to watch one of the great rugby league careers play out from a few metres away?
It wasn't a surprise when JT told us he was retiring – the word had been around for a while – but that didn't make it any less emotional.
It happened in the team room before a video session earlier this year. He stood up without any fanfare and told us, 'I'm going to hang them up after this season.'
You could tell it was a tough thing for him to say out loud. The boys were feeling it, too. No one wants to retire from something they love. There are plenty of jobs out there you can do forever, but footy isn't one of them.
We wanted to send Johnno out on a high this season and, unfortunately, it hasn't panned out that way. But we can still do something about this last game against the Gold Coast. There's no shortage of motivation.
I suspect we'll all take a bit of time over the summer to reflect on our own individual memories of JT and think, 'What an opportunity that was.' We've won a grand final together, played in another and shared so many memories along the way.
And at the end of it, we'll be able to say the five words that only a very fortunate few in this great game of ours can:
We played with Johnathan Thurston.
More about: Brisbane Broncos | Grand Final | Jason Taumalolo | Johnathan Thurston | Kyle Feldt | Leadership | Michael Morgan | North Queensland Cowboys