A performance to be proud of
An impressive performance with plenty to build on.
The Socceroos have really bought into Bert van Marwijk's philosophy and style of play. We frustrated France with our disciplined, compact shape defensively and our physicality. We've come a long, long way since the 6-0 loss to France last time we met them.
It was a performance that exceeded expectations and, in the end, was deserving of a point.
Australia demonstrated the grit, hard work and never-give-up attitude that defines us when we're at our best. The times that we were able to play between the lines, face forward and link up with our wide players was when we were at our most dangerous.
And there was VAR. It's unfortunate when a referee makes a clearcut decision in real time but VAR has the potential to change the outcome. It was more bitter than sweet in this scenario, but something we're all going to have to get used to.
The Socceroos will take a lot from that performance and, while they didn't come away with any points, there is genuine hope of progressing past the group stage. It was a game we can be proud of against one of the best teams in the world.
Sensational effort by the Socceroos.

They can hold their heads up high after that performance.#FRAAUS #OptusSport #WorldCup pic.twitter.com/1bGiAVVIIV

— Optus Sport (@OptusSport) June 16, 2018
STRIKER
Andrew Nabbout had good energy up front. We weren't able to hit his feet and create many clinical chances and lacked a little composure in the final third to get the ball to the striker's line.
There was not much cohesion among our front line.
"I hope they gonna go through the second stage."

Giroud hailed the Socceroos performance.#FRAAUS #OptusSport #WorldCup pic.twitter.com/G4FdNPfyX8

— Optus Sport (@OptusSport) June 16, 2018
MIDFIELDERS
Our midfielders were tightly marked but on transition they were able get in the pockets in between the lines and face forward, finding our wide players or the fullbacks bombing forward to get crosses in the boxes and create goal-scoring opportunities.
That's where we had some joy. Tom Rogic and Aaron Mooy could find each other through the lines. We were patient with our ball movement and play forward in the pockets.
Mathew Leckie was dangerous on the free kicks, more so than Robbie Kruse. The best chance of the first half was a flick-on from him which almost ran on for Trent Sainsbury.
Australia's first GOAL!!!!!!

Jedinak so cool from the penalty spot.

France 1-1 Australia#FRAAUS #OptusSport #WorldCup pic.twitter.com/4jBjm9Rknh

— Optus Sport (@OptusSport) June 16, 2018
DEFENDERS
Sainsbury was our best player defensively. He did really well covering and tracking players against such a dynamic, fast front three for France.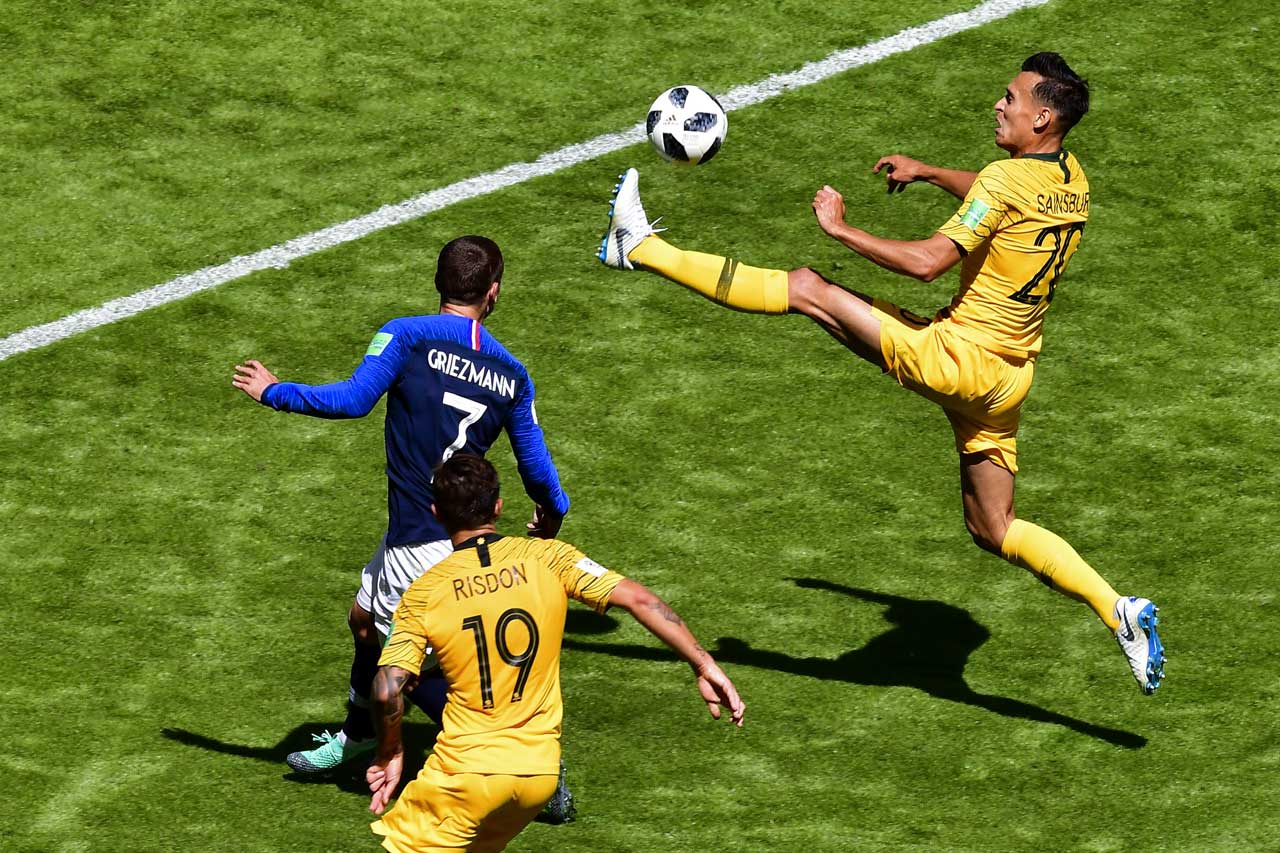 We were organised and disciplined in our shape with a flat 4-4-2 block. We were quite narrow and compact as well. That forced France to have to go wide to get around us and didn't allow them to play through us centrally.
The energy of Aziz Behich and Josh Risdon – to include themselves in attack and do their defensive work as well – was great. Our intensity in closing the ball down, physicality and 50-50 challenges were our strongest points in the game. There were a lot of positives to take from that.
Everyone was on the same page defensively.
A VAR review hands #FRA the spot kick, and Antoine Griezmann makes no mistake.#FRAAUS #OptusSport #WorldCup pic.twitter.com/87jFR7GqwG

— Optus Sport (@OptusSport) June 16, 2018
IN GOAL
Maty Ryan made some solid saves in the first half. Things were pretty crazy at the start of the game and the pressure was on with the Socceroos giving away some early free kicks outside the box from the get-go.
His distribution was good. He's like a deep sweeper in our build-up play. That's one of his strengths – his footwork and distribution. That enabled us to have that outlet each time, for him to switch the point of the attack and build-up.
France's final goal was unfortunate. It was one of those fluke-ish chip kicks in behind. He was anticipating moving out. I couldn't tell from the replay whether he was moving out too early to block the shot. But it was a fairly lucky goal. If he was off his line, it was only by inches. You can't criticise him for that.
Pogba scores over the top of Ryan.

Confirmed by VAR!

France 2-1 Australia#FRAAUS #OptusSport #WorldCup pic.twitter.com/OSof8PlorX

— Optus Sport (@OptusSport) June 16, 2018
WHAT IT ALL MEANS
We can take a lot out of that performance.
The Socceroos were able to keep one of the World Cup favourites at bay for most of the game and they found it hard to break us down. If we can do that against Denmark and Peru, we've got a good chance of progressing.
We are very disciplined with our defensive structure but we need more composure keeping the ball in transition and being more clinical with our middle-to-final-third play.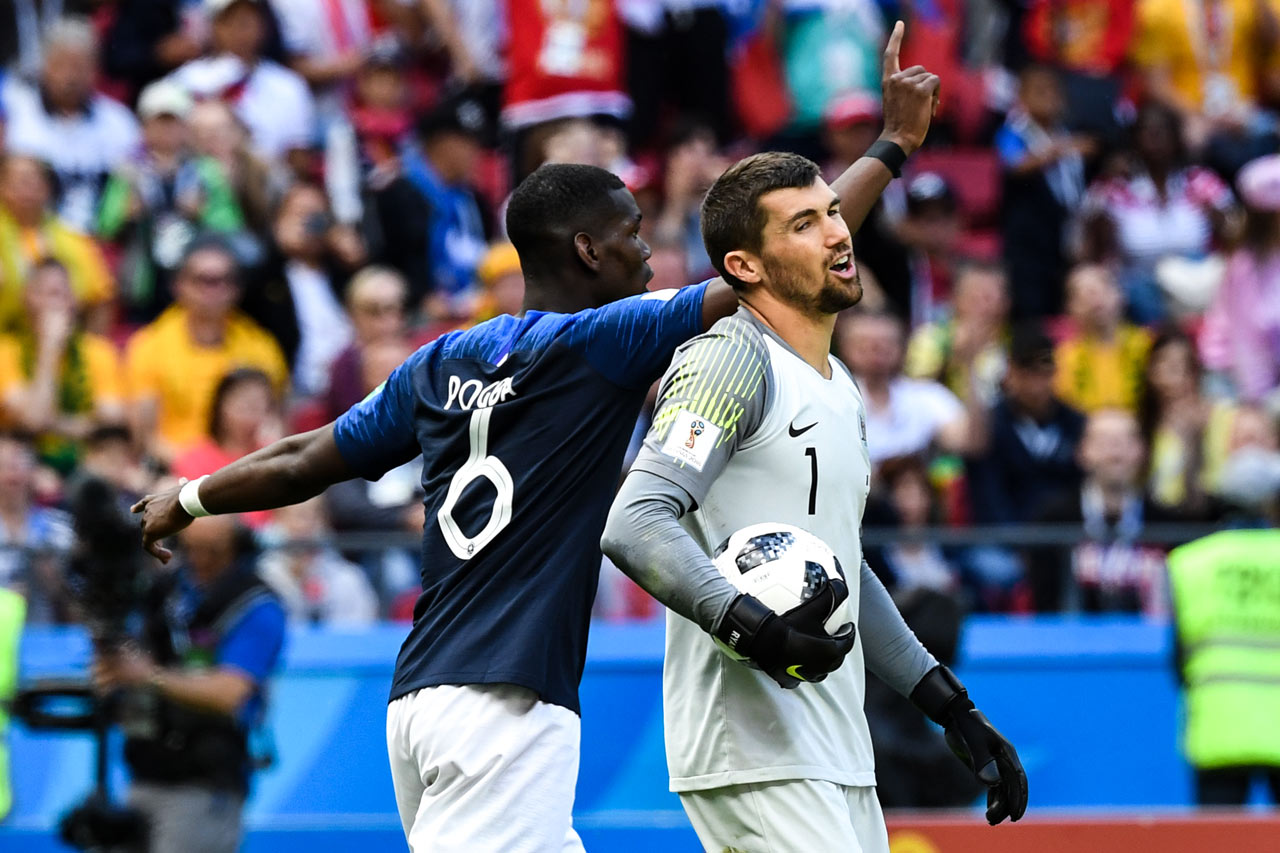 WHAT'S NEXT
France are ranked higher than Denmark and Peru and there will definitely be confidence within the Socceroos from pushing a quality team all the way. We were unlucky not to come away with any points.
France obviously have a star-studded line-up but I feel like they rely more on individual brilliance than team effort. When Olivier Giroud came on the field, he changed things and was able to link up with Paul Pogba, which resulted in their goal.
I expect Denmark and Peru to be more team-oriented than France, which could pose a different challenge to the Socceroos.
More about: Andrew Nabbout | FIFA World Cup | Kyah Simon | Matildas | Maty Ryan | Milos Degenek | Russia 2018 | Socceroos | Tim Cahill | Tom Rogic