When dominance isn't quite enough
It was one point in the end, but the game was definitely there for the taking.
From the back third to the middle third, the Socceroos dominated. Similar to the France game, we created chances but we weren't clinical enough or quite on the same page getting on the end of crosses and in front of goal.
It doesn't feel like there's a lot of cohesion in the front third and that's what's letting us down.
We're great in possession and we're strong defensively but we're missing that clinical touch in the final third to create clearer goal-scoring opportunities. Individually, we're dangerous and if we linked up more effectively that would give us greater impact in the front third.
The Socceroos now have a mountain to climb against Peru to advance out of the group stage.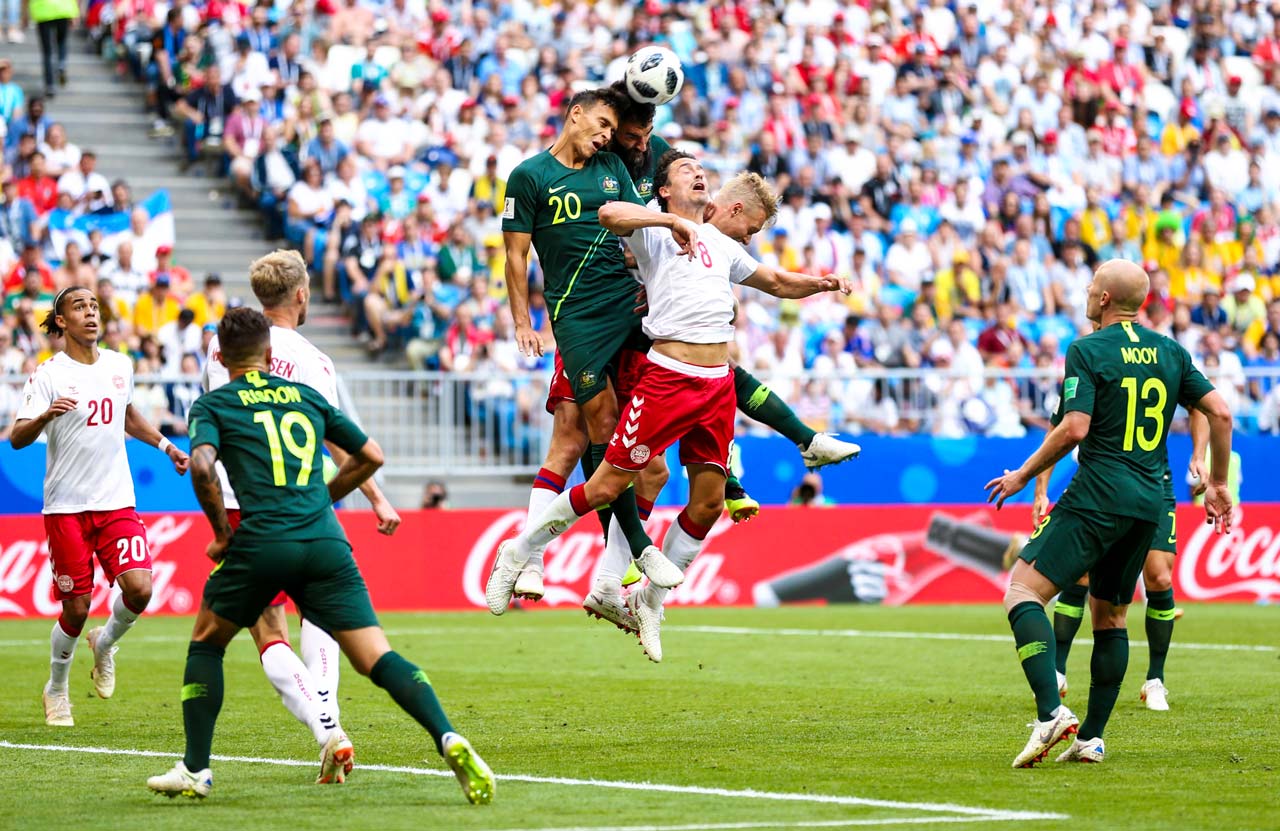 STRIKERS
The Socceroos were effective when Mathew Leckie and Robbie Kruse rotated. There was fluidity with their positions, they could switch sides, and that's hard to mark for defenders.
The energy of Leckie, Kruse and Andrew Nabbout was fantastic. The Socceroos benefited from Leckie and Kruse being able to face up and take on the Danish fullbacks.
The Aussies were also a lot more effective in finding Nabbout's feet than in the first game against France. Nabbout was coming deeper to get the ball and that enabled us time to get numbers forward. He did well holding the ball up and being available to hit.
Leckie was dynamic – sharp and hard to handle for Denmark's defenders. Along with Tom Rogic, he was Australia's best player.
Daniel Arzani was absolutely brilliant off the bench. With the Danish defenders tiring, he was the perfect sub to make. He brought energy, he took on defenders one-on-one and showed incredible flair and confidence in the front third. 
It's amazing to see a player his age performing like that on the biggest stage in the world.
Arzani again produces the magic- top save by Schmiechel.

Leckie follows up with a good chance too.

Denmark 1-1 Australia#DENAUS #OptusSport #WorldCup pic.twitter.com/CcM5cjCeiR

— Optus Sport (@OptusSport) June 21, 2018
MIDFIELDERS
Mile Jedinak, Aaron Mooy and Tom Rogic were dominant and able to control the game, playing close and linking up with one another.
All three played with confidence and were effective in finding Nabbout's feet. That gave our fullbacks and wingers time to get forward and support Nabbout as he held up the ball.
Jedinak, Mooy and Rogic were also defensively strong in winning first and second balls and intercepting Denmark's passes in the centre of the park. That made for a great opportunity for quick transition.
They dictated play for most of the game. That's what you want from your midfield. Against a quality side in Denmark, that's a real credit to their composure and confidence to earn the right to go forward.
VAR decision confirms a penalty for the Socceroos and Captain Fantastic, Mile Jedinak puts it away again.

Denmark 1-1 Australia#DENAUS #OptusSport #WorldCup pic.twitter.com/mJYycxQWMx

— Optus Sport (@OptusSport) June 21, 2018
DEFENDERS
Mark Milligan and Trent Sainsbury were composed in possession, doing well to link up with Jedinak and Mooy in build-up.
Josh Risdon and Aziz Behich did well giving us width and adding numbers forward, linking up with our midfielders and Nabbout.
Milligan and Sainsbury had trouble dealing with the strikers and Christian Eriksen running in behind and not being able to track them. Fortunately, the ball skidded on to Maty Ryan more often than not.
Behich and Risdon were defensively solid especially in their one-on-one duals.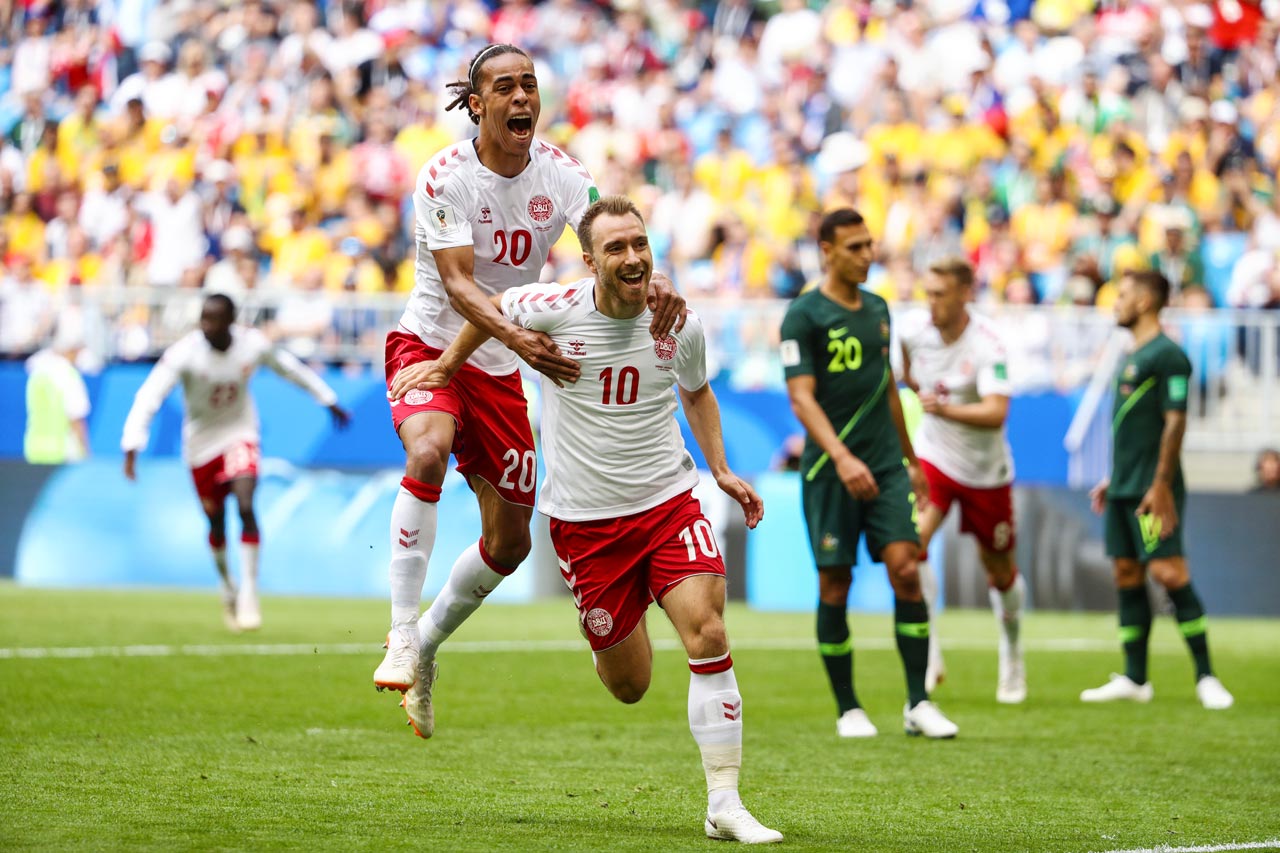 IN GOAL
Maty was consistent with his foot work and gave us stability in our build-up, enabling us to switch the point of attack.
He also had the guts to split the Danish strikers and play our defensive midfielders through the middle, generally Jedinak and Mooy.
He was fairly sound in goal. The only times he was tested were off set pieces and he dealt with them well. There wasn't much he could do about Eriksen's goal with a point-blank volley.
Cracking half volley by Eriksen gives Ryan no chance.

Denmark 1-0 Australia#DENAUS #OptusSport #WorldCup pic.twitter.com/3kPvb38NK8

— Optus Sport (@OptusSport) June 21, 2018
WHAT'S NEXT
It's simple: Australia must win.
Other results will have to fall our way, which is never ideal, but that's the position we find ourselves in.
There's a nothing-to-lose mentality going into the final game against Peru and that will give the Australian players confidence. There's less risk because winning is the only option. There won't be much doubt in the players' minds.
I imagine Australia will set the defensive block a little bit higher, and our defensive shape will be a little more aggressive. Bert van Marwijk will give our wingers and wide midfielders more of a licence to start higher up and pin their fullbacks back a little bit more.
Structurally, it will be more of an aggressive press higher up the pitch.
Peru pose a different threat to Denmark. That will be a tough game in terms of intensity given the fast game that Peru play. Against Denmark, they were quick on transition. Going into the third game, the Socceroos won't be as fresh as they were against France, so that's obviously a challenge.
More about: Andrew Nabbout | Daniel Arzani | FIFA World Cup | Maty Ryan | Mile Jedinak | Russia 2018 | Socceroos | Tom Rogic