The kids who saw too much
I feel like I saw the best and worst of America in the space of a few weeks.
My team, the Houston Dash, visited Santa Fe High School five days after a gunman killed eight students and two teachers on campus in May. We were there to meet with the students, chat to them and hopefully provide a welcome distraction from the horror they'd just lived through.
I've never experienced anything like it. There were teenagers, kids, walking around on crutches and wearing bandages, who had obviously either been shot or had hurt themselves trying to escape. My heart hurt for them and their families.
It was like something out of the worst nightmare you could imagine.
It wasn't our job to be counsellors – there were professionals for that – but rather to brighten the students' day by asking them how they were feeling, maybe talk about the soccer and hand out tickets to a game, if they felt like attending.
The players talked on the way there about the kind of things we should and shouldn't speak about. The last thing we wanted to do was to inadvertently say something that upset people, so we kind of agreed on how we would handle the conversations.
We walked into a big room. There was something like 1,500 students there. Because it was so soon after the tragedy, it was the first time a lot of them had all been together in the same place. There were round tables laid out for people to gather around, but a lot of the students were walking around consoling each other and hugging.
They'd lost friends. Quite a few more were still in hospital being treated for their injuries.
We tried to do anything we could to put a smile on the kids' faces – a chat, a photo, an autograph. If we cheered one person up, it was worth it.
The whole Houston community wrapped their arms around the students, the teachers and their families. We were just playing our small part in the healing process. It's something I will never forget.
There were teenagers, kids, walking around on crutches and wearing bandages, who had obviously either been shot or had hurt themselves trying to escape. My heart hurt for them and their families.
Less than two weeks later, I received a reminder of all that was good about the US.
The Special Olympics is something close to my heart. I have a nephew with autism and I love him to bits. So when they asked around the Houston Dash if anyone wanted to come down and meet the Houston Dynamo Unified team, I volunteered straightaway.
It was one of those really cool, uplifting experiences in life. The players' jerseys had their names on them and they just lit up. Their names were above the lockers, too. It was one of the highlights of my year getting to meet and hang out with them. I reckon I got more out of it than the Unified players did!
So, yeah, it's a crazy time in the US right now. I've always tried and stayed away from watching the news if I could help it – it's a lot more in-your-face than back home – but it's hard not to notice what's going on at the moment.
That said, for all the good and the bad, I love this place. It's a second home to me. I fit right into the lifestyle whenever I am in the States. I've been doing it for so long. Being here just feels normal now.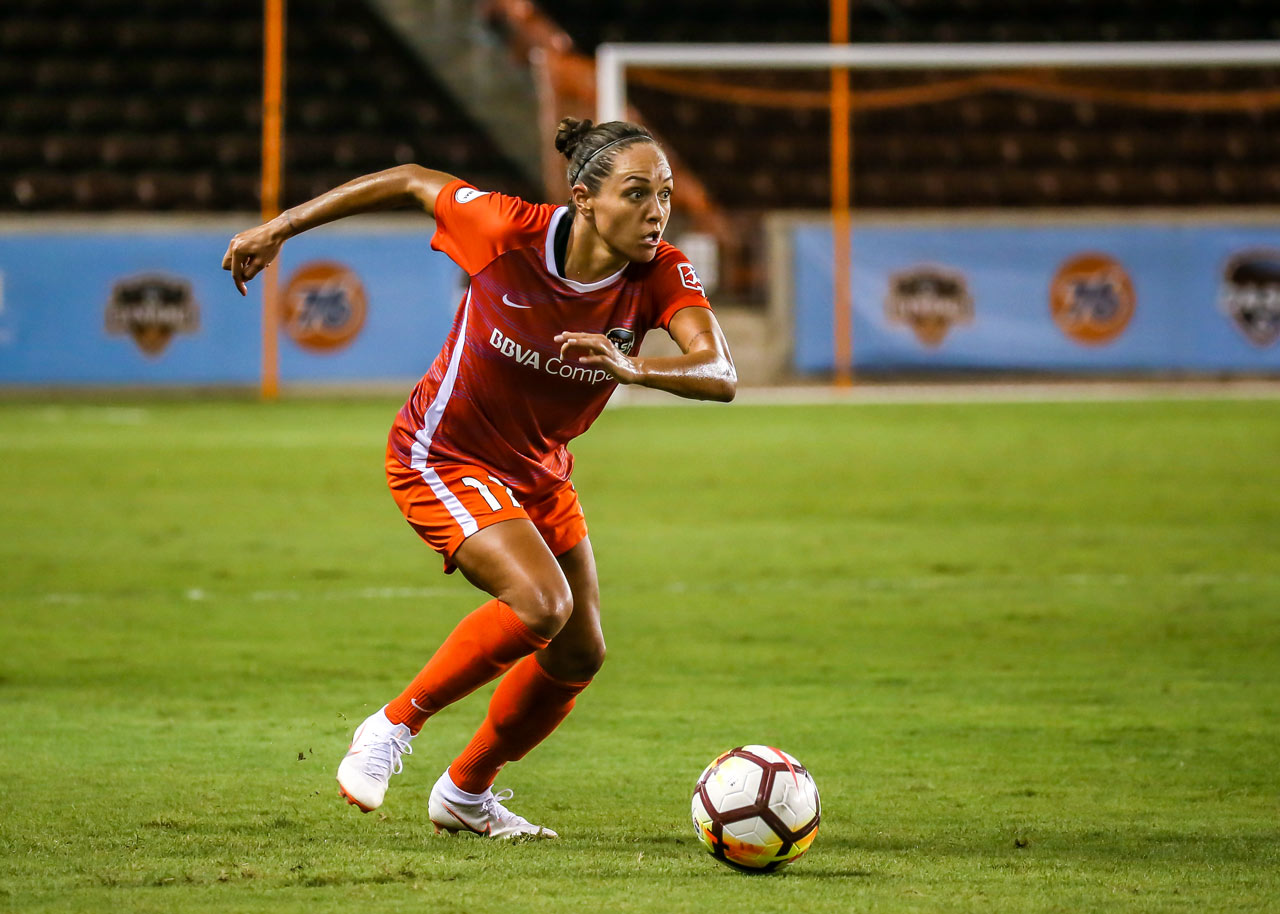 THE ESCAPE ROOM
It's brilliant being back in camp with the Matildas for the Tournament of Nations. There are good vibes around the squad. You can feel it. And for those of us who've been playing in the NWSL, it's nice to be playing in an international tournament without having to deal with jetlag!
We've been based in Kansas City and one of the first things we did was visit an Escape Room.
If you haven't been to one, you should check it out. It's all about working as a team, leadership, problem solving and ultimately figuring a way out of a room in a set amount of time.
We were split into four groups – two groups of players, two groups of coaches and staff. Our group was made up of Lydia Williams, Elise Kellond-Knight, Lisa De Vanna, Mackenzie Arnold, Sammy Kerr, Larissa Crummer, Amy Sayer, Hayley Raso and me.
It's brilliant being back in camp with the Matildas for the Tournament of Nations. There are good vibes around the squad. You can feel it.
We were locked in a room that was like a dream-sequence, bedroom-type setting. The whole room was upside down. The TV, the chest of drawers, the dresser … everything. All upside down. Off to the side there was a room with a toilet bolted to the side of the wall.
We had to solve a bunch of maths questions and little challenges in order to escape. Lyds and KK took charge. They'd done something like this before. Macca, Sammy and I were usually found at the back of the group having a laugh. I'm not sure how much value we added to the process!
It all worked out for the best. We answered the questions, a key popped out and we escaped with about 15 minutes to spare. One of the other groups had a murder mystery to solve. They got out with quite a bit of time up their sleeve, too.
Team-building exercises aside, we've been gradually building up our training intensity. A lot of the girls played for their respective club teams on the weekend so Alen Stajcic and the coaching staff have eased them back into it.
It definitely helps coming out of the NWSL season. We're used to the conditions and we're familiar with quite a few of our opponents. We do it so much now. It's become second nature to switch out of club mode and adapt to the philosophy and style of the Matildas and what Staj wants from us.
We can obviously take some confidence out of winning the Tournament of Nations last year but, to be honest, it's not something we talk about much. A lot can happen in football in 12 months. Form comes and goes, injuries happen and squad changes all play a role in a team's performance.
When tournaments end, we reflect on our performances individually but not so much as a team. And when we do, it's usually in the form of a video session – taking practical elements out of our performance and analysing the opposition. There's not a lot of dwelling on past wins and losses.
We need to prove ourselves all over again against three of the better teams in the world. This tournament will definitely be a challenge and I'm sure all the teams are viewing it as a stepping stone to the World Cup next year.
We're excited for it.
Personally, I'm feeling good ahead of the first game. I've had an Achilles issue for a while and it flared up a bit. We had a crazy period with the Dash where we had three games in a week and four four-hour flights (Houston-to-Seattle to play the the Reign on the Sunday, back to Houston to play the Orlando Pride on the Wednesday, Houston-to-Portland to play the Thorns on the Sunday and back to Houston again).
It was a bit of a recipe for disaster for an irritated Achilles, but I've been able to manage it and I came into camp as fresh as I could be. The medical staff will have another look at it, but I'm feeling positive ahead of the first game against Brazil.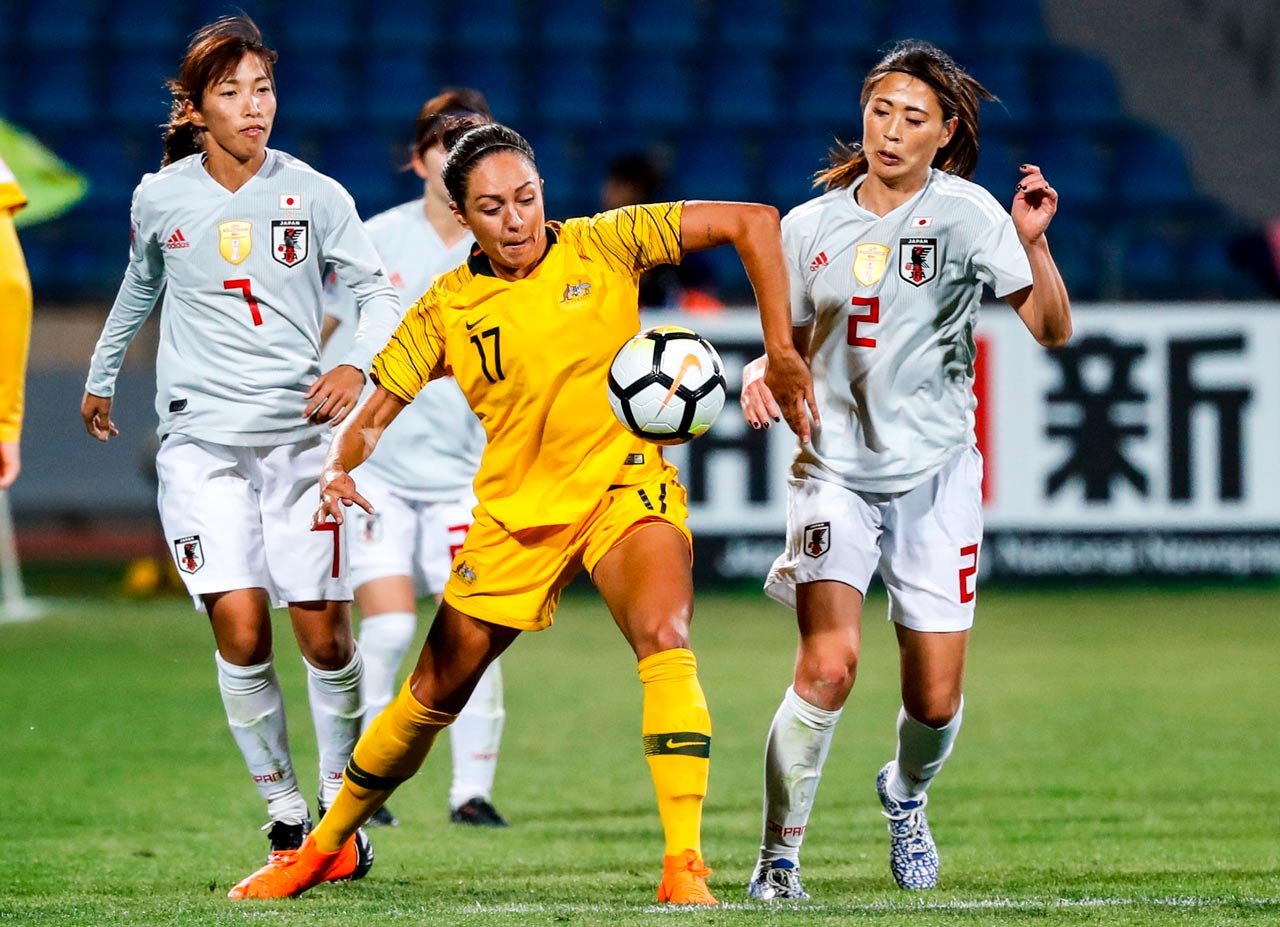 THE AUSSIE CONNECTION
I'm lucky. I've had Clare Polkinghorne with me at the Dash this season. We've found our own little home-away-from-home, a café called Tout Suite, which is about a five-minute walk from where we're living in Houston.
There's a great little tradition we have with the other Aussie girls in the NWSL. When they're in town, we take them out to our favoured place for a coffee. When we play them, they take us to their own little haunts they've discovered along the way.
In the last few weeks, we played against Hayley Raso and Ellie in Portland (Caitlin Foord would've played too except she was injured), Emily van Egmond and Alanna Kennedy playing for Orlando and Lyds and Steph Catley in Seattle.
It's great, because you get to see their adopted cities through their eyes and hang out at the places that are special to them. It's also nice to catch up generally. We're all going through similar experiences, we share a similar sense of humour, we can relate to a lot of things.
It's always nice to be around your Australian teammates.
More about: Alen Stajcic | Asian Cup | FIFA Women's World Cup | Kyah Simon | Lisa De Vanna | Matildas | Sam Kerr | Tournament of Nations | Women's Sport