When I was nine, my Pop pulled me aside one afternoon and said, 'Always remember, KB, that there is more to sport than playing the game.'
It caught me off guard a little bit. I wasn't sure what my Grandfather meant.
I grew up in Mount Druitt, a working-class suburb in Sydney's west. It's a tough area, sure, but I really enjoyed my childhood. 
We didn't have a lot. But I never felt like I went without. A lot of my family lived in and around Mount Druitt. My Mum Kathy, me, my younger brother Willie and sister, Ashlee, Pop, Grandma, aunties, uncles and too many cousins to count.
I used to spend every waking minute running around barefoot with my cousins and the local kids in the neighbourhood, playing whatever sport was going around.
I'd stay outside until after the sun went down, coming indoors covered in scratches, blisters and bindis but already excited about doing it all again the next day.
I was rugby league mad and lived for Friday Night Football.
I would sit glued to the TV and went to bed dreaming of one day being like my heroes Rhys Wesser, Anthony Mundine, Nathan Blacklock and later Brad Fittler and Joey Johns.
All were deadly players with speed, footwork, creativity and vision. Whenever they touched the ball something seemed to happen.
My Pop, Ray Beale, was a highly influential person in our community.
My first mentor, he was someone I loved, looked up to and always wanted to be around. It was the same for my siblings and all my cousins. He gave time to everyone, was very intelligent and widely respected.
I started playing league out with the West City Tigers club in the under 7s but switched to neighbouring St Clair Comets a couple of years later for a few reasons. 
First, they offered me a new bike to 'come across', as well as a PlayStation.
They also promised to pick me up after school on Tuesdays and Thursdays, as well as take me to the games on the weekend if required, which helped a lot.
I was only 10 at the time but my family thought it was a good idea – and I was never saying no to that Playstation!
THE MAN ON THE MOTORBIKE
Not long after, I started playing rep footy and, with high school around the corner, I did an orientation day at the St Dominics college, a noted league school, in nearby Penrith.
Right around this time there was a knock at the door. It was someone I had never seen before. He arrived on a motorbike and spoke briefly to Pop, who invited him in for a cup of tea.
I didn't understand who or what this fella was at the house for, even after he showed me a pamphlet and DVD about St Joseph's College, Hunters Hill. I had never heard of the place and didn't know they were one of the world's great rugby union nurseries.
That was in 2000. I was in year six.
I used to spend every waking minute running around barefoot with my cousins and the local kids in the neighbourhood, playing whatever sport was going around.
Pop had been into me for a while at this stage about the importance of education. What I didn't realise until much later was that he remortgaged his house to give me that opportunity.
He never said anything about it. He just did it to try and help me get an opportunity to grow.
'Footy's great,' he kept telling me. 'I can see how much enjoyment it gives you. But a good education will over-ride everything. It's the key to a successful life.'
I ended up going to Joeys for an orientation day and later caught a special bus organised to take us to watch their First XV play against Scots College.
On that bus I met Peter Betham, who went to Joeys with me from years seven-to-12. We would later play alongside each other for the Waratahs and Wallabies. We're really good mates to this day.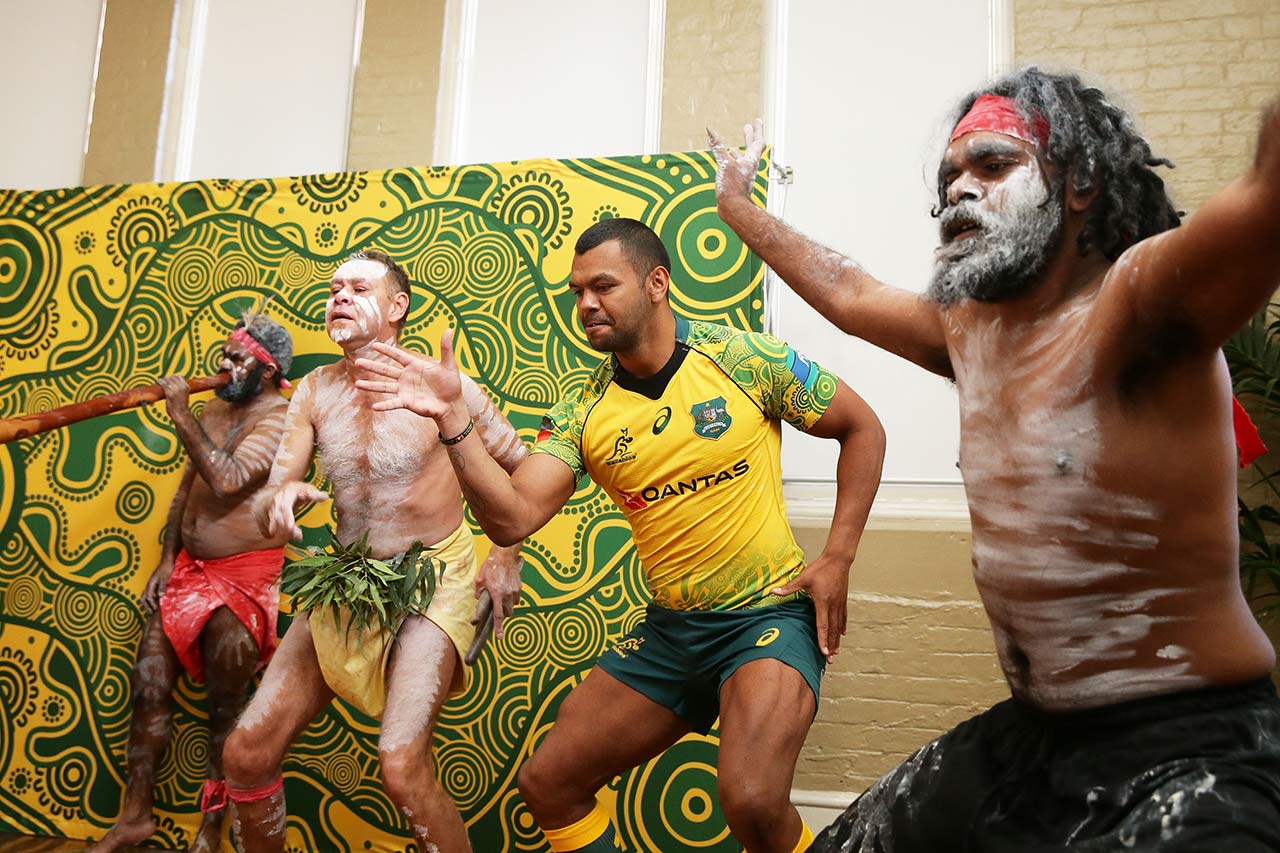 CULTURE SHOCKS & TEARS
I had no idea what I was getting myself into.
Pop dropped me off for my first day and, walking up to the school, I was confronted with guarded gates, huge sandstone walls and Catholic symbols scattered around on the different buildings.
Kids were running around everywhere in blazers, ties, grey pants and shiny black shoes. 'Why were they wearing suits to school?' I wondered.
They acted differently, talked differently and there were heaps of them! It scared me.
Pop was optimistic about the move from the get-go and wanted to get me out of Mount Druitt. He had seen a lot in his time and had a great understanding of what would be good and bad for his 10-year-old grandson.
'You're going to meet new people — different people — who will open you up to new ways of thinking,' he told me. 'Your mob isn't going anywhere, KB. We're always going to be here. Just give it a chance.'
I'll admit there were lots of tears shed during my time at Joeys, especially in the first couple of years. I felt so isolated, so lonely.
I am extremely close to my family. Being around them is where I am most comfortable. I feel stronger – safer – and being apart from them was completely new.
All of a sudden I was living in a boarding house.
Everyone had a schedule and you had to present yourself in a well-mannered way. Every morning. Monday to Sunday.
Eat your soup, make your bed, brush your teeth – that kind of thing – and around it went. Again and again and again. 
My life was controlled by a bell.
There were many times when I was completely puzzled by the Joeys way of life. I was pretty much a complete stranger, struggling to find my way and uncomfortable in my own skin.
Being a Marist Catholic College, all of the students attended Mass regularly. It was a compulsory thing, but I had never been to Mass. To be honest, I didn't even know the story of Jesus and all that stuff.
You're in church and you see the bread at Communion time. I asked a mate what was going on. I was clueless, just following the guy next to me going up to receive communion. Eat some bread, have a sip of wine from the cup.
At Joeys, sport became pretty much my escape from all the times of heartache, loneliness and, I guess, embarrassment. Any sport. I revelled in it.
I was mad on cricket, tennis, touch football, and rugby. Cricket was the first sport I played there. That was my method of escape from all the discipline, rules and rigidity.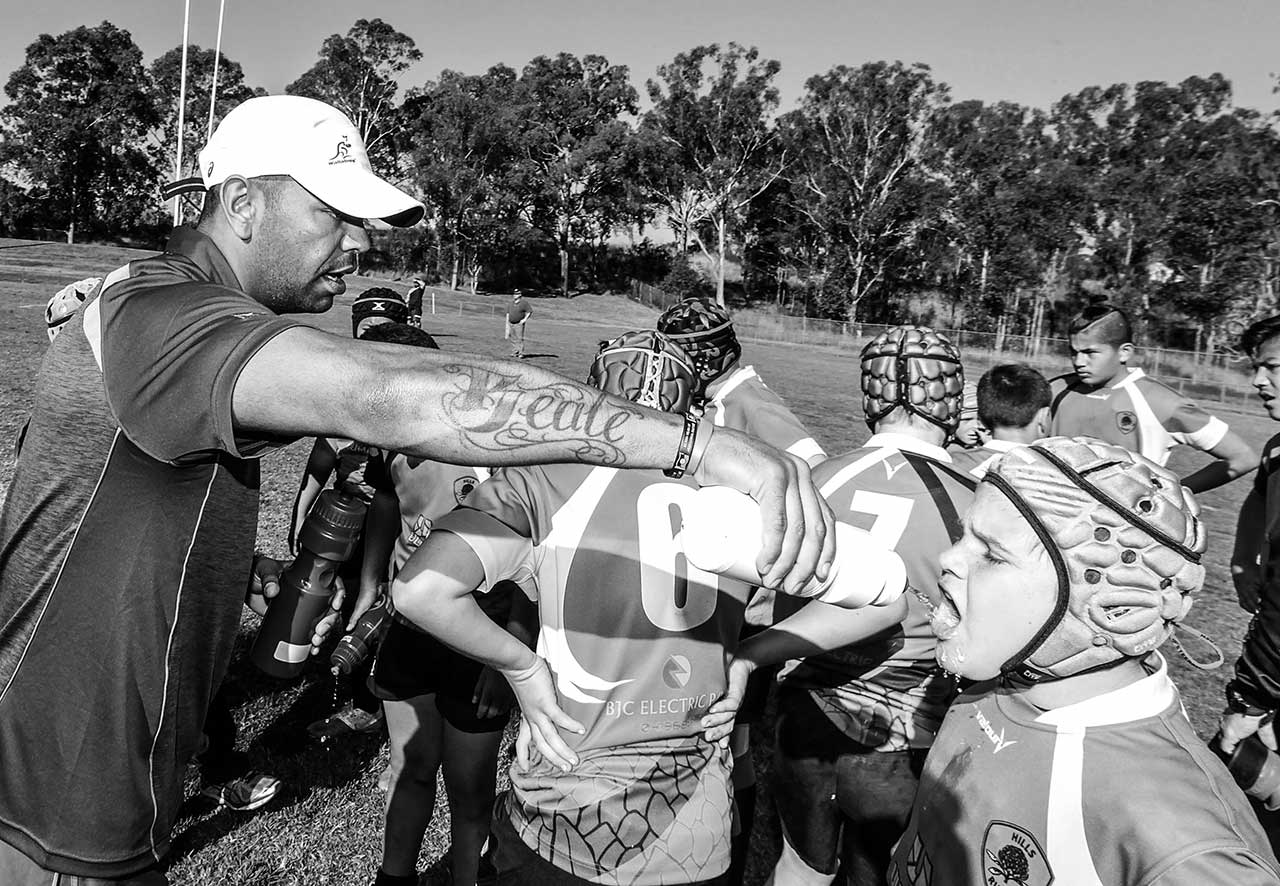 I HAD NEVER EVEN WATCHED RUGBY
At the same time, I knew it was a big rugby union school and it burned me that I had no idea how to play their game.
I came from a league background and had never even watched union on television. I'd go down to the school's back fields and play touch rugby. Pretty much all of the basics of union I picked up from that.
I didn't really find my footing at the college until around year nine. I began playing at fly half and it was the only thing I was good at.
I wasn't the best scholar. When it was time to hit the books I found it tough. Designated homework and study time every night? Very difficult.
But I felt great playing rugby. It allowed me to cement my role within my school year. People came to know me as a good rugby player and I made new friends because of it. I guess it was an acceptance thing.
At Joeys, sport became pretty much my escape from all the times of heartache, loneliness and, I guess, embarrassment. Any sport. I revelled in it.
Looking back, I think all the times being so uncomfortable as a teenage fish-out-of-water helped me in my adult years. I don't think anyone has a total grip on life. No one's perfect. You are forever growing, still learning things, and right now I am still doing that.
There were times at school when I really felt I was the odd one out, being the only indigenous kid in my year, one of only a handful of indigenous kids in the whole school.
But I was not totally alone. There were a number of people at Joeys who really helped me get through the tough times.
At the back end of year nine I started to develop a really good relationship with the deputy principal, Brother Anthony Boyd. He was the First XV coach. We got on really well and he looked out for me.
I was the first kid to play in the Firsts from year 10 since Darren Junee, so there was a bit of talk going around. I didn't pay much attention to it, though, and was just happy Brother Boyd saw potential in me.
There were many occasions when I was finding everything too tough and wanted to go home. There were lots of times on the payphone outside the boarding house saying to Pop, 'Get me out of here, I want to come home.'
Brother Boyd was always there to calm me down and keep things moving.
Our backs coach, Jeremy Ticehurst, was also very helpful in those times of uncertainty, as was another man I met, Guy Reynolds, who opened the doors to his family home to me. We have been very close ever since. 
During this time I was also introduced to Glen Ella. He helped me through some pretty rough patches and later became my first manager.
Pop, Brother Boyd, Guy Reynolds and Glen Ella — they became my four pillars at that time and I will forever be grateful for what they have done for me. 
MY LITTLE PIECE OF DESTINY
Every time I was trying to write an essay or read a book, my mind would visualise being out there playing professional rugby.
Either league or union at that stage. It didn't matter. I just wanted to play footy for a living and feel good about myself like I always did on the field.
I was learning to back myself, playing union on a Saturday and league on a Sunday.
I felt my best attributes were to create space for the support runners, read the play, see things a bit faster than the guys around me. I was feeling the game. A gut instinct, perhaps, and playing off the back of that.
Making that First XV team at Joeys pretty much changed my whole mindset on life. It opened a lot of doors and I was becoming comfortable in my own skin.
I found a little piece of my destiny, who I am and what I can be.
I was in my second year in the firsts, only 16 or 17 at the time, when John Connolly rang up and asked me to train with the Wallabies in their camp at Coffs Harbour.
It was amazing for a guy like me, being involved with the national team at training.
I was a year 11 kid running around with Phil Waugh, Lote Tuquiri, Mat Rogers, Wendell Sailor, George Gregan, Stephen Larkham, Matt Giteau.
I was running around saying to myself, 'This is me.'
I was on my way.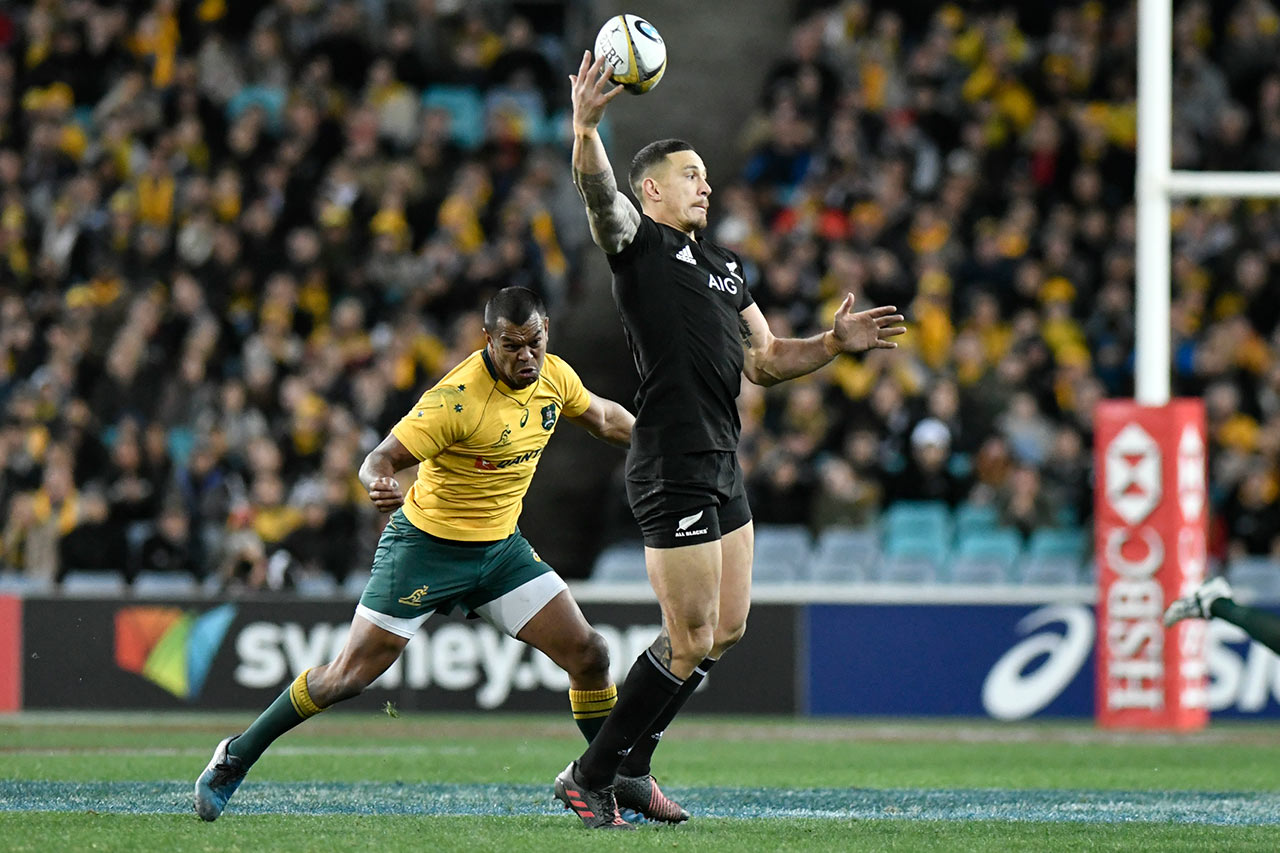 MY MOB 
I wrote earlier that family is everything to me. We are a pretty big group.
Mum had me when she was only 16. She has been great throughout my life, always there when needed. She is my best friend. I can call her at any time of day and she'll be there to help.
We have a very special bond, a wonderful relationship. Dad is not with Mum these days but we still get on.
My younger brother, William, was also a Joeys boy, and a very good footballer. 
He had all the skills required to be a pro in either code – creativity, vision and strong defence – but sadly didn't last at Joeys. He found it very tough after Pop passed away in 2007. 
Grief hit us all pretty hard around that time.
I was just starting at the Waratahs, hungry to succeed and channelling all of my energy into rugby. 
Making that First XV team at Joeys pretty much changed my whole mindset on life. It opened a lot of doors and I was becoming comfortable in my own skin.
With William still at boarding school, though, experiencing a lot of the insecurities and isolation that I did at the same age, he wanted to go home and be with our family. 
It still gets to me at times that I wasn't able to help him push through those tough weeks and months, the same way others did for me. But we have an awesome relationship to this day. 
He is a great person – still deadly on the footy field, too! 
THANK YOU, POP 
Looking back, the experience of moving from one world to another, and constantly bouncing between them both, has given me the foundation upon which I have built my life.
Pop taught me the value of education, not just through books but by putting me in a position to see the world through different lenses. 
He taught me the importance of challenging myself, of taking risks, and getting outside my comfort zone.
Graduating from Joeys was an enormous achievement for me — one I'm incredibly proud of — because it meant so much more than just finishing high school. 
More than 10 years on I am still finding my way in life, but I know I have the tools to succeed, even if I stumble and fall at times. 
That for me is real education and it shows Pop was right on the money all those years ago.
There is far more to sport than playing the game.
More about: Anthony Mundine | Indigenous Australians | Joeys | Kurtley Beale | Wallabies | Waratahs