To every single one of you, thanks
What a fortnight it has been. It couldn't have been scripted better, the perfect culmination of nearly two decades representing Australia. It's been tough, emotional, rewarding and an incredible honour.
Traditionally, an athletics meet finishes on the track with a relay and on the road with a marathon. The Gold Coast Commonwealth Games was no different and the perfect way to sum up my time in the green and gold.
I have carried a figurative green and gold relay baton for 18 years. From Sydney to Athens, Beijing, Delhi, London, Glasgow, Rio and a few others stops along the way. I've pulled a long leg, longer than most, but one I have thoroughly enjoyed and am incredibly grateful for.
I'm lucky enough to pass the baton on my terms. Some are not so lucky as they are cruelled by injury, loss of form, non-selection or life circumstance.
Seeing my athletics co-captain, Sally Pearson, pull out of her event in her home town through injury was heartbreaking. Thankfully, somehow, its a feeling I've never experienced having never missed a major event through injury in my racing career. I'm sure Sally will be back, she hasn't dropped the baton or passed it on yet. You don't prise that honour from a legend like Sally that easily.
Me though, I'm done. I'm ready to pass the baton on to the next custodians of the green and gold. I've had a hell of a run but it's time to pass it on to younger, fresher, less gnarly hands. I could selfishly keep a loose grip on it for a few years yet but my time has come and I'm ready to sit back and see what the next bunch of Aussie legends can do on the track and road.
You don't own the green and gold. You borrow it, take a lend, put some kilometres into it, some blood, sweat and tears, proudly, steadfastly adding to the legend.
I have run alongside some greats. Louise Sauvage. Geoff Trappett. Angie Ballard. Michael Shelley. Sally Pearson. Benn Harradine. Many, many more. You might not know all the names, there's not always public glory and adulation in this game, but they have all added to the legend that is Australian athletics.
The next crew are ready to carry things on. Isis Holt, Sam Rizzo, Madison de Rozario, James Turner,  Riley Day, Cedric Dubler, Nina Kennedy, Kurtis Marschall, Rheed McCracken, Brandon Starc and plenty more.
Again, some names you'll know, some you've learned in the last few weeks, others you've never heard of but all ready to continue to carry the baton into the future. Look them up, follow their careers and see great things.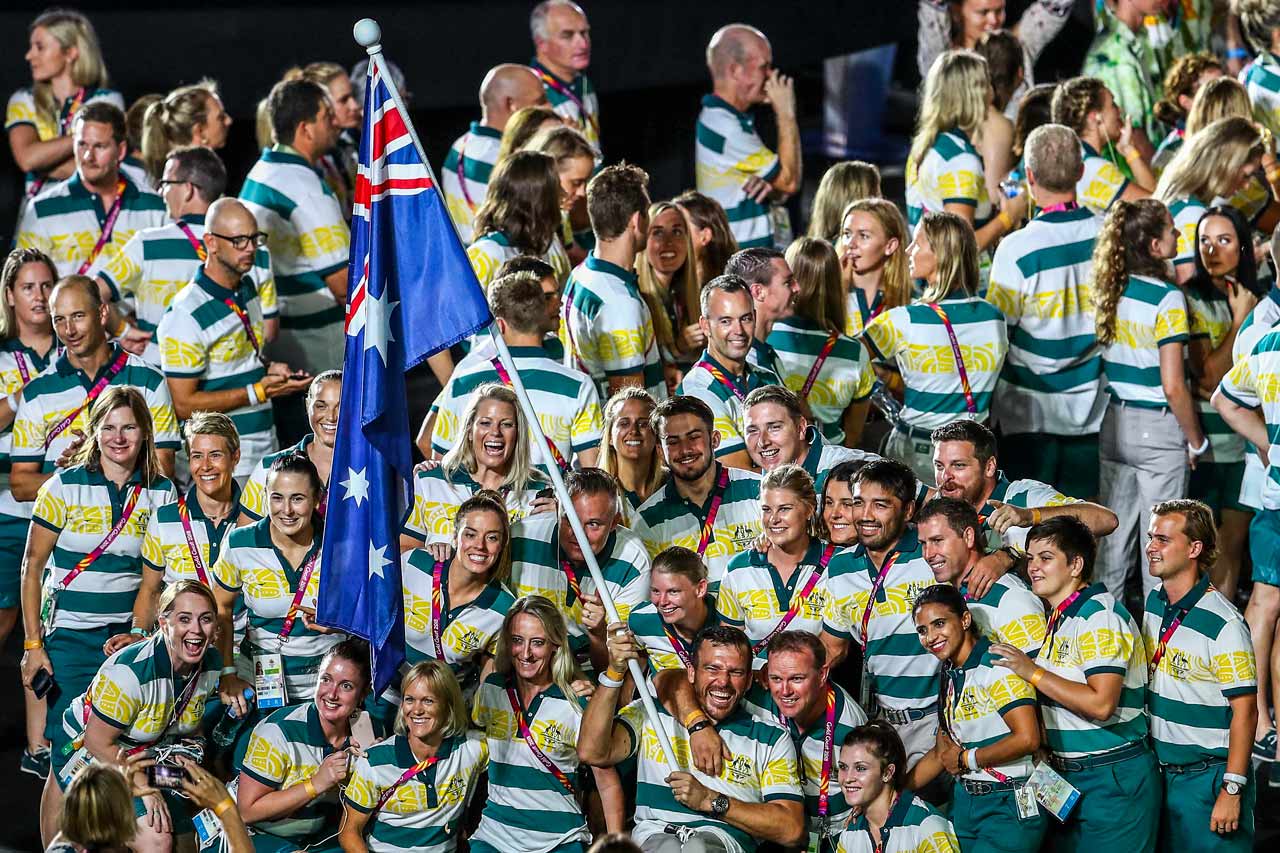 Did i give my all?
It's over for me but I truly hope this is just another step for para-sport in the Commonwealth Games. It's been a great couple of weeks with some of the para-sport achievements the biggest highlights. I was glad I could play a part but the two medals I won didn't come easily.
In my first race, the 1500 metres, I managed to hold on for silver, finishing just behind Canadian Alex DuPont and edging fellow Australian Jake Lappin who took bronze.
You don't own the green and gold. You borrow it, put some kilometres into it, some blood, sweat and tears, proudly, steadfastly adding to the legend.
It's hard to describe what winning a silver medal feels like. No doubt, there is a sense of accomplishment but also a decent twang of failure and a great number of what ifs, usually directed at yourself.
What more could I have done to win? Was my training right over the last six months? Was my pre-race preparation on the day spot-on? Was my start strong enough? Were my tactics right and did I race well? Did I have anything left in the tank when I crossed the finish line or had I squeezed it dry? Was the other fella just better?
The two most important questions are the last two and if you can answer yes to both, you can't have any complaints. Did I put everything I had into that race? You bet I did, I was spent. Was the other fella better on the day? Yes, he was.
I've raced against Alex for a number of years and it's probably the best race I have seen him push. He nailed his tactics, held his speed well and fully deserved the victory. I thought with 150 metres to go when I kicked hard and upped the speed, I had what it took to slide past Alex and into the home straight in front and, if I hit the front with the outstanding, parochial Australian crowd lifting me, no one would catch me.
But Alex held on. He had more arm speed and he had enough to hold on and take the win. The crowd were there, they carried me to the line but I just didn't have enough on the day.
While silver is a fantastic achievement and in the rough and possible tumble of a 1500 metre race a decent result, you don't set out to come second so it was tough to take. You grimace a smile, shake plenty of hands and pose for a few selfies, happy but with that sense of failure.
Thankfully I was able to snap out of it pretty quickly and back into race mode for the marathon. I got to see my family not long after the medal ceremony – my wife Sheridan, kids Harry and Emilia, mum, dad, brothers, sisters, nieces, nephews, cousins, mates. Some of the 100 or more that were sitting in the stands together cheering me home. They helped bring things into perspective and set me on the right course for the marathon in less than a week's time.
The colour of the medal didn't matter to them, indeed, the medal didn't matter. Harry, my four-year-old son, fessed up to not having watched the race, but was happy to see me regardless.
the perfect finish
Dawesy, my coach since day one 25 years ago, gave me the day off training afterwards and, after a few media commitments, I spent the day with the family enjoying a bit of time out of the village, reminding me of the normality and beauty of real-life outside the bubble. Tantrums, hugs, nappies, coffee and laughs.
It's in those moments and days after the race that you reflect and remember that there truly is no such thing as an individual sport. Sure, I was out on the track by myself and pushing on my own but the result was most definitely a team effort.
Dawesy has never left my side and been there for every major meet I have competed in. He's never pushed a wheelchair himself but you would struggle to find anyone who knows more about getting ready for a wheelchair race and delivering on the day.
Did I put everything I had into that race? You bet I did, I was spent.
The past week I've had some more help in training from para-triathlete Lauren Parker, who I have spent some time with in Newcastle. She finished her competition with a bronze early on in the program but stayed on to drag me around the track in her race handcycle, buffeting the breeze and giving me a smoother run to help finalise my preparation.
My family and communities I have lived in have always been there too. The 300-odd folk at Carcoar who all put their hands in their pockets to pull together and purchase my first racing wheelchair and trip overseas when I was 14.
The people of my home today and the last decade, Newcastle, have warmly adopted me as one of theirs – there's even been a few who swear we went to school together at Newcastle High even though I did all my schooling out near Carcoar.
It is rare that a day goes by without someone leaning out their car window to yell some encouragement or just to say 'G'day', and their attitude to life and balancing work and pleasure is infectious.
Then there's the rest who have been with me every step of the way. My family, everyone who is a Fearnley or married one, and a few mates who have been with me on the road, hoisting me across streams on the Kokoda track or following me around the world willing to do whatever they can to help me do my best in the chair.
Every win is as much theirs as mine and I'll be forever grateful for everything they have done to support my career.
The marathon on the last day of the Games was my opportunity to say thanks. To give a bit for all of those who had given so much to me. The family, officials, organisers, volunteers, mates, everyone who had given me a leg-up at some stage. I was determined to do everything I could, put everything into that hour and a half that I could to say thanks. And it hurt.
About four kilometres in, I saw a chance to pounce and surged to the front, head down, arms pumping determined to put a bit of hurt in the competition and see if I could build a lead. I didn't look back and just kept pushing with all I had. The post-race stats on my race computer show my heart pumped at an average of 194 beats per minute for the race and the minute before. It was giving everything it had. It hurt enormously but I knew I had put the training in to sustain the high tempo.
I hit the 20-kilometre mark, about halfway, in a little over 40 minutes. It was fast and I needed to make sure I raced within myself to make sure I had enough in the tank to finish things off.
The lead slowly built. Fifteen seconds. Thirty seconds. A minute. A minute-and-half. With that sort of lead, I knew I should have enough to finish it off in front as long as I stayed upright.
The last few kilometres were a bit of a blur. My stroke rate slowed right down, I was looking down as much as I was looking up. I gritted my teeth and just kept going.
As I approached the final bend into the home straight, I could hear the crowd. There were 100 Fearnleys there again in the stand willing me home. Hundreds of others, dragging me to the finish line. I made it. It was done. I had won my final race in the green and gold.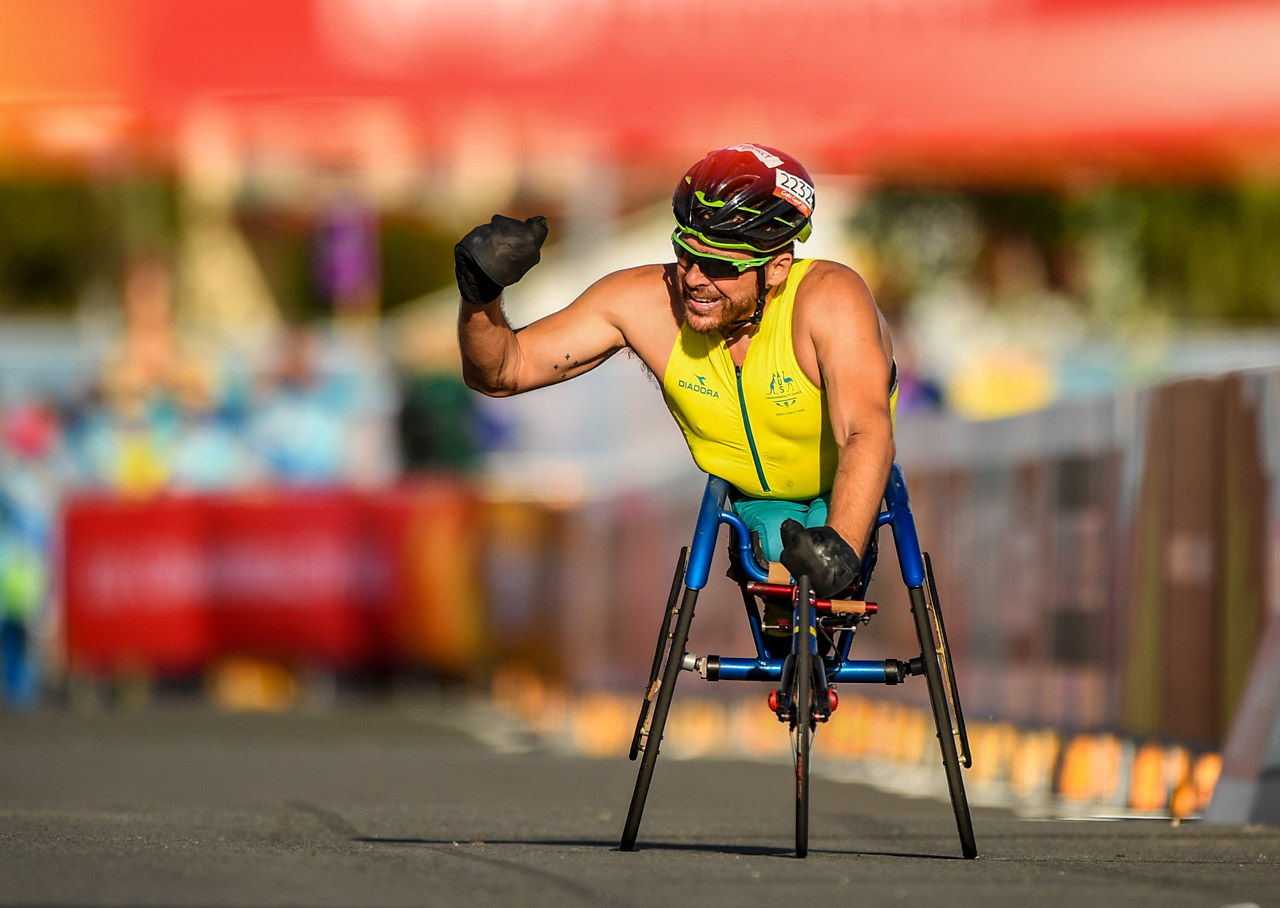 idolised, not marginalised
Not long after, I got my arms around the real prize. Sheridan, Harry and Emilia made it through the throngs of security for the post-race embrace. Nothing better. No medal will ever equal that feeling. No trophy, no prize cheque. That moment was everything. Then came mum, dad, brothers and sisters. To share the moment with them, with their support, was the icing on the cake.
As good as it was, there was one last thing I had to do. As much as I hurt, I had another five kilometres to knock off in the Gold Run, a community fun run with up-and-coming wheelchair athletes and 6,500 Australians out there to experience the race course, Sheridan and some family included.
There were about a dozen wheelchair athletes, a couple of young blokes who I had spent a bit of time with over the last few years included and my young 'apprentice' and mate, Rheed McCracken. These five kilometres weren't about a medal, it was giving that last little bit, passing the baton on to the athletes of the future. I want to instill in them the pride of racing for Australia, what you can get out of the sport, but more importantly what you can give.
Finally, after more embraces and a sip of a sneaky beer it was time to accept the gold medal on behalf of all those who had got me there and belt out the national anthem one last time. Our team leader and one of our most famous marathoners, Steve Moneghetti, managed to find his way into the official party for the medal ceremony and presented the gift that all medallists received.
It's always nice to see a familiar face up there close but this time Monners had an ulterior motive, just before heading out to the podium, whispering in my ear, asking if I would do the honour of carrying the flag into the closing ceremony for Australia.
Wow.
While not sure I deserved it after everything else I had received, carrying the flag for your country is not something you say no to. I accepted and ran back to the village to pack my bags and get ready for the big show.
One last big community who I am proud to be a part of and need to recognise is the disability community.
Every battle I win on the track or for a new ramp or change of policy that brings long-deserved rights and access to people with disability is their win. If I can use my profile and ugly mug to give a voice and face to those who don't have the chance themselves, I must.
The true beauty of these Commonwealth Games has been the feature of the largest-ever integrated para-sport program in a major sporting event. We've had disability on the television, in the papers, all across social media. Not because we had been denied access to a flight, been involved in an accident or stuck outside a building with a flight of stairs blocking access. We've been in your faces because of hard work, determination and success on the track and in life.
We are too often marginalised by invisibility. These Games have helped remove that cloak. I hope future Games build from this platform.
The true beauty of these Commonwealth Games has been the largest ever integrated para-sport program in a major sporting event.
The question on the lips of many this week has been what's next for Kurt Fearnley? Honestly, I don't know the answer yet. I've been pretty buried in these games for a while and need to get my head together and ducks in a row before sinking my teeth into something meaningful.
I'll clear the head with what I know best, the London Marathon next week, out of the green and gold and back in my team colours but out on the road doing what I have loved most. Then I'll head off on a holiday with my family, race chair at home in the shed and start mapping out what the next few years will look like.
One hard line in the plans will be the 2020 Tokyo Paralympics. Not for a miraculous comeback. No, I'll be there as a fan watching the next bunch of Australians ripping, staining that green and gold with their own blood, sweat and tears. And what a show it will be.
More about: Disability | Gold Coast 2018 | Kurt Fearnley | Madison de Rozario | Marathon | Para Sport | Tokyo 2020