28 September, 2000. Nearly 18 years ago. Half a lifetime. I close my eyes and I can still hear the visceral roar that only a sporting crowd can deliver. A roar from more than 100,000 Australians cheering when my name is read out.
I've heard similar roars a few times since, in a packed 'Birds Nest' stadium in Beijing and at the London 2012 Paralympics, but this was the only time in my two decades of racing that there was a roar of that magnitude for me.
It was the start line of the T54 1500m demonstration race at the Sydney 2000 Olympics and the first time I had raced in the green and gold for Australia at a major event. I was a plucky, some would say cocky 19-year-old, world at my feet, confident well beyond my standing in the sport.
Alongside me was Australian John Maclean, 15 years older and a hell of a lot wiser, and other legends of wheelchair sport like Saul Mendoza, voted Mexican athlete of the 20th century 'able-bodied' or otherwise, and Canadian Jeff Adams, the rock star of wheelchair athletics who helped me qualify for the race a few months earlier and medallist at three previous Paralympic Games.
While Saul and Jeff had experience and medals to back their standing as the men to beat, they didn't have 100,000 of their countrymen and women behind them. Or the green and gold on their back.
I gave the race a decent shake, taking it out hard only to miss out on the podium by half a second with Saul finishing first, Frenchman Claude Issorat second and the true pioneer of men's wheelchair athletics and still marathon world-record holder, Heinz Frei of Switzerland, third. Heinz is a warrior, he just turned 60 and still finishes in the lead pack in most marathons he competes in.
While I didn't manage the top three, I did finish ahead of Jeff and showed that I belonged on this stage.
My fourth place may have shown I belonged in a performance sense, but it was much more than that. This event was the start of an addiction. An addiction to racing and the belief that I was good enough to wear the green and gold of Australia. And I knew I wanted more.
Since that day, I've been lucky enough to wear the green and gold about a dozen more times, at world championships, five Paralympics, another Olympic demonstration and at two Commonwealth Games. In a few days, I'll stretch that green and gold lycra over some ageing shoulders for what will almost certainly be the last time, on the Gold Coast in the 2018 Commonwealth Games.
I'll never say never and there's a very, very slim chance I'll have a crack at the Tokyo Paralympics in 2020 but it feels right to go out on home soil, having started my international career here 18 years ago.
In a few days, I'll stretch that green and gold lycra over some ageing shoulders for what will almost certainly be the last time
I'll keep racing international marathons as long as they keep inviting me and I think I've got a shot at finishing up on the podium, but racing in a major meet means burying yourself for months, even years in the lead-up. You're training twice a day, six days a week and not too much fun to be around.
Heinz and others have shown that you can continue being competitive in wheelchair marathons in your forties and even fifties and it's a pretty good gig and a tremendous honour to race for your country. But I've got other things I want to achieve in life and I definitely want to spend more time at home with my young family.
FIGHTING FOR GAMES EQUALITY
I've known in my head for a while that this will likely be my last major Games, but it certainly has come up all of a sudden. I've got a few ideas about what I might get up to when it's all done but for now I'm just focused on the two weeks on the Gold Coast – with a side eye on the London Marathon a week or so after the Games are done.
The Gold Coast Commonwealth Games have been part of my life since 2011, when I was invited to be a member of the final bid team attempting to secure the event ahead of the other finalist, Hambantota in Sri Lanka.
I travelled with a team of Australians to the final vote in Saint Kitts, led by then Queensland Premier Anna Bligh, Gold Coast Mayor and Australian Olympian Ron Clarke and a host of others including cricketer Matt Hayden. Hambantota put forward an ambitious bid, with proposals to construct most of the event venues from scratch, but ultimately the strength of the Gold Coast's bid won out.
On return to Australia, a bit taken aback by the whole bid experience, I was asked to be on the Technical and Advisory Committee for the Games, to help set the Games program and work through the logistics of how the event will run. While I wasn't sure I was really qualified to take part, I jumped at the opportunity and set out to ensure that not only would the Gold Coast Games be a raging success, they would also be an inclusive success with a major para-sport component.
Para-sport events have been a part of Commonwealth Games competition for a while but the program has been limited and inconsistent across sports and even events.
The first time a Commonwealth Games held a wheelchair athletics race was in 2002 at the Manchester Games. While there was a women's event over 800m, there wasn't a men's race. At the 2006 Melbourne Commonwealth Games, it was the same story with a women's race but no men's.
It was tough. Not only was I missing from an Australian athletics team that featured athletes with a disability, the team was competing in Australia at our national treasure, the Melbourne Cricket Ground.
Delhi 2010 featured an event in my classification, as did Glasgow 2014, and I was able to compete on the track. I loved the experience and set about doing what I could to make sure that as many para athletes as possible had the chance to compete in an inclusive Games on the Gold Coast.
It was tough. I missing from an Australian athletics team competing at our national treasure, the Melbourne Cricket Ground.
It wasn't a one-man show but I'm proud of the role I played to make sure Gold Coast 2018 will be the most inclusive Games yet with the largest integrated para-sport program in Commonwealth Games history.
There will be up to 300 athletes across 38 full-medal events in seven sports, nearly double the number of athletes of the last Games in Glasgow and 73 per cent more medals. Equality is also paramount with an equal number of men's and women's events across all sports.
Athletics, swimming, lawn bowls, powerlifting, track cycling, table tennis and triathlon will all be contested by para athletes across the Games. It's an incredible achievement for the Games organisers and something we as Australians should all be proud of.
For me, it has presented the opportunity to take part in two events – a 1500m race on the track (back to where I started in Sydney!) and for the first time at a Commonwealth Games, the marathon.
a show of faith
Now that it was confirmed I could compete in a home Games team, I had to set about actually getting selected!
The Games organisers clearly had faith that I'd be able to make the team and included me in a number of once-in-a-lifetime experiences over the past couple of years in the lead-up.
I've been an official Games ambassador alongside Sally Pearson, Laura Geitz, Patty Mills and a few others, representing the Gold Coast at a number of events and taking part in the official advertising campaign.
It's not every day you see anyone in a wheelchair in an advertising campaign for any event, brand, clothing line, anything really. So it was a wonderful show of faith from the organising committee to include me in their plans.
I'm proud of the role I played to make sure Gold Coast 2018 will have the largest integrated para-sport program in Commonwealth Games history.
The other major event I have taken part in is the Queen's Baton Relay. I had my hands on the baton in my current home town of Newcastle earlier this year but a little over a year ago, I was selected to deliver the baton from Commonwealth House in London, up the Mall to Queen Elizabeth II at Buckingham Palace. Not a bad gig for a little guy in wheelchair from Carcoar, a town of 300 (and shrinking!) in country New South Wales.
With a marching band adorned in the famous beefeater hats behind me, I pushed up the mall and passed on the baton for the Queen to insert her message to the athletes in the baton, which has then travelled through all Commonwealth nations in the lead-up to the Games.
It's safe to say the fanfare wasn't quite the same when I got my hands on the baton again in Newcastle, but it was still an honour and one which I know I'll look back on fondly.
one last long lap
Fanfare and ambassadorial roles aside, I had to set about getting selected on the Australian team for the Games. Athletics Australia set their own qualifying standards and, for the para-athletics component of the Games, there are limitations on how many athletes could compete in the Games proper. I needed to push an A-Qualifier or two and perform well at the National Championships.
Twice a day, six days a week I've been training, with a lot of the sessions on my home track in Newcastle. Last year, the track was refurbished with a dedicated bitumen-lined wheelchair athletics lane on the outside. Having a bitumen lane helps protect the track from some wear and tear and allows my coach Andrew Dawes to ride a scooter at a constant pace allowing us to draft behind and improve our training results.
Joining me on the track have been some of the wheelchair athletics squad as well as Lauren Parker, a para-triathlete preparing for her first major Games on the Gold Coast.
When the track was refurbished they gave it a new name, the Fearnley-Dawes Athletics Track, in recognition of the contribution Andrew and his wife Christie, a fellow Paralympic medallist, have given to athletics in Newcastle. I say they tapped my name on the front to add a bit of gravitas… It truly is a great wheelchair accessible facility and handy to have within a kilometre or so of home.
I managed to push the 1500m times I needed to in meets in Switzerland and Australia, and finished well inside the marathon qualifying time at last year's Boston Marathon. I did enough at the final hurdle last month at the National Championships to be selected with all the work at the Fearnley-Dawes paying off.
My selection was topped-off by being named as co-captain of the Australian athletics team at the Games, alongside Sally Pearson. I grew up thinking I was going to be captain of the Australian Rugby League team and, while I didn't quite get there, this is a tremendous honour.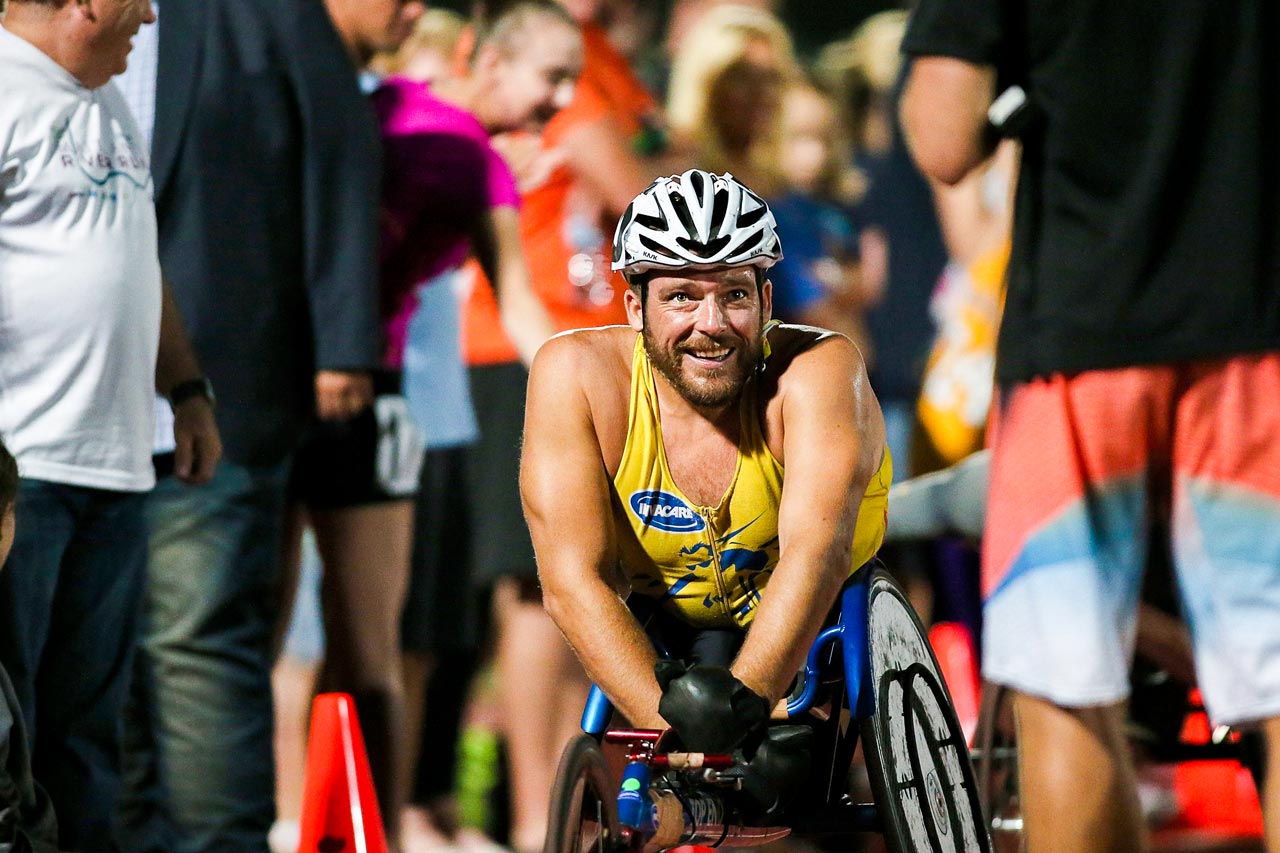 Joining me in the Australian team for the wheelchair events are 24-year-old Jake Lappin and Sam Rizzo from Victoria. While Jake has competed in a number of Australian senior teams, including the 2010 Commonwealth Games as an 18-year-old, this will be Sam's first senior appearance for Australia. He was just a couple of months old when I made my debut in Sydney.
I know that while I may be donning the green and gold for the last time, these two and others will carry the proud tradition of Australian wheelchair athletics into future Games.
I grew up thinking I was going to be captain of the Australian Rugby League team
There won't be 100,000 roaring Aussies at Carrara Stadium on the Gold Coast for my last track race, the 1500m, but the loudest and proudest from 18 years ago will be there with more than 100 close family and friends booked in to be in the stands. Many of them haven't seen my race in person since Sydney.
Then it will be one last long lap on the streets of the Gold Coast in my favourite event and the event I have had the most success in over the years, the 42.2 kilometre marathon. An hour and a half of my heart pounding at about 200 beats a minute to try and conquer the ultimate distance for Australia one last time.
You could stretch more than 100,000 people across the course and, hopefully, we'll see some big numbers on the streets cheering home all the athletes as a crowd can really make the last few kilometres special.
It'll be an early start with the wheelchair event start gun firing at 6.10am local time but what better way to spend a Sunday morning, right?
I know that no matter how many people are there in person, there'll be thousands tuned in, screaming at their televisions willing me to the finish line.
And I'll have the green and gold on my back.
More about: Disability | Gold Coast 2018 | Kurt Fearnley | Para Sport | Paralympics | Resilience | Tokyo 2020