A message from Archangel Michael
I was a couple of months into my knee rehab when the Giants made last year's Suncorp Super Netball finals. I'd been really chilled … until then.
Finals are your opportunity to really stand up and I've always thrived on that challenge. So to not be out there with the girls, I was really feeling it.
This year, it's completely different, but what I've recognised is not to take it for granted. Not in an injury sense, but because it's not easy to get into finals. At one stage, we thought weren't going to make it, so ending up as minor premiers shows how tight the competition is. I'm just really grateful to be a part of it, but also wanting to win it so badly.
I've been chasing that feeling for 10 years. It's not easy to get.
I had a fairytale beginning with the Sydney Swifts. We won in '03-04 before I went to the AIS and, when I came back, we won in '06, '07 and then with the NSW Swifts in the first year of ANZ Champs. You had to work your butt off, but I was like, 'This is just what happens. You go and you play and you win grand finals'.
We lost our next four finals after 2008 and back-to-back grand finals against the Firebirds in 2015-16. You start to question whether or not you're able to stand up in those situations, but the last few that I've been a part of have come down to one pass, or one wrong step. The tiniest things. 
So what I've learnt from losing all the time is that it actually doesn't define you as a person or a player. As much as people keep saying, 'They haven't won a grand final in so long' – and especially for Susan Pettitt and me – it doesn't define us. Anything can happen in a final.
To have the major semi at home against the Fever is really exciting for us. We're super-pumped and it's nice to be back at the Quay Centre, which is a really cool fortress. We're doing it for 'Prats' (Pettitt), who's retiring at the end of the season – so there is a little bit of emotion in it, but also everyone just wants to get the job done.
FOR LOVE OF THE GAME
You know straightaway when you've torn your ACL. It's bizarre.
You feel like your knee is actually turning inside out. The pain for that first 20 seconds is so excruciating, and then it just goes away and you feel brand new again. Except that as soon as the pain leaves, your year of rehab starts.
Not once at that moment did retirement go through my mind. But in the next five or six months, I was like, 'Oh, my gosh, am I able to do this?'. The big issue wasn't my knee, but the complications I had with my hamstrings.
The hamstring normally rejuvenates after they've taken it out to make your ACL, but mine just never grew back. There's a two per cent chance of that happening. I was in the two per cent. When we finally realised that something was amiss, we went and got a scan and there it was. Or there it wasn't!
So I'm pretty much operating off two hamstrings on one leg and three on the other. At the six-month stage, I couldn't even stand and lift my heel to my butt without cramping. That was when the surgeon told me I had to change my measures of hamstring strength, adjust the way I do things and alter my mindset to come back.
He was like a psychologist. He asked, 'Are you doing it for money?' No, I'm a netballer! 'Are you doing it to prove people wrong?' No, that is not me, at all. So he was like, 'Well, why are you doing it?' I said, 'Because I just love going to training and I love playing netball'.
He said, 'Well, that's what you have to think about; not stressing about the strength percentages in your hamstrings, because you're never going to get those numbers'. All the rules had to go out the window.
I said to him, 'Am I even going to be good enough again? It just blows my mind that I'm not going to have one of my hamstrings. My game is built around speed and power, so what if I don't have that?' That was my concern: that I was going to come back as half the athlete I was.
What I've learnt from losing all the time is that it actually doesn't define you as a person or a player.
I am the full athlete, I think, and being in a more grateful place than I was previously has changed my game. I'm also fortunate to have so many great players around me; without them, it wouldn't have mattered how well I came back.
The reality is that I can't play like I used to, because my hamstring won't allow it. I was still cramping early in the season, but it's slowly getting a little stronger, as the other parts of my hamstring step up. I drink pickle juice in the middle of games, because it helps with cramping, and I'm on some magnesium supplements, too.
Honestly, it's like there's a quick jolt of electric current that goes through your hamstring, as if it's saying, 'Hang on a second, remember I'm not here?' I reckon that stopped in about round four and I was, 'Oh, thank God that's done. Now it understands what it needs to do'.
I wish I'd known back in the day what I know now: just to back my smarts and my ability to read the game and understand situations. That's what my coach, Julie Fitzgerald, has instilled in me and I think that's one of my best traits as a player.
Having a year out and seeing it all from the sidelines has definitely helped. It's freshened me up, as well. Honestly, it was the best thing that's happened to me. I know a lot of people say that, but it just gave my body a complete rest. The fact that my hamstring wouldn't work for five months meant I couldn't rush my rehab and I had to let my knee settle.
Touch wood, I have had not one issue with my knee. My knee has been amazing. I don't get swelling. Nothing. It's phenomenal.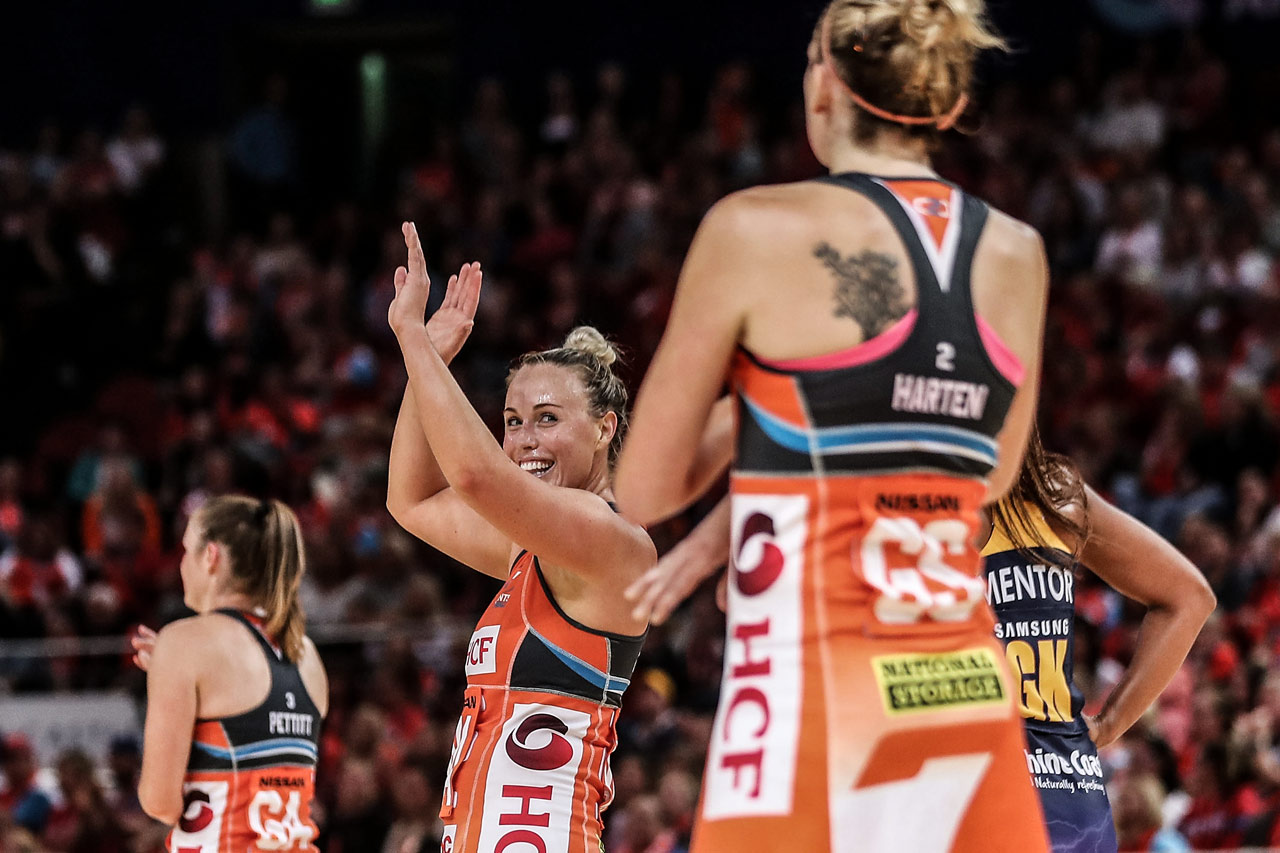 THE ARCHANGEL MICHAEL
I'm going to play on next year. I haven't put pen to paper yet, but yes, I'm going around again.
I've worked so hard to get back to this place and I just love it. It sounds ridiculous, but I get up every morning so excited to do court-work or go to weights. When that stops is when I'll stop. Or it's when I can't give any more, or when Julie doesn't think I'm worth a contract. Maybe I'll be 60 wanting to still play!
I love what netball brings to my life. I love what I can bring to netball. I'm potentially signing for another three years. I don't know if I'll play for three, but it's great to have it there if I need it. Jules wants me for 10 but she's not getting me for 10. I've told her that.
I do feel old. Every day. But I get along really well with all the young ones, so they help keep me young. I'm always hanging out with them, just to try and keep my age down.
But it is going to be sad. There are some greats that are going to hang up the dress at the end of the year, including people and friends like Prats, Erin Bell and Sharni Layton, who I played with for a long time, so it's an emotional time for a lot of people.
The game's changing, though, and it's almost a perfect time for people to reassess. Actually, maybe I should have thought about it a bit more in-depth! But what's great for me is that I gave up Aussies so long ago that it's never a thought in my mind; my career isn't based on whether or not I'm selected for the Diamonds.
I'd closed that door after the 2015 World Cup. So all I have to concentrate on is Giants. I only need to please Julie and if I can do that every day, then I am fulfilled. I know the pressures that Aussies can have on you, and that's not from the coaching staff or selectors, that's what you put on yourself.
When I retired from the Diamonds, I just wanted to live a little. I've got a travel bug and I love to go away in the off-season and see new places. And when I was in the Aussie program, as much as I loved being part of the team, I just didn't find it as fulfilling as I thought I would have.
It was only when I came back to my club that I felt like I could play MY game. With the Diamonds, I always felt like I had to play a certain way to help other people play to their best – and of course, that's what it's all about. But I ended up playing a different role, a role that I wasn't really that great at, to be honest!
I really thrived back in the domestic league, but that's because I was playing like me. It actually is really, really hard to play like someone else. But I still struggled with the decision, even though I felt I'd done everything I wanted to do with Aussies.
Maybe I'll be 60 wanting to still play! I love what netball brings to my life. I love what I can bring to netball.
It's funny how it happened, actually. Mum had just got into Angel Cards, which are like do-it-yourself tarot cards. Some people believe in them; I didn't/don't and I said, 'Mum, that's an absolute scam'. She was like, 'Just go and get my pack and read your cards, and it might be able to give you some clarity on where you are'. 
It was a 40-card deck and the one I picked said, 'You need to seek guidance in Archangel Michael and he comes in forms of purple'. I was like, 'Oh, for goodness sake – this is ridiculous!'
Mum convinced me to go to the crystal shop and buy my own pack. They cost a bomb, about $60. There were cards everywhere and I grabbed a 70-pack that was purple because I had to 'look for Archangel Michael in purple'. After I'd shuffled, the card I picked out was Archangel Michael. I couldn't believe it.
It said something like, 'Have confidence in everything that you've done, you've done a good job and it's time to move on, it's time for freedom'. And I made my decision on the spot that I'd retire from international netball after the World Cup. 
It's bizarre, I know. But these cards almost just reinforce what you already have in your mind. They just confirmed that I was ready to go. And just like when I left the Swifts, but for different reasons, I knew it was the right decision.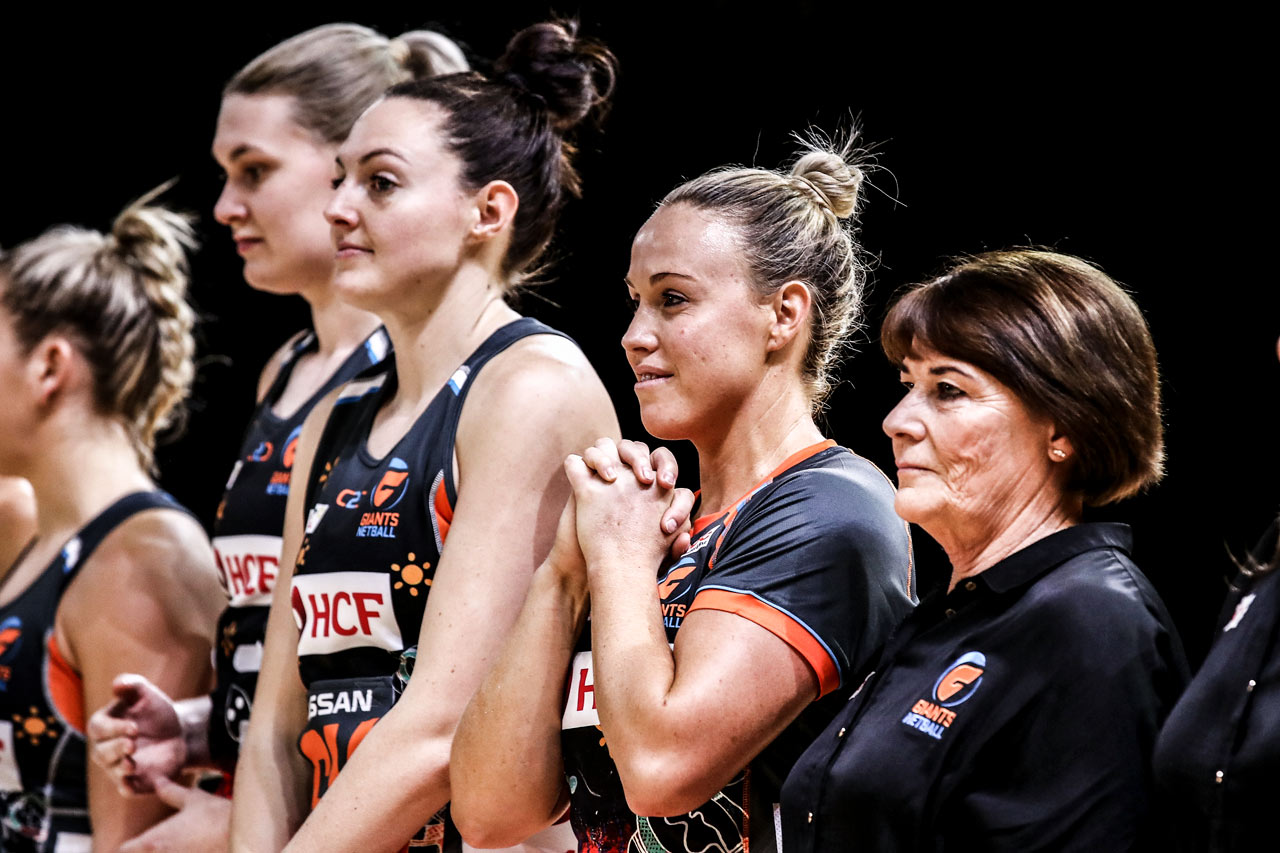 A WINNING PARTNERSHIP
I met my husband, Trent Copeland, through a mutual friend seven or eight years ago. Our friend wanted to start a coaching business and he said, 'Oh, I've got a mate who can do the cricket'. We ran sand dunes on our first meeting, so Trent certainly saw me at my worst! We've been married for almost six years.
He's a really chilled character, so he has calmed me down quite a bit. And being a fellow athlete, he just gets it. We both get each other's lives and what we have to go through and how things change at the last second. I think that's really important.
I'm just so proud of what he's done, and not just in cricket. He's worked his butt off on the media side of things; he's done a lot of hours for free to try and establish himself and he's got some really cool things coming up. 
I think we're a very, very good partnership. We're both super-competitive and love giving each other some stick on social media, but we also balance each other out. There's no stress in the household. I'm very fortunate to have such a supportive partner.
Trent is at every game. He wants to come to every game. The only fight we have every year is about him wanting to come on our away trips.
I'm like, 'I can't have you there, because I stress out that I've got to find time to hang out with you and I don't want to do that'. He's like, 'No, I'm fine, I'll go and hang out with Joe Ingles if Renae's playing', or whoever. They called themselves the HABS (husbands and boyfriends) when we were all at the Diamonds and they still have a WhatsApp group, so they're still in pretty regular touch.
No, Trent doesn't come on the away trips. I always win that one. But I say to him, 'Can we please not have this discussion next year? I don't want to have this same fight' … and every year, it comes up. He's allowed to come to finals if they're interstate, but that's about it.
If we beat Fever, we'll have a home grand final and even though you say in the media that doesn't make a difference, just being able to sleep in your own bed and all those things means it really does.
Which doesn't mean you can't win away; it just makes it that little bit harder. So we've got to put ourselves in the best position, and that's by winning this weekend.
More about: Diamonds | Giants netball | Injuries | Joe Ingles | Lisa Alexander | NSW Swifts | Queensland Firebirds | Renae Ingles | Sharni Layton | Sponsored | Super Netball | teamgirls | West Coast Fever | Women's Sport