Kevin Walters - Contributor
Soaring with a broken wing
It was half-time in State of Origin II last year and the Queensland team doctor, Matt Hislop, came up to me with a serious look on his face.
'JT's shoulder's not looking too good.'
Johnathan Thurston had missed Origin I due to a shoulder injury. He'd only made it back for one match with the Cowboys before Origin II.
The Blues were always going to target him and, sticking to the script, Tyson Frizell absolutely smashed him in the first half. He was pretty much playing with one shoulder, one arm, in a lot of pain.
It was desperation stakes at the break. We were down 16-6 and already trailing one-nil in the series. We needed our main men to lead the way back.
I walked over to Johnathan and asked, 'Mate, are you OK to keep playing?'
He looked at me like I was kidding.
'Of course I am! Nothing's going to stop me from going back out there. We've got to win this game.'
We were in regular contact with Johnathan for the rest of the game through our runners, Allan Langer and Trevor Gillmeister, and every time they'd come back and tell me he'd assured them he was OK.
The defenders on either side of him tried to look after him in the second half, but you can't hide out there. Sometimes you're going to find yourself in the firing line and that happened to JT at different stages.
When it did, he stood up like a man.
The Blues kept running at him. His tackle count in that second half was way up. Sometimes he'd get caught front-on, as the first defender in, and he'd put his body on the line and act as a bumper bar until he got support.
You've got to respect that. Even the slightest bit of contact hurt.
It was so courageous.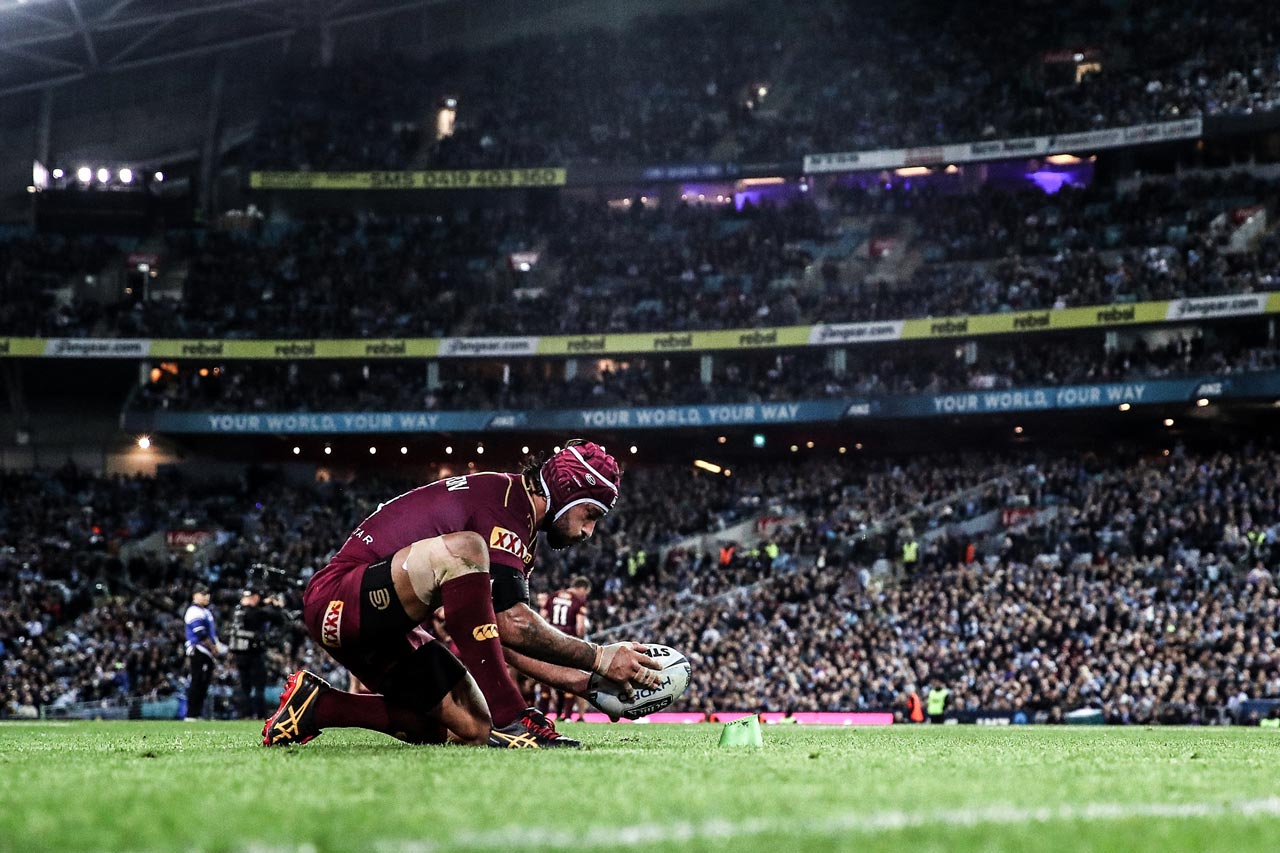 He soldiered on in true Johnathan Thurston fashion because he knew that even with one arm, he could still influence the result. As a coach, you've got to trust your players and JT wasn't a rookie. We had to believe him when he said he could get through it.
We never considered taking him off.
And even if we'd tried, Alf and Gilly would never have been able to pull it off – JT would've told them where to go!
In the end, he was the telling factor. He kicked the goal from out wide for us to win 18-16. Who else in the world would you have wanted to take that kick? Nobody.
But it wasn't just that. It was his whole second half with only one half of his body working. That will stay with me forever as one of the great Origin moments.
One man's mental toughness and desire to get Queensland home.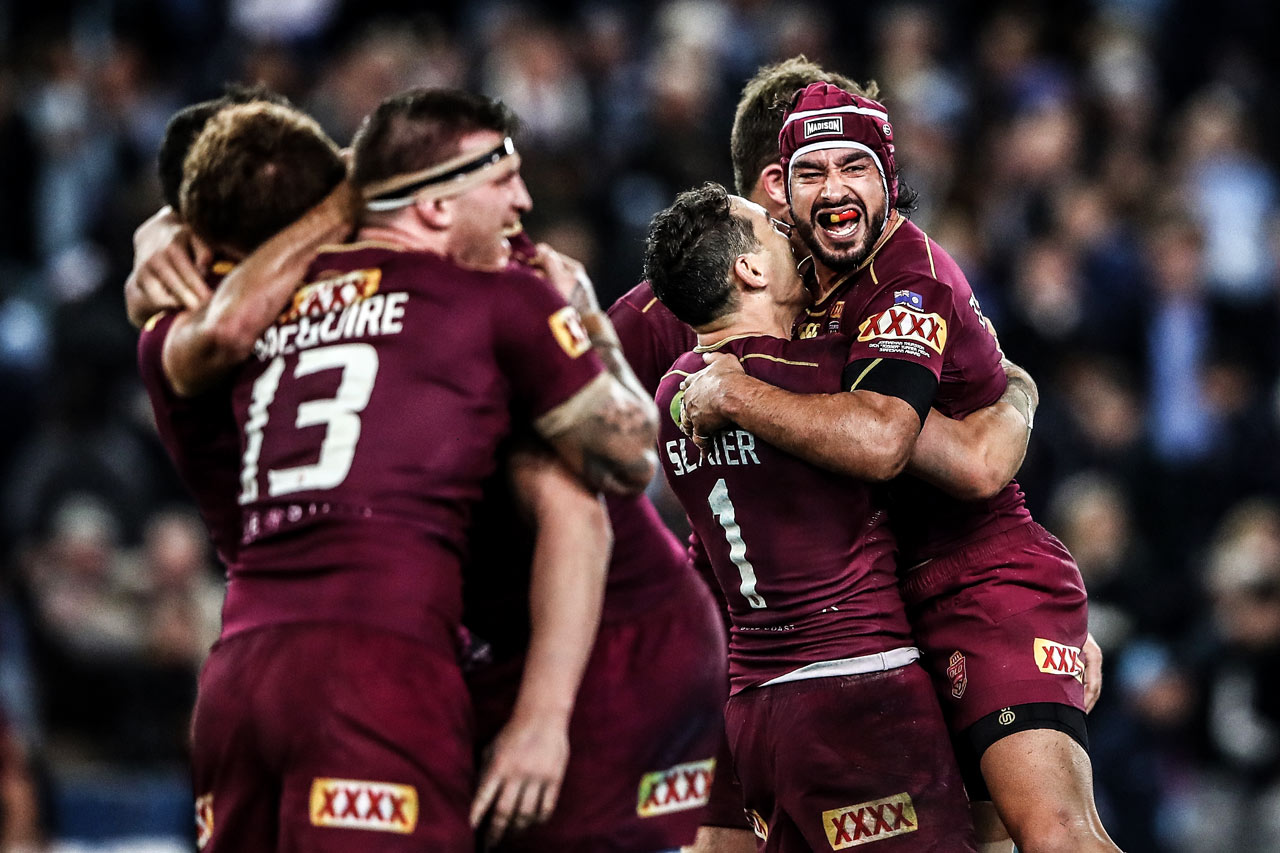 AN ORIGIN LEGEND
We knew when we got back in the dressing room after the game that he was in a bad way, but with the adrenaline still pumping and everyone excited, no one was thinking season-ending injury. Certainly not him.
After things calmed down, I stood in front of the players for the team talk and singled Johnathan out for his courage under fire. The boys gave him a standing ovation. It was a great night, but with the cold light of day came the harsh reality that he was facing a battle.
JT returned to Townsville. He had scans and the result showed he needed an operation immediately.
No Origin III. Season over. JT had played his last game for Queensland.
I was shocked, to be honest. I knew his shoulder wasn't great, but I didn't think it was going to be that bad. It showed how well he'd masked it during the game. I found it stunning, really, that somebody could be that mentally tough.
I'd captained Brisbane in the 2000 grand final against the Roosters when Shane Webcke played with a broken arm. That was one of the supreme efforts as well but Shane was a 110-112 kilogram prop. Little Johnny was 86, 87 kilos.
I walked over to Johnathan and asked, 'Mate, are you OK to keep playing?' He looked at me like I was kidding. 'Of course I am! Nothing's going to stop me from going back out there. We've got to win this game.'
JT was in the early stages of his recovery come Origin III, so he didn't spend much time in camp with the boys. But he got the big send-off that he deserved at Suncorp Stadium on the night of the game. Everyone had the chance to say goodbye to an Origin legend.
It was in the back of the minds of the boys to win the decider for him. And we did win it, 22-6.
I was particularly happy for Cameron Munster, who came in as the new five-eighth and had a blinder. He did JT's jersey the justice it deserved.
I know Johnathan was proud.
In the end, I only coached him for four games at Origin level, but it's an experience I'll always cherish. His game makes other players look better. He lifts teammates with his drive and enthusiasm.
He's in it to the death and anyone who coaches him or plays alongside him can see that.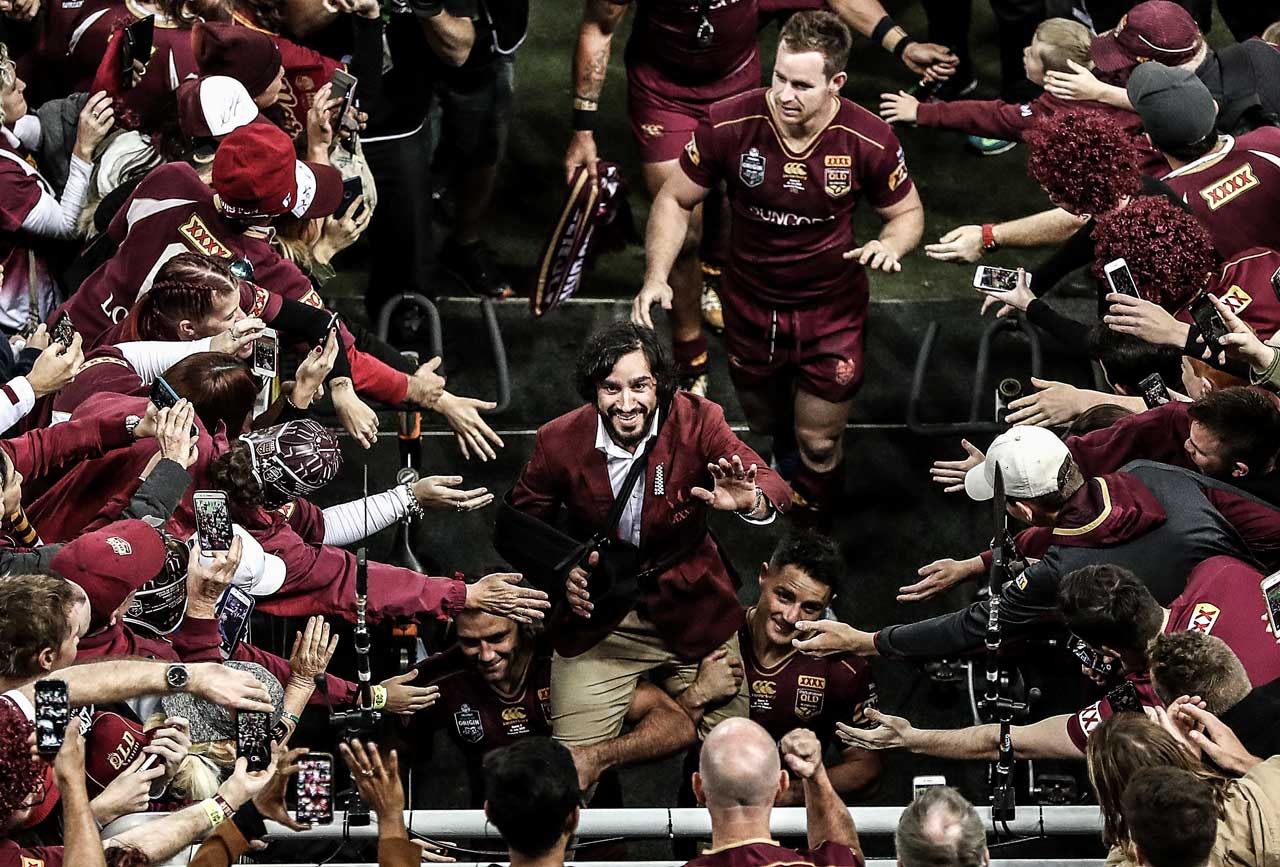 THE UNSELFISH GENE
I used to call Alf the money man when I played alongside him.
When we absolutely needed something to try to win the game, it was like he'd put the card in the ATM and something always came out. You could bank on him. His account was never empty.
I regard JT as the money man of his era. He has never stopped delivering.
A lot of times I went to the bank as a player and tried to get money out and there was nothing in there, but Thurston … it's like it was with Langer, with Darren Lockyer, like it still is with Cameron Smith. There are always a few dollars left that they can withdraw.
I was lucky enough to see the greatness grow in Johnathan from close range.
I was assistant coach to Mal Meninga with the Maroons from 2006-08 and I came back for 2014-15 before taking over the job myself. Right from the start, JT stood out for his sheer competitiveness.
He certainly wasn't the finished product in '06 but whether it was a match, or a training session, or a game of Monopoly, he was just desperate to win. There wasn't a year where he went backwards or even stood still. He was forever improving.
I regard JT as the money man of his era. He has never stopped delivering.
On top of what he did for Queensland and Australia, everyone was waiting for JT to finally win that elusive Cowboys premiership. When he did that, in 2015, I was on the wrong end of it as an assistant coach at the Broncos.
I felt the full brunt of what he could do to an opponent.
Some players reach their potential and some don't. JT has squeezed the lemon dry. He's gotten everything out of his body – and it's only a tiny frame – which makes his effort even greater.
He has put his body in places where it just shouldn't go on a football field. He's had major operations, mainly on his shoulders, but he's bounced back each time.
He's got the unselfish gene. Everything he does is for the team.
What makes him such a great leader is that he can relate to everyone, whether they're the star player, or the rookie, or the straight up-and-down worker.
He acknowledges and genuinely appreciates everyone's contribution.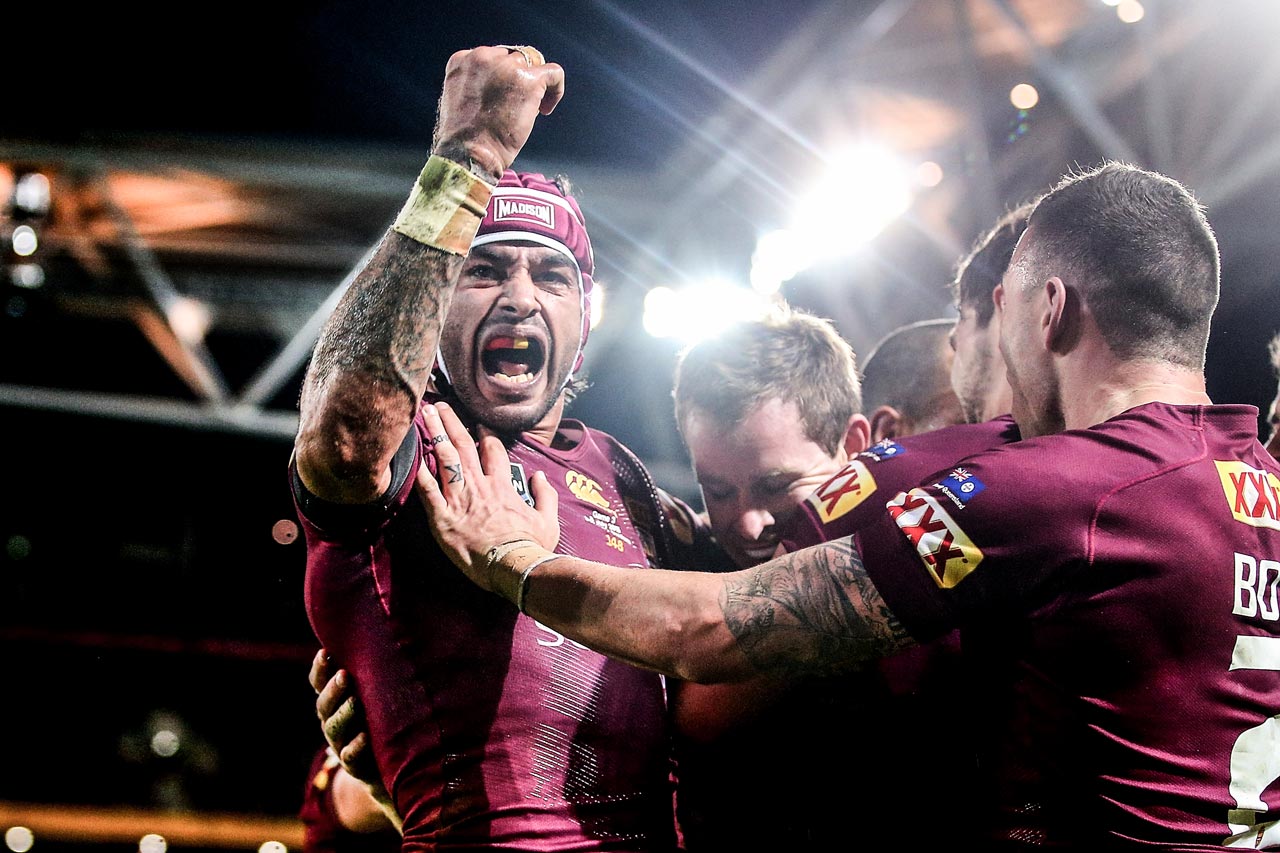 HIS FAMILY, HIS HERITAGE
It's not all about footy.
From the little things he does – like recovering his kicking tee for the ball-boy and giving his headgear away to kids in the crowd – to the major Indigenous work he's involved in, JT genuinely cares about people and his heritage. To me, that's the real sign of a quality person.
He couldn't do it without the support of his beautiful wife, Samantha, and their three gorgeous girls – Frankie, Charlie and Lillie – who give him love and stability.
I'm not sure if Johnny knows himself exactly what he wants to do from here. I'm sure he still wants to be involved in the game in some way, but even if he chooses another industry, I believe he'll make an impact. He is a great leader and people will follow him.
As great a footballer as he's been, I think the next few years will really define him as a person. The challenges will be even bigger and better for him. He'll embrace that. He's been challenging himself all his life. The fact he'll no longer be kicking a footy won't change that.
But there's one last game to go for him with the Cowboys and I can tell you this much: in the dressing-room, when his teammates look across and see him putting his boots on, they'll know they're a big chance of winning.
That's the effect of a player like JT. It has never changed. He's one of the chosen few.
He was born to win.
More about: Brisbane Broncos | Cameron Smith | Canterbury Bulldogs | Indigenous Australians | Injuries | International rugby league | Johnathan Thurston | Kangaroos | Kevin Walters | Leadership | Mal Meninga | North Queensland Cowboys | NSW Blues | Queensland Maroons | Resilience | Retirement | State of Origin