The accidental gold medallist
It's all my friend Caitlin's fault. She's the one who invited me down to rugby training to 'fill out the numbers'.
I had no idea it would end up with me standing on the dais in China with a gold medal around my neck!
I'd played in the AFL women's exhibition match in 2013, drafted for the Western Bulldogs, which was an incredible experience. That game, at the MCG when I was 17, suggested there was a future in AFL, a sport I'd played from the age of about 10 and absolutely loved.
I was also pretty heavily into athletics when I was growing up, mostly sprinting. But, when I was 18, I decided I wanted a break from competitive sport for a while, just to have a summer to myself.
I was enjoying that when Caitlin asked me to come down to a rugby training session. I had no intention of playing seriously at all. I'd never played rugby before. In fact, I'd never even thrown a rugby ball before!
I must have done something right because at the end of the night the coach come up to me and said, 'Thanks for coming down. Speak to you soon'. About an hour later, when I was at home, he called me and said, 'I just want to let you know you've made the team'.
I was super-confused. I said, 'I'm not sure what you're talking about. I was just coming down to make up some numbers'.
He said, 'Ah, you were trying out for the under-18s state team, weren't you?' My mate hadn't exactly mentioned that! It turned out the session was a tryout for a tour to Queensland for the national Rugby Sevens carnival.  
It sounded interesting but, really, I just wanted time off. I thanked him for the offer and wished him well.
A couple of weeks went by and he called again. He said they'd had one of the girls pull out of the squad. The tournament was only for a couple of days, he said, and they'd love to have me join them. I decided to go.
They stuck me on the wing, which meant my job was basically to catch the ball and run, which was fine by me. I played a couple of games, scored a few tries here and there and ended up getting third MVP for the carnival.
A bit later Tim Walsh, the Aussie coach, came over and started chatting. 'So, have you been playing for a couple of years?'
I said, 'Look, I'm going to be honest. I've been playing for three weeks'. He laughed. 'You're kidding!' he said. I told him I played AFL and competed in athletics but had no experience in rugby.
He said, 'Well, you've got talent and we'd like to have you over training with us once a month, if you're keen'.
We exchanged details and before I knew it, I was flying over to Sydney once a month to train in Sevens Rugby with a number of the girls who went on to win the gold medal in Rio in 2016, including Ellia Green, Shannon Perry and Charlotte Caslick.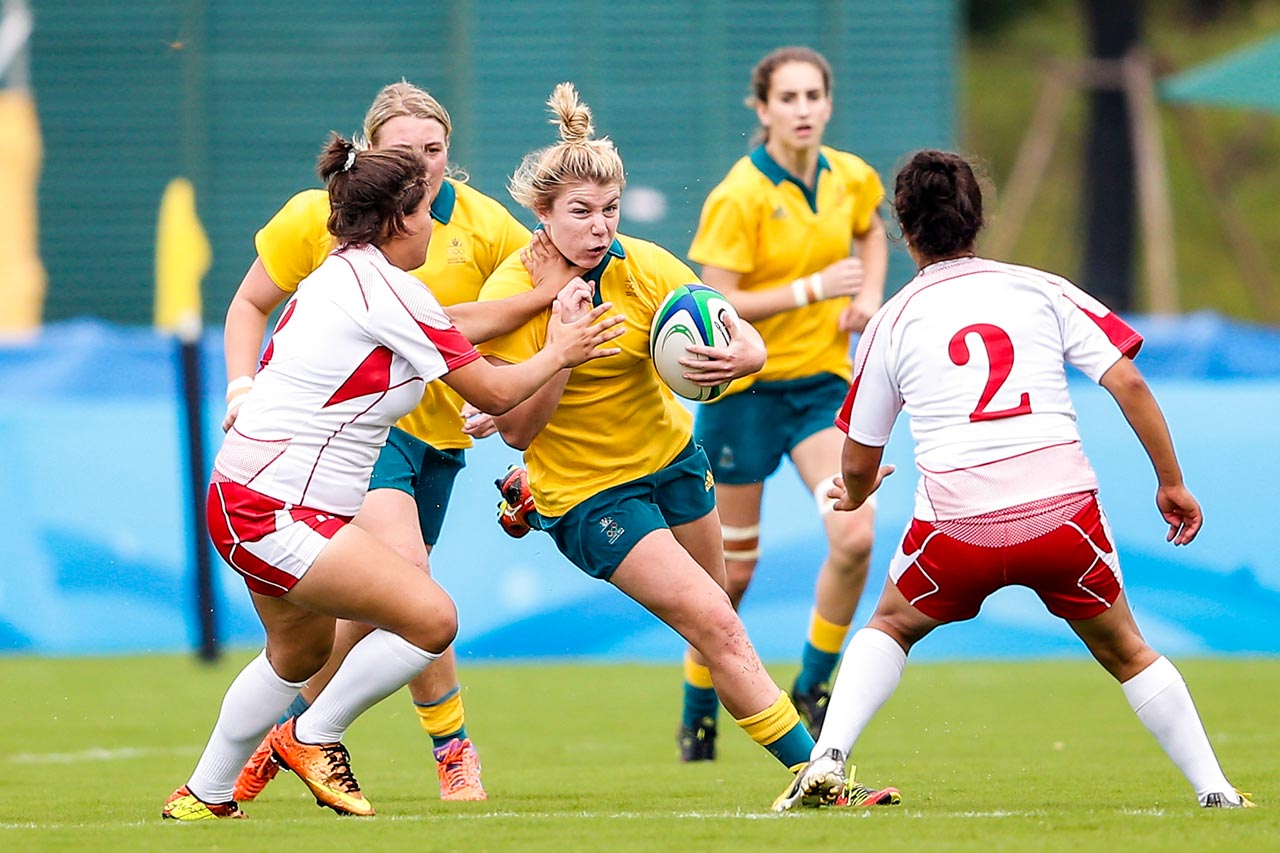 I must have stood out a bit at those first couple of training sessions in Sydney. I turned up wearing my long skins and footy singlet – things rugby players never wear. They teased me a bit for that! But I was just this AFL girl from Perth who found herself training with an Australian rugby team.
After a while I got into the swing of things and was enjoying it. But, just as I didn't know that first training session was a try-out for the state side, I didn't know these sessions in Sydney were a selection for the Youth Olympics.
As the months went by, fewer and fewer girls were turning up to training, but I didn't take notice until the end when they announced, 'This is the final squad for the Youth Olympics'. I was like, 'What?' I was completely oblivious to it!
My whole thinking around playing rugby had been to just have some fun with a new sport, go over to Sydney once a month for free and muck around a bit.
The next thing I knew I was in the national team and about to head to the Youth Olympics in Nanjing in China. The only place I'd ever been was Bali on a family holiday!
A medal and free Maccas
Our first game in China was the first game of the competition and I scored the first try. What I didn't realise was that, because rugby was being reintroduced to the Olympics after 50 years or something, my try was actually quite important!
Everyone was making this huge deal about it, which I thought was a bit weird. I mean, all I did was dive over the line.
After the game all these reporters wanted to interview me. They were asking, 'What did it feel like to score the first try?' and I was just saying, 'Ah, yeah, it was pretty cool'. I didn't know the significance of it at all.
Our competition was across the first four days of the Games and we went through undefeated. We played Canada in the final and won comfortably. I just couldn't believe that I'd won a gold medal with those girls. It was incredible.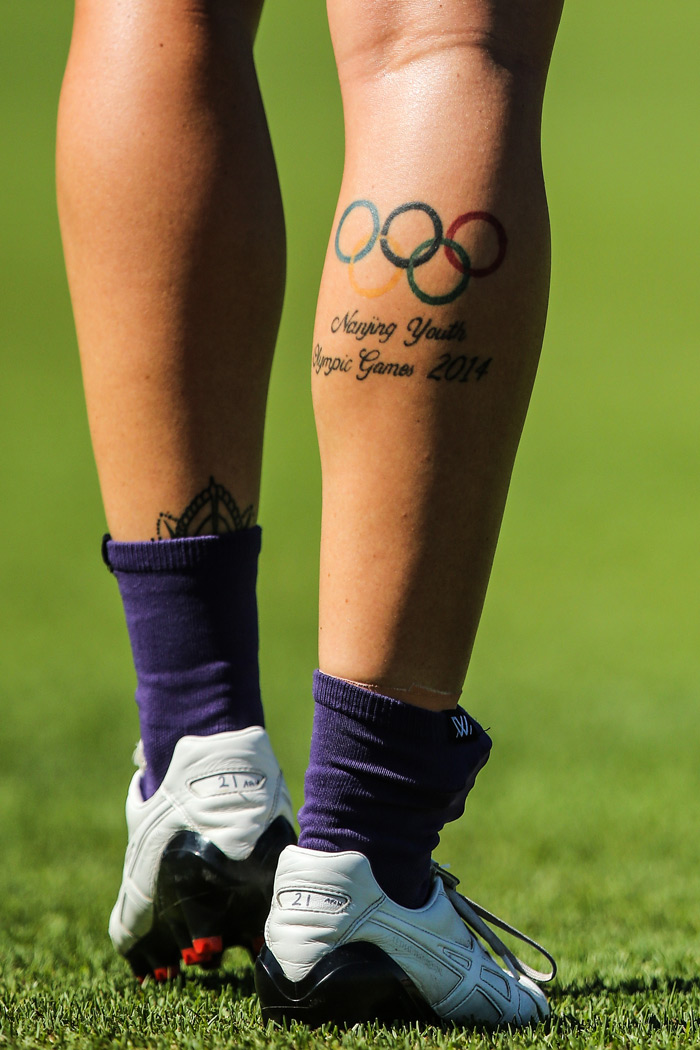 Afterwards, we had a couple of weeks to watch other sports. It was an awesome experience. Probably the best part was getting all the free Maccas in the village. The whole food thing was ridiculous. There was, like, four floors of food courts in the village and it was all free and self-serve. It was crazy!
After it was all done, I spoke to the Aussie coach and asked where they saw things going. I told them I was genuinely interested now after the great time we'd had in China. I thought I could take rugby seriously and was willing to work with them on a plan.
They said they'd give me a call in a month or so. But I never heard from them. I started to think that that was the end of it. I looked at it as having been a fun couple of years playing a new sport that ended really well. I could put it into a golden box, in a way. I did what I did and now I could put my focus back on footy.
A call did finally come from the rugby people, but it was six months later. They asked if I'd be involved in the Fiji Sevens, but I turned it down. I thanked them for the offer but said I wanted to play AFL properly now, I didn't want to continue with two sports.
I don't know what would have happened if I'd received that call a bit earlier. I might have even ended up at the 2016 Olympics, I'm not sure. But one thing I do know is that I wouldn't have been able to give AFL footy a real go. And that would have been a shame.
More about: Adelaide Crows | Fremantle Dockers | Rugby Sevens | Women's Rugby | Women's Sport