Wheelie bins, Freddo Frogs and Mum
When I was younger, I looked and moved like a young giraffe, with limbs flying everywhere.
I am super flexible, so I enjoy the gymnastic characteristics of active movement on the court and, given my size, can change direction remarkably well.
On top of that, I do think my athletics background has given me the speed to beat my opponent on most occasions. Although I still work on my reaction times when I can.
When I was around 16 or 17, I had to decide which sport I wanted to pursue. I'd set a few records in throws and jumps and had the opportunity to get into state teams for athletics.
As it happened, netball nationals coincided with athletics and my passion for team sport won out. I like the camaraderie and the friendships that I have formed through netball.
Athletics can be quite lonely. Despite this, I still love the sport and coach athletics at my former high school every year. I've taken coaching courses in athletics so that I can still maintain the connection.
Some athletes have been earmarked for one sport or another all their life. I made my first state team for netball (the under-15 WA schoolgirls' team) when someone else pulled out – that was an interesting way to start my netball journey! 
I was 13. This was an opportunity that, at the time, I didn't realise would shape my future as an international player.
When you're young, you don't understand or want to make sacrifices. I learnt from a really young age that you make choices and decisions to put yourself in the best possible position to succeed in whatever you set your mind to.
Mum would say, 'You're not going to be able to get to the birthday party because you've got training tomorrow morning'. Mum has always been completely dedicated to doing things properly. If that meant missing out on a party or something like water skiing with your mates which could affect your performance, that's just bad luck.
When you are 18 or 19, all you want to do is go out with your friends. That's what they're doing and peer pressure or fear of missing out is hard to ignore. I've never been a big party girl but do like to sing and dance. Late nights after hard training sessions and physical games doesn't help with recovery, so you just don't do it.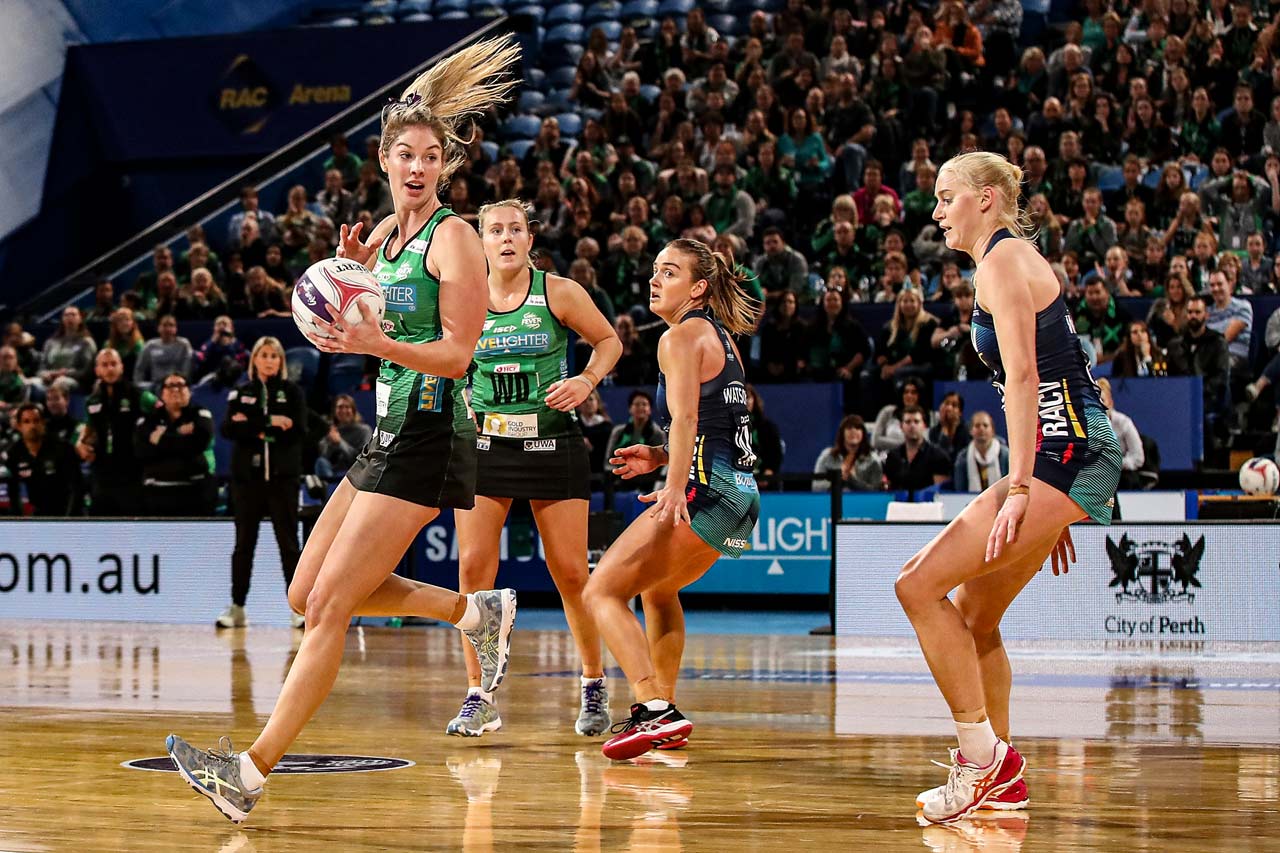 MARK THAT REMINDS ME
I write in bold on the back of my hand before every game. Two letters. Don't ask me what they stand for. That's my little secret.
Just know that those two letters have a special significance to me. The meaning behind them drives my intent.
As a goal attack, I run between six and nine kilometres per game and, although netball is a non-contact sport, my opponent will be pushing, nagging, pulling, bumping and elbowing for the full 60 minutes. 
As the kilometres add up, the physical demands kick in. In moments where it's close and the contest is tough, I tap into the meaning behind those two letters and try and push through the pain barrier.
If you notice that I look at my hand from time to time during a game, you can know that the letters will remind me that I need to excel in my area of work so I can combine with my Fever teammates to achieve our goals.
I'm not sure when my mindset changed. I don't think it just clicked one day and it was like 'Oh, OK, this is gonna happen'. But I knew that I needed to do more work, particularly in the lead-up to Fast5 in 2018.
I've really tried to channel that behaviour over the pre-season as well and it really helps me with my confidence and self-belief.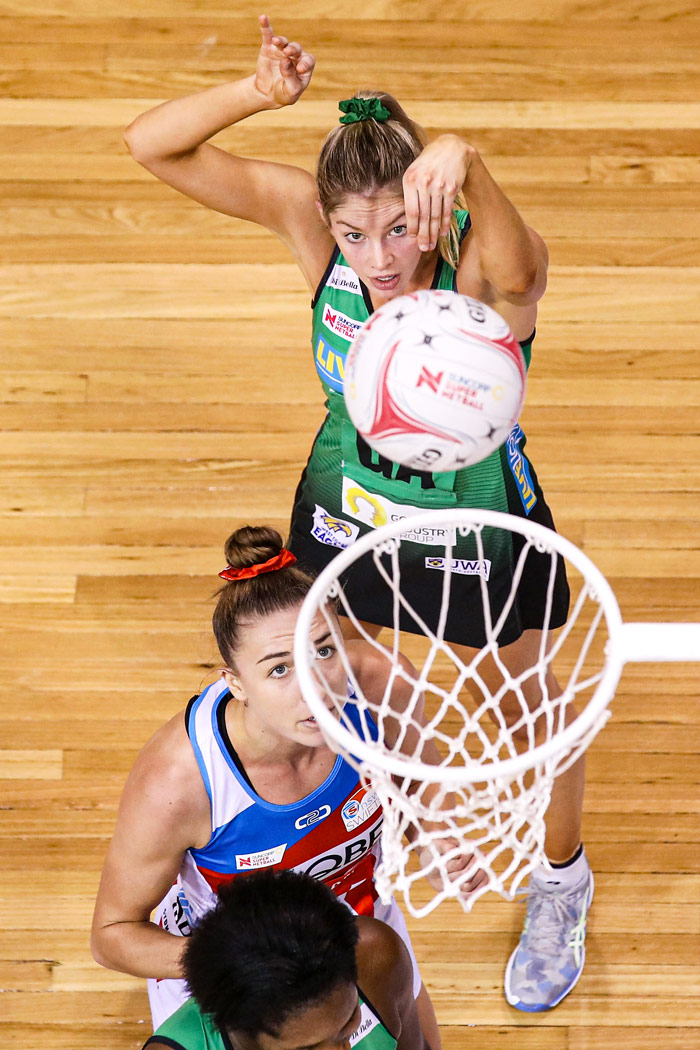 Heading into pre-season I knew that my fitness wasn't where I wanted it to be, so I set about lifting the Kaylia fitness benchmark. I did extra work to become more athletic, more dynamic and stronger.
Mentally, I decided to toughen up and become more determined when faced with what is now a much more physical game of netball. To bring that ruthless, dogged behaviour. Now when I get out onto the court or into a training environment, I really try to 'bring it' to whichever defender I'm coming up against. 
I've had lots of positive comments from my teammates around my new play and I trust that each week it will get stronger and stronger and pay dividends for my team. 
HOW IT BEGAN
There are some very tall genes in my family. I'm 189 centimetres, so I don't really classify myself as that tall. There are certainly taller netballers in the world. My family ranges in height from 183cm to 192cm and, to complement this, our house was designed to provide lots of space for people who are tall. Higher benchtops and ceilings.
Growing up as the "tall" in a netball team means that you are generally slotted in as goal shooter or goal keeper. For me, I was generally put in the GS position. Unfortunately, this typecasting sometimes leads to less opportunity to organically develop a range of fundamentals in all positions on court.

Now Netball Australia has a "talls' netball camp to help develop a broader range of skills and programs for girls over 183cm.
I was really lucky to have a mum who, with her athletics and netball knowledge, was able to coach me in my primary school netball team. I lacked a bit of coordination and she was there to help me to build the footwork and passing skills while I grew into my body.
In Year 11, I grew five centimetres in a few months and then lost my balance. I had to make a lot of adjustments. So I had to work hard to counter this difficult growth spurt. 
More about: Coaching | Diamonds | Fast5 Netball World Series | Super Netball | Tokyo 2020 | West Coast Fever