This is an uncomfortable story for me to tell.
I've been a closed book for as long as I can remember. I haven't liked talking about my personal life. But bottling everything up is how I got to this point. Shining a light on the dark places and telling this story is part of my new journey, a necessary journey, even if it doesn't come naturally to me.
I'd be lying if I said this year hasn't been filled with anxiety about the unknown. It has. Sport has always been my sanctuary – my home away from home – and I've missed it desperately. That has meant extended periods being stuck in my own head. And that's not healthy for anyone.
But if there's a positive to be taken from the last 12 months, it's been the opportunity to take a step back, address some issues that I had ignored for too long and set a course for a better future. A happier future.
One of my major downfalls – as I've come to understand it only with the support of professional help –  has been a need to shield loved ones from what I am experiencing or feeling inside. My wife, Emma, has always encouraged me to speak up, but I guess I'm hardwired to not show vulnerability or weakness. To lead from the front. Tough it out and never seek help, no matter how much I needed it.
I was 17, a kid, when I first walked into my first professional sporting environment at the Broncos in 2004. Being part of a dressing room that included real hard men like Tonie Carroll, Shane Webcke and Petero Civoniceva was an incredible experience, but it also reinforced a feeling within me that the old school notion of toughness – never revealing frailties of any kind – was the only way. In footy, you want your leaders being stoic and battling forward no matter the circumstances. As a kid who was borderline shy, very innocent, quite naïve about the world and eager to impress, I took that persona on just as a lot of other young players do.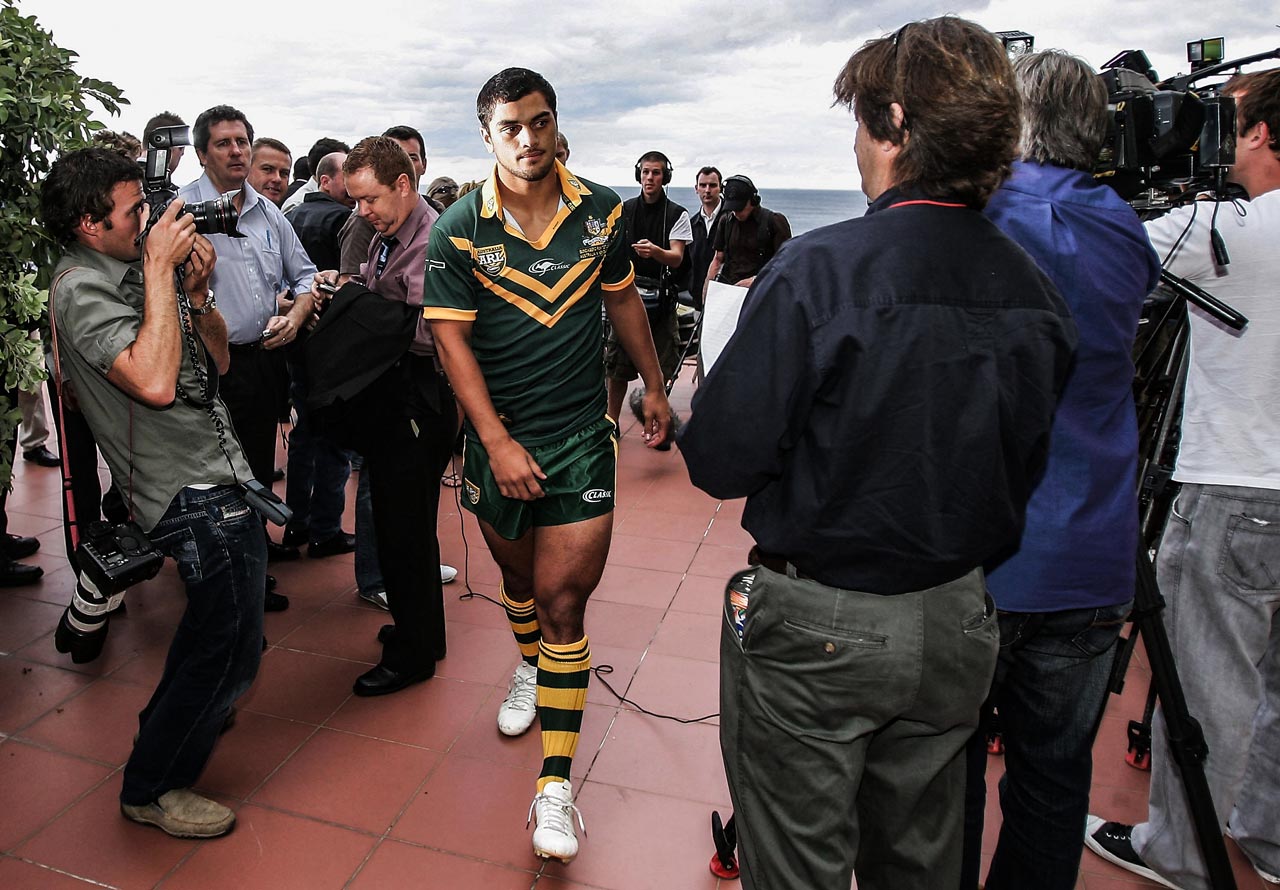 Up until recently, that was how I'd lived my whole adult life.
There's a problem with this, of course. The stress and pressure can bubble over and manifest in ways where it's looking to get out. And the only real release I knew came in the form of alcohol and binge drinking, which could then lead to other bad decisions.
It was destructive and in no way consistent with a happy life. In fact, turning to binge drinking resulted in exactly the opposite.
I couldn't see that then.
I do now.
THE BUILD-UP
One of the toughest periods of my life was when I transitioned from rugby league to AFL.
I was presented with a fantastic opportunity to test myself at the Gold Coast, albeit by putting myself at the bottom of the pile in a new sport after a relatively successful, comfortable, brief career with the Broncos.
My intention in switching to the AFL was not only to test myself but to help bring success to the Suns. I didn't expect anything to be handed to me on a platter. I was prepared to work my arse off to make it on merit.
I consider myself a realist. In no way did I think the transition was going to be easy. The conditioning required, the new skills, the tactics and strategies were all going to be challenging, however I underestimated the physical toll it would have on my body. I also had no doubt there'd be blowback in the media and from traditionalists and what not. Although I was prepared to weather those storms and more, deep down the negativity really took a toll on my mental health.
There were days when I would drive home after training in a depressive state. I was consumed with stress and anxiety about the constant disapproval I was surrounded with and – for the most part – I didn't share it. I didn't talk about it. And I certainly didn't seek any support.
Probably the one time I was honest with my family about how I was really feeling during that phase of my life was at a little Thai restaurant in the back blocks near Carrara Stadium after a home game. I was with my dad and my wife – and I was in tears. It was the fourth year of my five-year stint. I was in and out of the team, injuries and form playing a major factor.
My mental state was negative, I felt unsure of myself, my place in the team and whether I could continue on. Everything had bottled up over a period and it just erupted in an emotional outpouring. I wanted out.
On the outside, It may have looked like I was OK but nobody understood what was really going on because I had refused to tell anyone. I hid it from people around me. That was the way I thought you coped. But It's not. The pressure cooker would reach boiling point. The need for nights out and alcohol were calling.
It was destructive and in no way consistent with a happy life. In fact, turning to binge drinking resulted in exactly the opposite. I couldn't see that then. I do now.
Way too much alcohol at times would lead to other bad decisions.
That's what led to my first run-in with the police on the Gold Coast. I'd left the Suns for the Reds and had just finished pre-season in Brisbane. I had been named as the run-on No. 10 – which was not my usual position – and co-vice-captain. I was a week away from playing my first Super Rugby game. Professionally, life was good. Then my world came crumbling down. I should've been focused on my Reds debut, but instead I was panicked about the drug charges and imminent public firestorm I knew was around the corner.
The mistake was all mine and I own that. I did the wrong thing, full stop. But the impact wasn't just on me. I've got parents, a wife, three kids, friends. My new club I was going to, and the old club I had just left would also be entangled in it all. This is what I'm most sorry about, how everyone close to me got swept up in what was completely my mistake.
As I just touched on, in amongst all this we had our first daughter, Halo. Then we had two more children quickly: Gigi and Bodhi arrived in the next two-and-a-half years. After falling pregnant with our third child when our second was only five months old, my wife began to struggle. I am fiercely protective of her so I won't to go into detail other than to say her health concerns became a huge focus for me. I love my family so much but I was really struggling at home with the load. My whole world felt like mayhem from the inside out but, true to my makeup, I didn't speak up and ask for help.
What I have come to learn is that I should have spoken up, and it's okay to tell people you are not coping. This takes courage.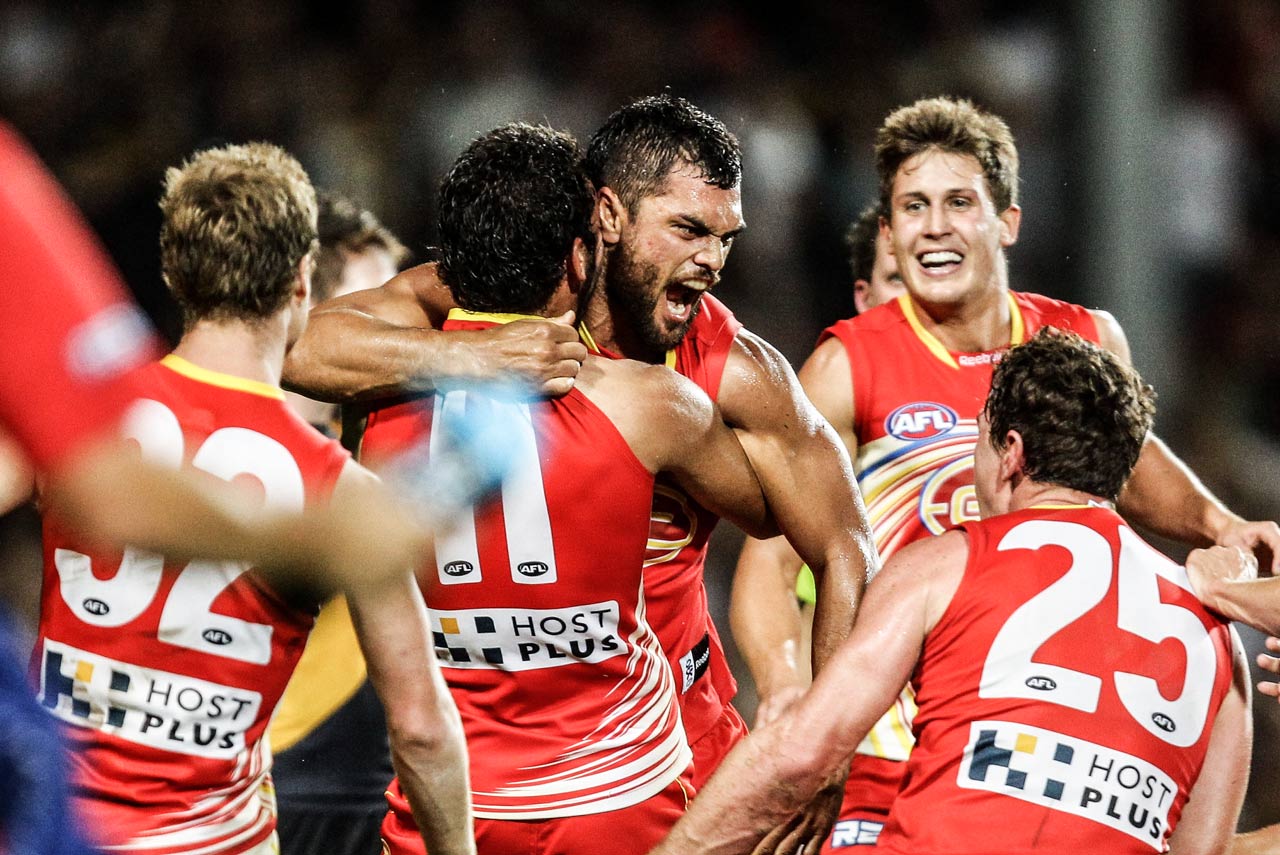 THE REALISATION
I've always prided myself, in footy and in life, on my ability to learn from mistakes. But you know what? I hadn't learned what it meant to authentically open up about my struggles. I went to psychologists and doctors, but I wasn't truly being honest about what was really troubling me. Old habits die hard.
Fast forward three years to that night in December 2017 when I was arrested in Fortitude Valley. It was like the end of the world for me.
I'm lucky I had my family looking after me. So many people came to the house: uncles, aunties, in-laws, my best mate. Everyone was down but unequivocally wanted to be there for me. I was so low. I don't want to think about what might've happened if I had been left alone.
I had good reason to feel that way, because I knew exactly what was coming. I wasn't worried about myself. I was worried about the stuff my family and my teammates and club were going to cop. Because of my inability to deal with my own shit, they were about to get dragged into it, again.
My whole world felt like mayhem from the inside out but, true to my makeup, I didn't speak up and ask for help.
I'd failed to recognise how poorly I dealt with stress, how much I neglected the voice inside which was crying for help, how that would manifest into certain behaviours and how they would end up hurting everyone around me.
I mentioned earlier my worries over the transition to AFL. The same applied with switching to rugby. There was a lot of insecurity. After some of my experiences at the Suns, how my body was after the transition, my confidence was rocked.
I could've had a really comfortable career in the NRL, stayed at the Broncos, played 300-plus games, plenty of Origins and Test matches. But I wanted to see what else was out there and what was possible. The same thinking applied when I left the Suns for the Reds.
More about: Brisbane Broncos | Gold Coast Suns | Kangaroos | Karmichael Hunt | Queensland Reds | Rugby World Cup | Super Rugby | Wallabies