Don't look back and wonder
Being born today would be great.
It would mean that a fulltime AFLW career would be an option, just like it is for males.
I'm almost 30, and I've got a few years left yet, touch wood, so it's cool that I'm able to experience the early days of AFLW. But when you look back you realise how much we've missed out on.
You ask why we didn't have the same opportunities. And it does start to sink in that you're missing out because of your gender.
It's awesome that we're going in the right direction, though. The girls who are coming through have the opportunities that we didn't get. There were so many women before us who helped pave the way to make all this possible, and we're now doing the same thing for the girls behind us.
When I first started playing as a 16-year-old, I didn't have the foresight to look ahead and think that I'd be playing at an AFL club one day. Now that I'm here, I realise what an amazing environment it is – what I wasn't dreaming of, because it was so unimaginable.
For me, the elite environment means I'm able to get the best out of myself and give myself every opportunity to reach my potential. I'd hate to look back and wonder. It gives you the possibility to push those boundaries.
We can't change the past, so we have to do our best to shape the future. We want to see the continuing growth of the league and the investment and belief in it. Patience, as well, because it will be an amazing competition. I think it already is. 
Certainly, in a few years' time when those younger players who have been involved in the complete AFL pathway come through and get to showcase their skills, I think any doubters might be silenced.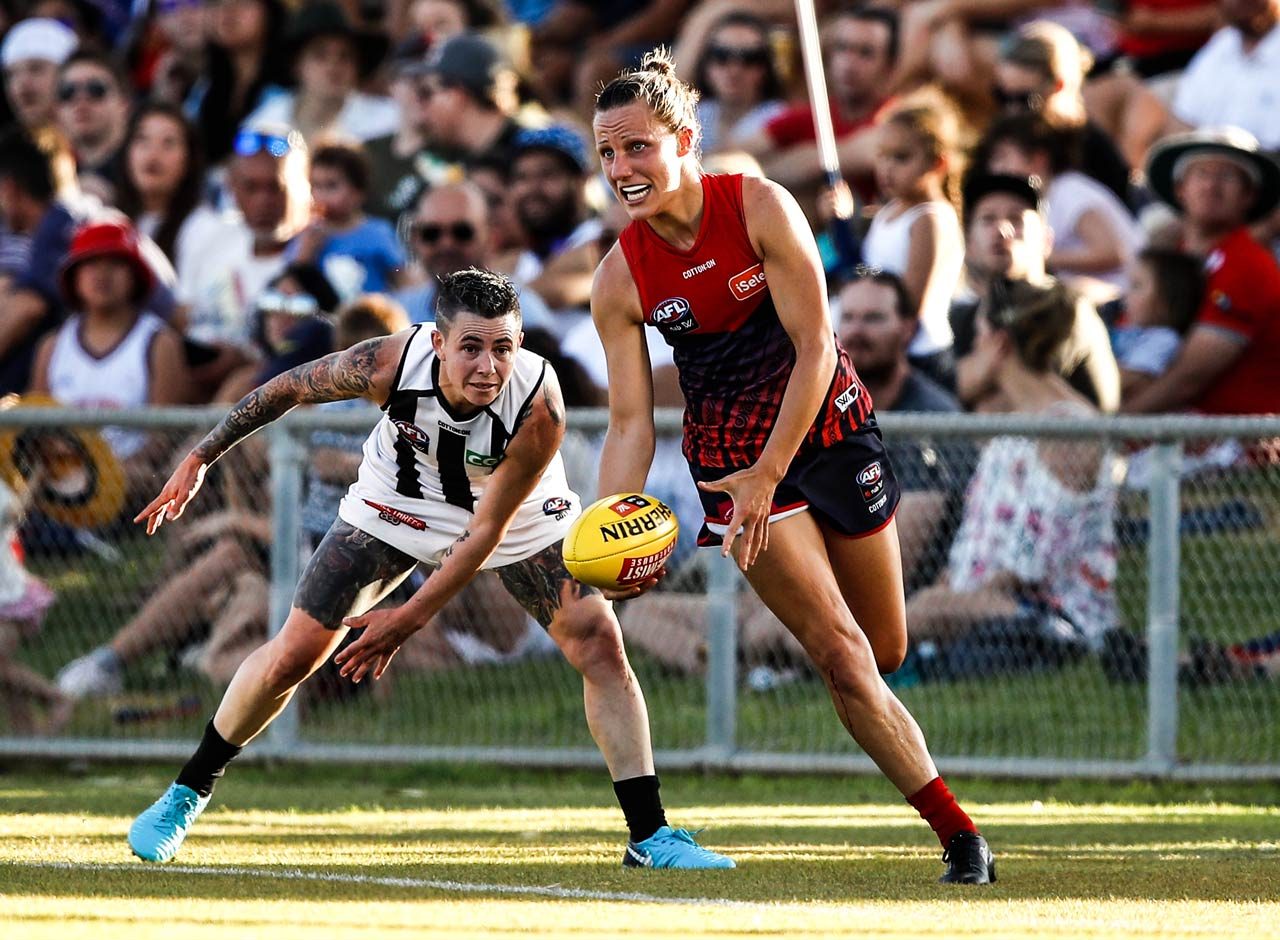 AFL? WHAT'S THAT?
The footy was never really on TV in our house. Sport, in general, wasn't on the telly. My wider family all barracked for Essendon, but mum and dad in particular just aren't very sporty. It just happened to be in my nature that I've loved playing sport and what I did know was that I wanted to play it at a high level.
I can't remember learning to kick a footy, I've luckily just always been able to, somehow. When I was 16, I found out there was a women's football league. Up until that point I'd been playing netball. I was starting to get to State League Championship level and (with great ignorance in hindsight) truly believed I was going to be an Australian netballer!  
That dream was squashed when I went for a Victorian under-16 try-out and I didn't make it. Clearly, I was about a metre too short, anyway and lacked anything I needed to make up for my height! I was like 'ahh, well, that didn't work out', so I gave footy a real crack. I just fell into it by chance, really.
My school PE teacher played footy, so I went down and joined her team, the Lalor Bloods, and from there made the under-19 state side. Because I'd never really seen a game, I had to learn the rules and positions. I didn't have any AFL idols. I didn't really know any of the players aside from the more well-known ones. When I joined Melbourne, I really only knew of Max Gawn. Yes, he's pretty hard to miss.
This year I watched a bit more on TV, especially Melbourne's last few games, and I was really into it. I think now knowing some of the male players a little more and having a bit more of a personal connection makes it a lot more enjoyable and easier to get involved and invested. So, for the first time ever, I feel like I got into the AFL.
It's about time – I could probably learn a few things if I watch!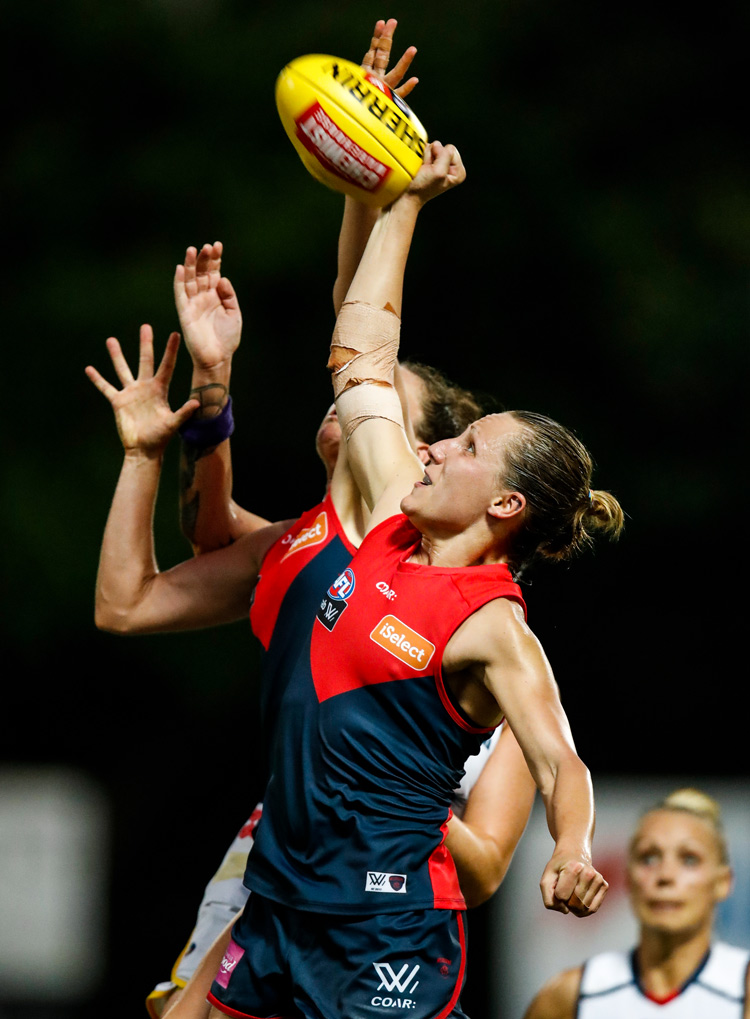 Part of what drew me into loving playing football initially was the open space of the oval and not being confined to a small court. One of my strengths is my running, which certainly comes in handy. Especially playing 16 per side in the AFLW competition.
Overall, I think I'm naturally more of a defensive player, even when I'm playing in the middle. When playing in the backline, I enjoy running off my opponent and finding a bit of space back there. I'm working on my attacking game a bit more, so hopefully I'll kick a few goals this season – that would be nice!
People have brought up Garry Lyon's comment about me being "the most naturally gifted and inclined player in the competition'', and that's obviously really nice to hear. But, jeez, I think he may have just seen my top-10 highlights reel or something like that! He should really get watching the AFLW and check out the likes of Melbourne's own Elise O'Dea or Fremantle's  Kara Donnellan.
When those younger players who have been involved in the complete AFL pathway come through and get to showcase their skills, I think any doubters might be silenced.
Our pre-season starts on November 14. I didn't play VFL this season; I'm ready to roll. We identified that a third straight full year of footy might be a bit much and there were areas I wanted to work on away from playing – but that's an individual thing. There are some girls who need match experience, but I thought I could manage my areas of improvement more effectively if I stepped away from VFL.
It does feel like forever since I've played, but I've been coming in and training and trying to get as much of the ball in hand as possible. Most of the girls have had a bit of a break after the VFL season so we're slowly gathering everyone and getting ready for our first session together.
More about: Essendon | Geelong Cats | Melbourne Demons | North Melbourne | VFL | Women's Sport