Surviving on two quid an hour
We started out in a place called Longhill. It was working class. Everyone who lived there was blue collar or on the dole. You'd get a bit of everything – scaffolders, bricklayers, taxi drivers. Great people. They worked hard for not a lot of money at the end of the day.
My brother Nathan and I were born 11 months apart. We were inseparable when we were kids – Dumb and Dumber, we were! – and we got into our share of trouble, usually for fighting each other. I remember one night, a Friday, when mum and dad were mad at us and we climbed out the bedroom window, scaled the drainage pipe and ran all the way to our nanna's place.
She got the shock of her life, seeing her five-year-old grandson in his dressing gown at her front door at 9pm. She was trying to look serious, so as not to encourage us, but you could tell deep down she was trying not to laugh.
We always ran to nanna's when we were in trouble.
When I was about 10, mum and dad saved up enough money to move us into a nicer place in Bilton, a small village not far from town. I had six brothers – David, Richard, John, Alan, Nathan and Joe – and they were all league mad. 
I didn't see four of my older brothers for a decade or more. Like a lot of families, we had some issues. We were reunited when I was 18. It was a really important time in my life.
They were a big influence on me. When I turned professional, for example, David would sit in the garden and give me media training. They were protective but would also tell you when to pull your head in.
My brothers do a lot for me and my family. If we need them, they're there in a heartbeat.
Nathan and I were especially close. We were the waterboys for dad's rugby league team on the weekend. We'd collect the cones, run the water, whatever we could. We loved rugby league from a very young age.
Because we were around it so much, it was all we ever knew.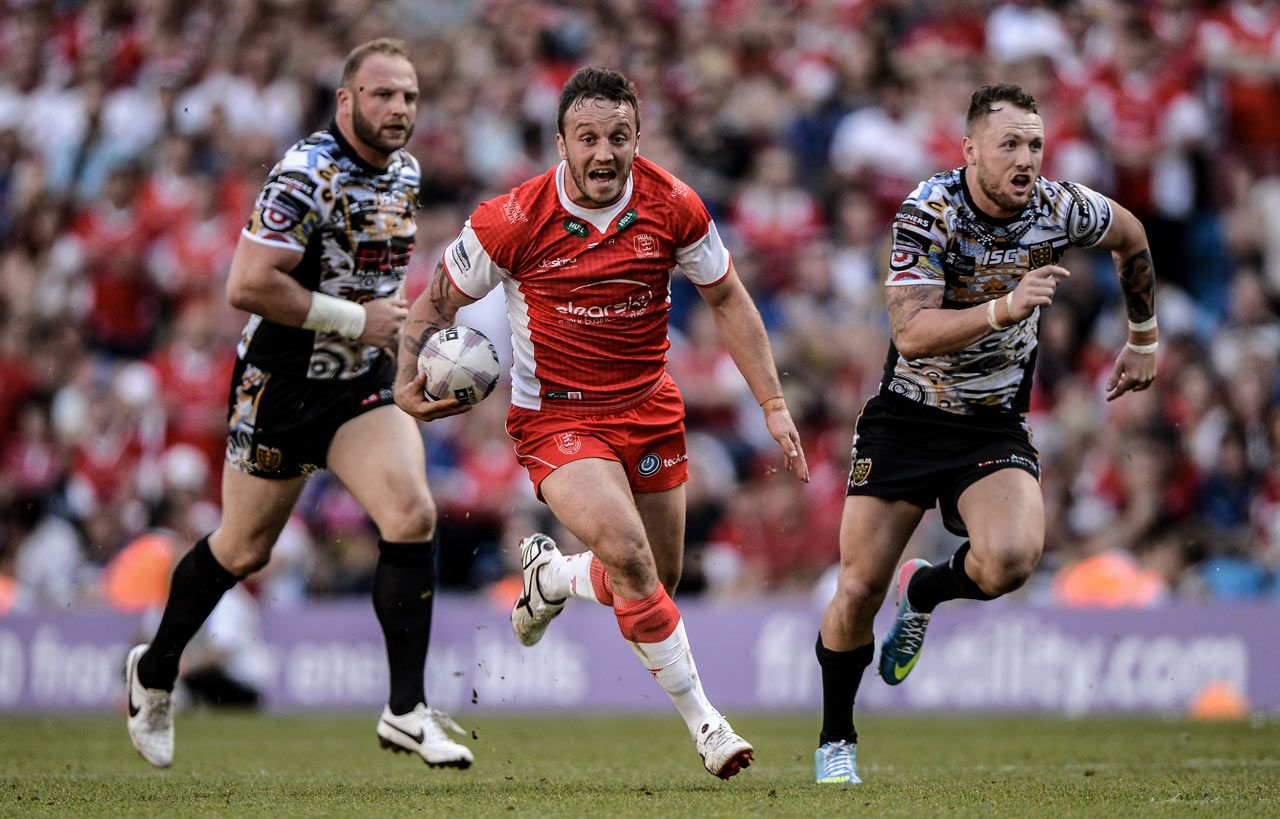 A STRAIGHT RED
I played a little bit of soccer at school.
South Holderness were a player short and I put my hand up to fill in. My first game was Grimsby High School away in the quarter-finals of the under-14s Schools National Cup which, if you're not familiar with it, is a knockout tournament. If you get beat, you're out.
I'd been on the field maybe 10 minutes in my first game when a corner was coming in. This kid from Grimsby jumped up and headed it. It was just sailing in the top right corner. My league reflexes kicked in. I slapped it out with my hand. Straight red card. My football career didn't last too much longer after that.
I follow Liverpool. When we were younger, my nanna, Greta, would take us away for weekends. We would go to Knowsley Safari Park, driving through all the monkeys, and then she'd take us to Anfield and around the other football stadiums around Liverpool. She took us to Wigan Warriors games, too. We loved it. Most of my fondest memories from my childhood are with my nanna.
But as much as England is obsessed with football (and, yes, Elliott Whitehead and I watched the Sweden game on the team bus and I pulled the mattress into the living room for the Croatia semi-final to watch it with the kids), rugby league was always my life.
Nathan was ridiculously talented growing up. I loved the game but I was nowhere near as good as he was. I used to always say, 'I'll play rugby league for a living,' but it wasn't something that came naturally to me. I had to work hard for it.
Everyone who lived there was blue collar or on the dole. You'd get a bit of everything – scaffolders, bricklayers, taxi drivers. Great people.
There was a lot of self-doubt. I'd look around my area and see all these talented kids trying to make it. I'd question whether I could. I'd kick myself for days about an error or a result. It took me a while to move on and that used to knock my confidence about.
The breakthrough moment came when I was 13. I got picked for Yorkshire trials. We all got taken to a big complex, I can't remember what it was called, but it was a big, old castle where monks stayed. It was a weird set-up.
I went there for a full week with 40 other kids from all through Yorkshire.  You'd train for the week and you'd get split into two teams of 20 and you'd all get to play. Then they would pick a 17-person squad to represent Yorkshire against Lancashire.
Out of the 40 kids, they used to have a thing called Top Gun. It was for the player who showed the most promise, been the best in the camp.
I got that award my first time there.
That was the first time when I thought, 'You know what? I can make something of this.'
It inspired me.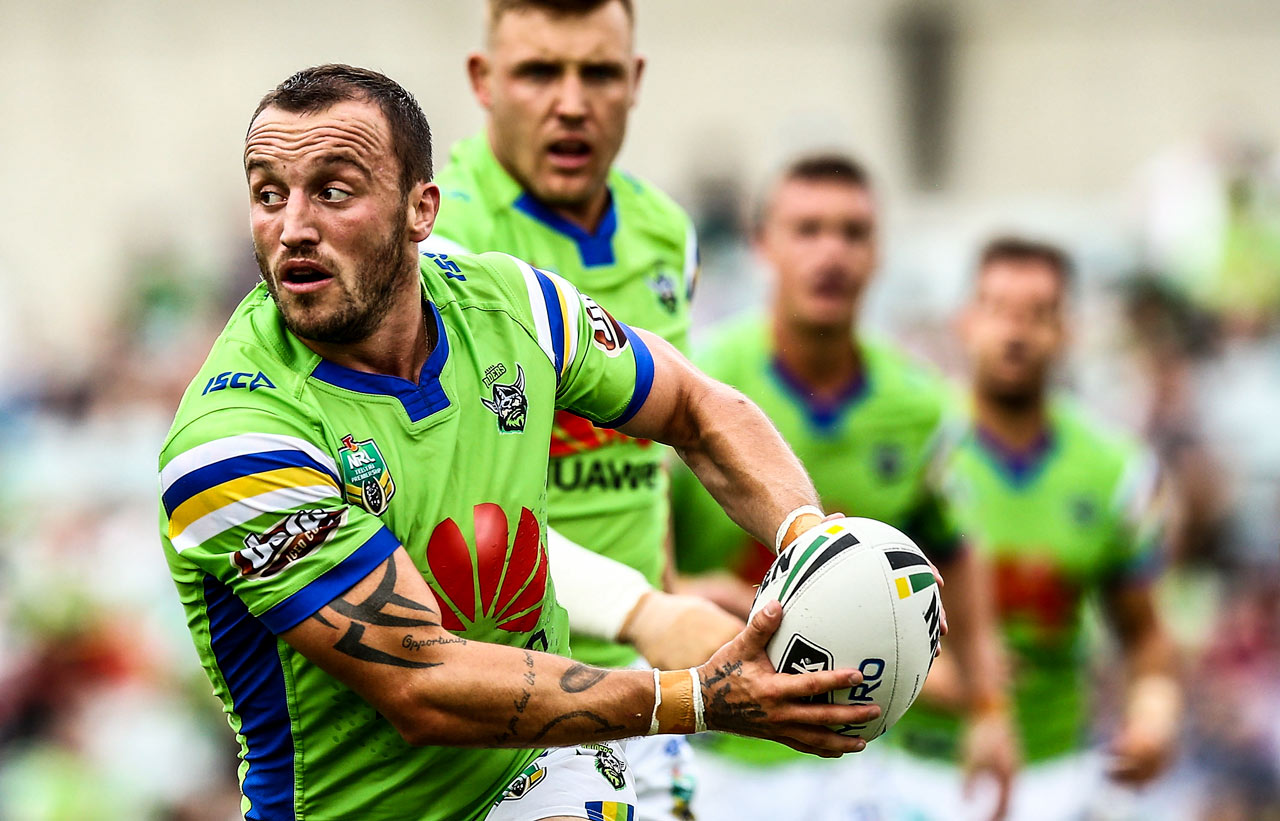 TWO QUID AN HOUR
I left school when I was 16. I was never a bloke who could keep his head in a book, so when I got the opportunity to work with my brother Alan, earn a bit of money and enter the big, bad world, it was a pretty easy decision for me.
I started out plastering with Alan. It's different to here. Here, they put the gyprock on, plaster over the cracks and sand it down. There, you have a clay-like plaster that you put all over the house.
When I was 17, I started an apprenticeship as a bricklayer. The pay was 80 pounds a week and the weeks were 40 hours long. Two quid an hour! I was paying 40 pounds a week board to mum and dad back then. It was tough to get by.
There had been big floods across England at the time and a lot of the houses had to be ripped out.  We'd mark out a metre all the way around the house, take all the plaster boards, the wood, the floorboards and throw it into skips. People were waiting months for their homes to dry out.
It was hard work, for not a lot of pay, and there wasn't much bricklaying involved. I thought it was pretty pointless. I was doing a bricklaying apprenticeship but not laying bricks.
I left and got a job at Tilson Scaffolding through Colin Stephenson at the club. I was taking home about 300 pounds a week, which was a big step up. That lasted about four or five months, until I was laid off when work dried up. David, my brother, gave me a job for the next six weeks which, as he describes it, involved me 'making cups of tea and driving the van around,' before I went full-time professional with Hull FC.
It was a pay cut from the scaffolding but I went with it. I was a rugby league geek. When my mates would go to the park, drinking and stuff like that, I'd take a football with me and pass and kick off on the side with my best friend, Thomas Monaghan. 
Partying wasn't for me. I've always put rugby league first. Then and now, I pride myself on looking after my body, putting in the extras at training. Hard work has got me where I am.
When I was 17, I started an apprenticeship as a bricklayer. The pay was 80 pounds a week and the weeks were 40 hours long. Two quid an hour!
My contract with Hull FC worked out at something like 820 pounds a month. I had to give mum and dad 200 quid for board and it was 50 pounds a week for petrol. That left me with 420. Car insurance was 85 pounds a month. So that was about 350 quid for the month for everything else.
When you're training all the time, trying to eat right and do the right things, it wasn't a lot of money to live off. I couldn't really lean on my family for money. I had to budget very well. I would go out every now and then for a special occasion, like someone's birthday, but I was usually having to borrow some money from here or there and pay people back from next month's pay.
I was named player-of-the-year in reserve grade and had made it up to first grade. I thought the time had come to have a chat with the CEO at the time. I didn't want to leave. Hull FC was all I'd ever known.
At the same time, I had received a call from Justin Morgan, who was the Hull KR coach at the time. He said, 'We've lost Daniel Fitzhenry, he's going back to the NRL, we'd love to get you on board.' I was fourth-in-line hooker at Hull FC so there wasn't much chance of me getting a consistent look at first grade for a long time.
So I went to my CEO. I told him about the Hull KR interest but reassured him that I was from Hull FC and I was happy here and willing to work hard. I told him, 'Look, can you please pay me 12,000 pounds. I'm not asking for 50,000 or 30,000. I'm just really struggling to live off 10,000 pounds.'
The CEO said, 'I haven't got the money.'
Shortly after that conversation, Hull FC made a couple of big-name signings. I didn't feel very appreciated. I ended up leaving the club for the sake of 2,000 pounds. 
That decision made my career.
THE HANDSHAKE
The move to Hull KR really opened the door for me.
I was able to nail down a starting spot in the Super League team and was privileged to captain the England Knights against Samoa, which is an under-23s development team for players deemed to have the potential to play Tests.
I had five great years there. They had some good players in the senior team and a brilliant coaching staff who helped me. I had a good work ethic but they showed me what it really took to be a professional. It's a terrific club.
By this time, I'd attracted a bit of interest from the Roosters in the NRL. Playing in the elite rugby league competition obviously had plenty of appeal. Everyone wants to test themselves against the best.
But it didn't work out. The money wasn't enough to really live in Sydney. More than that, the Roosters had Jake Friend. That meant I was most likely going to be playing NSW Cup every week.
I didn't want to go backwards from a starting hooker to a back-up. So I decided to stay in England.
I tried to get to the NRL again the next year and the Roosters were still interested but it was a similar scenario. I might've played 20 minutes of first grade a week. There wasn't a lot of noise from other NRL clubs coming my way.
It didn't look like the Roosters opportunity was going to amount to anything, so I agreed a new deal with Hull KR. It was going to be a four or five-year contract. That would've meant giving up on my NRL dream and seeing out my playing days in England.
I shook hands, agreed to terms, everything apart from signing on the dotted line.
I didn't feel very appreciated. I ended up leaving Hull FC for the sake of 2,000 pounds.
Then my agent called and said, 'Have you signed?' I said no. He said, 'The Canberra Raiders have offered you a starting spot.'
It wasn't massive money, because I was untried in Australia, but it was a start and a chance to work hard and make it my own.
It was probably the most difficult position I've ever been in in my life.
Neil Hudgell is the chairman of Hull KR. He's a terrific bloke. I'd sat in his office, looked him in the eye and shaken his hand on a new deal. To me, shaking someone's hand is as good as signing. I didn't know what to do.
I drove to his house with my stomach in knots.
'Would you like a cup of tea?' he said.
Then he saw the expression on my face.
'What's wrong, mate? You look nervous.'
I said, 'You would be if you were in my shoes.'
'Just ask away, mate,' he said. 'The worst that can happen is a no.'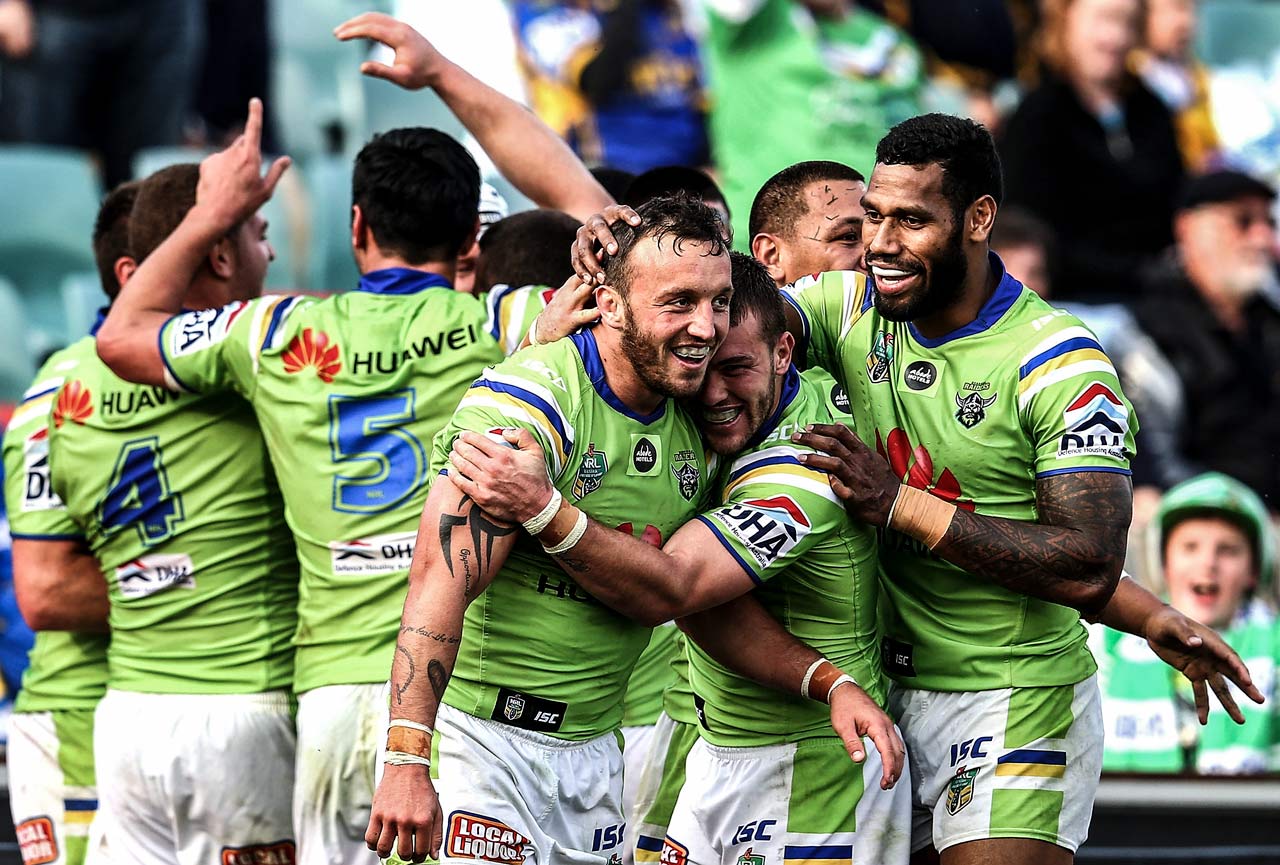 I explained the opportunity that had been presented, that this was probably my last and only chance to play in the NRL. I also told him I was more than happy to honour the handshake agreement. I wouldn't feel bad towards the club if he said no. I would've stayed 100 per cent if that was the case.
Neil went quiet for a little bit.
'You're right,' he said. 'It is a good opportunity. I don't know what I can do. We need you in the team and we don't really have anyone lined up.'
Then he added: 'You're a good young kid.  You've done great by the club. One way or another, we'll try and make it happen.'
I've got a lot of respect for Neil. He made a decision with his heart, I feel, rather than his head.
There was a fee involved, sure, but I was still contracted for another two years as it was. He could've slammed the door on it real quick and said, 'You're not going anywhere.'
He didn't. And that's how I came to be here.
HOME
There are times when I really miss home. We have two kids now, George and Ivy, and they're at such a beautiful age. I think about our family, how they don't get to see them as much as if we were at home.
My family can be a bit disjointed,but I'm close to my brothers. They've got kids, too. I've got three nieces and three nephews. Whenever they get the chance to see my kids, they spoil them rotten.
My wife, Kirby, and I have had to rely on each other a lot out here. We met when we were about 19. It was a bit of whirlwind. We were on-and-off for a while but the best thing we ever did was making up. It brought us two beautiful kids.
We found the transition to Australia pretty easy. We saw it as a great opportunity. Canberra suited us down to the ground. It's very family-oriented. When you're living so far from home, family has to come first.
We married here. We had our kids here. We've made a real home for ourselves.
'You're a good young kid.  You've done great by the club. One way or another, we'll try and make it happen.'
My brother David with his wife Annette and the kids have been massive in helping us settle. They come from England every year, which isn't cheap for six of them. It's purely to spend time with us.
We rely on friends we've made here, people who we've met through the Raiders. They have all been brilliant but you know what it's like. You don't want to keep asking friends for favours time and time again. You feel like you're bugging them. It's different with family.
It has made us appreciate that we can pack up and go live anywhere in the world. We're self-reliant.
All that said, what an adventure this has been. The Raiders, the NRL … it's been more than I could've imagined. Representing England is the icing.
We're going on four years here now. We've just signed a new, long-term contract with the Raiders. I love this club. The first few years were tough and I had to work hard to get to where I am. But I wouldn't change any of it.
I'm grateful to everyone – even those I haven't mentioned in this piece – who helped us get here. There can't be many of us who dreamed a dream in Longhill and played it out in Canberra.
More about: Canberra Raiders | England | England rugby league | International rugby league | Sydney Roosters