The Ashes memory that burned
I've been carrying around a memory with me throughout this Ashes series.
It's the memory of sitting in the old dressing rooms at Trent Bridge two years ago, listening to the England team celebrating their Ashes series victory over us.
The dressing rooms are pretty close together in a lot of those old English grounds and Nottingham is no different. We could hear everything. There we were sitting around – quiet and disappointed and thinking of all the things we could have done better as individuals and as a team – while the English guys were celebrating and jumping around.
It's up there with the worst feelings I've experienced in cricket.
We had been bowled out for 60 in the first innings and ended up losing by an innings and 78 runs. Watching them doing their victory lap and celebrating with their fans was hard enough, but those celebrations in the dressing room topped it off for me. I never wanted to feel that way again.
Fast bowling can be hard work and you're always looking for little things to push you through the pain for the next over, the next spell, the next wicket.
I've called on that memory from Trent Bridge for motivation this summer.
Being on the other end this time around has been much, much sweeter given everything we've gone through to get here.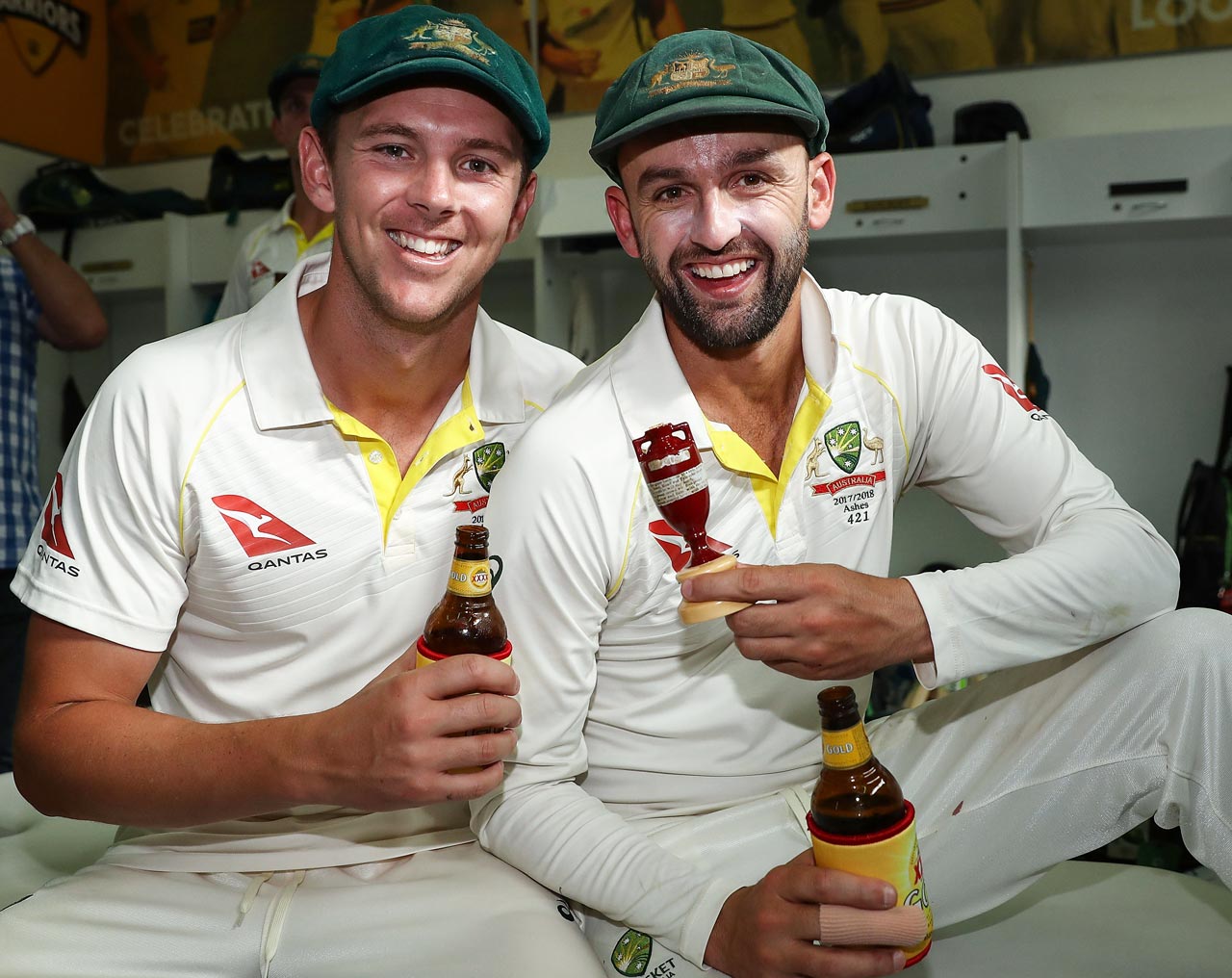 TAKING ON JOE ROOT
Winning the World Cup final at the Melbourne Cricket Ground has been the best moment of my career to this point, but I reckon an Ashes whitewash at home would probably knock that out of top spot.
We're determined to make it happen. You can feel that extra bit of anticipation around the country when we're out and about. Strangers come up to you to say, 'Make sure you give it to the Poms!'
The urn might be secured, but there's no shortage of motivation for the last two Tests.
Aside from celebrating with the boys and the urn in the WACA Ground changeroom, my favourite memories so far this series have probably been a couple of my Joe Root dismissals when the games were quite evenly balanced.
Joe can take the game away from you pretty quickly. Australian teams for a long time have placed a lot of importance in targeting the opposition captain and, in the case of England, he also happens to be their best batsman.
Aside from Joe and Alastair Cook, who was England's last captain and has played 150 Tests, the rest of the batting order is quite inexperienced. If you can get on top of those senior batsmen, it can put worry into the others.
Winning the World Cup final at the Melbourne Cricket Ground has been the best moment of my career to this point, but I reckon an Ashes whitewash at home would probably knock that out of top spot.
In the second innings at the Gabba, Joe had got to his half century and was looking pretty good. He had hit me for a couple of boundaries in my previous over and I was getting towards the end of my spell.
It was the last ball of the over and potentially the spell. I put a bit more on it. It was full, faded in and nipped back and got him lbw. That was the plan we'd been trying to work on (although I would've preferred not to go for eight runs the over before!).
The situation in Adelaide was quite similar.
England had fought back well the night before. I hadn't taken a wicket for a while in the second innings and the Barmy Army were into me singing, 'Hazlewood's in the Army now! Twelfth man in the Army!' It was pretty funny.
The next morning I had Chris Woakes caught behind straight away without adding to his overnight total. But Root was still in, and looking pretty good on 67.
England were still right in the game and we were bashing away with a pretty old ball that was getting a little bit of reverse swing.
I was moving the ball in mostly, but took one away to Joe in the next over. It shot through a bit, got a bottom edge and carried through to the keeper. The length I was bowling that last day was pretty much spot-on for those dismissals.
I had a bit of fun with the Barmy Army boys after that. I love them.
A traditional crowd claps for runs and wickets and good balls but these guys go all day, every day. It starts with Jerusalem, then they go through their songbook. They barely come up for air!
Even with a couple of hundred people, they can create an electric atmosphere. When we needed one wicket with an innings in front in Perth, they were still going. They're brilliant for the game.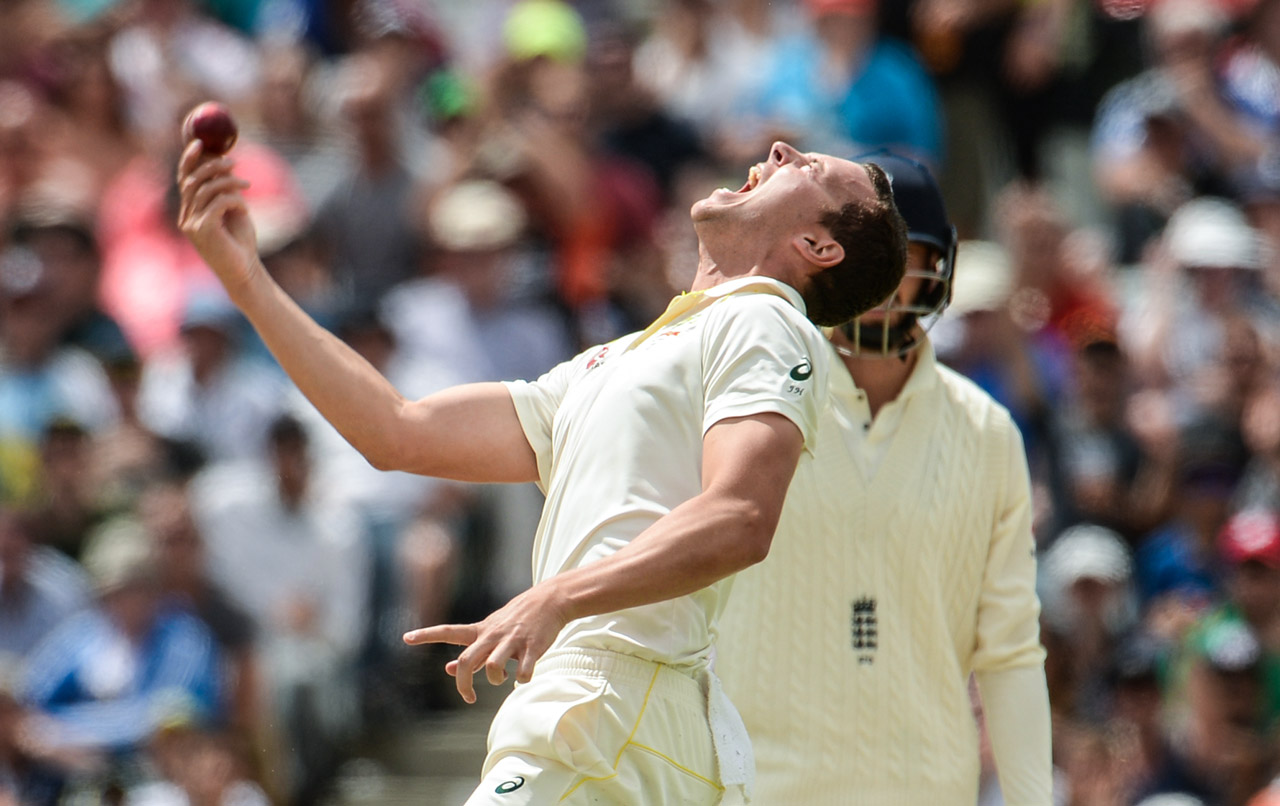 A BOY IN A MAN'S GAME
Heading to Melbourne with the Ashes secure and a whitewash in our sites is pretty special.
I've got great memories of Boxing Day. It takes me back to when I was a kid, back home in Bendemeeer. Every Christmas, we would jump in the car and drive half an hour up the road to my aunty's place in Uralla.
We would play golf on Boxing Day morning and get back for the first session of Boxing Day to watch Matty Hayden and Justin Langer smash them everywhere and the bowlers do their thing.
I'm still very close to the crew back home.
My brother, Aaron, is two years older than me and still plays in the Tamworth first grade comp. I played a lot with him growing up in the backyard in Bendemeer before moving up to open primary school – a little kid playing against sixth graders on concrete and astroturf pitches.
I was 12 or 13 when I made my first grade debut for the Old Boys Cricket Club. Now I was a slightly bigger kid playing against grown men! They went easy on me at first, but the sledging piped up a bit when I started bowling.
'You're a little boy in a game of men!'
'What are you doing here, kid?'
It was all good fun and it certainly made me grow up pretty quickly. It was also funny how those same blokes went quiet when I got to 16, 17 and there was a bit more pace on the ball. They went the full 180 on me!
I'm still great mates with a lot of those guys. They taught me so much about cricket.
It prepared me for everything that was to come in international cricket.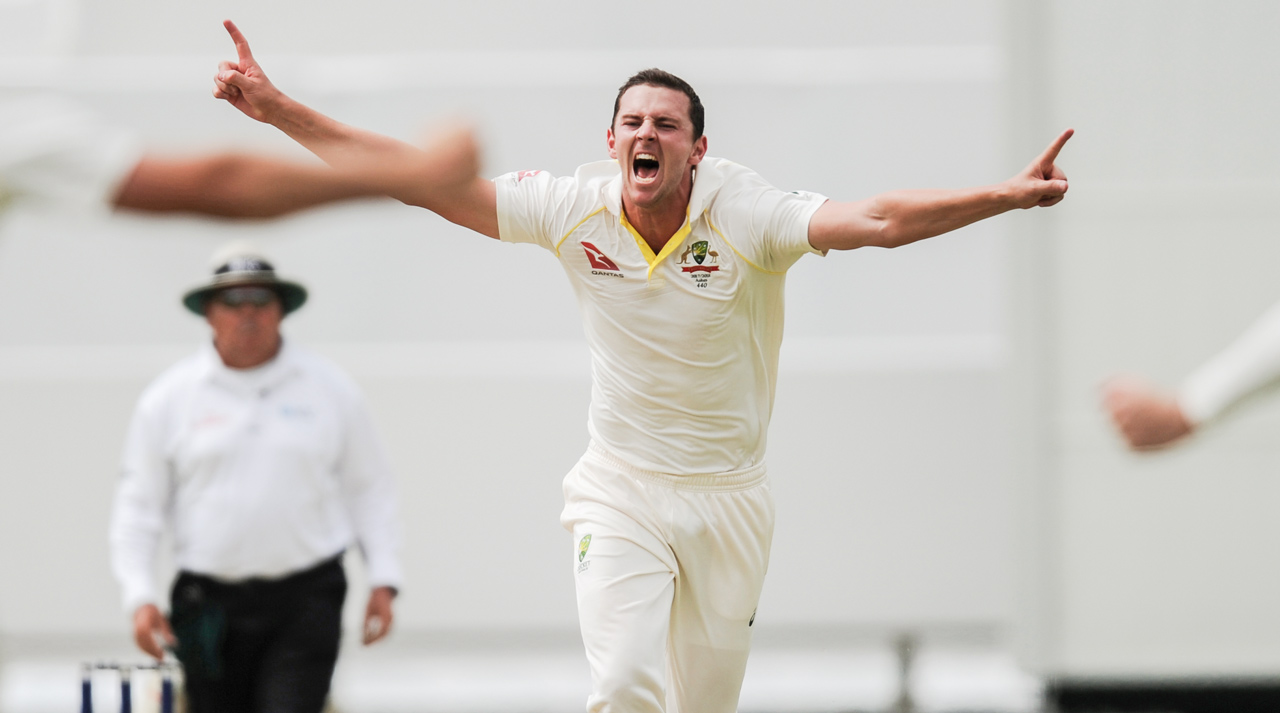 THE FAST BOWLERS' UNION
I feel like we're onto something pretty special with this fast bowling group.
We go by a few names – the Fast Bowlers Union, the Cartel, the Hairy Quicks, the Hairies – and we genuinely enjoy each other's success.
We stuck close together during the celebrations in the WACA Ground changerooms, sharing a few stories and a few beers. It will always be a great memory of mine.
We have to keep our focus on the here-and-now, but there are times when you think about the great fast-bowling partnerships in Australian Test history. For me, that was Glenn McGrath, Jason Gillespie, Brett Lee and a bit of Michael Kasprowicz.
If, one day, we could be mentioned in the same sentence as a group like that, it would be awesome.
Mitch Starc and I have bowled a lot together, and it's been brilliant to have Patty Cummins coming in bowling 145 km/h first change. The depth around the country is really strong. I'm confident that we're entering a great era of fast bowling in Australia.
We'll be fired up for Boxing Day. There's nothing in cricket quite like a chock-a-block Melbourne Cricket Ground.
It's a daunting enough place when it's empty – I remember my first Shield game there, thinking how big it was and craning my neck around from fine leg checking out all the stands – much less when there are 70,000-plus fans in there.
And then it's back to my home ground, the Sydney Cricket Ground, where we could be in a position to clean-sweep the series. Mum and dad will be making the drive down and so will my sister and brother-in-law.
It's been the home of so many of my favourite memories in cricket.
Hopefully, the best one is yet to come.
More about: Ashes | Australian cricket team | Justin Langer | Test cricket