What I'm really fighting for
People take one look at my cauliflower ear and think I must've got it boxing. Not true. I got it playing rugby league.
I played lock when I was a kid. I remember copping a hit and the doctors draining the blood out. Then I was boxing and I got another smack in the ear. It blew up again and they sucked the blood out a second time. Then I was playing rugby union and it kept getting rubbed in the scrums. I had it drained about seven or eight times. Then I gave up.
That's what life was like where I grew up in East Mangere, South Auckland. We played lots of different sports.
David Tu'a and Manu Vatuvei were from the area and they were heroes to all us kids. So was Monty Betham. He came to my school, Marcellin College, and addressed all the students when he was playing for the Warriors. He spoke about the importance of believing in yourself and reminded us that nothing in life comes easy. I took a lot from that. It hit a spot in my heart.
South Auckland has produced tons of great athletes, but it gets a bad wrap sometimes. Some people say not many successful people come from South Auckland. That pushes us to try harder. It's motivation and inspiration hearing that. We're all proud of being born and brought up here.
I played league for Mangere East rugby league club and a couple of years in the first XV at school. I played with and against some pretty good players, but I'm not great with names so I'll be watching the footy on the TV and see one of the players and think to myself, 'I used to play against you at school!'
My Dad eventually told me that I had to focus and commit to one sport because I would never reach my potential if I kept trying to play all of them. It was an easy decision for me. Boxing was my first love.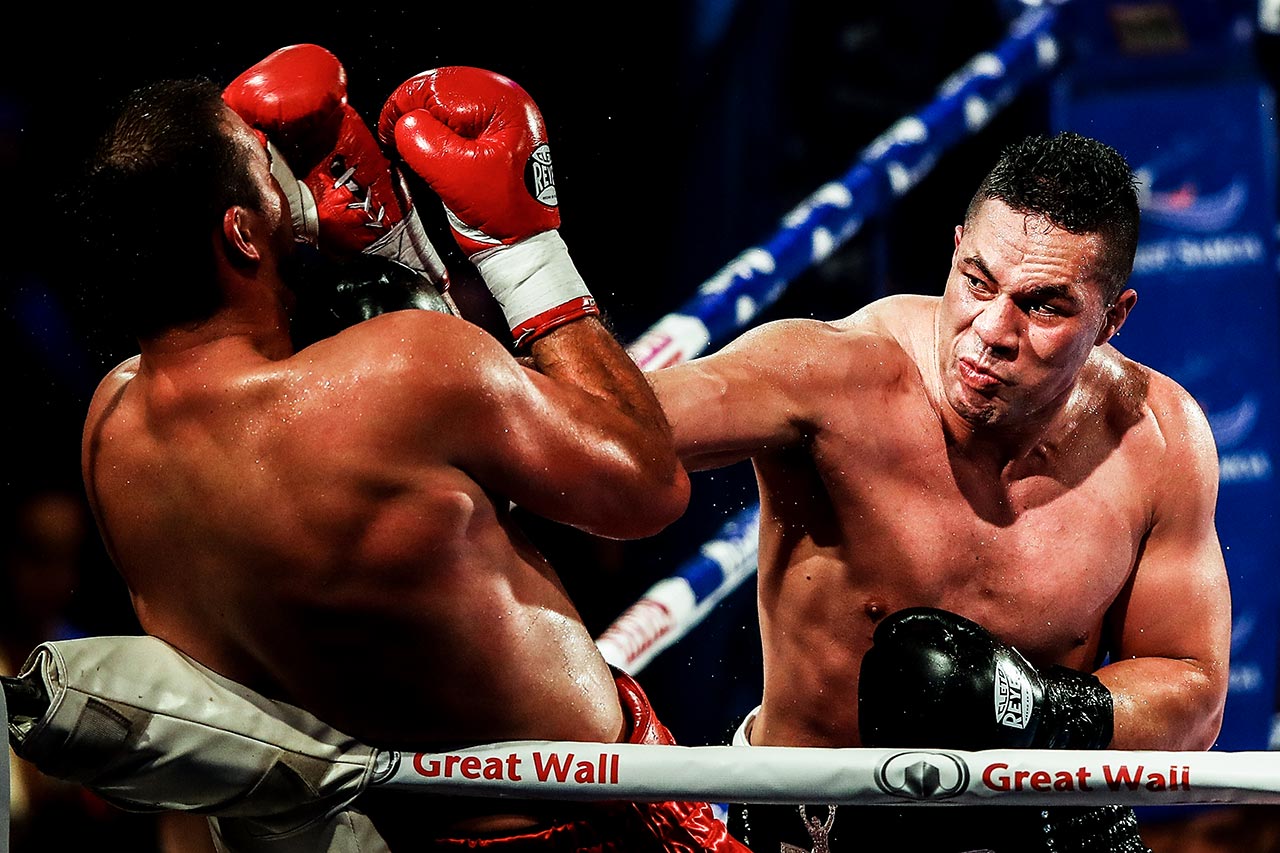 'NEVER, EVER FIGHT IN THE STREET'
My Dad's name is Dempsey.
The story goes that my Grandma was watching TV one day and saw footage of Jack Dempsey, the great American heavyweight champion. She liked the name and gave it to Dad. She wasn't all that into boxing, but Dad grew up loving it.
He had a disability. As a baby, someone stood on one of his legs so he had one leg smaller than the other one. He couldn't box but he had a lot of street fights. He lived in Samoa and men – young, energetic and full of testosterone – would fight in the streets. Nothing organised. Just spur-of-the-moment stuff.
He told me when I was a kid, 'Never, ever fight in the street. If you want to fight, it has to be in the ring.' I obeyed him. To this day, I have never had a street fight.
Dad has worked at the local steel plant for 30 years. He makes the big stands that the steel goes through when it's in molten form. They weigh three or four tons each.
My Mum, Sala, worked in a fruit market, sold clothes … she had so many jobs. Something like ten. And she studied, too. She was one of 24 children in her family back in Samoa and Dad was one of 17. They worked really hard to give me, my Sister and Brother a chance.
Some people say not many successful people come from South Auckland. That pushes us to try harder. It's motivation and inspiration hearing that. We're all proud of being born and brought up here.
When I was three or four, Dad would hold up the pads and get me and my Brother to punch. He told my Uncles from the start, 'My boys are going to be great at boxing.'
Dad built a little gym for us in the backyard. It wasn't even a proper gym. There was a stand with a punching bag and bits of gear and equipment here and there. When I was an amateur I got some funding from Cadbury and with some of the money Dad built a gym with a proper punching bag, a treadmill and a rowing machine.
We still have the family home and people from the neighbourhood still use the gym. It's open to anyone we know and people who want to learn to box.
A KID SPARRING WITH GROWN-UPS
The backyard gym was good for a while but my Brother, John, and I wanted to train with other boxers. We drove around Auckland and checked out nearly all the gyms. We ended up joining the Papatoetoe Boxing Club in South Auckland, which is run by Grant Arkell.
It was a gym that took in anyone. If you wanted a career in boxing, they took you in. If your life was going off the rails and you wanted to make a change, they took you in. The gym attracted a lot of kids who weren't up to much good at the time. Plenty of them went on to do great things with their lives.
I was about ten years old when I joined. I trained for two months before they put me in for my first sparring session. I was up against a guy who was a few years older than me. I was huffing and puffing and he bashed me up a bit. But I kept training hard and, after a few months, I came up against him again and I pushed him around.
I learned a lot sparring against older fighters, and more still by training with John.
My little brother is a lot better than me at things like skipping. I couldn't do doubles at first but he could do triples and about a thousand sit-ups. We were very competitive. If I did 100 doubles on a skip rope, he would do 101 just to beat me, and then he would do 150 to show everyone he's the man.
We pushed and motivated each other to aim high. There are so many memories we created in that gym.
I remember my first amateur fight. I was 16 and the guy I fought was 22 or 23. I was a little shy, a bit scared and he was really, really muscular. I took one look at him and thought, 'Damn, I'm fighting this guy?' I went around the corner and found my coach and said, 'Coach, do you see this guy? Look how big he is!'
Then I got into the ring and beat him up.
I also remember the time Grant paid a couple of grand out of his own pocket to send me to the world junior championships in Azerbaijan. I was 19 and we didn't have enough money for anyone else to fly over. It was just me. So Grant called the Aussie national team and had their coach come and stand in my corner.
I ended up winning the silver medal.
These are the experiences that shaped me. Being thrown into the deep end when I was younger made me the fighter I am now.
I don't care who they put me in against anymore. I will fight anyone.
MY CHALLENGE TO ANTHONY JOSHUA
Let's take a few moments to discuss Anthony Joshua, because that's been in the news lately.
I've wanted this fight for two years. He's got the WBA and IBF heavyweight belts and I've got the WBO. It's no secret that I wasn't happy with the offer Joshua's people first put down, but it's improving. I think it will happen.
They see me as an easy option. I think he was looking at another fight but I've got under his skin now. He's angry and he wants to bash me. I'll keep flicking out the odd tweet to keep stirring him up.
The fight game is so much different now, at this level, to when I was younger. Back then, you're nervous and you don't know what to expect.  Now, you know a lot more about yourself – you've got good strength, conditioning and technique – but you're up against guys who are the best in the world in terms of power, movement, skill.
It's like a chess match. Who is better than who at what? Who is going to connect first?
My job is to train, work hard and be in great shape for the fight but I have to be aware of everything that is happening around me. I have a great team. They take care of the match-making, the promotion, the politics. It can be confusing, but they keep me across everything.
I think he was looking at another fight but I've got under his skin now. He's angry and he wants to bash me. I'll keep flicking out the odd tweet to keep stirring him up.
The best part about all this? I get to do it with Dad. Don't get me wrong – I love boxing and being champion of the world – but his passion for the sport is stronger than mine.
When I beat Andy Ruiz in Auckland last year to become the first New Zealander to win a heavyweight world title, the pride and joy in Dad's eyes made me happier than the belt. It was the same when I defended it against Razvan Cojanu and Hughie Fury.
I feel like every time I fight, it's for him and me. If I secure the Joshua fight and beat him – and I know I can knock him out – I would be able to secure my parents for life. They could retire. They've worked so hard to get me to this position. Nothing would make me happier than knowing they could finish up with work, enjoy life and relax for a while.
After the Ruiz fight, I bought Dad a Jeep Cherokee SRT – one of those really fast ones – and traded in an old boat with the team at Kevin and Ian's Marine for an eight-metre boat with twin Evinrude engines for fishing. Every kid from South Auckland wants to get to a position where they can look after their parents for life.
I'm close to that. I feel blessed and privileged to be in this position.
The road from South Auckland to the world heavyweight title has been long, winding and full of challenges. And it's still got a long, long way to go. I'm 25 and just getting started.
More about: WBO | WBO World Champion