Backyard footy against GI
I've been playing against Greg Inglis since I was a kid. He just doesn't know it.
Growing up in Tokoroa, a town about an hour's drive south of Hamilton on the North Island of New Zealand, it was like everyone knew each other.
There were plenty of kids who loved rugby league and we never had any trouble pulling enough of us together for a muck-around game after school.
My brothers, cousins and mates, we'd either play in my family's backyard or if we needed more space, we'd head next door to the primary school oval.
I'd always pretend I was Benji Marshall. So did a lot of other kids. He was my most exciting player to watch, growing up. The things he used to do back then were crazy – the skips, steps and flick passes.
When I'd see him put on a move, I'd go out into the backyard and try it on my brothers and cousins. I used to love watching him. He's still playing great footy even now.
Everyone pretended they were an NRL star. We had Billy Slaters, Cooper Cronks … and heaps wanted to be GI.
You'd put someone through a gap or score a try yourself and it was like, 'I just did a Benji!' or 'I just did an Inglis!'
The first time I played against GI for real was on a Thursday night at Allianz Stadium, in round six this season.
He's a left centre, I'm a right, so we played opposite each other. Amazing, when you think back 10 or 12 years and he's already starring in the NRL, and I'm watching him as a 10 or 12-year-old kid.
He was always one of my favourite centres growing up and now I had the chance to play against him, to test myself against one of the best. It seemed unreal.
He was just coming back from a knee reconstruction and a lot of people thought he'd slowed down, but they don't know what it's like to play against him. He's still great, still strong, and he's gotten better with each game back.
Souths beat us in that game and GI scored a try. I shook his hand afterwards but can't remember if anything was said. It was a disappointing result. He was out injured when we beat them in round 22, when we won, but now I'm getting another chance to take him on in a preliminary final.
He's been the best centre in the world for so long. I'm just looking forward to the challenge.
But I have to balance that excitement with the knowledge that I've got a job to do for the team, above everything else. I can't make it about me and him in my mind.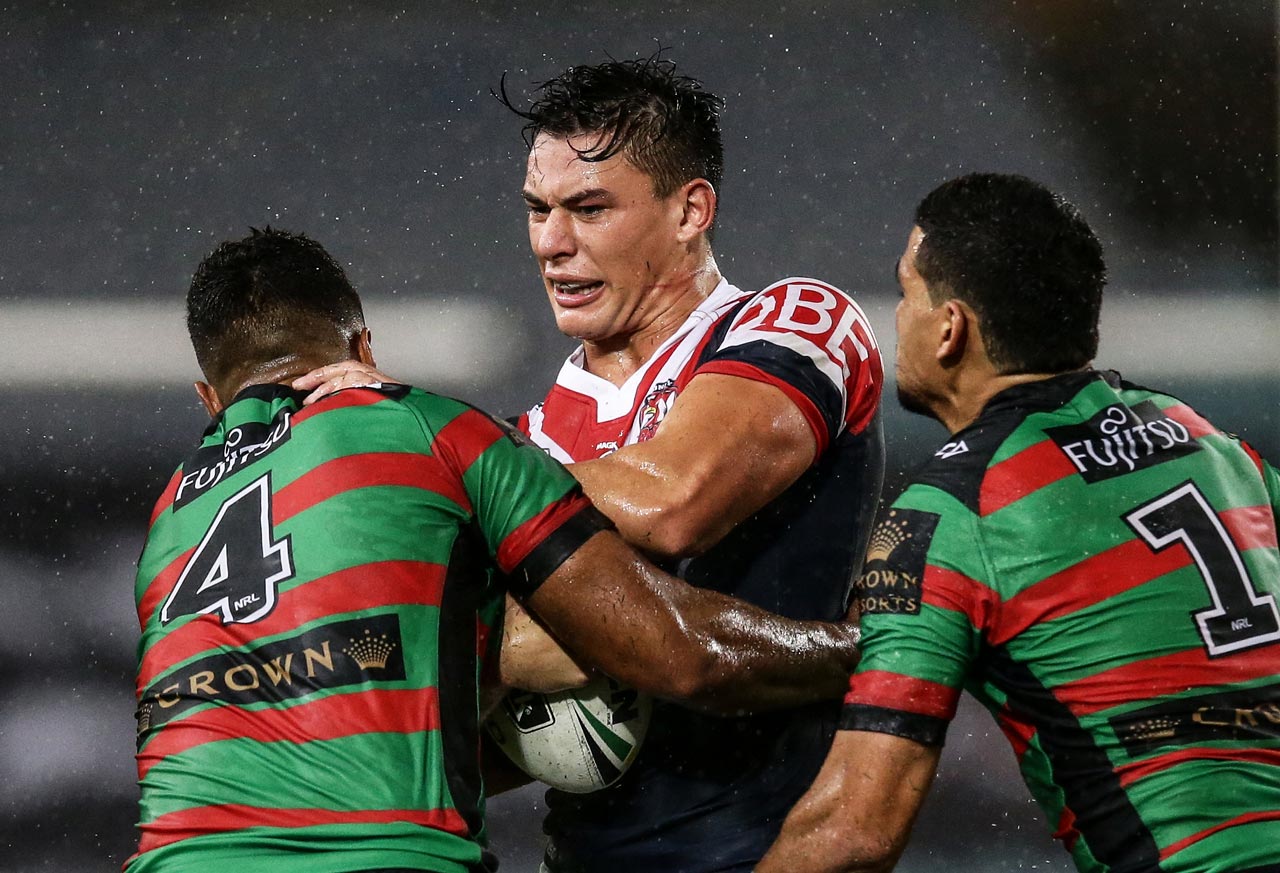 MESSAGE FROM BENJI
I've played against Benji a few times now.
The first time was when he was at the Broncos last year. It was midway through the season and I remember he carved me up at one stage, when he was on their left edge and threw a great out-ball to the centre. But we ended up winning.
After the game, I messaged him on Instagram to say it was a great honour to play against him. 'I can't believe I played against you' sort of thing. I was really excited.
He replied saying something like, 'Awesome work, keep up the good stuff, you're doing well'. I really appreciated him getting back to me.
You'd put someone through a gap or score a try yourself and it was like, 'I just did a Benji!' or 'I just did an Inglis!'
I was just a bit shocked, really, that I was playing against Benji, because myself and so many other little kids in New Zealand wanted to be like him.
I'm a bit star-struck the first time I play against guys who were my idols growing up. I still get a bit star-struck with some of the big names around me at the Roosters.
Benji was a great touch footy player as well and I remember when we used to play touch on the basketball courts as kids we'd all be throwing flick passes and calling them 'Benjis'.
I've still got a little bit of a flick pass in my game, but not as good as his. There's a bit of a step there as well.
I'm glad he's playing on with the Tigers next year. He's still great for the game.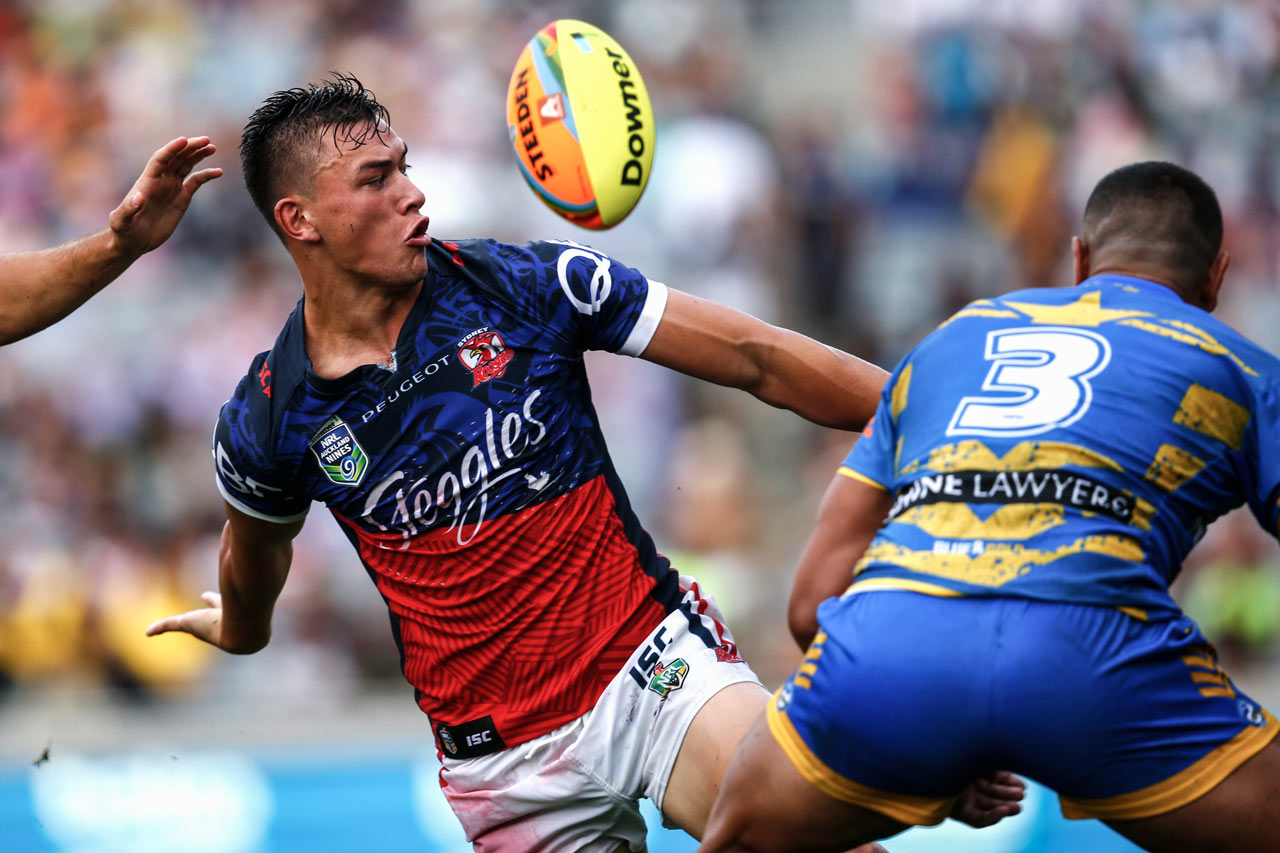 ROBBO'S ROOSTERS
So many good things have happened to me since I came to the Roosters, but I also had to learn the hard way what it takes to become a regular first grader.
I was in the SG Ball team that won the competition in 2014 and because of that, we got to represent Australia in an exhibition Nines tournament at the Commonwealth Games in Glasgow that same year.
We lost to Papua New Guinea and got silver medals. We were there for a bit over a week and got to look around the city on a day off. I was just turning 18 and that was a cool experience.
I'll never forget making my first grade debut in 2016.
It's a special occasion for any player, but it was very emotional for me because it was in Auckland against the Warriors, so I got to do it in front of all of my family.
Our coach, Trent Robinson, called me into his office during the week and told me I was in and I was like, 'Wow, this is pretty cool'.
I called my dad, Nooroa, and he was over the moon. Straightaway, he started organising for all my family to be there – and when you include all my extended family, it's a huge group.
Thanks to the Roosters – plus a lovely Kiwi lady who used to help young Roosters players like myself, who had since moved back home to work for the Warriors – pretty much all my relatives got tickets. About 100 of them were at the game. Half came on the bus they'd organised for the three-and-a-half-hour drive from Tokoroa, and the rest made their own way there.
I did the warm-up with the rest of the team on the field and when I walked back to the sheds, I looked up and could see all my family in the stand, cheering me.
We lost the game, but that was just such a special day for me and always will be. After the game, I met up with my family and they were all so proud.
I played three first grade games before going back to the under-20s, where we won the comp. We were down 28-6 at half-time in the grand final against Penrith and came back to win 30-28. I got a couple of tries. It was crazy to win like that.
It was a terrific team. Victor Radley was in there. Nat Butcher, Johnny Tuivasa-Sheck. I'd grown in confidence from playing first grade. I could feel the difference in me. We came from behind to rescue a few games in that finals series.
So many good things have happened to me since I came to the Roosters, but I also had to learn the hard way what it takes to become a regular first grader.
I played 16 first grade games last season, but I was dropped a few weeks before the finals and didn't get back in.
I wasn't playing that well and got sent back to play for Wyong in the NSW Cup. Robbo spoke to me. It was my one-on-one defence. My defensive reads were pretty good, but too many missed tackles. I had to fix that up.
Craig Fitzgibbon, one of Robbo's main assistants, helped me a lot. Fitzy was a great defender and told me that I had the basics of what it takes but I had to work on it. Last pre-season, he had me tackling more than I'd ever tackled before.
I'm really grateful for what Fitzy did for me. I'm feeling good about my defence now, but it's something I'll always keep working on.
Robbo challenges me at every training session to get better. He knows what I can do. He's got his principles and a system we all believe in at the Roosters, but within those guidelines he wants you to play your own style and express yourself. I love that approach.
I was gutted to miss out last year, so I was desperate to play finals footy this year. Playing against the Sharks in week one, it was everything I expected. Great atmosphere, tough, relentless, back and forth, players getting fatigued … I enjoyed it and now it just gets bigger every week.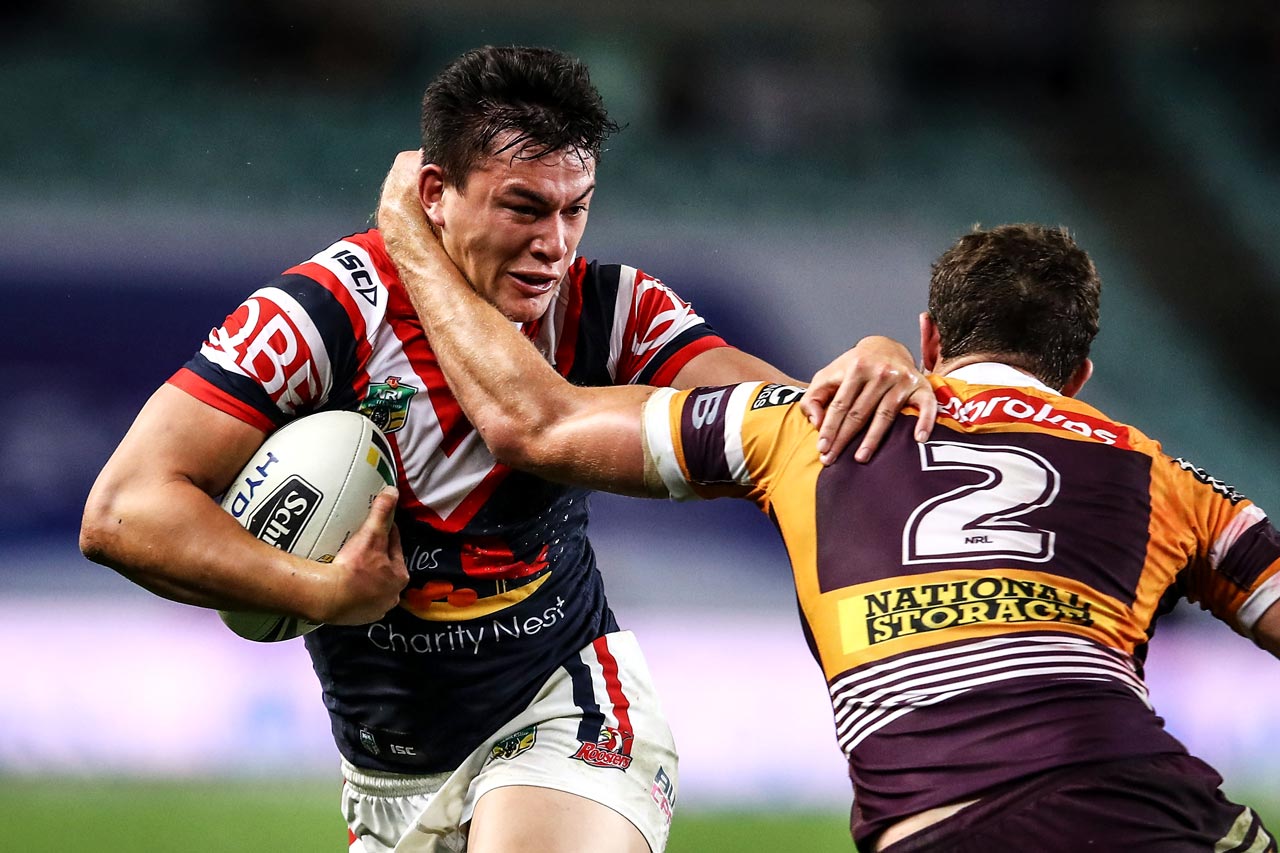 OUR OWN GI
It's bad luck Latrell Mitchell can't play for us this week because of suspension, but he's still been a big factor at training.
Everyone knows he's similar in style to GI, so he's been marking me in our opposed sessions. It's great preparation.
Latrell and I have been working hard on each other all year. He's tough and strong, a difficult opponent. We put the footwork on each other in drills to keep each other sharp.
We're just trying to make each other better and for me to be challenged by one of the best centres in the game every day can only help me improve. It's tough, but it's good.
I see how popular he is with the fans, too. I reckon there would be plenty of Aussie kids pretending to be him in backyard games, just like me and my mates did with Benji and GI.
More about: Benji Marshall | Billy Slater | Cooper Cronk | Grand Final | Greg Inglis | Latrell Mitchell | New Zealand | Penrith Panthers | South Sydney Rabbitohs | Sydney Roosters