In the presence of Cruyff
I grew up in Amposta. It is a little village of only about 20,000 people, just south of Barcelona on the Ebre River and a few minutes from the Mediterranean Coast.
My Father and I would watch the local team, Club de Futbol Amposta, every single home game. They play in the Primera Catalana, which is the fifth tier of football in Spain. I started to play for Amposta when I was six as a goalkeeper. I also started my coaching at Amposta as a 16-year-old. I coached there until I was 23 before I went to RCD Espanyol and then to Barcelona.
All my earliest memories of football are at the Estadi Municipal de Amposta with my Dad. It is just off the Carrer Barcelona and holds about 3,000 people. I loved that club very much.
When I was about 10 years old, my family took me on the 90-minute drive from Amposta to Nou Camp for the first time. I would make that drive from our home to Barcelona many times over the next decade.
Some of my best football memories are there. Even now I have the memory of walking into Nou Camp for the first time as a boy to see Barcelona play.
It was a special place for me.
LEARNING FROM CRUYFF
When you are a kid in Spain, everybody likes football. Of course, I always liked Barcelona because I was a boy from Catalonia. But when Johan Cruyff arrived as manager in 1988 it was a new level.
I was too young to remember him as a player at Barcelona, although I had heard all the wonderful stories. But it was Cruyff, the manager, who changed football for me – the way I watched it, the way I thought about it, the way I wanted it to be played.
The style they played under Cruyff I really enjoyed. It made me look at football differently. I became a member of Barcelona. I was a fan, not a coach, but even then you could see from the first moment he arrived from Ajax that he was doing things nobody else was doing. A lot of coaches around the world are still trying now to achieve what Cruyff did then.
He brought the possession style, attacking football, tiki-taka. Afterwards, when I became a coach in the Barcelona youth system, I grew in this philosophy, in this environment. I learned how to adapt and work with this style.
They were magical years under Cruyff. Before him, Barcelona was nothing like it is now where they are expected to win trophies every year. There was not the money or the crowds or the expectation. When he won La Liga in 1991, it was the first time Barca had achieved that in six years. Then they won it three more years in a row after that. It was an amazing thing to watch and experience as a teenager.
I would arrive at Nou Camp a long time before kick-off because I would like to see the players warming up, see what they were doing. It always interested me as a fan and then as a coach.
I was a fan, not a coach, but even then you could see from the first moment he arrived from Ajax that he was doing things nobody else was doing.

Winning the Champions League in 1991-1992 was incredible. It was the first one ever for Barcelona and the first from any Spanish team in 26 years. I did not go to the final against Sampdoria, but I attended other games during the campaign. I also remember going to some of the big El Clasico games. The noise and the excitement. They are big memories.
I ended up working with Barcelona for six years. I met Cruyff, but only with other people around. He would come often to watch training or games. You could shake hands with him, but I never got to speak to him alone in great depth about football. I am sad for this. It is something I would still like to do. I asked people who worked closely with him 1,000 questions so I could understand his thinking better.
I am a person who believes in this philosophy. But I also understand that football evolves.
And so must a coach.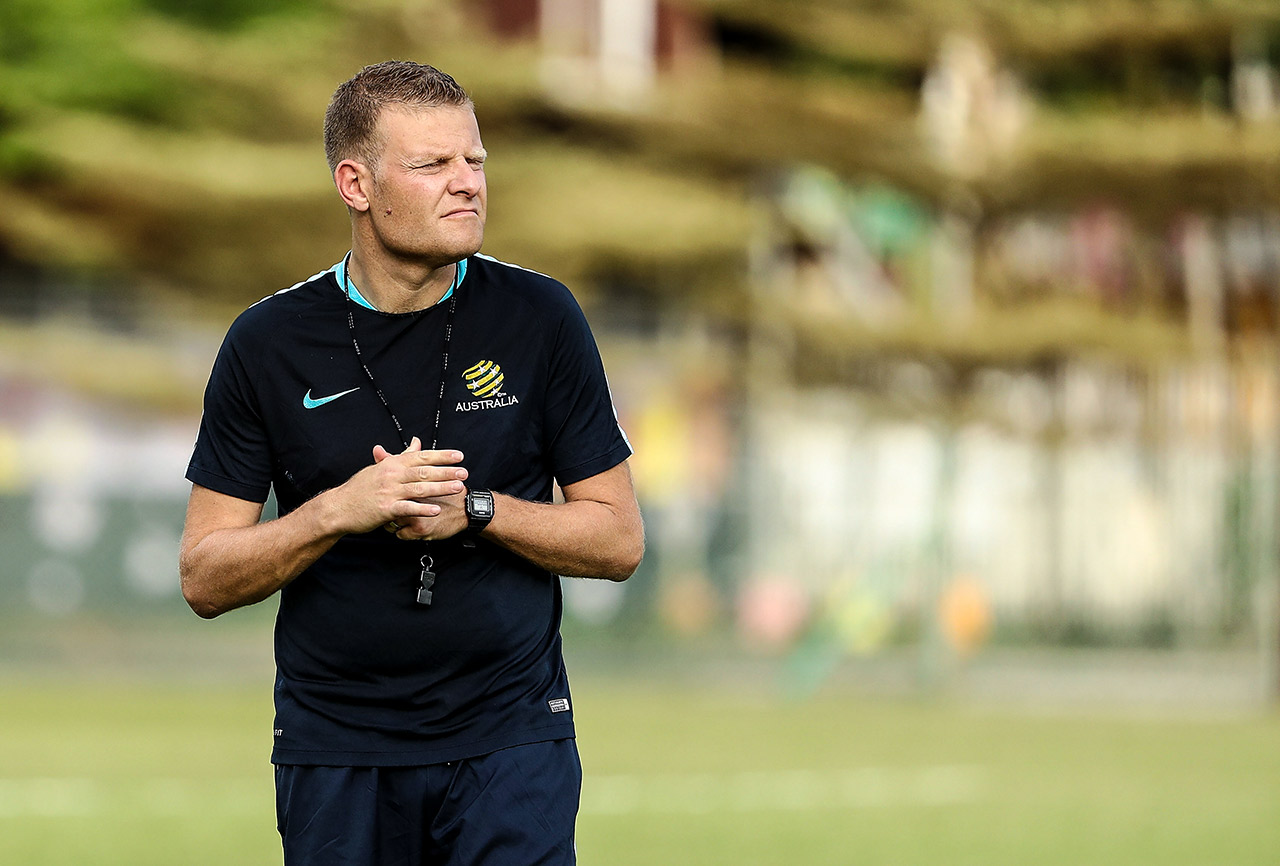 ANGE & GLOBAL INFLUENCES
When Pep Guardiola became Barcelona manager he improved the club even more. He took Cruyff's core beliefs and made some changes in terms of tactics that improved their style. It's a process.
Every coach must have his own style, his own way to see football, his own way to play. A coach who changes one day to another, it is very difficult for him to be successful. You need to see the things you like and create your own methodology, your own way to think, your own way to act.
I grew up in Barcelona, in the academy. There was a way to play – the way Cruyff had shaped the club. Everyone was following. I really believed in this. For me, there was just one way.
But when I left Spain, I saw things in other coaches that I liked. After a while, I developed that into my own program, my own beliefs in what I liked about football. So this is what I did.
I started my professional coaching in Asia, in Hong Kong, with Kitchee. It was very different. I was bringing a philosophy from another place to a new country. We won trophies, and when you can see the philosophy is working and the players and the fans like it, it makes you proud. You are bringing your experiences to this country and it is making a difference.
It started with Cruyff and now I was carefully growing my thinking through my new experiences.
Every coach must have his own style, his own way to see football, his own way to play. A coach who changes one day to another, it is very difficult for him to be successful.
This continued in Adelaide. To build something you need to have time. It is not easy. The first ten games it was hard, but finally all was well. You need to believe in what you are doing. The players need to believe as well and you all need to work hard.
Any player who is not believing or following, maybe these are not players you need.
Also, I learned a lot of things from Ange Postecoglou.
I learned how brave is Ange. There is the way he wants to play and he doesn't change for anything. It doesn't matter if we play against Chile or Germany, some of the best teams in the world, he is not scared. You saw in the Confederations Cup how he approached this.
MY FRIeNDSHIP WITH DAVID VILLA
My thinking about the game has also been shaped by David Villa.
David and myself, we are very close friends. We speak often. We like the same way of football. He is still playing but he has a very clear idea how he wants to play.
When he went to New York City he was thinking to create a program to help the kids to learn football. The real football. The football he likes.
He worked with some great coaches like Pep Guardiola, Vincente del Bosque and Diego Simeone to help develop this. He explained to me this project and asked did I want to be involved also. It was something like I did in the past when I was working in the youth system in Barcelona.
We discussed a lot and we created a philosophy to apply to these academies. He has now set these up in the US.
From David, I learned a lot about tactics. He has played with many great coaches and many of the best players of this generation. He would explain movement, how they work, how they press. A lot of things.
I enjoyed the discussions with him and the thinking we did together.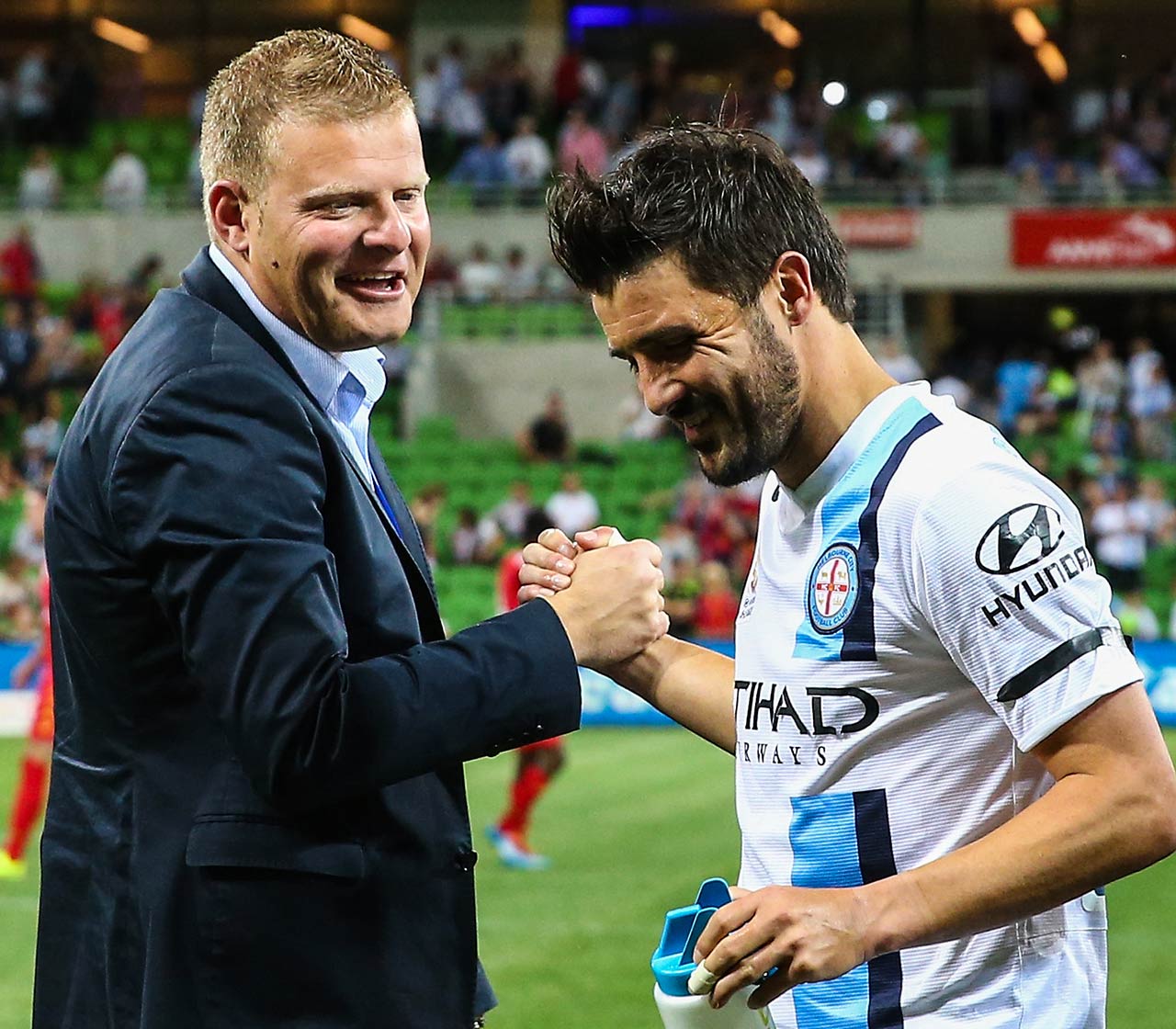 PLANS FOR THE WANDERERS
These experiences I bring to my new role with the Wanderers.
It is a club I have always had great respect for. As an opposition, it was always difficult to play them. Especially when we played away and came to Parramatta, the environment in the stadium, sometimes I could not speak to my players because of all the noise!
The club has always had a nice feeling. It has a lot of members. The fans are passionate. These are places you like. The atmosphere sometimes reminded me of home. But here at the Wanderers the people are very passionate. Fans in Barcelona are not that passionate, they are more quiet.
What Tony Popovic did was amazing. It was a club that wasn't a club in the beginning. The first year they created together, the players, the coach the backroom and administration staff. And very soon from nothing they won the Asian Champions League – the biggest trophy you can achieve as a club in this part of the world.
How do you measure this? It is incredible. I am lucky to have arrived at a very strong club with excellent organisation and many resources.
Tony had this opportunity to go to Europe to become a head coach and I wish to him very good luck.
Now it is my time to come here and take the club on this new challenge, to play a bit differently. With Popovic they played very good football. But a little bit more aggressive in terms of attacking, this is what we will try to do.
Tony will remain in the mind of every single person at the club and every single fan. What he did at the club is something that is very, very difficult to achieve. I think everybody recognises this at the club.
I am grateful to Paul Lederer and John Tsatimas to put me in charge of the Wanderers. And also to the FFA who allowed me to come back to Australia and be part of the internationals, and then to allow me to join Western Sydney.
What the Wanderers bring to me is a competition every week, a big challenge. If you could choose, of course, I would like to have this team at the beginning of the year and have two months to work with my players.
But I don't choose the timing. We discussed very clearly with the owners and the CEO that this is a long project, something we want to build together. There will be a building time we need. We will do it. It won't be easy in the beginning but we have players with a lot of quality and we can do a good job together.
It's a club that is clear with what it wants. This is something that is very important. Clubs that don't have this vision, they just get by year-to-year. Here, the club wants to establish a style of football, build an academy with everyone from the younger teams right up to the senior team playing the same style. There is also the new stadium coming, which is very exciting.
We represent an important area of Sydney, western Sydney, a place with a lot of fans.
There are a lot of things that makes this place a special club.
More about: A-League | Adelaide United | Barcelona | Coaching | Josep Gombau | Tony Popovic | Western Sydney Wanderers