John Sutton - Contributor
Leading his state, baring his soul
The day before they announced Greg Inglis was the new captain of Queensland, he called me to give me the news.
I was so proud. I reckon he was the only person prouder.
He's my teammate at Souths and a close friend and that would've been enough reason for me to cheer. But he's also fought back from an incredibly difficult 12 months.
That's what makes this announcement so remarkable.
First, there was the torn ACL in round one last season that put him out for the rest of the year. And then, there was his mental health battle. He talked openly about that, to try to encourage others to get help if they're struggling and not suffer in silence.
Greg's someone who usually keeps his emotions to himself. He doesn't talk about his feelings a lot. It couldn't have been easy for him to bare his soul like that, but that's the sort of bloke he is.
Someone who is prepared to think about others even when he's got his own problems.
LIVE stream every game of every round of the 2018 NRL Telstra Premiership. Get Foxtel & start watching in minutes. SIGN UP NOW >
Greg has become a great leader since arriving at the Rabbitohs in 2011. Now, he's about to lead his state. It didn't even look possible a few weeks ago. No one saw Cameron Smith's representative retirement coming but when that happened, who better than Greg to take over?
He's represented Queensland 30 times. He's their leading try-scorer in State of Origin. He's one of the all-time greats. It's a massive achievement.
Greg is now a fingernail away from being Australian captain.
Boyd Cordner would be a contender as well, as the captain of NSW, but Greg's been playing rep footy for more than a decade and is a superstar of the game.
The way it looks to me right now, he'd have to be favourite next time they pick a team.
What a tremendous honour that would be and one he'd so richly deserve.
HIS OWN BRAND OF LEADERSHIP
Greg's a God at Redfern.
Everyone loves him. All the fans, myself and the rest of his teammates. He's obviously a favourite of the Indigenous community. He's a great person and one of those once-in-a-lifetime players.
The young players at Souths really look up to him. The older players as well. I'm 33 and I've played nearly 300 first-grade games for our great club but I'm still a bit in awe of him sometimes.
I first met Greg at the NRL rookie camp before the 2005 season. I'd made my first-grade debut with 10 rounds of the previous season to go and he hadn't played a first-grade game yet. It wasn't long before he did – and he made an impression straightaway.
We played against each other regularly over the next few years – the Storm probably gave us a couple of hidings that I don't care to remember – but it wasn't until after Greg joined Souths that we really got to know each other and became good friends.
It was a big moment for the club, signing a player of his calibre. He'd already done a lot in the game by then but he was still young, so there was a lot more to come.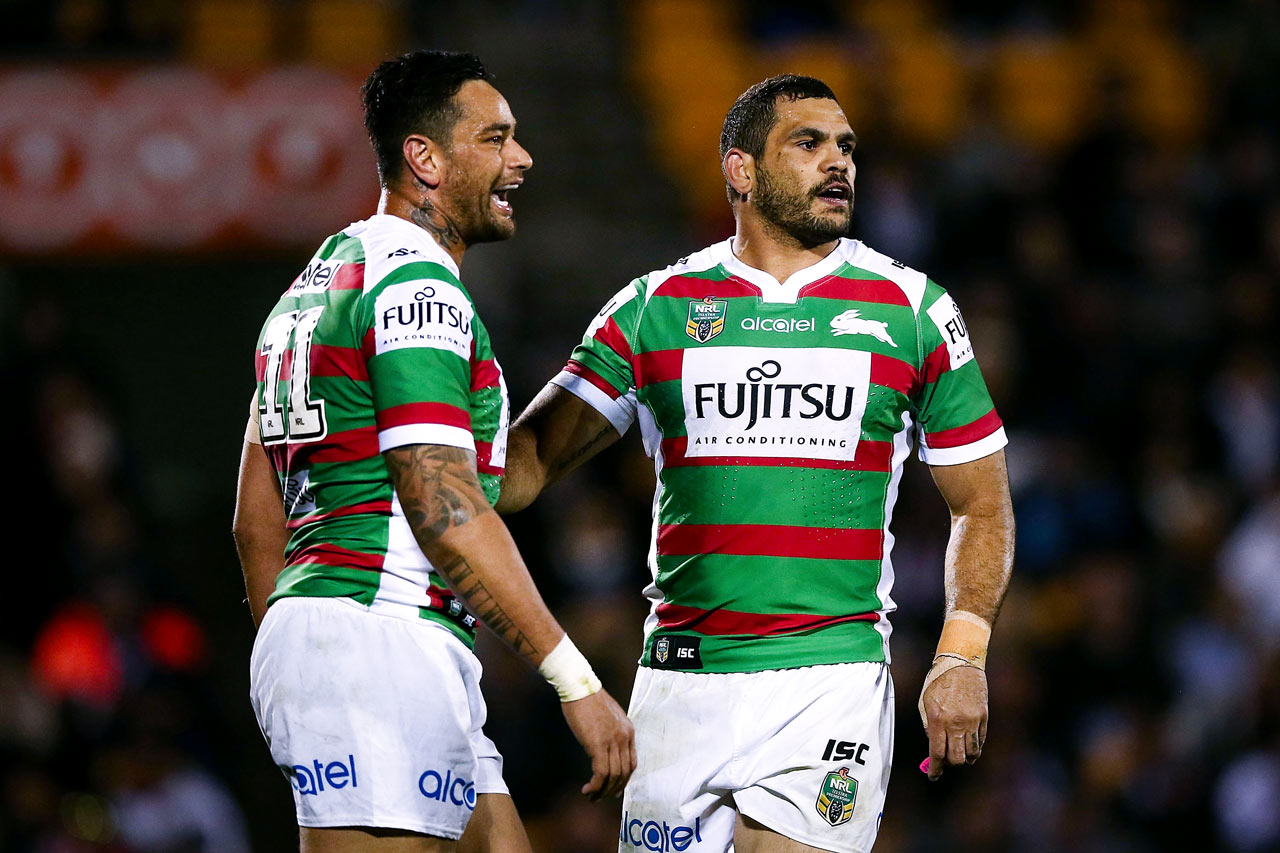 I remember he had a couple of injuries to start with but once he found his feet, we saw what he was all about. I was playing five-eighth at the time and he was in the centres, so we were together on the left-hand side.
It was awesome working with him.
We talked a lot about footy obviously but we also became close away from the game.
My first child arrived that year, 2011, and I've now got two. Greg's got two now as well, so we've started families at about the same time.
Last year, a bunch of us went up to Port Douglas together with our families during a bye week. Greg, myself, Jason Clark, Sam Burgess, Adam Reynolds … these are some of the other guys at Souths who are close to Greg. We've all been together at the club for a long time now.
No one saw Cameron Smith's representative retirement coming but when that happened, who better than Greg to take over?
Greg's a good man. He works hard and he's loyal. He's an incredible footballer, as we all know, but he's very humble about it.
The stuff he does on the field in games and at training is freakish but he never brags about it. I've never known him to talk himself up or get a big head when he receives a plaudit or achieves a milestone.
The Origin captaincy will be no different.
Greg has developed his own brand of leadership at Souths. He makes sure everyone is together and that there's no barrier between the experienced players and the young blokes.
He has put on a few dinners for the young guys. He's Greg Inglis, so some younger players are probably going to think, 'I can't approach him' – but he goes out of his way to make sure they feel comfortable.
All of us old boys blow up because he doesn't shout us anything!
EMERGING FROM THE DARK DAYS
When Greg went down with that knee injury last year, it hit him very hard. Like always, he didn't give too much away, but if you looked hard enough you could tell.
I don't think it really hit him until probably a month after he got hurt. That was when it sank in just how long he was going to be out and exactly what he was missing.
He'd always show up for his rehab and whenever he was around the boys, he'd make a point of being upbeat. He didn't want to show any negative effects but as we discovered later, he had some other issues going on.
It came out that he was getting help to deal with a mental health condition and we were quick to offer him our support. I told him that I cared about him and anything I could do to help, I would.
Greg decided to come out and talk publicly about his problems. He wanted to encourage other players, other people, to do the same if they were experiencing something similar.
Like they say, and as Greg said, 'It ain't weak to speak'. If anyone is feeling that way, tell people you're going through a tough time. Get the support you need.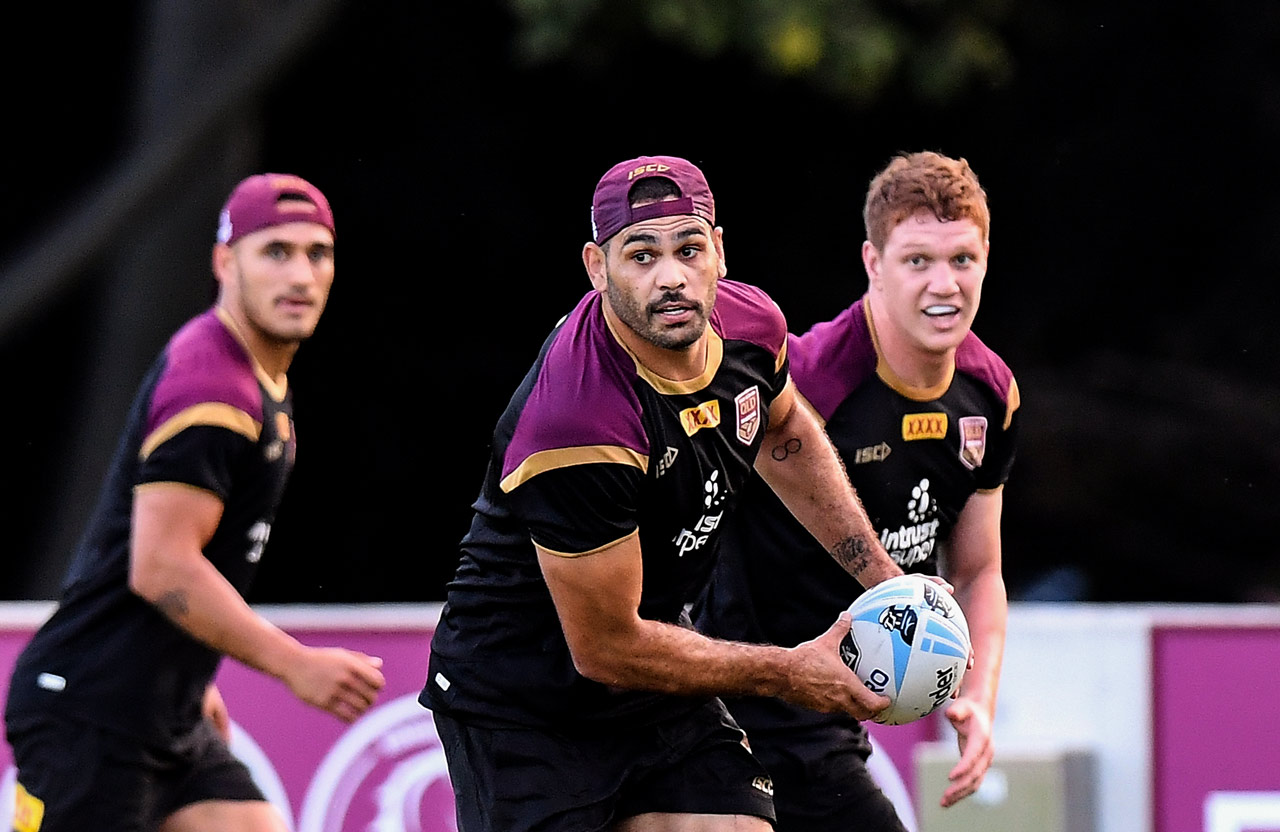 Greg said it wasn't so much the strain of the injury itself that got him down, it was the fact it caused him to miss out on the moments that footballers appreciate the most; the camaraderie with your teammates and sharing the ups and downs when you sit together in the sheds after games.
I can totally get how much you would miss that if you were out for so long.
I've had a couple of shoulder operations that have kept me out for about 10 weeks at a time, but nothing for a whole season. I hate the thought of that.
I'm closer to the end of my career than the beginning and just thinking about it eventually being over is hard. Not being able to hang around the boys and do what you love to do, playing footy. That's what makes you want to keep squeezing another year out.
Greg had Origin and Test football on top of club footy that he was missing as well. That would have been so tough to take when it means so much to you.
But he has bounced back, like the person of great character that he is.
He's a great person and one of those once-in-a-lifetime players.
In the early rounds of this season, he was taking time to get back to where he wanted to be. Anyone who has had a knee reconstruction will tell you how hard it is.
Euan Aitken stood him up to score a try for the Dragons against us but that was a just a reminder to Greg; a little wake-up call that he wasn't back to where he wanted to be yet after a serious injury and had to keep working hard at it.
I don't see that sort of thing happening to him again. He has continued to get better with every game and now he's really powering. He went back to fullback last week and didn't miss a beat. You can definitely say he's back to his best football.
It should be a great match-up between him and James Roberts in the centres in Origin I. 'Jimmy the Jet' has got a lot of skill and speed, so it'll be very interesting to watch.
But Greg will be up for it. I'm feeling very excited just to see him lead them out.
I'm pretty sure he's in a great headspace at the moment. Footy's going well and I don't think he's dwelling on the past. He's concentrating on moving forward.
I reckon we're going to see him put in a big one for the Maroons.
True Greg Inglis style.
More about: Indigenous Australians | John Sutton | NSW Blues | Queensland Maroons | South Sydney Rabbitohs | State of Origin