Inside Lleyton's Davis Cup dream
My first Davis Cup experience was as a ball boy.
It was in the 2001 final against France on grass at Melbourne Park. That was my first up-close chance to see and feel how great the atmosphere is in a Davis Cup tie – let alone a final in Australia, which was amazing.
What I remember is the energy and how good the Fanatics were. It's not often you get that many people in a stadium supporting one team, and the French actually had a lot of fans come out for it as well. It didn't let up. The only time there was silence was during the points.
The Australian team featured Pat Rafter, Wayne Arthurs and Lleyton Hewitt.
I doubt many people have had the privilege of knowing Lleyton in the capacity of ball boy, teammate and pupil. I have. Lleyton was a member of the Davis Cup team that I debuted in against the USA two years ago. And he is our captain now.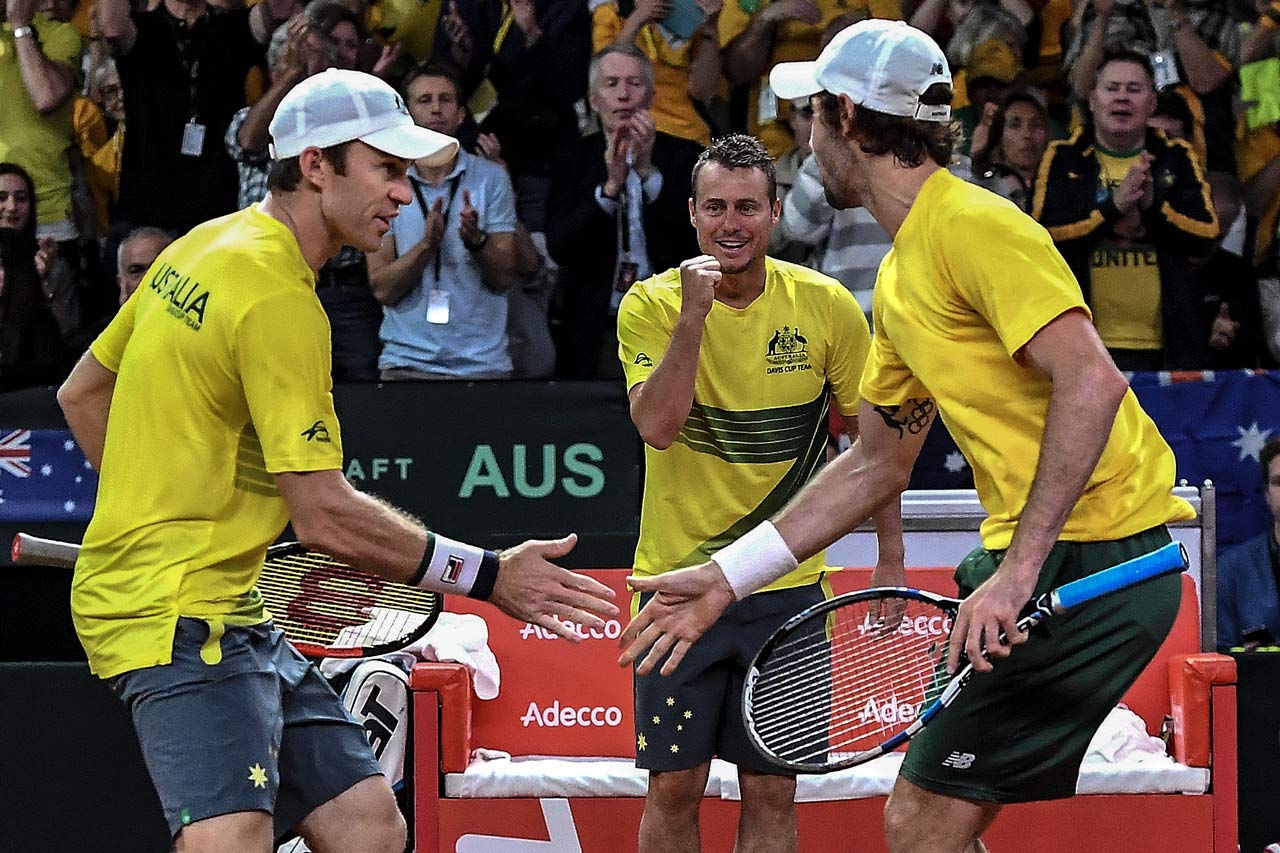 AN HONORARY OLDIE
The tie against the USA was Lleyton's first as captain. He'd retired from playing, but we had a few injuries, so he made a comeback.
All the guys really, really respect him. He's found a way to bring everyone together and work harder towards one goal.
We all know we're a great chance to be able to try and win the title more than one time over the next several years. It'd be great to be able to become a dominant force in Davis Cup, especially with the depth we've got coming into the squad now.
Lleyton creates energy out of nowhere and always has. So you learn to ride the wave. Davis Cup's all about handling more emotions, and more intense emotions, than you normally would on tour.
We don't always talk a lot at the change of ends. Some guys, he tries to chat to more, but you've normally done your homework leading into the tie and it's more if something changes and you need to bounce ideas off each other. At the end of the day, we're still the ones who have to play.
I've never really felt there's a negative connotation to the term 'doubles specialist,' and in the past two years I've noticed a lot more singles guys playing doubles because they're realising it helps their singles.
Our first round is against Germany this weekend. Everyone knows Sascha Zverev but they've got a good team, a tough team. It's going to be about whether we can produce the tennis we need to, and get the crowd on our side and make it a nice little cauldron, which is what we've done in Brisbane in the past.
We always enjoy our time together, the team dinners, and just being around each other. We normally play a volley game at the end of each session, the oldies versus the youngies, so I always come on in the oldies team, even if I haven't played as many ties as the other ones. We've got a young group now.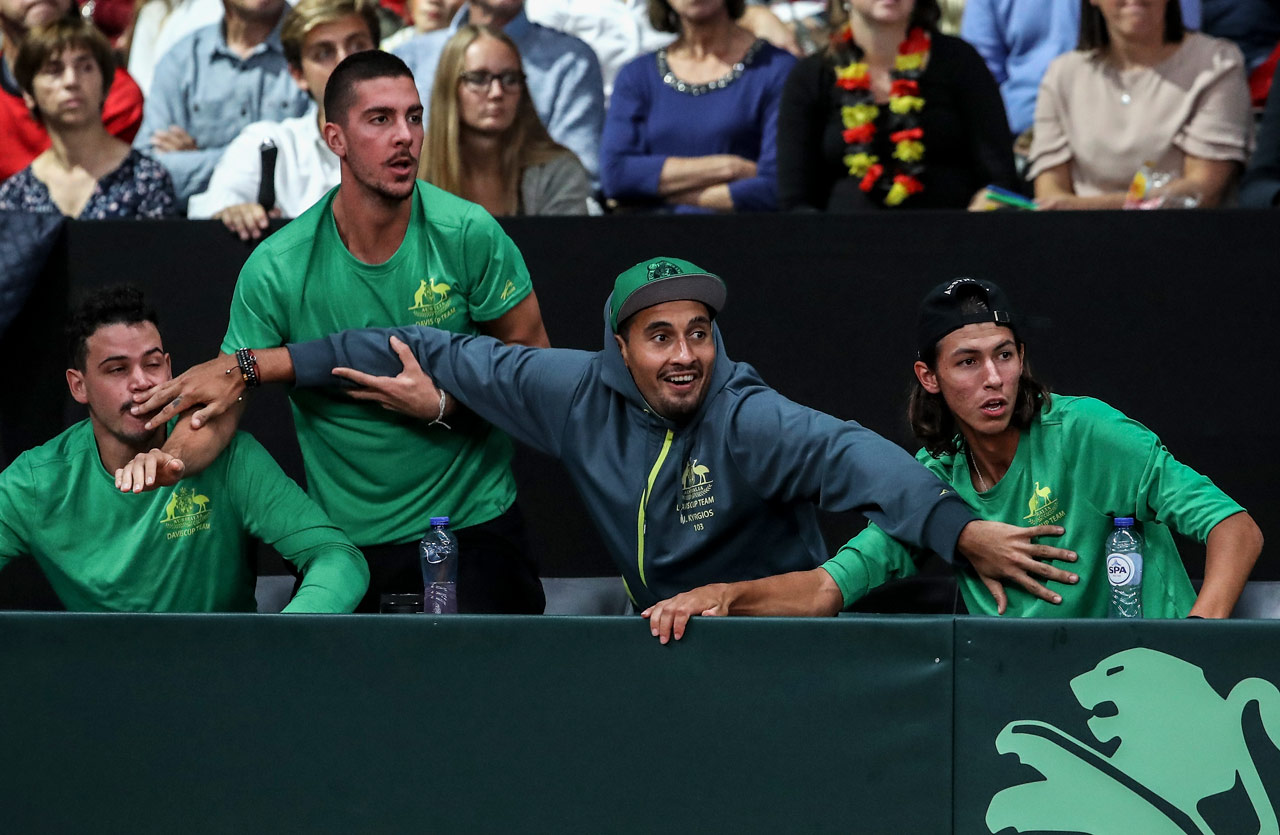 NICK & THE DEMON
Nick Kyrgios has spoken about how much he loves the environment, and how comfortable he feels. I think it's just the sense that everyone's got his back. No one's trying to outdo each other. We're all pushing for one common goal: to be the best we can as Australia's Davis Cup team.
It's allowed Nick to get a lot more confidence and take that into the regular season. I know Alex De Minaur has been able to do that as well, especially at the start of this year.  At Tour level, he's got confidence to be able to take it to these guys all the time, and he showed in January that he's got the game to not only match them but to beat them.
The level at which 'Demon' has been practising with the squad, and the fact he works his absolute backside off, is great. And he's so popular with the even younger kids. We went out to a Hot Shots appearance the other day and they love Demon. He's the next fresh face and he's only 18.
We've got a WhatsApp Davis Cup group so that no matter where you are around the world or what you're doing, you've always got the boys to either joke around with or throw a few serious messages out.
It keeps the boys together and keeps things going, even if, physically, we're not in the same place. There's a fair bit of banter. Grothy was always good at firing things up. And Jordan Thompson quietly throws a few out there.
Something we all hold very dear as Australian representatives is our number. Mine is 106. It's incredible to be on the same list as all those guys who've gone before us.
You see it with the cricketers and the baggy green, too, they've all got their numbers. That's something no one can ever take away.
A FAMILY OF ATHLETES
We grew up with an en-tout-cas court in our backyard. We're a tennis family. My mum was a pro player who made the Australian Open doubles semis, and my sister Sally won the Wimbledon girls' doubles.
We've seen one video of Mum playing, but I don't think she wants me to watch it too much! Mum's great. She understands what it takes to play at the top and understands the sacrifices and the travel, so having a family unit who know what we go through has made it a lot easier.
I played Dowling Shield and sub-district cricket in my mid-teens, but I always wanted to represent Australia and play in the Olympics and see more of the world, and I thought tennis was the best way of doing all that.
One year I played Aussie juniors qualifying and then played sub-districts seconds cricket that afternoon. I remember thinking I may as well give tennis a crack, because it had given me a few more opportunities.
I'd already been a ball boy at the Australian Open, and then I got to see up close what that world is like.
I've won a slam, but the only time I've been recognised in the street is when I went to an event in Helsinki with Henri. I can't get recognised in Australia, but I will in Finland!
My wife, Danielle Montgomery, is a pro golfer. I would have had to marry someone who understands sport, put it that way, because I love sport, and I grew up playing so much of it.
Luckily, my wife understands what I go through. We both travelled before we started dating, and we've been able to travel together, and now our baby daughter, Ellie, comes along for the ride as well. It's a lot of fun and keeps things as normal as possible on the road.
We used to play golf together quite a bit, and I hope we can start to do that a bit more when the little one grows up a little bit.
Danielle would get me eight out of 10 times, but I think I'll be able to get her now because she hasn't swung a club since our daughter was born.
STEPPING UP
I didn't look at being either a singles player or a doubles player – I just gave myself two years to at least break even from playing tennis and turn it into a job and if I didn't I'd go back and finish my finance degree, which I had started at the University of Middle Tennessee and continued at Baylor. And I'm still going.
About 12 months after college, I played Wimbledon doubles with another Victorian, Colin Ebelthite. We lost final round qualies, then got into the main draw as alternates and played against two great doubles players, Leander Paes and Radek Stepanek.
I remember it so vividly. I was warming up cross court with Leander, and I was that nervous I served and hit Stepanek, who'd already played singles that day. Unfortunately, I think that woke him up and we got a really big beat-down! 
But it gave me the taste for the bigger events. I wanted to get to there as quickly as possible, and I knew doubles was the best chance I had of doing that. I was still playing singles qualies when I could in Challengers, but I wanted to play Tour events as soon as I could.
Winning the Aussie Open last year was very special. Having made two finals with Jamie Murray and then getting another opportunity with Henri Kontinen in Australia was something I was ready for.
You always have a soft spot for 'The Aussie'. To win one on your home soil is just an added bonus and something that you can't replicate anywhere else.
I live in Perth now, but Melbourne's where I grew up. We've been going to the tennis for years and years and years and I can't really remember not going to Melbourne Park as a child. It's tough to describe how good the feeling is to have won it.
It hit me when I saw my name on the trophy with the other names of all the past champions. You read through the whole list, it just doesn't stop. You've got the Woodies, so many great players – not only in Australia, but globally.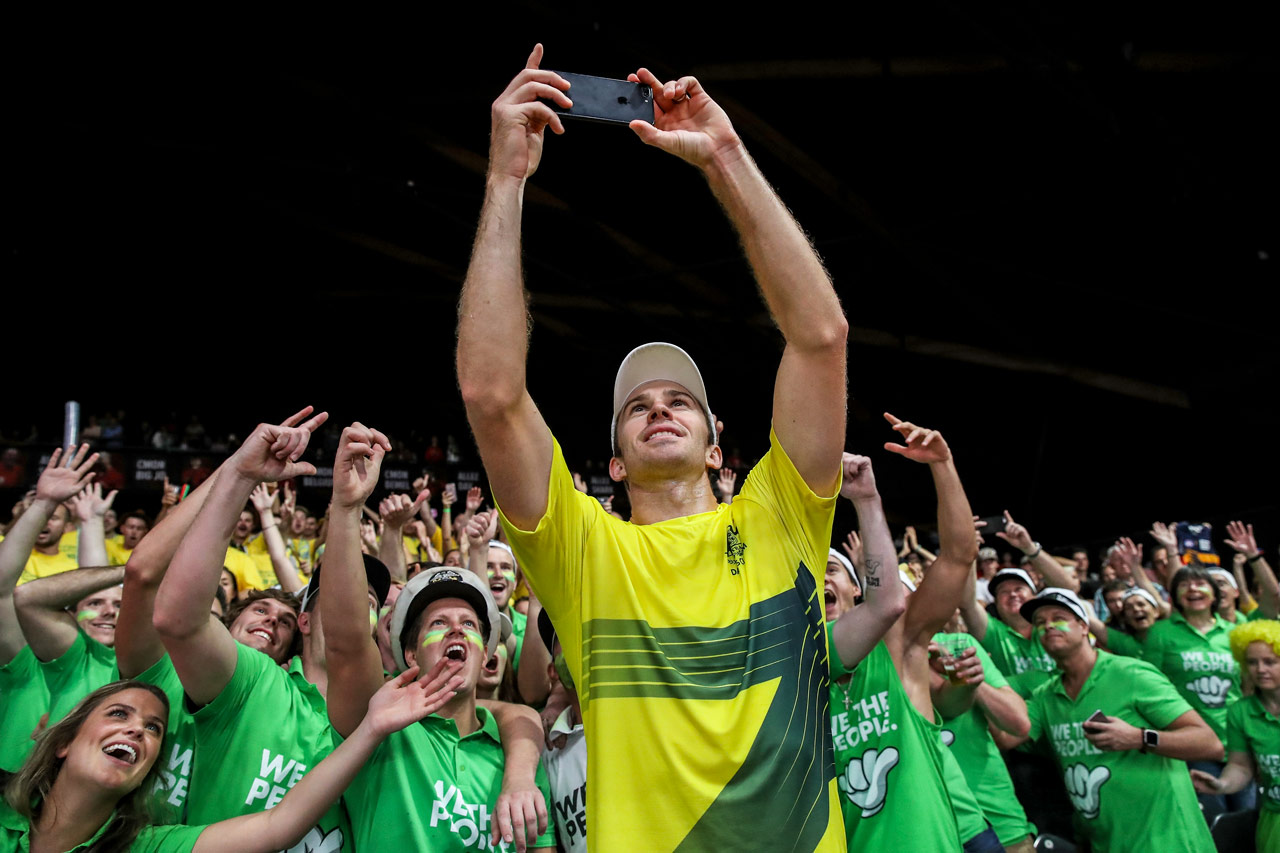 THE HELSINKI AUTOGRAPH HUNTER
The reason I like doubles is because I enjoy being part of a team. Sometimes it can get lonely out there on a tennis court if things aren't going well. It's not fun. I know what the singles guys go through and I didn't really enjoy that.
I've never really felt there's a negative connotation to the term 'doubles specialist,' and in the past two years I've noticed a lot more singles guys playing doubles because they're realising it helps their singles.
When you watch doubles on TV, you can't quite see how quick it is. The way the game's played now a lot of doubles guys come forward, but then you've got the singles guys who hit it so big from the back.
The ball moves so much. If you see a Fernando Verdasco or a Jack Sock forehand, how much the ball actually moves through the air is something which is always tough for anybody to deal with.
Unless you can actually see it in in real life, you can't see what these guys, or someone like Rafa Nadal, can actually do to the ball.
Doubles can sometimes be thought of as a little bit boring; if you get a serve, then knock off a volley, the point's over. But it's the different exchanges where you see doubles at its best and the crowds love it.
There's always something different that's going to happen, but you don't know what that is.
Ten years ago, I never thought I'd be sitting here in my green and gold tracksuit, as a major winner, an Olympian, twice the ATP Finals doubles champion. I thought I'd give it a crack and then have to go try and work, to be honest.
After my second year of college in the US, I was hating the game. I thought I'd just play as much golf and as little tennis as I could. It was a short period where I didn't enjoy it.
Then I transferred colleges and got a fresh look at things and just got the drive to want to play again. It's a love-hate relationship and I think every tennis player goes through it at some point.
I've won a slam, but the only time I've been recognised in the street is when I went to an event in Helsinki with Henri. I can't get recognised in Australia, but I will in Finland!
I was going to meet Henri for coffee when someone said my name. I was like, 'Who's gonna know me in Helsinki?' It was actually quite funny and I had a laugh with Henri after.
They just wanted an autograph and wished us luck.
More about: Australian Open | Davis Cup | Lleyton Hewitt | Nick Kyrgios